Traveling without any trade-offs: These routes in Europe are faster on the ground than by plane.
We have identified 28 routes within Europe where traveling by train or bus is faster than flying. And on top of that: No baggage fees, easy check-ins, and speedy departures and arrivals.
ROUTES
Click here to get access to the full routes included in the research.
How Omio compiled the ranking
This ranking is based on the 100 most popular routes by train, bus and flight booked through Omio in summer 2020 (between June 1, 2020 and September 30, 2020) in Germany, the United Kingdom, Spain, Italy, and France. CO2 emissions in kg per train / bus / flight were calculated using values from Atmosfair.
Flight time:

Shortest possible travel time in minutes

Travel time by train and bus:

Shortest possible travel time in minutes, via Omio.com

Transfer city center – airport – city center:

Fastest possible route by public transit from the city center to the airport as well as from the destination airport to the city center (all transfer times were determined via Google Maps)

Transfer city center – train station – city center:

Fastest possible route by public transit from the city center to the train station as well as from the destination train station to the city center (all transfer routes determined via Google Maps)

Check-in time:

Total time for check-in at the airport. For domestic flights, an average time of 60 minutes was used; for international flights, 90 minutes was used and for flights outside the Schengen area, 120 minutes was used.

Kilometers per route:

Flight distance determined via Google Maps

CO2 in kg per train/bus/flight: Values calculated by Atmosfair
For the ranking for each of the 100 routes, the total transfer times (consisting of the flight duration + check-in time + transfer time from the city center to the airport and from the destination airport to the city center) were compared to the total train or bus travel times (consisting of the travel times for bus and train + transfer times from the city center to the train station and from the train station to the city center at the destination). All bus and train routes were then ranked by the greatest amount of time saved compared to the flight routes.
Sustainability is going mainstream – also in tourism. More and more people make a conscious effort in considering how their everyday choices affect the world. However, when wanderlust grips, most people seem to opt for convenience and comfort over the environment. But you can choose both!
A representative poll by Omio has found that many travelers in Europe are ready to make a compromise between minimizing their impact on climate change: One in four says that they are willing to accept an additional 60 minutes to their overall traveling time, provided that this will have a positive effect on the environment. Eight percent of the respondents say they would take ground transportation even if this meant an additional two hours of traveling. Every other person thinks they would travel by train instead of plane if the connection were faster, while already more than half of the Europeans are choosing the train or bus if it is the more sustainable option instead of flying.
CO2 and time saved by train travel for top routes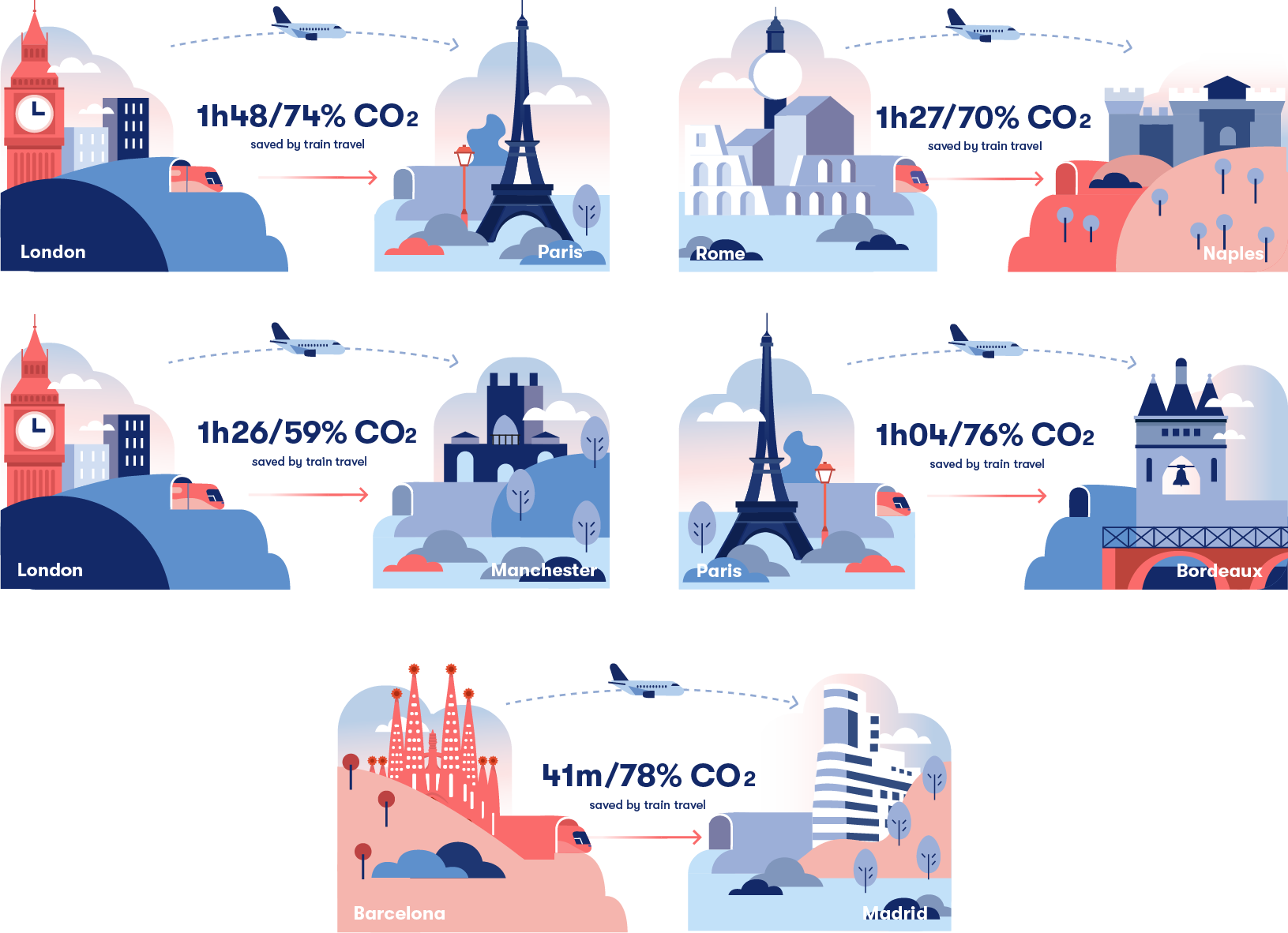 With more and more people leaning toward ground travel for sustainability reasons, every tenth person is also switching to train travel due to safety concerns due to the global pandemic, while almost every fourth European is planning on taking more domestic trips this year. And, luckily, travelers have enough options to choose from.
Everyone knows that planes are major gas guzzlers. Traveling on the ground can lower our carbon footprint tremendously. Not only that, traveling by train or bus can be just as fast and comfortable as flying. Think about all those times you have had to wait in long security lines, never mind the traffic to and from the airport. And don't get us started on baggage and in-flight fees. On the ground, travel gives you all the comforts of a flight but none of the hassle.
Trains vs. Flights Ranking from 2019
Click here to get access to the full routes included in the 2019 research. Omio researched all European routes included in the ranking. This ranking was based on the 100 most popular routes by train, bus and flight booked on Omio during summer 2019 (August 15, 2019 - September 30, 2019).
Ready to go? Get there with Omio!
Trains in Europe
Trains in Europe are a fast, safe and efficient way of traveling around countries and across the continent. Train travel is one of the most popular choices for locals and visitors alike thanks to trains being clean, modern and fast.
Train companies in Europe vary from country to country with some companies crossing into neighboring countries. Most train companies in Europe are state-owned, meaning there's one main train company providing the routes throughout a country, occasionally with smaller regional companies running some local routes. The biggest exception to this is the UK, where train companies are privatized meaning there are multiple companies serving routes across the country.
Furthermore, all countries have committed to high-speed trains across Europe. Many routes, particularly across borders can be done within a matter of hours. These routes include London to Paris and Amsterdam to Brussels. For longer journeys, night trains can be considered. Although they were once more popular there are still some night trains that run throughout Europe.
Explore several countries in Europe by train
Europe by train can seem overwhelming but, in reality, it is often easier and faster than flying! With train tracks stretching the width and breadth of Europe, getting around by train is an enjoyable way to see the continent. With lots of different ticket options allowing for travel in several countries, getting around by train is as easy as your daily commute. From London to Paris, Berlin to Amsterdam and Prague to Budapest, discovering Europe by train is an unforgettable experience.
| | |
| --- | --- |
| Trains from Rome to Florence | |
| Trains from Madrid to Barcelona | |
| Trains from Barcelona to Madrid | |
| Trains from London to Paris | |
| Trains from Prague to Vienna | |
| Trains from Paris to London | |
| Trains from Rome to Venice | |
| Trains from Florence to Rome | |
| Trains from Paris to Amsterdam | |
| Trains from Milan to Venice | |
Train Companies in Europe
Everything you need to know: European train travel
Taking the train is a great alternative to flying in Europe: seats are generally spacious and comfortable, boarding avoids the long waits at airport security, and it lets you view the picturesque landscapes of the regions you travel through—from the snow-tipped Swiss Alps to the rolling green hills of Spain's Basque Country. Additionally, most main train stations in Europe are located in the city center, saving you potentially expensive cab rides to and from the airport.
Train service, speed, and prices vary considerably depending on the country; Western Europe tends to operate more modern, high-speed trains, while Eastern European trains can be less frequent but also tend to have far cheaper ticket prices. Train ticket prices can fluctuate considerably, so it's best to book your train tickets as far in advance as possible.
EU rail schedules vary depending on what country you're in, this is because each country has its own major rail company (except the U.K., which has several). However, most train companies in Europe offer international train travel, which allows you to travel from one European country to another. You can find these EU train schedules when you search for your desired trains around Europe with Omio.

Abellio Greater Anglia: Abellio Greater Anglia Trains succeeded National Express in 2012 as Eastern England's primary train company. Abellio's train network covers Norfolk, Suffolk, Essex, Cambridgeshire and parts of Hertfordshire.
Arriva Trains Wales: Arriva Trains operate on 5 routes: between the Midlands and Northern Wales, between South Wales and Northern Wales/Manchester, along the South Wales Coast Line to Cardiff and Swansea, along the North Wales Coast Line to Crewe and Manchester, while also operating a network of commuter train lines in and around Cardiff.

C2C: c2c is predominantly a London commuter railway, providing services along the London, Tilbury and Southend Railway line, from London Fenchurch Street to East London and along the southern part of Essex. Trains depart along the main route from Fenchurch Street to Shoeburyness around 8 times each hour during off-peak times.
East Midlands Trains: East Midlands Trains operates two types of trains: long-distance trains connecting London St Pancras train station with destinations throughout the UK and regional trains. East Midlands's regional trains link towns and cities in the East Midlands as well as Central and Northern England. East Midlands trains run between London and Sheffield, York, Derby, Corby, Nottingham, and Leeds.
Great Western Railway: Great Western Railway is the main train company for the west and south-west counties in the UK including Devon, Somerset, Cornwall, Gloucestershire, Bedfordshire, Wiltshire, and Bristol. Great Western's trains are also available in Wales, focusing specifically on Southern Wales.
First Hull Trains: First Hull Trains operate just one train from Hull to London, which stops at Brough, Howden, Selby, Doncaster, Retford, Grantham, and Stevenage along the way. First Hull's train schedule has grown every year since 2000, with 7 trains currently departing every day.
TransPennine Express: TransPennine Express operates intercity trains on 3 main routes across Northern England. TransPennine Express trains connect Liverpool and Manchester with Leeds, York, Sheffield and Doncaster with as many as 5 trains departing per hour on some of the popular routes.

Merseyrail: Merseyrail operates trains throughout Liverpool, the surrounding area, and the rest of Merseyside. Over 100,000 passengers utilize Merseyrail's network every week with pproximately 800 trains departing every day.
Northern Rail: Northern Rail operates most trains in Northern England between Leeds, Liverpool, Manchester, Newcastle and Sheffield.

Scotrail: Scotrail runs trains throughout Northern England connecting Newcastle and Carlisle with London. The vast majority of Scaotrail trains run between major Scottish cities like Edinburgh, Glasgow, Inverness, Aberdeen and Dundee.

Southern: Southern trains run between London, East and West Sussex, Surrey, Kent, and Hampshire. Popular destinations include Hastings, Lewes, and Southampton. Southern also manages the Gatwick Express which is a 30-minute, non-stop train between London Victoria station and Gatwick International Airport.

South Western Railway: South Western Railway (formerly South West Trains) operates the majority of commuter trains from London Waterloo station to destinations in South West London. Most trains run on an electrified third rail, with diesel engine trains on the West of England line to Salisbury, Exeter, and Bristol.
Avanti West Coast: Avanti Trains (formerly Virgin Trains) operates long-distance trains on the West Coast Main Line between Greater London, the West Midlands, North West England, North Wales and Scotland. Avanti West Coast connects London, Birmingham, Manchester, Liverpool, and Glasgow.
Deutsche Bahn and Renfe also offer international train routes into countries bordering Germany and Spain.
When is the best time to book train tickets in Europe?
With long-distance trains in Europe, it's best to book as far in advance as possible. Most European train companies release tickets 90 days in advance but there are some exceptions;
Eurostar and Deutsche Bahn release tickets 180 days in advance, French international trains (i.e. Paris-Amsterdam) release tickets 120 days in advance and Eastern European countries release tickets just 60 days in advance.
During peak months (i.e. the summer season and Christmas) trains in Europe will be busier and more expensive, as cheaper tickets sell out faster so, booking your euro train tickets as soon as they're released will help keep costs down.
If you are booking a short-distance or intercity train within Europe, these tickets can be bought on the day of travel as prices fluctuate less.
First Class vs. Second Class train travel in Europe
Most train companies in Europe have two classes, first and second. Second Class is the cheapest option—think coach class in the United States—and offers comfy seats and in some cases, free Wi-Fi. If you want to guarantee a peaceful journey look out for quiet carriages, available in second class at no extra cost.
First Class is the more expensive option but affords guests comfier seats, larger tables, charging outlets, free Wi-Fi, complimentary food and drinks and access to lounges. Many European train companies offer last-minute upgrade deals to 1st class so it's always worth double-checking!
Traveling by Train in European Countries
Traveling by Train in Europe: FAQs
Get inspiration for your European train adventure
Got your tickets for your European train adventure and need to know what to do next? Well, you've come to the right place, check out our online magazine The Window Seat, and find out about the best things to do in Europe and beyond—you can also find out about night trains!
Train Companies in Canada
If you're heading to Canada, check out VIA Rail. Travel on "The Great Western Way" and discover Canada from Toronto to Vancouver or take "The Maritime Way" and explore the country's Eastern provinces.
VIA Rail Canada is an independent, state-owned corporation that operates intercity train services throughout Canada. Running 500 trains a week, the company transports more than 4.7 million passengers yearly. The most popular Via Rail route is the Montréal–Ottawa–Toronto line, which takes a little more than five hours end-to-end. This line transports around 2.5 million people each year.
Traveling the U.S. or Canada by train is an enriching experience like no other. So get on board!
Trains in the U.S. FAQs:
Catching a train in the United States? Here are some tips to help keep costs down:
Aim to travel outside summer and winter vacations as these are when trains are most expensive.
The earlier you book Amtrak tickets the better—even booking 14 days in advance can save you up to 25 percent compared to buying on the day of travel.
Whether you're a local or a tourist, getting a discount card is worth it especially if you're planning on using trains frequently.
Yes—we have launched in the U.S. meaning that Omio sells tickets for Amtrak and VIA Rail trains. You can get mobile tickets on selected routes. Look out for the green mobile ticket symbol.
Top Routes