Trains from Paris to Berlin
For your travel from Paris to Berlin, there are a total of 15 trains per day. The journey is 546 miles (878 km) and takes around 9h 34min, but the fastest train will take 8h 7min. There is at least one stop on most trains, but at least two direct trains per day. The first train departs around 7:20 a.m. and the last train around 5:55 p.m.
Paris to Berlin Train Time: Daily Departures
For train travel from Paris to Berlin you have many choices for train times. You have a choice of trains that depart daily and arrive every hour or so. Two trains are direct trains, so you won't be delayed on your trip to Berlin. When booking your fare, be sure to compare train times as some trains might be cheaper on certain days. To have an organized journey, check the Omio App for everything related to travel.
How long is the journey by train from Paris to Berlin?
Paris to Berlin by train is an exciting adventure and the trip takes around 9h 34min, but the fastest train is close to 8h 7min. The total distance covered on your scenic route is 546 miles (878 km). Two direct trains are available, and the other trains have at least one connection. Trains arrive at the station every hour, so you won't have to wait long. Be sure to arrive at the station at least 50min before your train departs.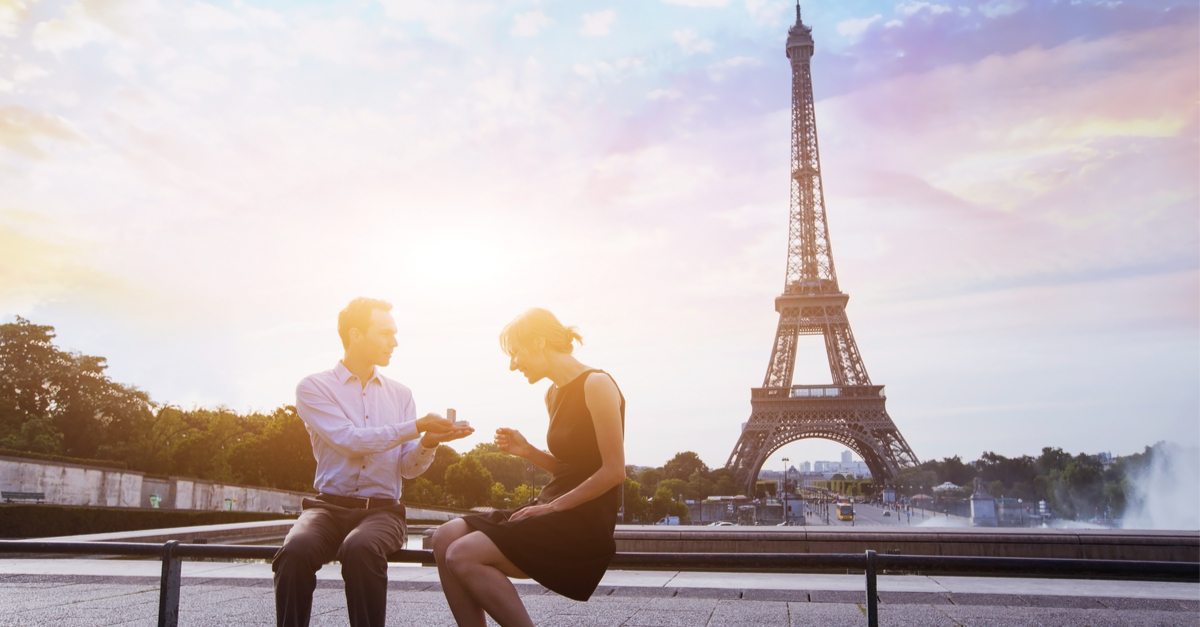 Couple at sunset in Paris. Source: Shutterstock
What are the departure and arrival stations for trains from Paris to Berlin?
Departure train station: For your trip from Paris to Berlin, you will depart from the Paris Gare de Lyon train station. The station is a short 0.53 miles (0.86 km) from the city center and an easy 20min walk. Your other option includes taking the line 24 bus, the metro, or a taxi, but it's shorter to simply walk to the city. The station offers USB charging stations and restaurants in case you want to eat before your train departs.
Arrival train station: It's easy to travel from Paris to Berlin by train and even easier to reach the city center from the station. The Berlin Hauptbahnhof train station is walkable from the city center. While there is public transportation option at the station, you won't need it to go downtown. The bus and metro lines will take you to all areas beyond the station.
Which train companies travel from Paris to Berlin?
The train service for travel from Paris to Berlin is covered by Deutsche Bahn. Its fleet includes the high-speed Intercity Express and six other trains that serve the region. Fifteen trains depart daily from the station and run every hour or so. The average time to get to Berlin is 9h 34min, but a few trains will get you there faster. Two trains offer direct routes, while the others have at least one stop. The earliest train departs at around 7:20 a.m. and the latest train around 5:55 p.m. Deutsche Bahn gives you many fare options to consider and you can save on your fare by booking your trip at least a month in advance. It's best to check for discounts and special rates before you book your train trip.
Night trains Berlin
For the train from Paris to Berlin, multiple night trains connect and depart after 6:00 p.m. The Berlin station has connections to many other cities and traveling on a night train allows you to sleep through your journey. Fully adjustable seats decline for sleep, and you will have all the comforts while traveling.
Deutsche Bahn trains from Paris to Berlin
Your Paris to Berlin train provider is Deutsche Bahn, and it offers multiple trains per day that leave Paris. Deutsche Bahn offers many options when it comes to train tickets, such as upgrades and dining options. The trains offer a comfortable ride with adjustable seats and charging stations at each seat. Deutsche Bahn is known for its superior customer service and outstanding train service to many areas in France.
Trains from Paris to Berlin: Sustainability travel
For travel from Paris to Berlin, you'll feel better knowing your trip is highly sustainable. Trains offer one of the most sustainable ways to travel, especially when compared to other forms of travel. Trains emit lower Co2 emissions, and that's good for the earth.
Train Paris to Berlin: Services on Board
In your train travel from Paris to Berlin, Deutsche Bahn has many options to make your journey more enjoyable. First and Second-Class seating is available, as well as three choices on your ticket fares. Your luggage allowance is a carry-on item that can be stored in the overhead compartments and one piece of luggage. Fold up bikes and other sports equipment can go if they are portable. Check with the assistant when booking your fare to get the specifics.
Deutsche Bahn has fully equipped trains for passengers with disabilities, and you'll need to fill out a form that gives you the options you require on the train. You can also book a disabled seat or request a wheelchair at the station. Ramps, grab bars, and signs help you navigate while traveling. Passengers traveling with disabilities should notify the attendant when booking the services they require. Storage for wheelchairs and other medical equipment is available, and portable oxygen canisters are allowed.
How to find cheap train tickets from Paris to Berlin?
You'll be glad to know that for your travel from Paris to Berlin there are ways to save on your train ticket. With a little bit of careful planning before your trip, you can find ways to save big. Perhaps the easiest way to save is to be flexible with your travel plans. Booking your ticket way in advance will save you on your trip. We suggest you book at least one month in advance. Booking trains with connections or that take longer will also be less expensive. Look at the most popular days to travel and book your fare on other, less busy days as ticket prices are discounted. You can also look for specials throughout the year that offer discounts on certain days of travel. Also, sometimes buying more than one ticket will get you a discount. For more information on the joys of train travel, check out Window Seat magazine.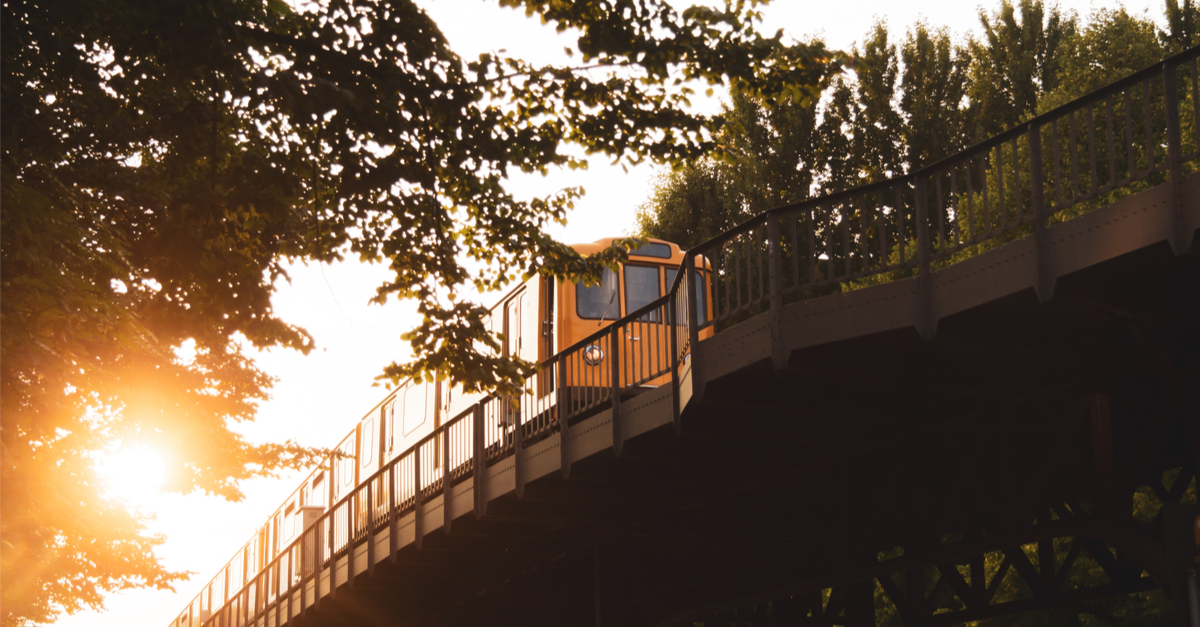 Tram in the bridge at sunset in Berlin. Source: Shutterstock
To Berlin by train—travel tips
Taking a train from Paris to Berlin is only part of your journey. Once you arrive in Berlin, it's time to discover a fantastical city jumping with life. For architecture, don't miss Reichstag. Built in 1894, the house was meant for German politicians, but after a fire destroyed it, architect Norman Foster created a glass dome from the wreckage. It's more of a piece of art than a building but well worth looking at. To stretch your legs, visit Tiergarten, especially if the weather is nice. This park and monument are full of acres of green, and maps available at the park will guide you down various paths. The courtyard is beautiful and it's a great form of exercise. Another unique way to tour the city is by bicycle. Berlin is a bike-friendly city but watch out for cars and mopeds. You can rent a bike in the city and follow maps to all the local sights, and, you won't have to worry about parking.
When it comes to cuisine, Berlin is full of culinary marvels. Try eating brunch at Isla. The restaurant features locally sourced, organic goods from the area and even the meats and fish are from local farmers. It doesn't get any fresher than Isla. For some nature and water activities, spend part of the day at Brandenburg lakes. In the northern part of the state known for its many lakes, the beautiful water will tempt you for a swim. Bikes, kayaks, and fishing are available at the park, and the kids will have a blast. Before you leave the city, see these attractions:
Brandenburg Gate
Victory Column (Siegessäule)
Museum Island
Neues Museum
Gemäldegalerie