Train to Dublin
Dublin may be best known for its pubs and Guinness beer, but there is plenty to do in the city besides hanging out with your friends while enjoying a pint. Traveling to Dublin by train is easy because there are plenty of Intercity trains ready to carry you there. Trains run directly to Dublin from most major Irish cities, and if you're willing to transfer at least once along the way, you'll have many more options for trips between cities. Traveling by direct train from Cork to Dublin takes about 2.5h, while trains from Galway to Dublin take about 2h 15min to complete the journey. It takes about 2h to ride from Belfast to Dublin. Other routes to Dublin originate in Sligo, Ballina, Westport, Tralee, Limerick, and Rosslare. Dublin has two main train stations that serve the Intercity trains: Dublin Connelly and Dublin Heuston. Intercity trains also stop at the Dublin Pearse station, but this station is not an endpoint for any of the lines from other major cities in Ireland.
Irish Rail to Dublin
Irish Rail (known in Ireland as Iarnród Éireann, or simply IÉ) is Ireland's national railway operator as well as the owner and operator of Dublin's main railway stations, Connolly and Heuston. The company operates the long-distance InterCity railway network that connects most major cities in Ireland as well as the other rail services in Dublin, including the city's commuter railway and the Dublin Area Rapid Transit (DART) trains. There are about nine InterCity train lines offering service to Dublin, including lines from Sligo, Ballina, Westport, Tralee, Limerick, Rosslare, Galway, and Cork. The Enterprise InterCity line runs between Dublin and Belfast in Northern Ireland and is operated in conjunction with Northern Ireland Railways (NIR).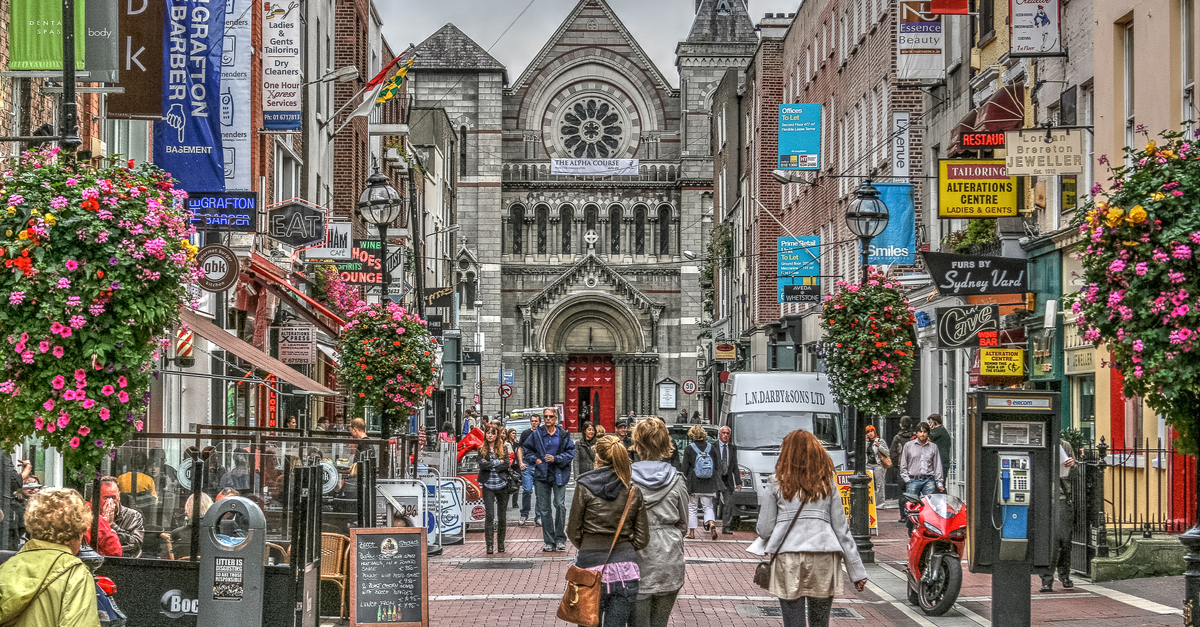 Dublin Busy Street. : Shutterstock
Main train stations in Dublin
The two main train stations in Dublin, Ireland that serve passengers riding Irish Rail's InterCity trains are Dublin Connolly and Dublin Heuston. Located in the city center just north of the River Liffey, Connolly station is the busiest train station in Ireland. In addition to the InterCity trains, the city's commuter rail trains, DART trains, and the Luas light rail trains stop at Connolly. The station is the endpoint for the Belfast Enterprise route as well as the Sligo and Wexford InterCity routes.
​​Travelers will find many amenities at Connolly station, including train ticket offices and automated ticket machines, free Wi-Fi, ATMs, comfortable waiting areas, and a wide variety of cafes, pubs, and restaurants. Paid parking is also available at the station. The other main train station in the city, Dublin Heuston, is also one of Ireland's major railway hubs. Heuston is located in the city center south of the River Liffey, about 2 miles (3.2 km) west of Connolly station.
The station serves the InterCity trains as well as Dublin's commuter rail service and the Luas light rail service, and the station is the endpoint for the Mayo Intercity route (from Westport) as well as the Galway, Limerick, Cork, Tralee, and Waterford InterCity routes. At Heuston, passengers will find many facilities for travelers, including train ticket counters and automatic ticket machines, ATMs, free Wi-Fi, a kiosk for charging mobile devices, a variety of restaurants, and comfortable passenger waiting areas.
Onboard facilities Dublin
Passengers traveling on the InterCity train to Dublin enjoy modern, air-conditioned cars with comfortable seats that are equipped with power outlets and free Wi-Fi. Most InterCity trains also offer a catering service. The InterCity trains do not limit the amount of luggage that passengers carry on board provided it is stored in the designated luggage areas and it doesn't obstruct the aisles. Passengers can bring bicycles on the train. If the bicycle is folded and properly covered, it is treated as luggage.
Fully assembled bikes can be brought on the train for free with an advanced reservation that is made at the time the passenger's ticket is booked. Passengers who don't make an advanced reservation may still bring their bike on the train as long as there is space available, but there will be a fee. Small pets are also welcome to ride on InterCity trains for free, but the pet must remain on your lap for the duration of the trip.
Pets must also travel in an appropriate carrier (small dogs can be kept on a leash if the owner prefers as long as this does not disturb nearby passengers). Unfortunately, larger dogs are not allowed to travel on the InterCity trains. Service dogs may travel with their owners without restrictions. Passengers with disabilities who may need special accommodations to board or travel on the train should contact Irish Rail at least 24h before traveling to make any necessary arrangements.
Train tickets to Dublin: useful to know
Savvy travelers know that the easiest way to secure cheap train tickets to Dublin is to purchase your tickets in advance. Irish Rail allows you to purchase your InterCity ticket up to 90 days before your trip. When you book your ticket online, you'll be able to reserve your seat and you'll receive your confirmation number, which you'll need to have handy when you're ready to hit the rails. When you arrive at the station, you'll use the confirmation number to print out your ticket at one of the ticket machines in the station. Arrive a few minutes early to allow time to print your ticket before you board the train. Keep in mind that you can only print your ticket once; Irish Rail will not replace or refund lost or stolen tickets. When you use Omio to purchase your tickets for train to Dublin, you'll be able to store all of your travel information in your Omio account, making for easy ticket retrieval and printing at the station. That's one less thing to worry about on your travels!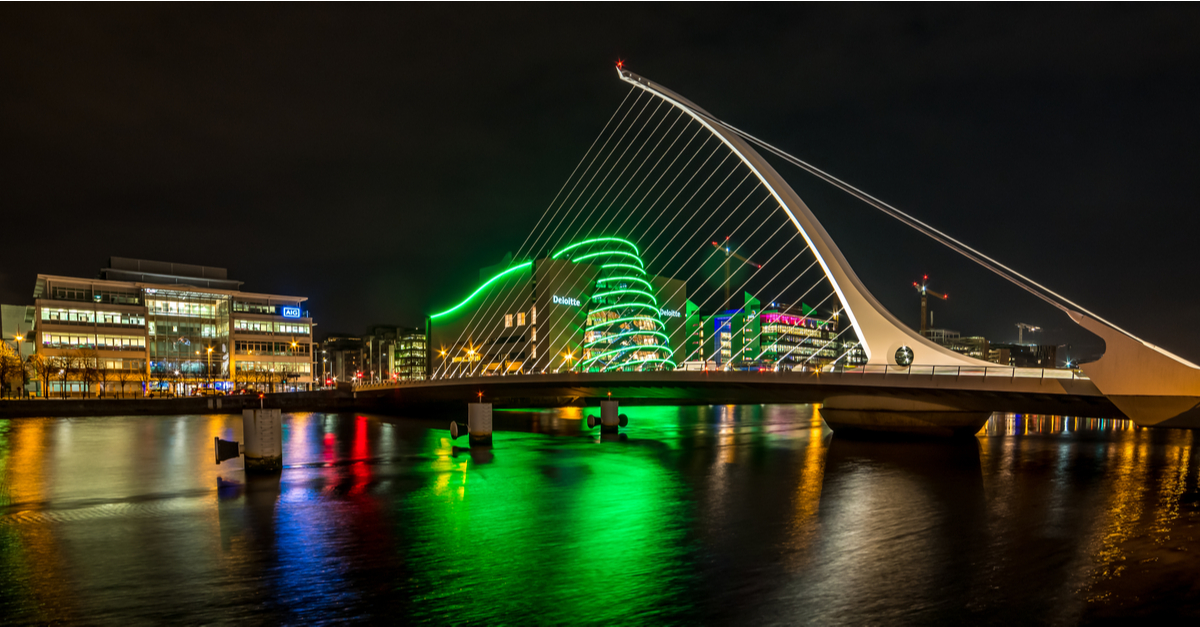 Dublin Becket Bridge. : Shutterstock
To Dublin by train—travel tips
Trains to Dublin arrive in the heart of the city center. Dublin is a compact, walkable city, so if you're planning to stay within the city center, you probably won't need to rent a car or use the city's public transportation network. However, if you'll be doing a lot of sightseeing or traveling outside of the city center, you may want to use the city's local trains, trams, and buses.
The Dublin Area Rapid Transit (DART) trains run on a north/south route along the coastline, from Malahide and Howth in the north to Bray in the south. Irish Rail's commuter trains operate about five lines in three corridors of service (Northern, Southwestern, and Western), running from the city center to the surrounding suburbs. The Luas is the city's tram service, which has two lines (Red and Green) that stay within the city limits.
Local bus service is provided the double-decker Dublin Bus buses, which provide convenient transport to places in the city that aren't served by the trains and trams. When traveling by bus, don't be shy – you may need to flag down the bus even if you're standing at the bus stop.
If you'll be leaving Dublin by way of the Dublin Airport, you can take one of the Airlink express buses from Dublin's city center. The 747 and 757 buses both travel to the airport; the 747 bus runs between the airport and Heuston Station, while the 757 bus runs between the airport and Charlotte Way, just south of the city center.
Trains to Dublin provide access to a vibrant city with lots to see and do. One of the most popular attractions in Dublin is the Guinness Storehouse, where you can take a tour of the seven-floor museum and brewery to see how the famous beer is made. If Irish whiskey is more your style, you can tour the Old Jameson Distillery to learn about the history and production of their signature beverage. While in Dublin, be sure to soak up some of the city's history and culture.
Dublin Castle and Ireland's largest church, St. Patrick's Cathedral, are just a few blocks apart in the city center, just south of the River Liffey. There are three National Museums of Ireland in the city – one dedicated to archeology, one to natural history, and one to decorative arts and history.
If you want a break from the city's hustle and bustle, you can visit Phoenix Park, where you'll find vast open spaces, gardens, walking paths, the Dublin Zoo, and the medieval Ashtown Castle. After a long day of sightseeing, pop into a pub or two and enjoy a pint of Guinness and listen to some traditional Irish music among friends. One of Dublin's most famous pubs is the Temple Bar in the city center on the south bank of the River Liffey. Whatever you decide to do in Dublin, you'll be sure to leave the city with memories to last a lifetime.