Trains from Rome to Florence
Do you know that trains are the core of transportation in Italy? Italy prides itself on the best and the fastest train in the world. Over fifty trains depart from Rome to Florence daily, with the three major train providers running from Rome to Florence. The high-speed trains; move at an average speed of 186 mph (300 km/h), making them efficient for fast, cheaper, and long-distance travel. Inter-city trains move within the city through major towns. They are efficient for business and work travel.
And finally, the local trains are also called the regional trains. They are much slower and are limited to short distances. They are commonly used for touring around Rome and taking memorable pictures; there is something else, they are way cheaper than the high-speed trains. Choose the most appropriate train that suits your needs. We will help you with the booking process.
Booking your train ticket with Omio from Rome to Florence
How do you feel after you find the train you were hoping to catch is already full? It's Frustrating. With Omio, you don't have to book your ticket on your departure date; book as early as possible and avoid inconveniences. The best thing about us is that we offer our services from the comfort of your computer.
It's simple; all you need to do is visit our website, type the destination (Florence) and search for an available ticket. You will then fill in your personal information as requested in a fill-in- box. You can also make your booking through your phone by simply downloading our mobile app and book your ticket with few taps on your phone, wherever you are. With our services, you will enjoy your travel from Rome to Florence, and any other trip you are planning in the future.
Train companies from Rome to Florence
Italy has three major train companies: Italo, Trenord, and Trenitalia train companies. The three companies operate remotely within Italy. They operate within Italy, connecting all cities and towns in Italy. Italo runs through Rome, Florence, Bologna, Venice, Milan, Turin, Naples, Salerno, and Padua. Hence, Italo will provide you with a ride to Florence. With Omio, you can choose the best train with less effort; we have simplified everything for you. Trust us to link you with the appropriate train travel to your destination.
Popular international routes by train from Rome
The Amalfi Coast & Positano travel, usually by high-speed train, is a long-distance trip that takes approximately 13h 35min. Other popular routes are Rome to Berlin, Rome to Sapri, Rome to Sapri, Rome- Venice, Rome – Brescia, and Rome – Lecce. Most long-distance train travels take many hours, even days. Therefore, trains operating the routes are equipped with accommodation, dining options. Book with Omio today and travel through the most scenic journeys in Italy and beyond borders.
When arriving by train in Florence
Is it your first time going to Florence? Don't worry; Florence is a beautiful city with friendly people. Florence is quite populated but not as densely as Rome; you will easily blend in. you will arrive at the Florence Santa Maria Novella Station. You can use the bus or take a walk to the city center. As you stroll through Florence, find good restaurants and have a taste of Fettunta, one of the favorite dishes in the city, you will love. Also, it would be best if you studied the weather before you travel and dress per the weather. The currency used in Florence is the euro; ensure you change currencies if you have been using a different one.
Train providers from Rome to Florence
Trenitalia is the national train provider running the high-speed fecciarrosa, Frecciabianca, and Frecciargento trains. The Frecciarossa are high-speed trains through major cities in Italy. It was previously known as the Eurostar Italia. The trains can travel to a maximum speed of 190 mph (300 km/h). The trains are equipped with facilities that enhance comfort travel, such as appropriate air conditioning, luggage storage, leg allowance, bathrooms with sanitation equipment, and two different travel classes.
Frecciargento, meaning "the silver arrow," is a high-speed train that moves at an average speed of 250 km/h. it is equipped with amenities to facilitate safe, and comfort thought the journey. Italo, Also known as the Nuovo Trasporto Viaggiatori, has high-speed trains of an average speed of 300 km/h. the global infrastructure partners owe it. The company covers 25 cities stopping at 30 stations. Currently, it operates only in Italy. However, they have plans to extend their services beyond their borders.
Rome. Source: Shutterstock
Main train stations in Rome
The majority of trains from Rome to Florence depart from the Rome Termini station numerous times in an hour and arrives in the Florence Santa Maria Novella Station. The earliest train takes off at 5:35 p.m. while the last train leaves at 9:30 p.m. other train stations are Republican, Colosseum Roma Trastevere Railway Station, Roma Porta S. Paolo, Roma Aurelia, Roma Ostiense, and Roma Tuscolana are among the 29 train stations in Rome. All train stations have sheds and seats where you can sit as you wait for your train to arrive. They also have amenities such as vending machines and payphones.
Popular journey from Rome to Florence
The Florence-Rome high-speed line will take you from Rome to Florence. High-speed trains such as the Frecciarossa, Frecciargento, and the Italo operate on the lane. Frecciarossa from Rome to Florence takes about 1h 46min costing $63 (€53). Regionale is the cheapest train taking 3h 46min. Intercity notte794 takes 3h 56min costing $43 (€36).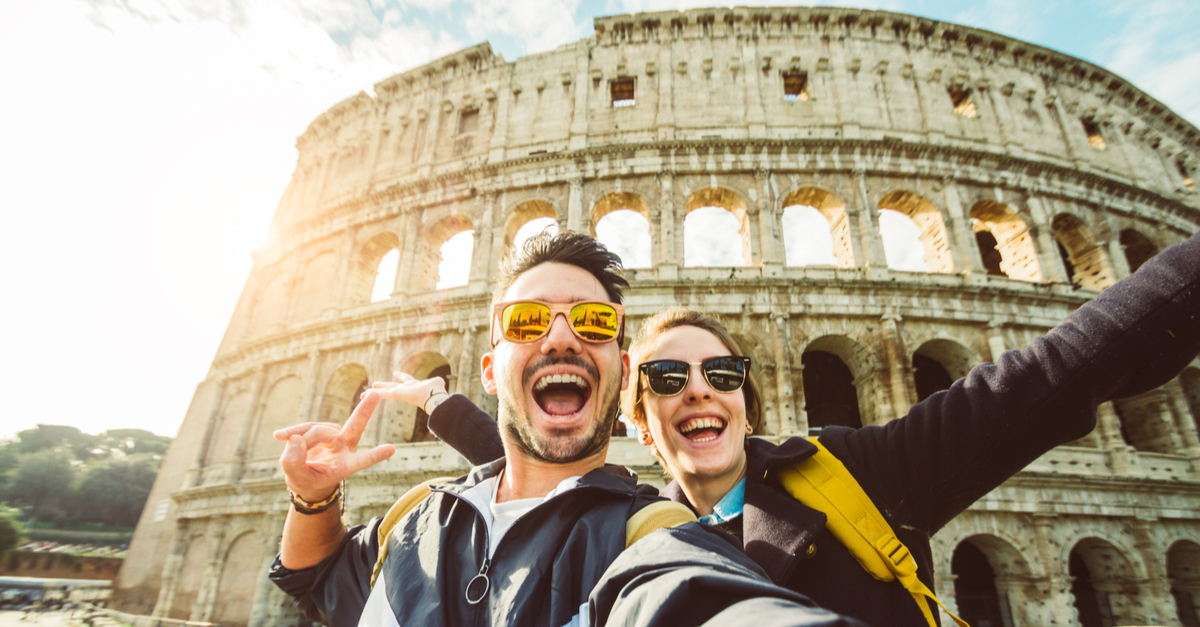 Rome Happy Couple. Source: Shutterstock
Popular train routes from Rome to other cities
There are over 500 destinations from Rome. Some popular intercity routes are Rome to Naples, Milan to Rome, Rome to Bologna, Rome to Salerno, Rome to Caserta, and Rome to Pisa. Trains from Rome to Naples take 3h costing about $16 (€13). The Milan-Rome route takes 3h 40min and costs $120 (€100). Rome to Salerno train rides takes an average of 2h, costing you $21 (€17). Trains on the Rome-Caserta route take about 3h and cost travelers about $19 (€16). Another popular route is the Rome-Pisa Route. The journey time is 3h 53min and costs about $19 (€16).
Good to know
When traveling via train, have the following tips in mind. First, Always pack your camera; you might regret leaving it. Take as many pictures as you can; most of the best photos are taken on a train; the view is usually broad and clear. Book your ticket as early as possible. Avoid the unnecessary rush. Arrive at the station before time, not the 5min before time kind; ensure you are there at least 30min earlier before your departure. Now you can enjoy your journey. Finally, have a tour guide map if you are new to a place. You can also use Google maps for guidance, but I'll insist on the tour guide map; it will help you cancel all the places you have visited as you look forward to exploring new places.
To Florence by train—travel tips
If it's your first travel to Florence from Rome, you are probably anxious; you don't need to worry about anything. People in Florence are accommodating, helpful, and cheery. There are many Italians in the city, making the delicious Italian food available in most restaurants. The city has terrific places; you can start by visiting the leaning tower of Pisa and see its unique architecture. Lovers of charm and character areas can visit the Cathedral of Santa Maria del Fiore and Plazza Duomo.
The attraction features a rich history and some of the best-known architecture and art masterpieces of great artists like Donatello. Battistero di San Giovanni is another masterpiece from the 12th century home to a museum and the Gates of Paradise. Nature lovers will love Piazzale Michelangiolo, which features a riverbank and lush gardens with incredible city views of Florence. Ponte Vecchio is a scenic bridge and home to jewelry shopping, ideal for shopping lovers. Nature lovers will also love visiting Pitti Palace, which features premier gardens, an art gallery, and museums.
Boboli Gardens features fountains, statuary bad a faux cave ideal for nature lovers and history lovers. When it comes to food, Florence has a lot to offer. Mercato Centrale is Florence's food market where you can buy food, fresh herbs, and garden produce. It also houses refined olive oils, luscious nougat, and candied fruits. Treat your taste buds at Trattoria Da Burde Firenze's meatballs, grilled meats, and wines. Culinaria Bistro is ideal for couscous tagines and Tuscan fare, while Essenzile features family-style menu chef's choice and la carte service style meals.