Trains in Philadelphia to Washington
A journey by train from Philadelphia to Washington allows you to enjoy the beautiful landscape between the two of America's founding cities. Amtrak will facilitate the trip from Philadelphia to Washington by train. They facilitate the journey from Philadelphia to Washington through several types of trains such as express trains, diesel and electric trains, and long-distance trains with sleeper carriages and onboard restaurants/cafes. The Acela is the fastest train among the lot as well as the most expensive. If you are planning a trip to Washington, use the Omio app the find the best train for you to make this trip.
Booking the Philadelphia to Washington train with Omio
Booking your ticket from Philadelphia to Washington with Omio allows you to enjoy several benefits. First, the Omio journey app planner will enable you to plan your trip from the comfort of your home. To book your train ticket, you need to feed your travel information (start and destination) and the date for your trip in the Omio app. The app will then display the various options available, including the prices, departure time, and train types. You can then choose your preferred train, depending on your preferences. Once you have everything locked and loaded, you will receive your ticket for the Philadelphia to Washington train on your mobile device.
Train companies in Philadelphia
Amtrak is the leading company providing trains from 30th Street Station in Philadelphia to Union Station in Washington. They offer multiple departures daily as well as different types of trains. The Northeast Regional is the most popular train providing convenient and affordable downtown-to-downtown train service from Philadelphia to Washington.
It is also among the cheaper options, while Acela, the fastest train plying this route, is the most expensive. However, with Acela, you will enjoy superior comfort and free Wi-Fi as you travel at speeds of up to 150 mph (240 km/h). The Omio app allows you to escape the congestion on the I-95 and enjoy a hassle-free train ride from Philadelphia to Washington.
Popular train routes from Philadelphia
Amtrak Train Company offers you several routes from the 30th Street Station to different areas across the United States. Some popular routes include the Acela Express, Cardinal, Carolinian, Crescent, Keystone Service, and Northeast Regional. If you want to get to East Coast destinations, book the Acela Express.
It has stops in areas like Washington D.C., New York, Baltimore, and Boston. Carolinian trains take you to Washington, Richmond, Charlotte, Greensboro, and Raleigh, while the Keystone Service will ferry you to Lancaster, Paoli, Harrisburg, Downingtown, and New York. The Crescent trains have stops in New Orleans, Birmingham, Charlotte, Greenville, New York City, Baltimore, Atlanta, and Washington. With the Northeast Regional, you can travel to Hartford, Wilmington, Washington, Norfolk, and Roanoke.
Arriving by train in Washington
The Philadelphia to Washington train leaves you at Union Station in downtown Washington. You can take the Metro and local buses into the city from the station, while the Virginia Railway Express (VRE) and Maryland Rail Commuter Service (MARC) are other train options available. Washington is an ideal destination for families with many iconic landmarks, including the White House, Washington Monument, Lincoln Memorial, Capitol Building, and National Mall. Many museums, including 19 Smithsonians, are scattered across the district, and to explore the city's nightlife and tasty delicacies, head to Dupont Circle for the capital's finest.
Amtrak
Amtrak is a national railroad corporation delivering high-quality, safe, and timely rail passenger services. It operates more than 300 trains a day, linking over 500 destinations, including Philadelphia and Washington. Their trains depart and arrive at downtown train stations, ensuring utmost convenience to the passengers.
They offer various trains plying various routes, including a high-speed train traveling at speeds of up to 150 mph (240 km/h). Amtrak trains provide cozy traveling conditions with air conditioning, spacious seats, and massive luggage compartments. The three most popular Amtrak routes are New York to Boston, New York to Philadelphia, and New York to Washington, DC. As an official partner of Amtrak, Omio offers you the most convenient way of purchasing Amtrak tickets.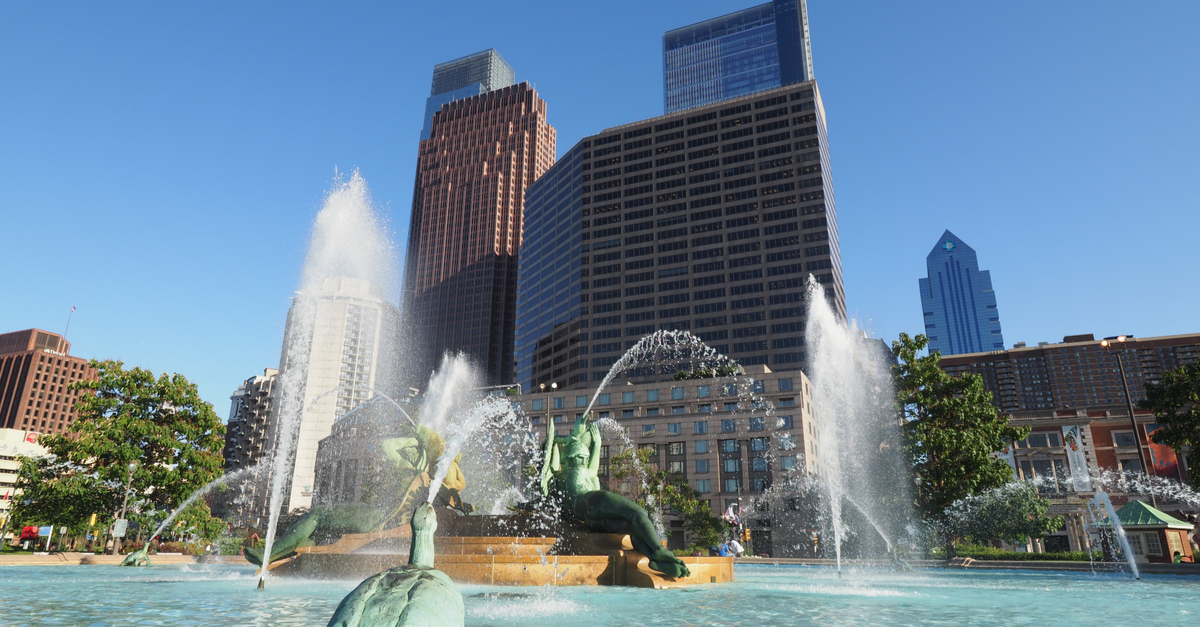 Philadelphia Pool. Source: Shutterstock
The main train station in Philadelphia
The main train station in Philadelphia is the 30th Street Station. The station is at 2955 Market Street and serves as a center for commuter trains. You can access the train station using the commuter bus, subway, or by walking to the station. It offers many amenities, including Wi-Fi, fast food restaurants, ATMs, nursing rooms, and luggage storage areas. The whole station is wheelchair accessible, and disabled passengers should easily access the facilities at the station.
Popular train journeys from Philadelphia to Washington
We have come up with a list of the popular routes taken by trains going from Philadelphia to Washington from our data. The Northeast Regional is the most popular route from Philadelphia 30th Street Station to Washington. Its travel time from Philadelphia to Washington is 2h 8min, and one-way tickets will cost around $67.
Acela Express is second, and the Philadelphia to Washington travel time is 1h 48min. The tickets cost anywhere from $135. The Silver Meteor will travel from Philadelphia to Washington in 2h 00min, and one-way tickets cost around $79. The Crescent manages the trip in 2h 8min, and the trip will cost you around $79. The Palmetto is another popular option making the trip in 1h 53min, and you will get cheap tickets from Philadelphia to Washington for around $79.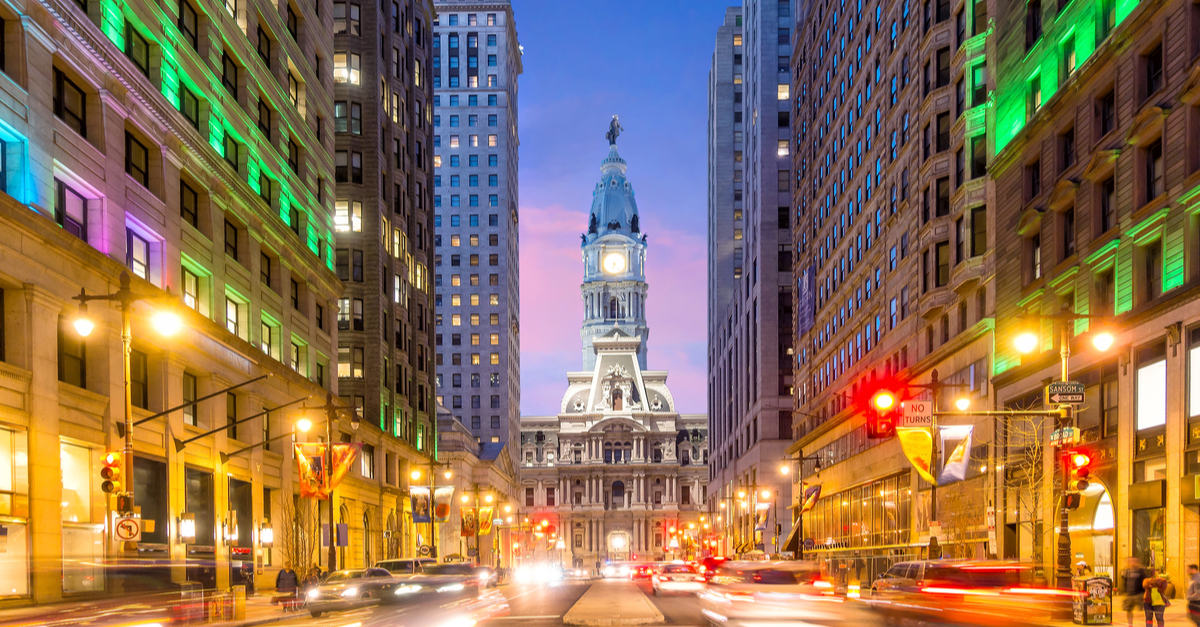 Philadelphia Streets. Source: Shutterstock
Popular train journeys from Philadelphia
Amtrak provides several popular journeys from Philadelphia across the United States. The most popular trips being to New York City, Los Angeles, Chicago, Seattle, and Boston. The trip from Philadelphia to New York City, 80 miles (130 km) away, will take 2h 30min and the cheapest ticket on Omio is around $23.
A trip from Philadelphia to Los Angeles will take 75h, and you can get your ticket from Omio for around $342. A trip to Boston from Philadelphia will be about 7-8h long, and you can get a ticket for around $75 on Omio. On average, a train from Philadelphia to Seattle will take 77h, and you will pay around $228. You will find a ticket for around $99 on Omio for a train from Chicago to Philadelphia, a 23-hour journey.
Good to know
Since Philadelphia trains provide a fast and reliable service, they are a popular means of travel in the city. Around 30 trains depart daily from Philadelphia to Washington, starting from around 5:00 a.m. until about midnight. Buses and trains are just outside Union Station, connecting the station to Washington City. Union Station has several restaurants and shopping outlets available, and it is open 24h a day. Booking tickets in advance with Omio gives you a good chance of getting lower prices.
Philadelphia to Washington by train – travel tips
The distance between Philadelphia and Washington is about 123 miles (199 km). The average train journey is about 1h 57min, but with the fastest train, you'll be there in 1h 48min. The journey is easy and convenient, and the trip takes you through some of the most beautiful landscapes. Amtrak trains offer you lots of amenities to ensure that your journey is as comfortable as possible. The end destination is Union Station in Washington, a major transportation hub, serving over five million travelers every year.
A few steps from the station, you will have various transport options to the city, such as streetcar services, the metro, and public buses. Washington is one of the most visited cities in the United States as it offers many exciting activities. You get to learn about American history and government and see some of the city's iconic landmarks. However, it is not all about history and government, as Washington is also home to some of the best food, culture, and art.
There are many museums, including 19 Smithsonians, with a lot to offer to adults and children alike. There is no better place to learn about American history than in Washington, and a trip to this city should be bliss for history lovers. And while you are at it, do not forget to take the White House and Washington Zoo tour. A train journey from Philadelphia to Washington is definitely worth it, and with Omio, everything has just gotten easier.