Trains from Los Angeles to San Diego
San Diego is California's second largest city, a diverse coastal metropolis close to the border with Mexico. It's a city with a famous waterfront, some acclaimed surf beaches, a zoo and marine life center, and a legendary rollercoaster, the Giant Dipper. As well as being a popular destination in its own right, San Diego is also a hub for travelers planning a trip over the border to Tijuana, Mexico.
Sightseers, surfers and business travelers from further north can take a direct train from Los Angeles to San Diego seven days a week on Amtrak's Pacific Surfliner route running down the southern Californian coast. Services from LA's Union Station are frequent, operating from early in the morning to late at night, with journey times of around 2 hours and 50 minutes. Trains from Los Angeles arrive at two stations in San Diego: in the Old Town and downtown at the historic Santa Fe terminus.
There are nearly 20 trains per day running from Los Angeles to San Diego, all of which are operated by Amtrak and running on the Pacific Surfliner route. The trains depart from Union Station in Los Angeles, with arrivals in two possible stations in San Diego - Old Town Station and Santa Fe Depot. The journey takes about 2h 45min to 3h, with the earliest departure of the day around 6:00 a.m. for a 9:00 a.m. arrival in San Diego.
The latest departure of the day is around 10:20 p.m. with an arrival around 1:15 a.m. on the following day. You can choose to ride a train that arrives at both stations for this departure time, though Santa Fe Depot is slightly further south than Old Town Station and will take about 10min extra to arrive. None of these trains involve changes, so you will be able to stay on the same train for the entirety of your journey.
Booking your train ticket with Omio for San Diego
Considering there are multiple arrival stations available on this route, you might be worried about finding the best deal that matches your schedule. With Omio, you have no need to worry - you can compare all the possible travel combinations on a single screen, and sort according to what you need.
Use the filter tools to see cheapest trains first, or sort through according to the fastest trains to save time. You can even compare train travel with other travel options, such as plane travel and bus transportation. After you find the best option for your journey, save tickets in your Omio profile for quick and convenient electronic access throughout your travel.
Train Companies from Los Angeles to San Diego
All passenger trains between Los Angeles and San Diego are operated by the National Railroad Passenger Corporation - better known as Amtrak. The only route that serves these two cities is Pacific Surfliner, known as one of the most scenic rail lines in the United States. None of these trains involve changes, so you will be able to stay on the same train for the entirety of your journey.
Popular International Routes by Train
Although the closest neighboring country to Los Angeles or San Diego is Mexico, you are unable to take Amtrak across the southern border into any Mexican cities. The only international train routes from Los Angeles or San Diego would require a combination of routes that involve a terminal stop at Pacific Central Station in Vancouver, British Columbia.
In order to get there from Southern California via train, you would need to ride the Coast Starlight until you arrive in Seattle, Washington. Depending on the timing of your journey, you would then wait for a train to come along via the Amtrak Cascades route that originates in Eugene, Oregon and stops in Seattle before continuing the journey to Vancouver. This is the only international journey in the western United States.
When arriving by train in San Diego
For almost every other city in the United States, you should be prepared for a variety of weather upon your arrival in a new location. With San Diego, you do not need to worry quite as much - there is a great chance that you will step outside into warm, sunny weather that is perfect to hit the beach. You can even bring your surfboard or bike on the train so you can make your way to the water immediately.
Train Provider from Los Angeles to San Diego
The only passenger train provider on this route is Amtrak, which operates the Pacific Surfliner route from San Luis Obispo to San Diego along the gorgeous California coastline. All trains on this route include wireless internet, business class, and a cafe car. None of these trains involve changes, so you will be able to stay on the same train for the entirety of your journey. This route includes stops at major California cities like Santa Barbara, Burbank, Los Angeles, Anaheim, and Carlsbad.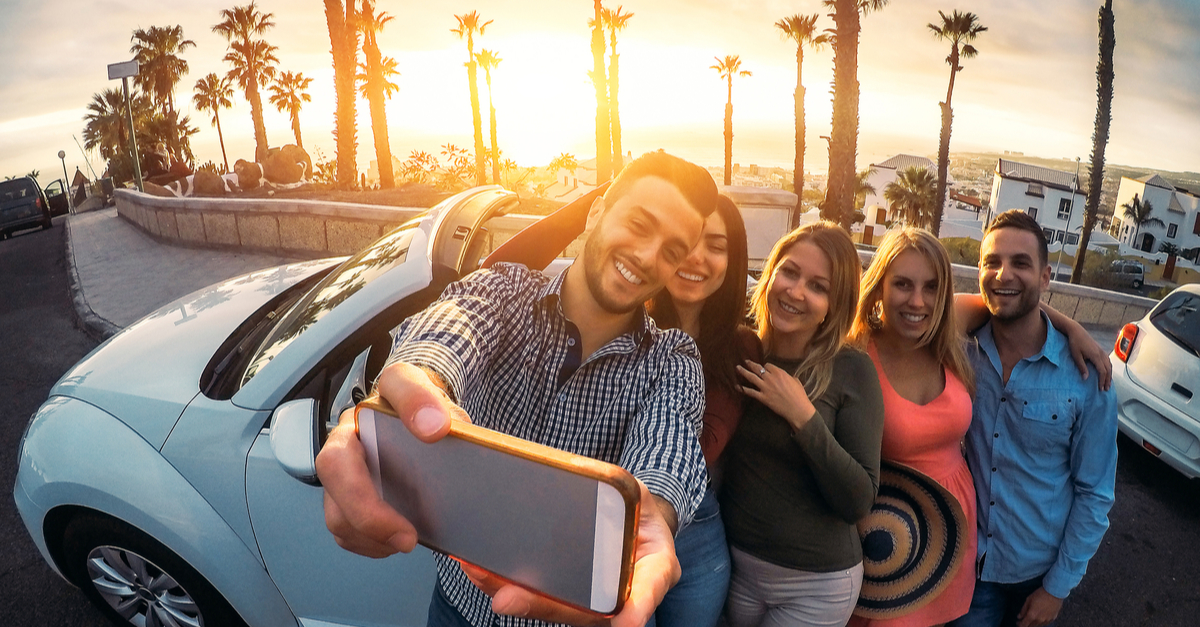 Los Angeles Friends Fun. Source: Shutterstock
Main train stations from Los Angeles to San Diego
The departure station for trains from Los Angeles to San Diego is Union Station in Los Angeles, the largest train station in the Western United States. It is found on the northeast corner of the downtown area, and serves as a major hub for the Metrolink, Metro Rail, and Metro Busway to allow convenient access from throughout the Greater Los Angeles area. The station offers a large metropolitan lounge area, self-service kiosks, ticketing stations, restrooms, ATMs, and payphones.
The two arrival stations for this route are Old Town Station and Santa Fe Depot, both found in San Diego. Old Town Station is located within walking distance of Old Town San Diego, with only a platform available. There are no restrooms or other amenities available at this station. Santa Fe Depot is located in the heart of Downtown San Diego, connecting to the San Diego Trolley, the COASTER, and the San Diego Metropolitan Transit System. You will also stop in Anaheim, Irvine, Oceanside, Carlsbad, and Solana Beach before you arrive in Los Angeles.
Popular journeys in California
Amtrak offers several popular routes that travel up and down through the Golden State. One of the most popular routes in California is Capitol Corridor, which starts in Auburn and provides service all the way to San Jose. This includes stops in iconic locations such as Davis, where you can visit the popular Dos Coyotes restaurant and grab a classic Border Burrito. The journey costs around $45 and will take approximately 3h 15min in total.
Another popular route is the San Joaquins, originating in the state capital and home of the Kings basketball team - Sacramento. This train completes the journey south to Bakersfield in about 6h 45min for the cost of $40. Looking for a scenic ride that will show you the West like you have never seen it before? Climb aboard the California Zephyr, which begins in Emeryville, California (near San Francisco) and travels to Chicago, Illinois for about $340 over the course of 52h.
You will see famous California cities like Davis, Roseville and Truckee before leaving the Golden States. Another popular route through California is the Coast Starlight, which travels from Los Angeles to Seattle, Washington in about 34h for the cost of $160. You can also take the Southwest Chief from Los Angeles to Chicago for about $280, completing the journey in approximately 43h.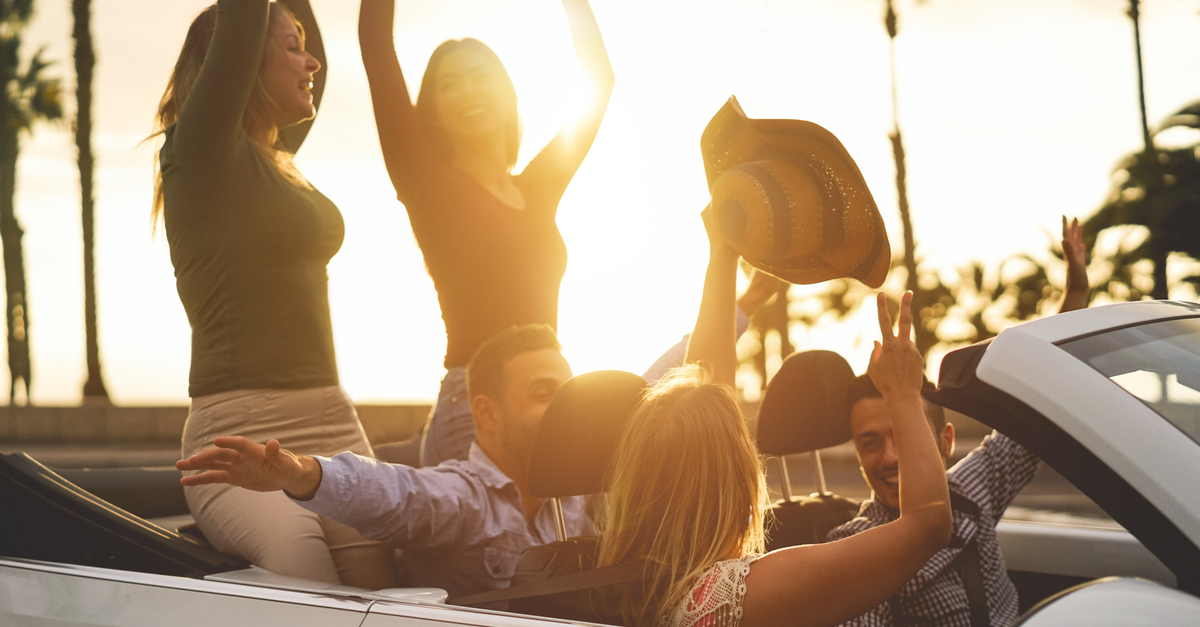 Los Angeles Happy Friends. Source: Shutterstock
Popular Train Routes from Los Angeles
There is only one line the runs between Los Angeles and San Diego - The Pacific Surfliner. Conveniently, this route has several departures per day, with nine total departures from around 6:00 a.m. until 10:20 p.m. There are plenty of other popular routes that originate in Los Angeles, including the Coast Starlight, Pacific Surfliner, Southwest Chief, Sunset Limited, and Texas Eagle. The Southwest Chief is extremely popular, providing an old west tour of the United States with stops in famous locations such as Flagstaff, Las Vegas, and Kansas City. The full journey takes around 48h.
Good to Know
On trains from Los Angeles to San Diego, sit on the right side of the train to enjoy incredible views of the Pacific Ocean and California coastline. If you are looking to visit Downtown San Diego for a San Diego Padres game or to enjoy the booming food scene, choose Santa Fe Depot as your arrival station for a convenient start to your time in San Diego. Note that the frequency and departure times of trains on the weekdays are slightly different than those on weekends, so check your travel in advance.
Los Angeles to San Diego by train—travel tips
Looking for a day on the beach, complete with warm waters and comfortable sand where you can lay out and work on your tan? Maybe you want to get out in the water and catch some waves, whether it is on a surfboard or just swimming along the coast. Regardless of what brings you to San Diego, this is one of the hidden gems of America that is consistently rated as one of the best places to live in the entire country. Despite being a major American city, it still retains the feel of a tight community that is passionate about its identity.
The city is famous for its consistently perfect weather - a running joke is that the easiest job in town is serving as the weather reporter, since you can rely on sunny weather in the mid-70s for temperature every day. There are a wide variety of beaches, with some in secluded locations that you can only reach via hike, some with boardwalks for family entertainment, and even some beaches that are dedicated for dogs to enjoy (humans are also allowed, so long as they are well behaved). If you can pull yourself away from the pristine beaches, make a visit to Old Town San Diego.
This is where the first Spanish settlement was established, and the home of Mission San Diego - the first of 21 California missions throughout the state. With such a close proximity to Mexico, you can find authentic Mexican food or a blend of Mexican Baja Med style. After filling up on delicious local food, make your way to Petco Park for a San Diego Padres game and cheer on the up-and-coming young baseball team. If you happen to be in town for a matchup against the nearby rivals - the Los Angeles Dodgers - you are in for a treat. No matter what brings you to the city, the two most challenging aspects of your visit will be choosing what to do first and heading back home after a satisfying visit. You stay classy, San Diego.