Flights to Lyon
Traveling to Lyon, which has become a major tourist site, by flight saves you time and it's comfortable. You can use Air France, which is the most popular Lyon airline flight company. However, other flight companies such as Finnair, Turkish Airlines, Brussels Airlines, and Aeroflot. These companies operate in various European cities, including London, Paris, and Frankfurt. There are several flight types to choose from when traveling to these cities, including Boeing 777, Airbus A330, Airbus A350, and Boeing 787. These flights make several stops between cities. A tram train called Rhonexpress connects travelers to Lyon-Saint Exupery Airport and Lyon Part-Dieu station.
Booking your flight ticket with Omio to Lyon
Omio has a good reputation due to its excellent customer service. At Omio, we make your flight booking easy and ensure that you enjoy your flight to Lyon. Our partnership with the best flight airlines gives you the best experience of your lifetime. Our Omio App has 18 languages to help our clients understand what they are doing. Therefore, you can't make mistakes due to language errors. Again, we save you the last-minute hassle that can be inconvenient. If you need to travel to Lyon, don't stress yourself booking the ticket yourself. Instead, let us do it for you to have a smooth flight experience.
Flight Companies to Lyon
Though other flight companies such as Brussels Airlines and Turkish Airlines, Air France is the most significant air company to Lyon. The flight makes several stops in major European cities, including Paris, London, and Frankfurt. Tram-train has made it possible to connect to various airports and stations for customers who need to fly to Lyon or alight along the way. Traveling to Lyon using Air France has been made easier and hassle-free by Omio. Despite the city that you are booking your flight from, we have your back. We ensure that your ticket is ready before you even know it, and this saves you time and fulfills your traveling experience.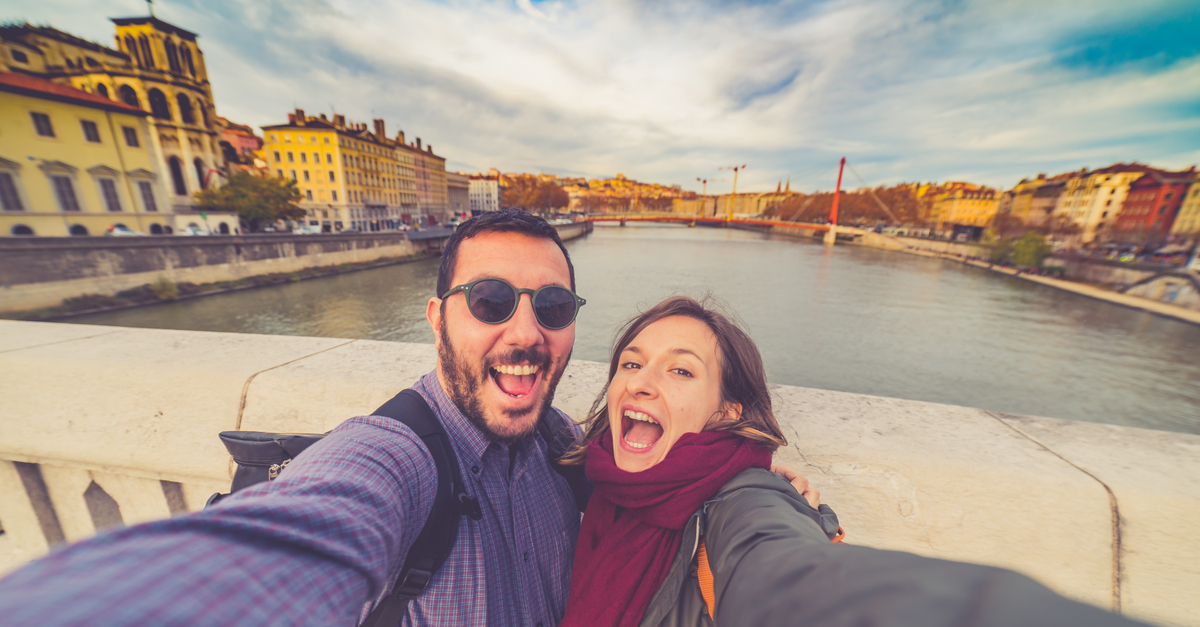 Lyon Bridge. Source: Shutterstock
Popular international routes by flight to Lyon
Besides traveling to Lyon, there are different international routes served by Omio, including Montreal to New York City. Despite where you are going, traveling by flight is fast, thus time-saving. Again, you can connect to other cities in Europe comfortably. Omio also serves different international routes, including Canada to Lyon and New York City to Lyon. Despite the route you're traveling, Omio makes everything easy from booking until you reach your destination. However, nowadays, you have to wait in line and produce your Coronavirus results, unlike before where there wasn't time wastage in the airport. Despite this, the flights always depart and arrive at the scheduled time.
When arriving by flight to Lyon
After arriving in Lyon by flight, you can't get your eyes off the beautiful city. There are many restaurants that provide a variety of delicious food. Thus, you can eat the food you love from the restaurant of your choice. You can also learn more about the city's culture by visiting the museums that welcome many visitors worldwide. Another unique culture in Lyon is the fine and decorative arts, silk and textiles, printing, and cinema. You can also have fun in the show venues, tours, and workshops. The currency used in Lyon is Euro. Life in Lyon is cheaper than in some cities, but you should carry a substantial amount of cash for your entire trip.
Flight Provider to Lyon
Air France is the leading flight provider to Lyon airline though there're several airlines operating on the same route. There are different flight types that travel within specific schedules and make stops in various airports connected by a tram train called Rhonexcess. These flights follow the routes to London, Paris, and Frankfurt and make stops in multiple airports. One of the most common routes is Paris-London-Frankfurt. Other flight routes in the country include specific destinations such as Paris, Marseille, Bordeaux, Strasbourg, Montpellier, and Toulouse. Another main route is Toulouse-Nice-Nantes. Despite the route, it follows a scheduled time, and reach your destination on time.
Main airports to Lyon
When traveling by flight to Lyon, the plane can make stopovers in several airports, including Charles de Gaulle Airport, Heathrow Airport, or Frankfurt Airport. However, Lyon – Saint Exupery Airport is the main airport in Lyon. Rhonexpress also connects the flight in Lyon Part-Dieu Station. The flight stops in various cities in Europe, including London, Paris, and Frankfurt, for passengers to alight. The main airport addresses are 60547 Frankfurt, Germany, Longford TW6, UK, 95700 Roissy-en-France, France, 69125 Colombier-Saugnieu, France, and a station 5 Place Charles Beraudier, 69003 Lyon, France. They offer all the essential amenities, including Wi-Fi and a water closet.
Popular flight journey to Lyon
Omio also provides services to travel to several international cities in the United States and Canada. Some of the most popular destinations include Montreal and New York City. Traveling from Munich to Lyon is 8h 5min, and the price is $158. The flight from Barcelona to Lyon takes 1h 26min, and the flight price is $55. Flying from Vienna to Lyon takes 10h 18min and the price is $175. Traveling from Moscow to Lyon is 16h 41min and the flight ticket is $363. Moving from Warsaw to Lyon takes 13h and the flight ticket is $163.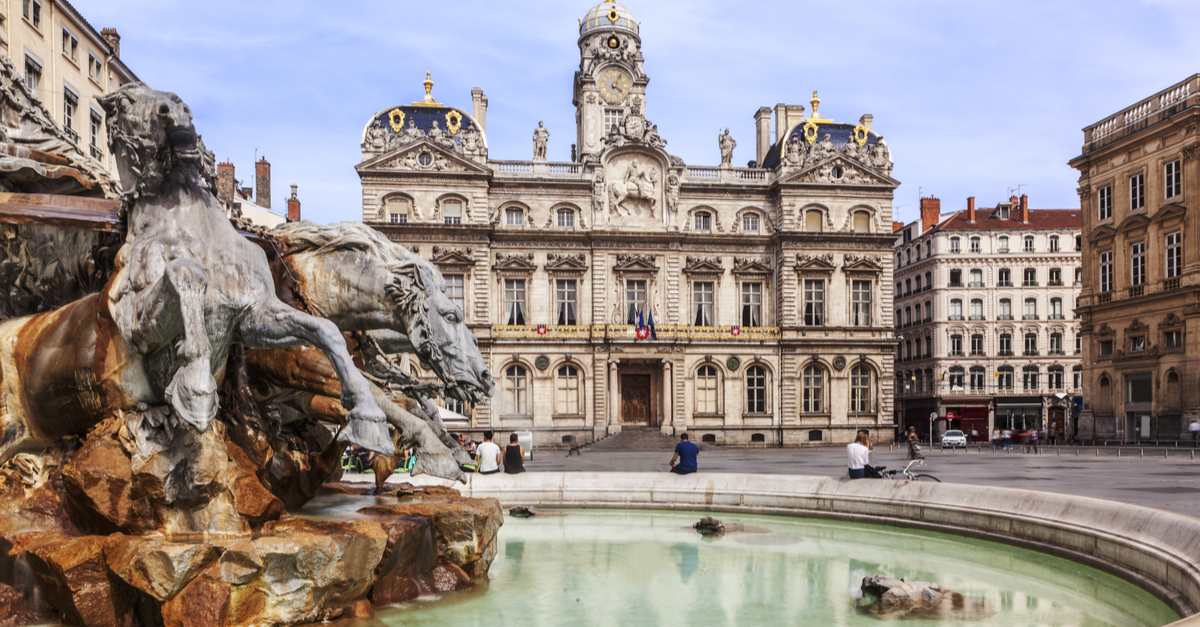 Lyon Fountain. Source: Shutterstock
Popular flight routes to Lyon
The leading international routes from Lyon are Canada and the United States. One route is from John F. Kennedy International Airport in New York City and Montreal-Trudeau International Airport in Montreal, Canada.
Good to Know
When traveling from other cities to Lyon, you should expect to stop in various cities if you didn't book a direct flight. The flight is also comfortable and fast compared to traveling by bus or train. However, you can't see the beautiful scenic views you see when traveling by train or bus. After arriving in Lyon, you'll meet many visitors who have come to explore this beautiful city.
To Lyon by flight – travel tips
Lyon is a beautiful city that attracts thousands of tourists annually. If you'd love to visit its beautiful old towns, you can go to Vieux Lyon, Les Musees Gadagne and Elise Saint-Paul. These ancient towns are magnificent because they tell much about the city's history. You can also visit the Roman Ruins of Lyon to see the arches, crumbling walls, remains of Roman theaters, and Roman baths.
Coffee lovers who visit Lyon are lucky because this city has fantastic cafes all over the city providing specialty coffees. Some of the best restaurants include Puzzle Café, La Boite a Café, and My Petite Factory. If you feel hungry, you can enjoy eating traditional Lyonnaise food at various food hotspots. To understand the city better, you can visit the museums, European bookshops such as Le Bal des Ardents bookshop and other attractions such as Parc de la Tete d'Or and Notre Dame de Faourviere. These are some of the hidden treasures of the city. Lyon is built between two rivers, the River Rhone and River Saone. Thus, visiting this city during summer is fun as you take quayside walks.
This view is beautiful, and you can never get bored as you view the city's best scenes. After arriving in Lyon, you can never be stranded because there are many incredible places you can stay, including five-star Villa Florentine and an Air Bnb Apartment. However, every place has its price, so you should do your research before and book what's within your budget. These are some of the best reasons to travel to Lyon.