Book cheap VR train tickets
The best way to find the cheapest VR train tickets is to book as far in advance as possible. There are a range of different VR tickets including single tickets, holiday tickets and multi-tickets. Children under 18, seniors and military personnel are eligible for discounts. On commuter trains, children under 7 travel free while on long-distance routes children under 4, and without a seat, get a free ticket. There are often seasonal deals in winter and summer and as an official VR partner, discounts can be added via Omio when booking online or on the app.
VR train tickets and fare information
Single ticket: available for specified train journeys on long-distance routes. Great for those making a stand-alone journey. The ticket can be exchanged before departure for a €5 fee (per leg of the journey). If exchanging for a more expensive ticket, the difference in price will have to be paid. On commuter trains, the single ticket is valid for two hours on all commuter trains on your route.
Multi-tickets: a good option for those making multiple journeys along the same route. Multi-tickets are valid for 6 months on long-distance routes (including commuter trains that are part of the journey), or 4 months for sole use on commuter trains. Buying Multi-tickets saves commuter train passengers 20% off the price of a single ticket.
Night trains: going skiing or visiting Rovaniemi, Santa's official hometown? Night trains travel from the south to the north of Finland through forests and snowy landscapes. These double-decker trains are designed to be comfortable and affordable, whether you're alone or traveling with family and friends. There are several cabin options to book including an entire sleeper cabin, cabins with adjoining doors, accessible cabins, cabins with a shower, and the option to reserve a car space.
Holiday tickets: great for those traveling to multiple destinations during the summer months. This ticket offers passengers unlimited VR train travel from 5 days to 30 days, you can choose depending on how long your vacation is. Holiday tickets will display the passenger name and date of birth so remember to bring your ID on the train.
Assistance tickets: if you need assistance along your journey, free assistance tickets are available for eligible passengers. Passengers will need to present relevant medical certification to the ticket inspector.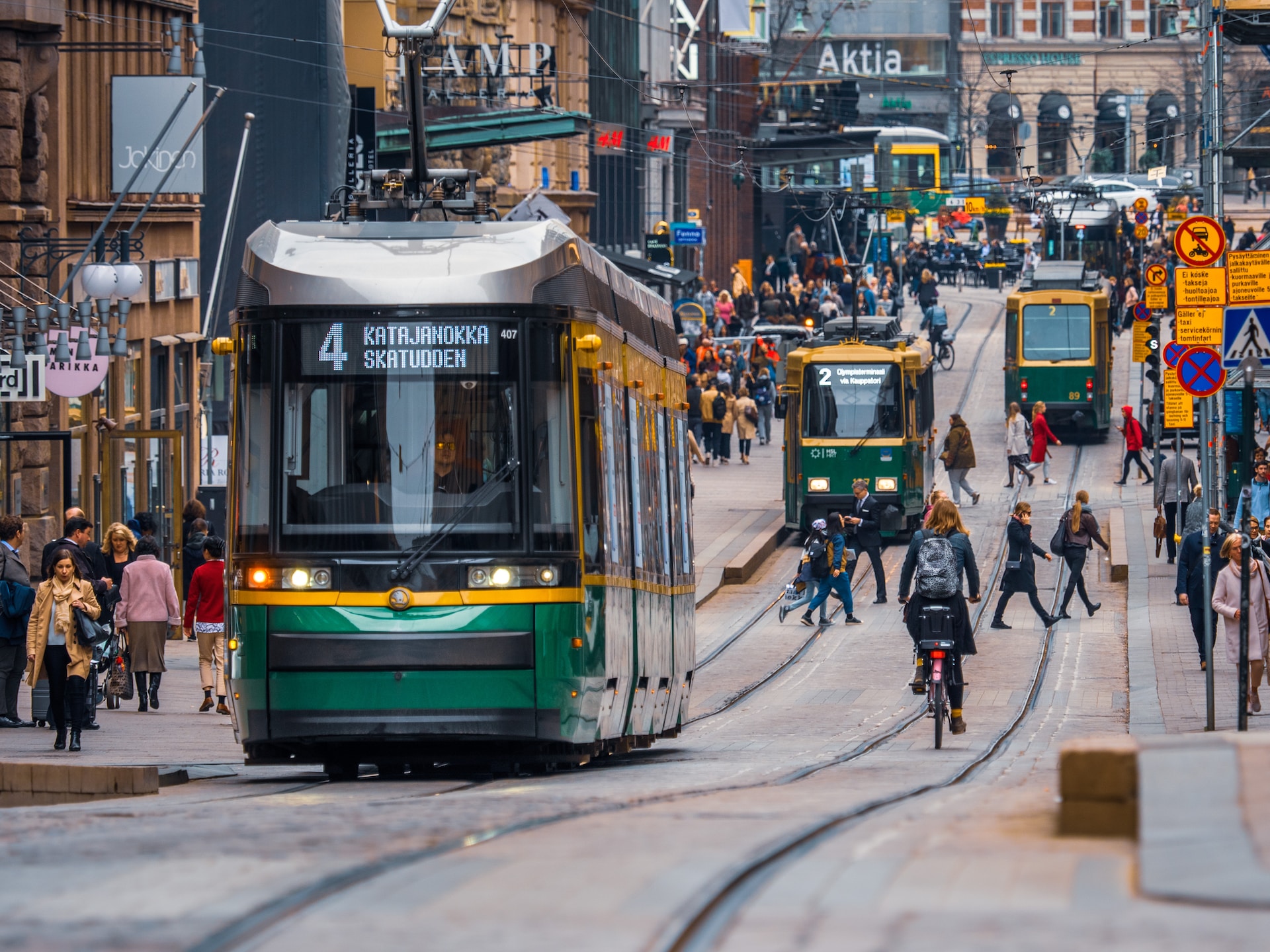 The streets of Helsinki. Credit: Unsplash