Trains from Prague to Budapest
This train route is among the most popular, as it is quick, easy, convenient, and hassle-free. Trains from Prague to Budapest run at least 2 or 3 times daily, if not even more often. The journey is typically without transfers, so you'll be able to stay on board your train the entire time. The trip takes a little over 7 hours give or take depending on local conditions along the route.
Prague to Budapest train time: daily departures
Trains from Prague to Budapest leave daily, so there are at least 14 departures per week. There are typically 2 or 3 trains that depart from Prague to Budapest each day, but on weekends sometimes there will be 4 departures for your convenience. Usually there's a morning train, an afternoon train, and an early evening train so you can choose what departure time works best for you. Usually the first train to Budapest from Prague leaves just before 5:00 a.m. and the last one leaves just before 5:00 p.m., getting you to Budapest around 11:00 p.m.
How long is the journey by train from Prague to Budapest?
The train journey from Prague to Budapest typically takes just under 7h 30min. Most of the trains are direct so you won't have to worry about any transfers during your trip, but there is one journey that leaves on Sundays that involves a transfer in Brno. This route takes just over 7h. Otherwise, you can estimate your travel time at just under 7h 30min on a direct route.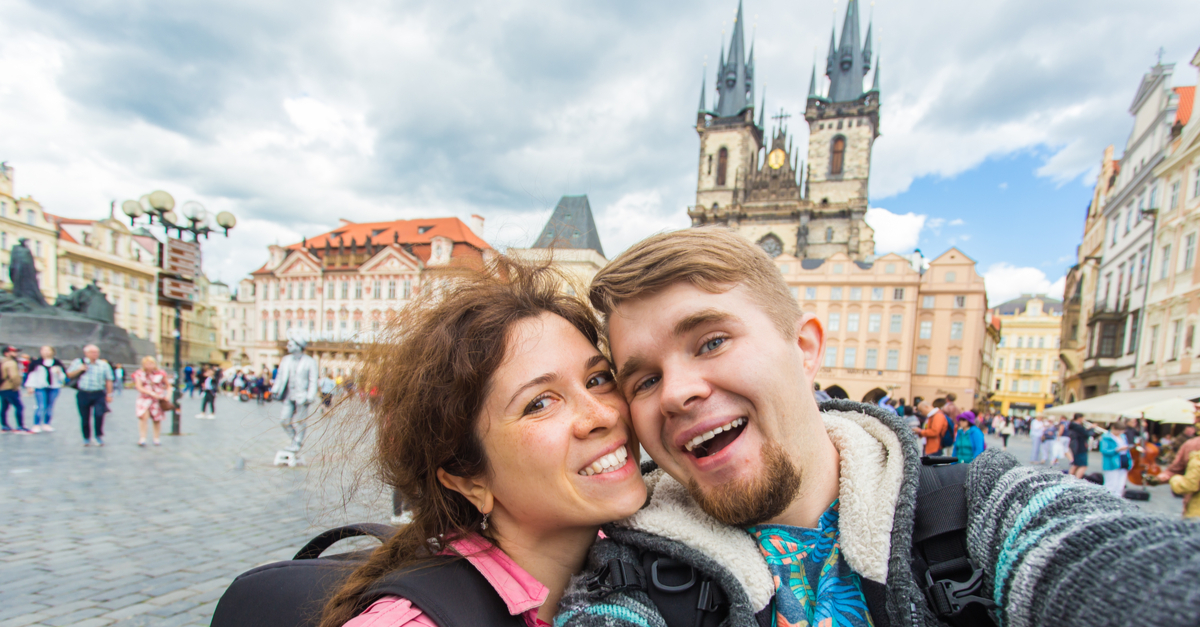 Prague Couple Selfie. Source: Shutterstock
What are the departure and arrival stations for trains from Prague to Budapest?
Departure train station: Trains from Prague to Budapest all leave from Prague's main train station, Hlavni Nadrazi. Hlavni Nadrazi is located just a few minutes from the city center. If you decide to walk, it will take about 15 to 20min to reach the station. Otherwise, you can take the tram or the metro to Hlavni Nadrazi station. The train station can be reached from the center via tram or metro in about 5 to 10min. There are many facilities available for travelers at the train station, including public restrooms, restaurants and cafes, free wifi connection, ATMs, and a supermarket onsite.
Arrival train station: Trains from Prague to Budapest will all arrive to the Budapest Kelenfold station. This is Budapest's fourth busiest train station. It takes about 15 to 20min to reach the Budapest city center from Kelenfold. The train station provides direct access to Line 4 of the metro, which will take you to the stop Fovam Ter near the city center. Or, if you wish, you can transfer to Line 3 at Kalvin Ter and take Line 3 into the heart of the city. Amenities available for travelers at Kelenfold station include public bathrooms, ATMs, cafes, restaurants, and supermarkets onsite. There is also a taxi rank in case you're looking to avoid public transport and catch a cab to your accommodation when you arrive in Budapest.
Which train companies travel from Prague to Budapest?
The only train company providing service from Prague to Budapest is RegioJet, a Czech railway provider. RegioJet is known for providing train and bus routes between major cities in central Europe and all journeys from Prague to Budapest are on board RegioJet trains.
RegioJet trains from Prague to Budapest
RegioJet services from Prague to Budapest operate on a daily basis, multiple times per day. RegioJet typically has at least 2 trains departing from Prague to Budapest every day, if not 3 or 4 on some days. Most of these are direct trains, while there is occasionally a departure that may require a transfer in Brno before continuing on to Budapest. The duration of the train journey on board RegioJet trains is usually around 7h long. All journeys are on board RegioJet's regional long-distance trains.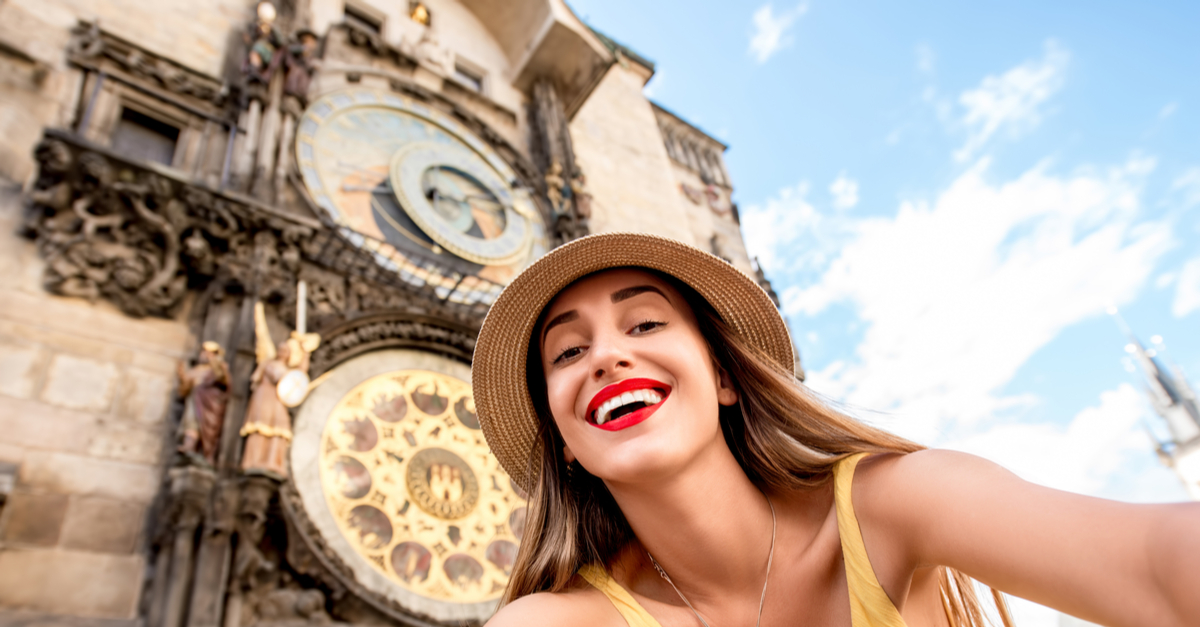 Prague Ocklock. Source: Shutterstock
Train Prague to Budapest: Services on Board
There are many services and amenities on board RegioJet trains from Prague to Budapest for travelers. There are several classes on board RegioJet trains, including low-cost, standard, relax, and business class. In low-cost class, you have access to free bottled water and plush seats in an open-space train car. In standard class, you'll be seated in a compartment for 6 people, spacious tables, and multimedia screens. In relax class, you'll have full service with an attendant as well as large leather seats.
And finally, in business class, you'll have access to all the above amenities as well as a spacious train compartment for 4 people. Free wifi is also available to all passengers. You are able to bring your bicycle on board the train for an additional fee as long as you reserve space for it when you book your ticket. Bikes must be stored in the 2nd class carriage. As for luggage, you're typically allowed a larger bag or suitcase that can be stored in the overhead compartment above your seat as well as a smaller bag.
How to find cheap train tickets from Prague to Budapest
There are several ways for you to save money when booking your RegioJet train from Prague to Budapest. First off, book as far in advance as you possibly can. The ticket prices usually rise as the departure date gets closer, so the more in advance you book, the cheaper your tickets will be. This is also the best way to guarantee you get a seat in the class you prefer.
It's also a good idea to be flexible with your travel dates. It might be cheaper to book weekday tickets than weekend tickets, so keep this in mind when you're researching prices. It may also be cheaper to leave earlier in the morning than in the middle of the day, so check on any price differences between the multiple daily departures. If you're traveling in a group, you may also want to check if there are any group discounts available for your journey.
To Budapest by train - travel tips
Budapest is a must-visit destination in Central Europe for many different reasons. Rich in culture and history and also cheaper than most other European capitals, there's so much to do and see here. Budapest is famous for its thermal baths, so while you're in town you will definitely want to check out the Szechenyi Thermal Bath, the most famous one in the city.
You will also want to visit the iconic Hungarian Parliament Building located on the banks of the Danube River. Other popular attractions include Buda Castle, the Fisherman's Bastion, and St. Stephen's Basilica. As for food, Budapest is famous for its goulash, so you will want to give that a try while you're in town. Langos is another Hungarian speciality.
Budapest is also famous for its ruin bars, the most famous of which being Szimpla Kert, although there are many others located around the city. Arrive early, though, as the line outside gets longer the later in the evening it gets. The people in Budapest are incredibly friendly, as well, so if you have any questions once you get there, there will always be someone around willing to help. Otherwise, sit back, relax, and enjoy your visit to one of the most vibrant and unique European capitals.