Trains from Paris to Lyon
When looking for a train from Paris to Lyon you will find around 20 departures per day with an average travel time of just a little over 2h. The trip on trains to Lyon from Paris will cover a distance of around 244 miles (393 km) and the fastest train on this journey makes the trip in about 1h 55min.
Paris to Lyon Train Time: Daily Departures
Every day of the week you will find around 20 Paris to Lyon trains with the first trains departing quite early in the morning at around 6:00 a.m. and then again at around 6:30 a.m. After that, you will find roughly two to three departures per hour up until the early evening hours. The final train of the day departs Paris at around 10:00 p.m.
How long is the journey by train from Paris to Lyon?
When you are making the trip on Paris to Lyon trains you will be traveling a distance of around 244 miles (393 km). The time it will take to make the trip depends on whether you'll be traveling on a high-speed train or a normal-speed train. The high-speed trains make this trip in around 2h and normal-speed trains can take anywhere up to about 5h. All the trains offered on this route are direct trains between the cities.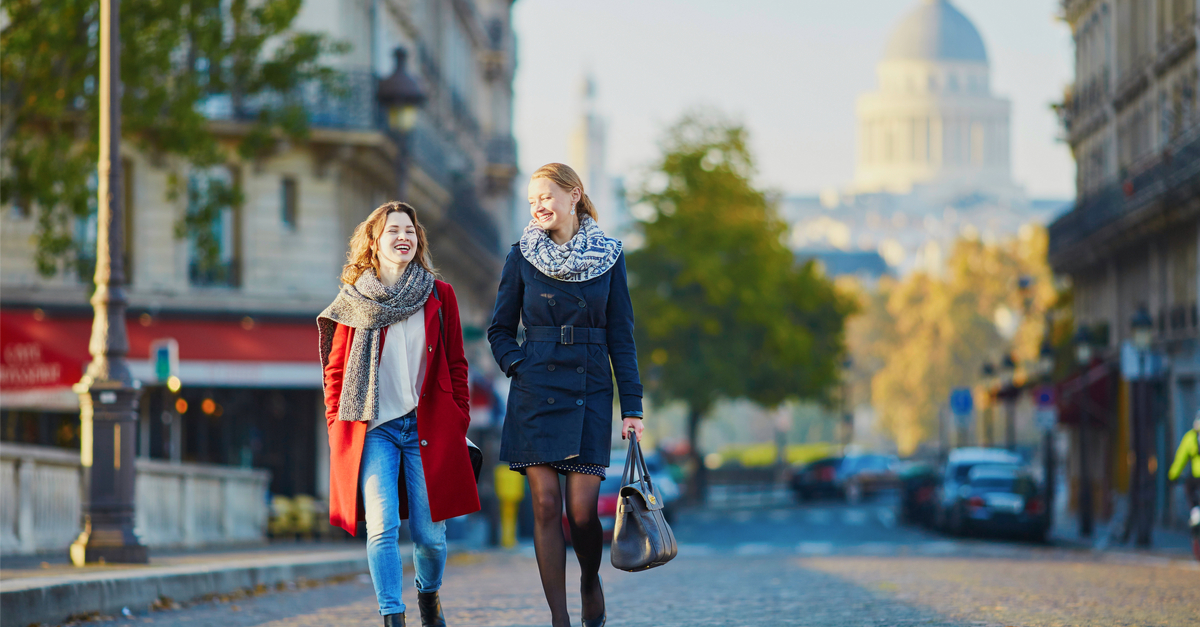 Women walking around Paris. Source: Shutterstock
What are the departure and arrival stations for trains from Paris to Lyon?
Departure train station: Paris Gare de Lyon. The departure station for trains from Paris to Lyon sits right adjacent to the Seine River. If you would like to make the trip of around 1.4 miles (2.3 km) from downtown to this station you can do so on board the line 14 subway that can have you there in about 3min. The clock tower at the station is an icon of the city plus inside of the station you will find a ticket office, food and beverage options, shopping options, and seating as well as restrooms for passengers.
Arrival train station: Lyon Part Dieu. This train station sits in the eastern part of downtown beyond the east side of the Rhone River. After your journey on Paris to Lyon trains, you can get from the station to downtown Lyon aboard bus number C3 or C13 in around 15min to make the trip of about 1.5 miles (2.4 km). Once inside the station you will find a ticket office and ticket machines as well as plenty of luggage lockers and restrooms for passengers. If you are looking for something to eat after your Paris to Lyon train you will find quite a few snack shops, sandwich stands, and burger bars both inside and around the station.
Which train companies travel from Paris to Lyon?
The only train company operating trains from Paris to Lyon is SCNF. On this route, they offer nothing but direct trains with quite a few of the trains being their InOui high-speed train service although they do also offer a few of their slower speed regional trains. They start running trains around 6:00 a.m. every day and some departures continue throughout the day until their final departure at around 10:00 p.m. that arrives in Lyon just before midnight. Every one of the trains on this route is a direct train between the two stations.
Night trains Paris
If you would prefer to travel on the train to Lyon from Paris at night you'll be happy to learn that there are six different departures every day departing the station in Paris after 6:00 p.m. Every one of these train offerings is on a high-speed train that will make the journey between Paris and Lyon in around 2h. All of these night trains are also direct trains meeting you will not need to transfer to another train during the trip.
SCNF trains from Paris to Lyon
Since this train provider operates around 20 trains per day starting at around 6:00 a.m. and ending at around 10:00 p.m. there should be a departure time that will suit most travelers. Of all of the departures every day most are going to be on high-speed trains although there are roughly three trips made on regional trains that will take quite a bit longer to make the trip at around 5h as compared to the journey of about 2h on high-speed trains. Every train that they offer on this route is a direct train between the two cities.
Trains from Paris to Lyon : Sustainability travel
One of the reasons that traveling on trains from Paris to Lyon is such an environmentally friendly way to travel is because of the speed at which you can make this journey. With so many high-speed offerings on this route, the time it will take you to get from one city to another is much quicker than taking a normal speed train or driving your own car between the two cities, thus substantially reducing your environmental footprint during your trip. As a bonus, this train provider is well known for continually modernizing its fleet to offer the most fuel-efficient vehicles possible.
Train Paris to Lyon: Services on Board
Most all the trains from Paris to Lyon will offer two different classes of seating. Once you step aboard the train you will find amenities such as free Wi-Fi plus an extensive menu of food choices. All the seats offer power plugs and if you are in upper class you will find quite wide seats that offer plenty of legroom. There is no specific limit for the amount of luggage you can bring on the train but you must be able to carry all of your own luggage on the train. Smaller items can go in overhead compartments and larger items can go on storage racks at the end of the train cars. You can bring any type of standard size bicycle aboard the trains and you can also bring a small domesticated animal on the train so long as it travels in an approved pet container or a dog can travel outside of a container so long as it has a muzzle. This train provider goes out of their way to make sure that all disabled passengers get the same travel experience as anyone else and that include things such as making sure there's space for people to ride in wheelchairs on the train and also offering discounted tickets to traveling companions. You can get to know more tips about travelling by train on the Omio Magazine.
How to find cheap train tickets from Paris to Lyon?
When you begin to look through your choices for Paris to Lyon trains you'll see quite a variable pricing structure. If you want to save some money on your train fare stick to those routes that are in lower demand and you will save money. Another good tip for cutting the cost of your train travel is to pick a day that you want to travel and then try to book as far in advance as possible. This is a great way to find discounted tickets for your train trip. One final idea is to pick a day that you want to travel and then search around several days to see if there's one day that is in less demand offering lower ticket fares.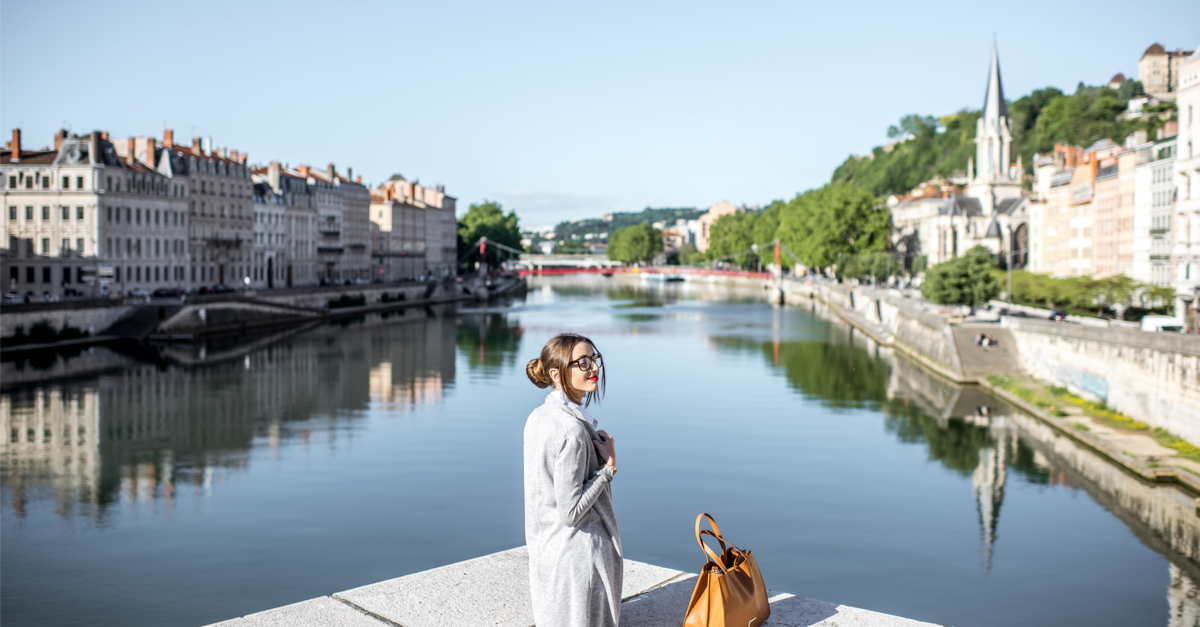 Tourist woman in Lyon. Source: Shutterstock
To Lyon by train—travel tips
Quite a few visitors to Lyon do not realize that this is the third-largest city in France. This is a city that many visitors feel will give them a true taste of French culture and in actuality it has some of the most well-known cooking in the world. Many visitors and locals will tell you that Lyon is the gastronomic capital of France. Beyond the bustling restaurant scene, this is a city that is also home to a huge number of packed music clubs offering all different types of performances for practically any musical taste. Because Lyon is the gateway to the Rhone Valley you will find an almost endless number of wineries that spill out of the city and into the rolling hills adjacent to the town.
La Basilique Notre Dame de Fourvière
Musée des Confluences
Cathédrale Saint-Jean-Baptiste
Place Bellecour
Teatro Galo-Romano
Musée d'art contemporain de Lyon
Gallo-Roman Museum of Lyon-Fourvière