Trains from Detroit to Chicago
Amtrak is the sole provider of train service on this particular route and offers daily rail service from Detroit to Chicago on its Michigan Services trains. This direct itinerary leaves from the Detroit Amtrak Station and arrives at Chicago's Union Station just about 5h later. This idyllic ride departs first thing in the morning, crossing the beautiful state of Michigan before arriving in Chicago's thriving West Loop in the late morning. A quick, non-stop journey, this route is ideal for business travelers with meetings or other appointments in Chicago, but also provides an exciting adventure for young families or couples looking for a weekend getaway in the famous Windy City on the shores of Lake Michigan.
Booking the train from Detroit to Chicago
When it comes to travel by train from Detroit to Chicago, the pros will tell you that the best thing you can do to save money is to book your ticket early through Omio. This way you can avoid rising fares as specific trains fill up closer to departure time. Additionally, it's always a smart plan to be flexible with your travel dates.
You just may be surprised by how much you can save by departing a day later or even a day earlier. Another savvy move is to look for discounts in the form of student tickets or senior citizen rates. There's no shame in saving a buck where you can. Thankfully, with the Omio app these and other tickets are easily booked right from the comfort of home.
Train companies in Detroit
Amtrak provides passenger train service from Detroit on its Michigan Services trains. Daily itineraries are available to Chicago, arriving in about 5h at the Chicago Union Station in downtown. These routes are direct and non-stop, meaning when you book your train ticket through Omio you can save both time and money on your train from Detroit to Chicago.
Popular routes from Detroit
Detroit is an excellent embarkation point for popular regional destinations such as Chicago, which can be reached in about 5h. However, when you ride one of Amtrak's Michigan Services trains from Detroit you can also visit other major cities such as Grand Rapids in about 17h. The Blue Water train passes through such popular destinations as Kalamazoo in just about 4h. Whether it's a lakeside excursion or a weekend in the Windy City, there's plenty to see and do when you take one of Amtrak's trains from Detroit. And don't forget that with the Omio app, train tickets from Detroit are easy to book from anywhere.
Arriving by train in Chicago
When you take one of the daily Amtrak Michigan Service trains from Detroit to Chicago, you can expect to travel non-stop along Lake Michigan for about 5h, arriving at Chicago's downtown Union Station in the mid-morning. Chicago's iconic Union Station is located right on South Canal Street, close to the city center, and offers an ATM and various vending machines for passenger convenience. Public restrooms, including accessible facilities, are available, as is a ticketing office. For passengers connecting to other Amtrak destinations nation-wide, a Metropolitan lounge is available for added comfort. Union Station features free Wi-Fi throughout for its travelers to use and enjoy.
Amtrak
Amtrak provides train travel from Detroit to Chicago on its Michigan Services Wolverine train which makes the journey every day of the week, providing non-stop service from the Detroit Amtrak Station to Chicago's Union Station in just about 5h. On this train passengers may choose from standard Coach Class seats with reclining cloth seats, folding trays, personal reading lights, and charging ports for their mobile devices.
As an alternative, Business Class seating is also available which includes a dedicated car with its own service attendant, complimentary non-alcoholic beverages, and special access to the Metropolitan Lounge at Chicago's Union Station upon arrival or during connection. Both classes of seating include access to the Café Service on board, and for those seeking a more restful journey, a Quiet Car is also available for all passengers.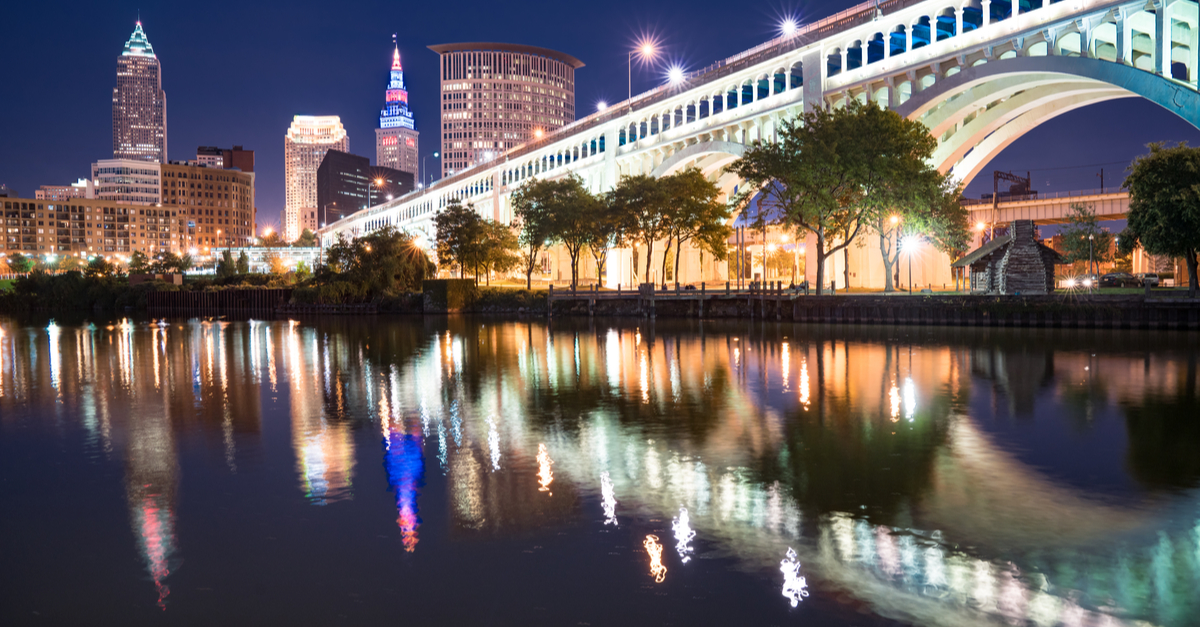 Detroit City Lights. Source: Shutterstock
The main train station in Detroit
The main passenger train station in Detroit is the eponymous Detroit Amtrak Station, located on West Baltimore Avenue. The Amtrak Station offers an ATM and ticketing office as well as Quick-Trak kiosks. Handicap accessible restrooms and an elevator are also provided in addition to handicap parking spaces outside the station. For traveler convenience, over-night parking is also available. Passengers departing from Detroit are advised to arrive at the station at least 30min before scheduled departure. If luggage will be checked, including bicycles, it is suggested that passengers arrive at the station at least 45min before departure.
Popular train journeys from Detroit to Chicago
Train journeys from Detroit to Chicago are available on one of Amtrak's Michigan Services trains. These trains, generally the Wolverine, will depart from the Detroit Amtrak Station each morning, traveling directly to Chicago in around 5h. You can easily book one of these trains on the Omio app for about $40, thereby saving both time and money on your trip west from Michigan to Illinois.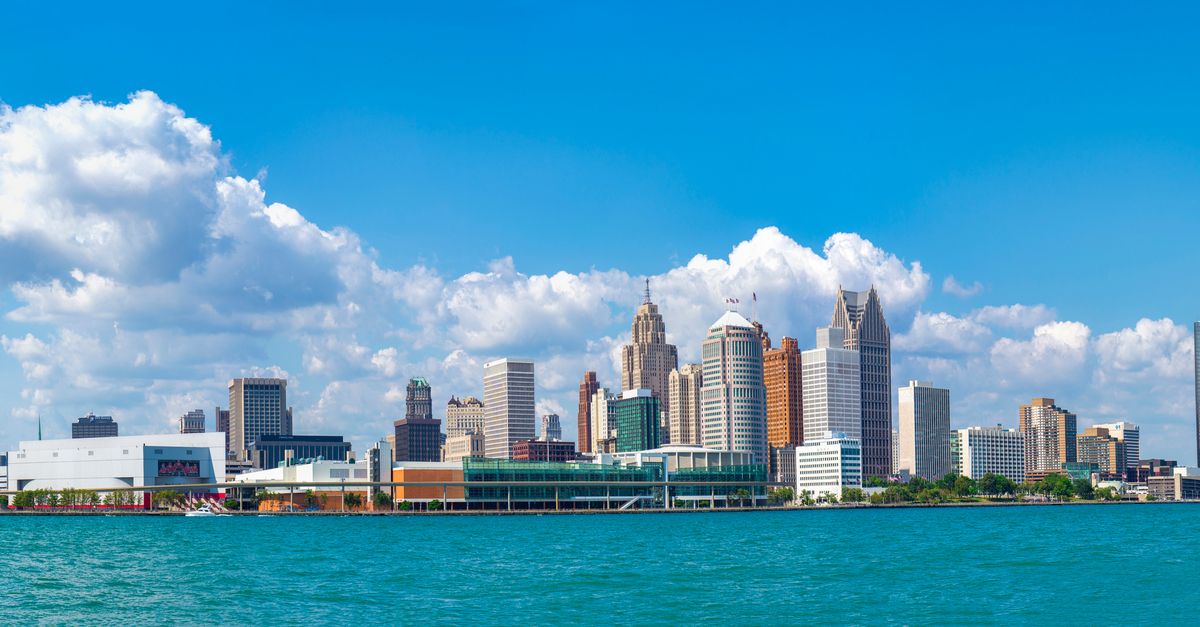 Detroit Panoramic. Source: Shutterstock
Popular train journeys from Detroit to other cities in the USA
It's amazing how much of North America is right at your fingertips when you book a train trip from Detroit on the Omio app. Blue Water trains from Detroit travel to major destinations such as Pontiac in about 45min for around $15.
When you ride the Wolverine to Chicago, however, you will be able to connect to an almost endless number of other destinations, such as Memphis on the City of New Orleans train (about 10h 30min for around $111), or perhaps Los Angeles on the Southwest Chief (around $183). Wherever you're headed, you can get there from Detroit.
Good to know
It's always a good idea to book your ticket early when taking the train from Detroit to Chicago. This way you can lock in low fares and avoid trains selling out during popular times. Being flexible with your travel dates can also save big money, as fares fluctuate from day to day. And remember, small cats and dogs are allowed on Amtrak trains as long as they remain caged and weigh less than 20 lbs (9 kg).
To Chicago by train: Travel tips
The Windy City is packed with opportunities and excitement, but did you know that much of what the city has to offer is readily available within a very short distance of its Union Station? When you arrive at Union Station in the city's West Loop, you'll be within walking distance of Greek Town. You'll also be close to Harpo Studios (of Oprah Winfrey fame) and if you're lucky, you'll be in town in time to enjoy the Craft Beer Fest or the Randolph Street Market Festival, all near to the station. Chicago has so much to see and experience, such as the Lyric Opera or the famed Riverwalk, both less than a mile from the station.
The attractions don't stop there, with Chicago's Metra system linked to the Union Station, providing visitors with easy access to attractions like the Navy Pier. With so much to see and do, you will surely want to return to Chicago again and again, and with daily trips by train available, Omio will be there to help you book a memorable journey to Chicago from anywhere.