Trains from Amsterdam to Berlin
Trains from Amsterdam to Berlin cover 358 miles (577 km). Ten trains cover this route daily, including weekends and holidays. Traveling by train from Berlin to Amsterdam is interesting because of the numerous views along the way. Trains operate during the day and night, offering direct and indirect services. Therefore, you can choose a train depending on its departure time, day of travel, speed, and services provided on board. You can always consult with your preferred train company to ensure that you have everything right before you board for your journey.
Amsterdam to Berlin train time: Daily departures
Usually, 10 trains operate from Amsterdam to Berlin daily. The first train leaves Amsterdam at around 8:40 a.m., and the latest train departs at around 10:38 p.m. However, these times are changeable during peak hours, weekends, and holidays. Thus, you should check the correct departure time before booking because there are multiple journeys every day. This way, you avoid inconveniences and last-minute hassles in your trip.
How long is the journey by train from Amsterdam to Berlin?
The distance from Amsterdam to Berlin is approximately 407 miles and depending on the changes that you have in your route it can vary, from 6h for a route without any stops to appoximately 11h 58min for the night rides that have 3 or more changes along the way.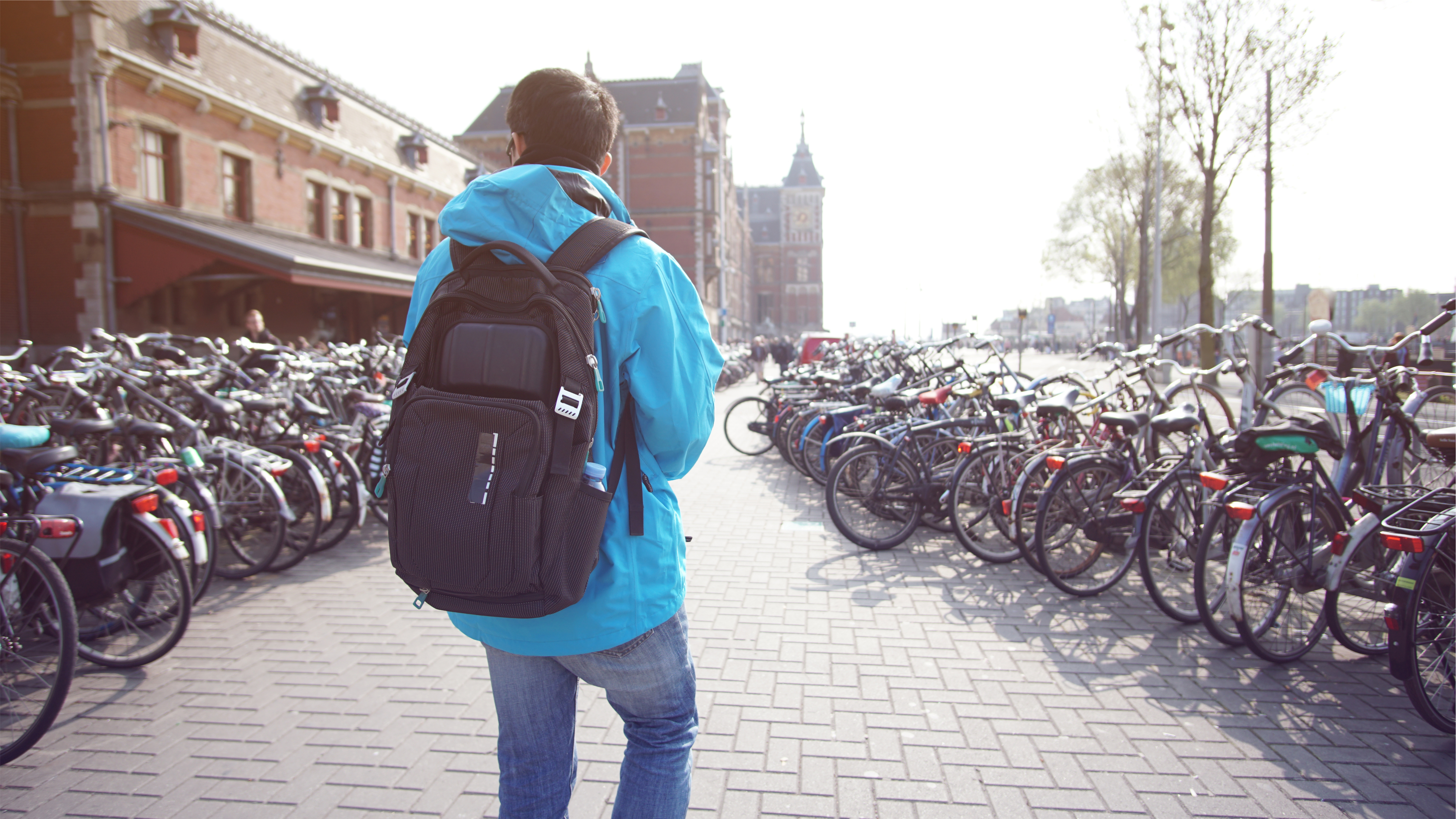 Tourist in the train station of Amsterdam. Source: Shutterstock
Departure train station: The popular train stations in Amsterdam include Amsterdam Centraal and Amsterdam Sloterdijk. Trains on this route depart from Amsterdam Centraal, located 0.6 miles (916 m) from the city center. The available public transport includes a train, a tram, and a bus. After arriving at the station, you'll find various amenities, including ATMs, storage lockers, a parking lot, a waiting area, restrooms, taxis, Wi-Fi, and wheelchair facilities.
Arrival train station: Trains from Amsterdam to Berlin can arrive in various stations, including Berlin Sudkreuz, Berlin Hbf, Berlin, Alexanderplatz, Berlin Gesundbrunnen, Berlin Spandau, Berlin Ostkreuz, and Berlin Ostbahnhof. Trains mostly arrive at Berlin Hbf, located around 1.7 miles (2.8 km) from the city center. The available public transport is a subway that takes 4min, a bus that takes 12min, a tram that takes 10min, and a train that takes 6min. This station has various facilities, including ATMs, a parking lot, and wheelchair facilities.
Which train companies travel from Amsterdam to Berlin?
Train companies operating from Amsterdam to Berlin include Deutsch Bahn, Deutsche Bahn with Connection, and FlixTrain. FlixTrain mainly offers direct services, though you can still catch a connecting train. Again, some Deutsche Bahn trains travel directly to Berlin, but others provide connecting journeys in major cities, including Dortmund, Arnhem, and Potsdam. Trains from these companies travel at the same high speed of 186 mph (300 km/h). In addition, they offer regional, intercity, and long-distance services. They have partnered with Omio to ensure that travelers enjoy their journey until they reach their final destination. Therefore, you should be comfortable choosing any train, depending on your preference.
Deutsche Bahn trains from Amsterdam to Berlin
Ten trains depart from Amsterdam to Berlin every day. Some trains travel directly to the arrival stations, but others offer connections along the way. The fastest trains take around 6h 58min, and the slowest trains take about 11h 6min. Trains offering connections make connections in various cities such as Potsdam and Wolfsburg. Thus, semi-fast trains offer intercity and regional train services. Deutsch Bahn high-speed trains travel at 186 mph (300 km/h) to cover long-distance routes. They are the best if you want to travel to do something urgent.
Train Amsterdam to Berlin: Services on Board
When traveling using Deutsche Bahn trains from Amsterdam to Berlin, you can book first-class or second-class seats. Onboard services in these trains include snacks, drinks, Wi-Fi, and comfortable seats. However, this depends on the train you take and your train ticket type. Travelers can travel with luggage without additional charges.
However, everyone is responsible for their piece of luggage during the journey. The bike policy allow you to bring your bike onboard. However, if you are traveling a long-distance trip, you will be charged a fee to do so. Travelers are also allowed to bring smaller pets onboard in a carrier. Assistance dogs are allowed at zero cost and without any restrictions. However, travelers with larger dogs should purchase an extra ticket, put a sticker with the name "Hund" on the box, and keep them muzzled and on a leash during the trip. Those with limited mobility can quickly access the trains and the station because they are equipped with wheelchair-accessible features. You should request assistance at least two days before traveling.
How to find cheap train tickets from Amsterdam to Berlin?
One way to find a cheap train ticket from Amsterdam to Berlin is to be flexible with travel dates. Despite most trains traveling on busy routes, you can travel outside rush hours and purchase a cheaper ticket. Another way to save some money for your journey is to book in advance. Booking at least three months before departure allows you to earn special deals and discounts. Finally, you can save a few pennies by choosing slower journeys offered by connecting trains. Note that in the latter case, you spend more time on the train and could arrive at your final destination feeling tired.
Night trains Amsterdam
You can take a night train from Amsterdam to Berlin if you need to save a few pennies. This is because night trains offer cheap services. The first night train leaves Amsterdam at around 7:00.p.m. However, departure times vary during weekends, holidays, and peak hours. Therefore, check the updated night travel time to avoid any last-minute hassle. Again, you should expect to spend more time on the train because they stop at various regions and offer slower journeys. Most of the night trains are normally fully booked during the holidays. So, you should ensure that you book your ticket early enough to avoid major inconveniences.
Trains from Amsterdam to Berlin: Sustainability travel
Taking the train is a sustainable way of traveling. Deutsche Bahn trains are environmentally friendly because they emit less carbon than vehicles and airplanes. Modern trains use recyclable material to avoid polluting the environment by affecting the air quality. They also use 100% renewable energy. Thus, you can be assured they don't emit as many toxic chemicals into the atmosphere and there is less impact on climate change. Despite traveling for long distances, these trains produce minimum levels of noise and vibrations. Thus, the environment is always peaceful. So, if you love the environment, you should definitely consider using these trains.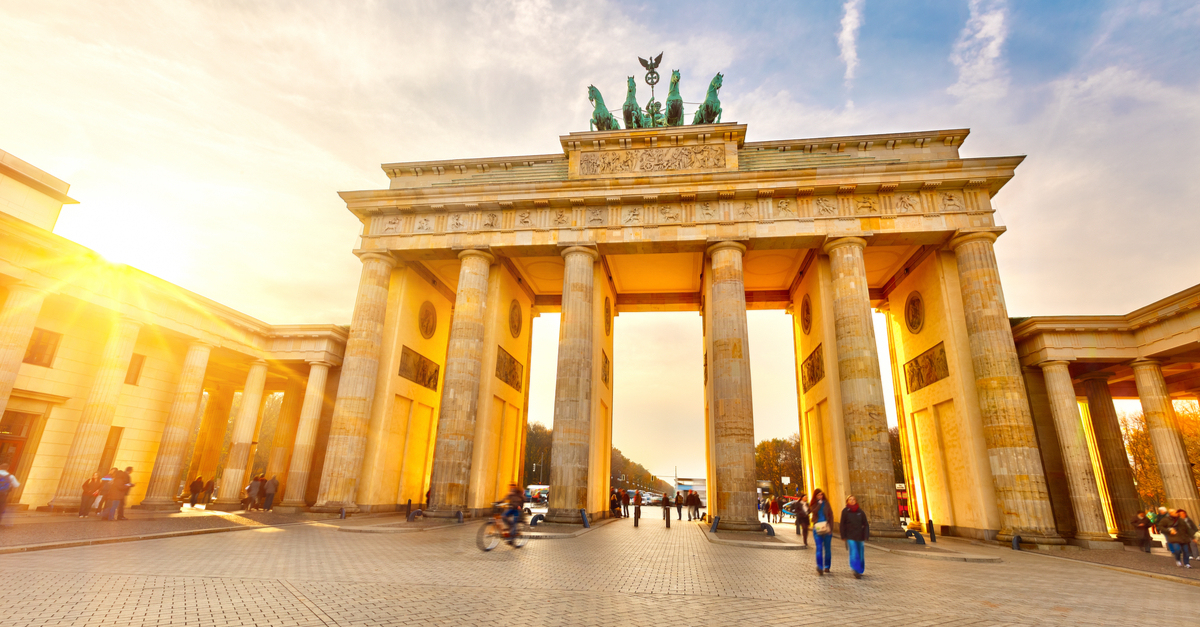 Friends dancing in Berlin. Source: Shutterstock
To Berlin by train – travel tips
Berlin is among the most visited cities in the world. It's rich in art and culture and has preserved its history in several museums. The city has some of the best attractions in the world. You'll always want to come back for more Berlin fun. During your stay, some museums to visit include Pergamonmuseum, Museum Island, German Museum of Technology, German Spy Museum Berlin, and Museum fuer Naturkunde Berlin. If you need adventure, there are many things to do, including exploring the Reichstag Building, strolling at Tiergarten, and watching animals and sea creatures at Zoo Berlin.
Other things to do include enjoying sports at Olympiastadion Berlin, joining other believers at Kaiser Wilhelm Memorial Church, and relaxing at Treptower Park. Berlin offers the best, including Mauer Park, Britzer Garten, James Simon Park, and Monbijou Park if you love nature and green spaces. Also, don't forget to check out the following. For more tips you can read the Omio magazine, Window Seat.
The Brandenburg Gate
Museum Island
The Rebuilt Reichstag
The Berlin Wall Memorial
Gendarmenmarkt
Jewish Museum Berlin