Trains from Berlin to Munich
Traveling by train from Berlin to Munich is a convenient means of transport. Trains on this route cover 312 miles (504 km). Usually, there are 12 trains operating every day, offering direct and indirect services. You can also book a night train if you prefer to travel at night. Therefore, you can choose a train depending on departure time, ticket type, onboard services, and journey costs.
Berlin to Munich train time: Daily departures
Twelve trains travel per day from Berlin to Munich. The earliest train from Berlin departs at around 4:30 a.m., and the last one leaves just before 11:00 p.m. However, travel times on weekends may differ with the first train leaving at about 4:30 a.m. and the last one just before 10:00 p.m. Departure times are also changeable during holidays and peak hours. Therefore, check the latest departure times and have a smooth journey.
How long is the journey by train from Berlin to Munich?
The distance from Berlin to Munich is 312 miles (504 km). The average train duration on this journey is 4h 47min. The fastest trains take 3h 55min because they make no stops along the way while the slowest trains take around 8h 50min because they have several transfers and make connections in various regions, including Leipzig, Erfurt, and Nuremberg.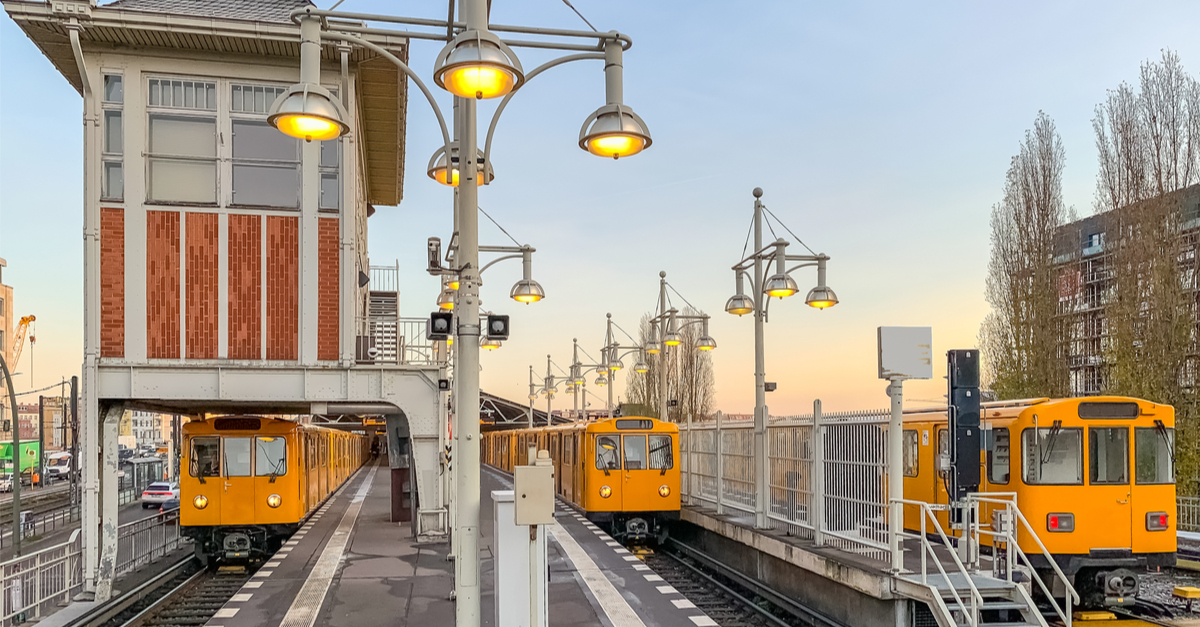 . Source: Shutterstock
What are the departure and arrival stations for trains from Berlin to Munich?
Departure train station: Departure stations for trains from Berlin to Munich include Berlin Ostbahnhof, Berlin Hbf, Berlin Gesundbrunnen, Berlin Spandau, Berlin Sudkreuz, Berlin Alexanderplatz, and Berlin Ostkreuz. Trains depart from Berlin Hbf, located approximately 1.7 miles (2.8 km) from the city center. If you need public transport to the station, there are several options, including subway U55, Tram lines M5, M8, and M10, and bus lines 120, 245, and TXL. Facilities available in the station include parking, ATMs, and lockers.
Arrival train station: There are many arrival stations in Munich, including Munchen Hbf, Munchen Harras, Munchen Karlsplatz, Munchen - Berg am Laim and Munchen Hackerbrucke. Trains arrive at Munchen Hbf, located around 0.8 miles (1.3 km) from the city center. The available public transport to the city center includes bus lines 120, 142, N20, and TXL, tram lines 16 to 22, and subway U1 to U8. In the station, you find various facilities, including restrooms, a parking lot, and wheelchair facilities.
Which train companies travel from Berlin to Munich?
Deutsche Bahn is the main operator for trains from Berlin to Munich. Most trains offer intercity and regional services, either direct or with connections along the journey. These companies are official partners with Omio and ensure travelers have updated information through the Omio app about their seat. Again, these trains provide day and night services, but departure times differ, depending on the company. High-speed trains in these companies travel at 186 mph (300 km/h) but mainly cover long-distance trips. However, whether you need a shorter or long-distance journey, these companies provide unique train services from booking services to your final destination.
Night trains Berlin
The earliest night train from Berlin to Munich leaves at around 7:00 p.m. However, you should check night departure dates before booking because they are changeable during weekends and holidays. Night trains take a longer duration, around 8h 50min, because they make several stops along the way. However, these trains offer cheaper train tickets, and you save a few pennies during your trip.
Deutsche Bahn trains from Berlin to Munich
Usually, 12 trains leave for Munich from Berlin every day. Some travel directly to Munich, but others make connections in major cities such as Leipzig and Erfurt. Most trains take 4h 47min. However, the fastest train takes about 3h 55min, and the slowest takes around 8h 50min. Some trains can also take between 10 to 13 hours depending on the transfers and stops made during the journey. High-speed trains operate long distances at 186 mph (300 km/h).
Trains from Berlin to Munich: Sustainability travel
Taking the train is a sustainable way of traveling. Deutsche Bahn trains are one of the best choices if you prefer sustainable travel because they run using 100% green electricity. Therefore, they emit less carbon per mile, despite traveling longer distances. These trains are also strict on the products used in the station and onboard. This ensures that all materials used are recyclable to avoid pollution, which in turn makes the environment greener and cleaner.
Train Berlin to Munich: Services on Board
Deutsche Bahn trains from Berlin to Munich offer first-class and second-class seating. Services onboard depend on the train you book but may include Wi-Fi, snacks, beverages, and comfortable seats. Luggage policy allows travelers to bring luggage on board without restrictions. There are luggage racks to place your suitcase, but you are responsible for your luggage throughout the trip. Bikes are also allowed on board, but you should fold them in a bag.
If you are traveling long distances, you must pay an additional fee for your bike. Small pets are allowed on board at no extra cost, but you should carry your pet in a carrier. However, you need to purchase a ticket if you have a larger dog. Your dog should be muzzled and on a leash during the trip. This ensures that all passengers are comfortable. However, guide dogs can travel without restrictions or additional costs. The staff at the station are available to help travelers with limited mobility while the trains and the station are wheelchair-accessible. Those with disabilities should contact the company at least 48h before traveling to avoid any last-minute issues.
How to find cheap train tickets from Berlin to Munich?
You should travel during off-peak hours if you need to find a cheap train ticket from Berlin to Munich. Being flexible with travel dates is crucial because you avoid busy routes that have increased train ticket prices. You can also find a cheap train ticket by booking in advance. You enjoy huge discounts and special deals by booking at least 3 months before traveling, saving you a few pennies. Another way to find a cheap train ticket is by choosing connecting trains. They offer more affordable tickets and slower journeys than direct trains. Though you spend more time traveling, you can never have a dull moment with the numerous scenic views along the way.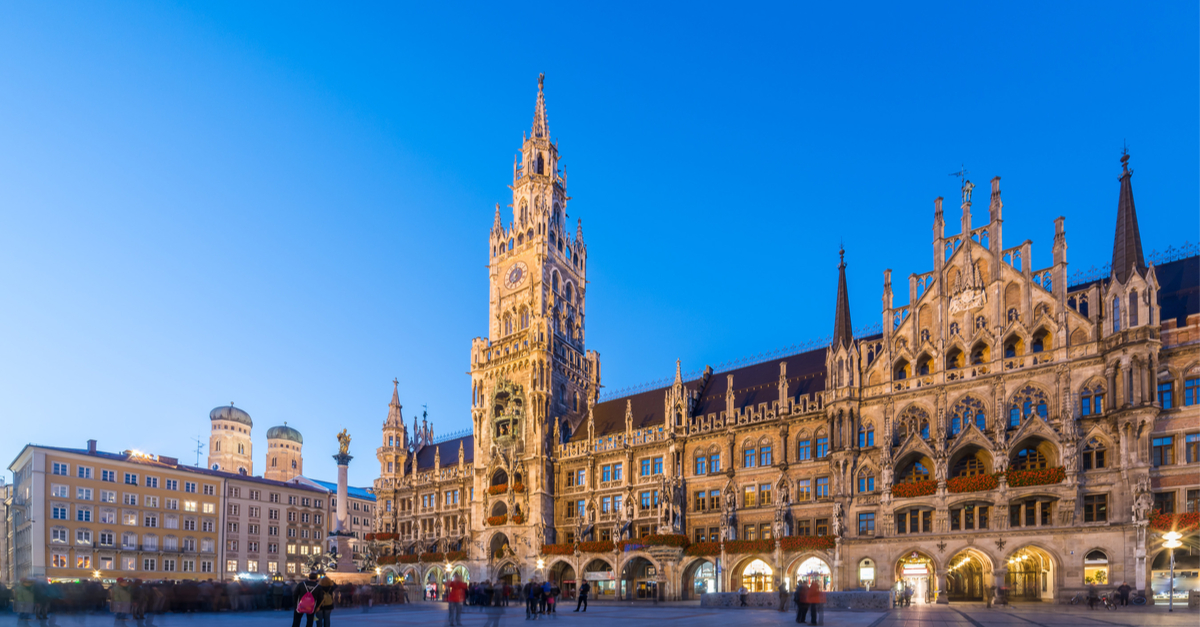 Marienplatz at sunset in Munich. Source: Shutterstock
To Munich by train – travel tips
Munich is a city like no other. It's lively day and night, giving its visitors the best times of their lives. Those who love nature can visit the parks in the city, including Nymphenburg Palace Park, Botanical Garden, and Riemer Park. Here, you can stroll and lie on the green grass while breathing in the fresh air. You can also engage in fun activities, including watching sports at Allianz Arena, purchasing local produce at Viktualiemarkt, and joining other travelers at Oktoberfest.
Other things to keep you entertained include viewing the animals at Munchener Tierpark Hellabrunn and surfing at English Garden. Munich also boasts several attractions, including Munich Residenz, Christkindlmarkts, Peterskirche, Deutsches Museum, Marienplatz, BMW Museum, and Alte Pinakothek. Don't forget your updated guide for travel tips, the Omio magazine Window Seat.
Jazzbar Vogler
Hard Rock Café Munich
BlackBook Tours
Stadion an der Schleissheimerstrasse
Boilerman Bar Munich
Jazzclub Unterfahrt
Kennedys Bar & Restaurant, Munich
Sant Emmerams Muhle
Mister B's Jazz Bar
Bayerischer Hof Night Club