Trains from Prague to Berlin
When searching for trains from Prague to Berlin, you will find that there are about 10 departures on a daily basis. This is a trip that covers a distance of around 173 miles (279 km) and your average trip time will be around 4h 15min on direct routes, although there are trips that can take up to 11h on routes that require transfers.
Prague to Berlin Train Time: Daily Departures
With around 10 trains to Berlin from Prague on a daily basis, there are departure times scattered quite evenly throughout the entire day. The first departure of the day occurs early in the morning at around 6:30 a.m. and then the final departure of the day is an overnight train that departs at around 11:30 p.m. On direct trains, the trip time is around 4h 30min but on trains with transfers, the time can be up to 11h 45min.
How long is the journey by train from Prague to Berlin?
On direct Prague to Berlin trains, you will be traveling around 173 miles (279 km) in about 4h 30min. Most trains are direct but some of the evening trains require three or four transfers during the trip.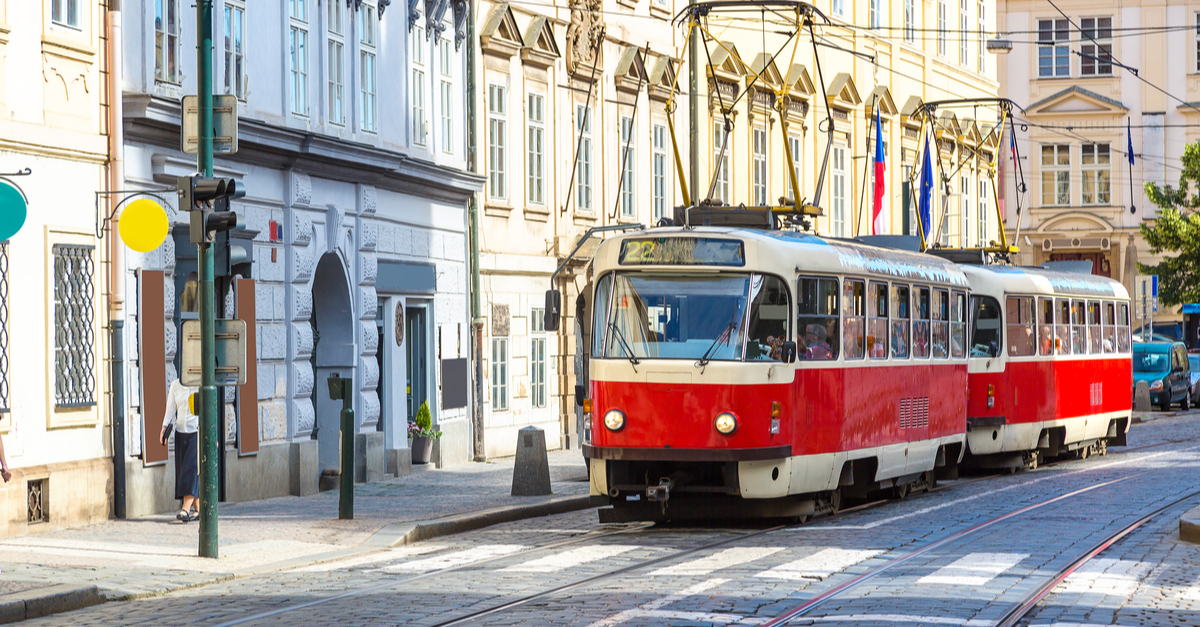 Red tram in the streets of Prague. Source: Shutterstock
What is/are the departure and arrival stations for trains from Prague to Berlin?
Departure train station: Praha hlavní nádraží station is located just to the north of the center of Prague. You can get to the station from the center of the city aboard the line 26 tram in around 12min to make the journey of about 0.9 miles (1.5 km). At the station, you will find a ticket office, a luggage storage facility, plenty of restaurants and cafes as well as restrooms and a seating area for passenger use when waiting for your Prague to Berlin train.
Arrival train station: Berlin Central Station sits just to the west of the center of the city and is around 1.8 miles (2.9 km) away. A good choice for public transportation from the station to the center of the city is aboard subway lines S3, S7, S5, or S9, which all make the journey in around 6min to the center of Berlin. This is a large, multi-level facility and it offers visitors amenities such as places to eat and drink, quite a few shopping options, a ticket office, a luggage facility, as well as seating areas and restrooms.
Which train companies travel from Prague to Berlin?
The only provider of trains on this route is Deutsche Bahn. They operate about 10 trains on a daily basis with seven of the trains being direct routes. Their first train of the day is at around 6:30 a.m. and the final train of the day will travel overnight starting at about 11:30 p.m. The extended time on this train is due to the fact that there will be three transfers.
Night trains Prague
If you are someone that enjoys traveling by train at night, this route with trains from Prague to Berlin offers four different options that depart at around 6:00 p.m. or later. Of the four trains offered, the one that leaves just after 6:00 p.m. is the only direct train that makes the trip in around 4h 30min. The other three trains have transfers along the way and they can take anywhere from 10h to 11h 45min to make the trip and thus you will find that all of these trains are overnight trips on trains from Prague to Berlin.
Deutsche Bahn trains from Prague to Berlin
This provider operates about 10 Prague to Berlin trains on a daily basis. Their first train leaves early in the morning and then there are two more trains that leave later in the morning, in addition to three afternoon trains and four evening trains. All of the trains are normal-speed trains and most are direct, although three of the evening trains will require transfers.
Trains from Prague to Berlin: Sustainability travel
What makes traveling by train such a sustainable method of travel is that you are putting several passengers in one large vehicle as opposed to all of them making the journey on their own. Deutsche Bahn is committed to a green transformation. This means that not only are they making their entire fleet of trains more environmentally friendly, but they are taking the same approach to everything they do.
Train Prague to Berlin: Services on Board
On most of these trains, you are going to find two different classes of service, called second and first. The difference comes in the form of roomier seats and nicer finishes in first class. The trains offer free Wi-Fi plus an entertainment portal, which allows you to stream great movies and music during your journey. You can take smaller items such as briefcases or carry-on bags aboard the train free of charge. You can also take larger items for free and store them in racks at the ends of the train cars. Small pets can travel for free as well so long as they remain in an approved travel container during the trip. On most trains, you can also take a bike but there may be an additional fee for doing so. Disabled passengers will be glad to know that the train provider has a dedicated Mobility Service Center to assist these passengers with their specific travel needs.
How to find cheap train tickets from Prague to Berlin?
As you look through the choices for Prague to Berlin trains, you will see different prices during the day. This is due to the amount of demand for each train. Therefore, if you can be flexible with your departure and arrival time, you can save money by sticking to cheaper routes. Another tip for saving money is to book in advance. The farther you book ahead of your travel date, the better chance you have of finding discounts. One other way to save money is to pick a travel date and then search days around that date to see if there is a different day that offers lower fares. For more tips and tricks on how train travels visit our magazine, The Window Seat.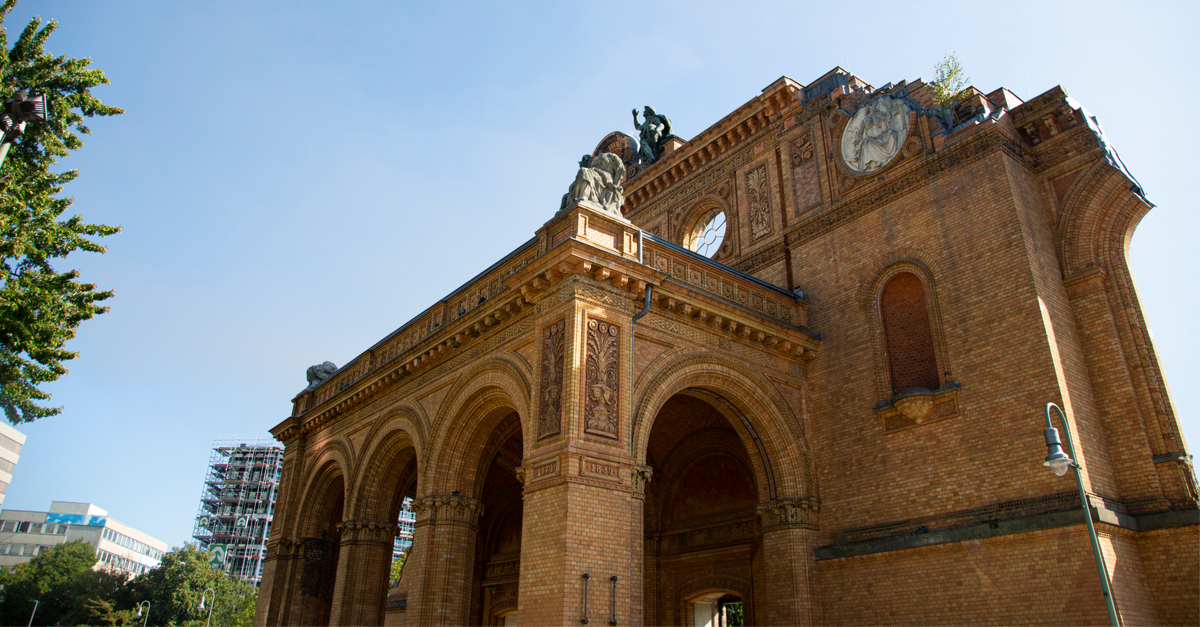 Anhalter Bahnhof Railway Station in Berlin. Source: Shutterstock
To Berlin by train—travel tips
Since the fall of the Berlin Wall over two decades ago, this city has gone through a renaissance that has transformed the city, bringing with it museums, restaurants, clubs, and cutting-edge fashion and style. The food choices here are vast and they include the traditional German cuisine you would expect like sausages and sauerkraut.
However, there is also a move to healthier fare that even includes vegetarian options. That said, this is still a city that honors and remembers its past with all manner of historically relevant sites to explore. Because the city offers an extensive public transportation network, touring large portions of the city in a short amount of time is quite easy. Like a lot of large European cities, this is a place where you can easily spend an afternoon sipping on a glass of wine, enjoying a German beer, or having an espresso while you people-watch at a cafe or bar. Some places you need to see while you are in Berlin include:
Brandenburg Gate
Reichstag Building
East Side Gallery
Checkpoint Charlie
Berliner Fernsehturm
Berlin Cathedral
Pergamonmuseum
Museum Island