How to Travel to London?
The journey from Amsterdam to London is a favorite for business travelers and leisure travelers looking to have a good time. Although the two cities are about 224 miles (360 km) apart, the type of transportation you select will get you to your destination from anywhere between 1-5h.
Generally, a flight trip will fall on the lower end of the spectrum, while a train ride will be on the other end. Flight and train travel to London from Amsterdam are present every day. London is a popular destination for travelers due to its fame as one of the greatest cosmopolitan cities due to its vibrant culture, fine food, and popular sites like Buckingham Palace and the British Museum.
What is the Cheapest Way To Get from Amsterdam to London?
A train ride is the cheapest way to get from Amsterdam to London. Trains journeying this route usually depart from Amsterdam Centraal and end the trip at London St Pancras International. The travel time from Amsterdam to London by train lasts at a minimum of 4h 16min.
You'll find this voyage to be direct; hence there'll be no stops or transferring trains. Eurostar is the train operator that connects people looking to travel the Amsterdam-London route, and it usually runs one trip per day. Therefore, it'll be best to get to the train station an hour before 12.47 p.m.
when the first and last train of the day departs. Also, if you're on a budget, you can find cheap tickets from Amsterdam to London by booking in advance when tickets go on sale and being flexible with your travel dates by selecting days with less train passenger traffic.
What is the Fastest Way to Travel from Amsterdam to London?
You'll encounter the least travel time from Amsterdam to London if you choose to fly. The origin airport for flights on this route is Amsterdam Airport Schiphol (AMS), while the arrival airport can be London Heathrow Airport (LHR) or London City Airport (LCY).
While connecting flights make long trips, their direct counterparts will get you to your destination in the fastest time possible, that is, about 1h 20min. That's because layover times can take anywhere from 1-7h, so the lower the transfer time, the shorter the trip for connecting flights.
There are about 10 daily flights from Amsterdam to London, most of which are direct connections. British Airways and KLM are the airlines that run the direct voyages, while Lufthansa services the transfer routes.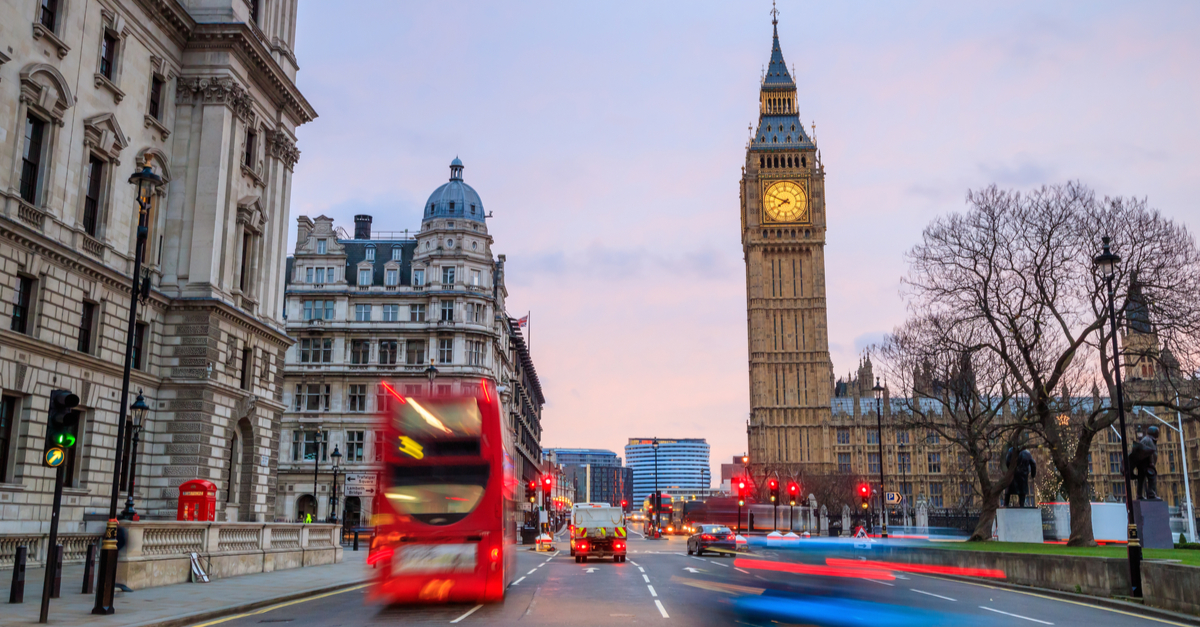 London Bus Trafic. Source: Shutterstock
Find the best tickets from Amsterdam to London and book with Omio
Omio is a booking platform that'll let you find the best travel deals to reach London from Amsterdam. You can compare various transportation modes and book the one that best suits you, whether it's the fastest option or the cheapest one.
The platform offers travel information for many companies, hence finding the right trip for you won't be a hustle. When you book with Omio, you can scan all the transportation information at a glance and use your language of choice to book or get customer care services. This route also comprises trips with mobile tickets, so you won't need to print out your ticket. Check out Omio magazine for more helpful travel tips.
Trains from Amsterdam to London
Getting from Amsterdam to London by train is a popular journey. Leisure travelers will get the opportunity to see scenic landscapes up close en route, while business persons get to enjoy free Wi-Fi and ample working space.
Taking the train will also get you to London's city center, eliminating the need to incur extra travel costs to the central business district. For this route, Eurostar will be your transportation company. The carrier usually offers a single daily trip between Amsterdam and London, including on weekends. Your departing and arrival train stations will be Amsterdam Centraal and London St Pancras International. When you get to your destination, you'll be right at the city center and in proximity to public transportation.
Train travel from Amsterdam to London with Eurostar
When you travel from Amsterdam to London aboard a Eurostar train, you'll depart from Amsterdam Centraal and arrive at London St Pancras International. The train carrier runs non-transfer voyages, and classes of service include business premier (premium first-class), first, and standard class.
You'll get to enjoy onboard entertainment like movies and free Wi-Fi access on your electronic device. One thing that stands out is Eurostar's speed of service that involves shorter check-in times, quicker boarding, and high punctuality, so you can expect to get to your destination on schedule.
London Enjoying Friends. Source: Shutterstock
Flights from Amsterdam to London
If you want to travel from Amsterdam to London in a short time, a flight will come in handy. Airlines running this route offer a collective of around 10 daily flights each day, with options of direct connections and connecting flights. British Airways and KLM service direct flights, with an average of 1h 20min travel time from Amsterdam to London.
On the other hand, Lufthansa flights require one change at Frankfurt, with layovers lasting anywhere between 1-7h. The popular departure airport for this voyage is Amsterdam Airport Schiphol (AMS), while the common destination is London Heathrow Airport (LHR).
LHR Airport lies 14 miles (23 km) west from Central London, a distance you can easily cover by public transportation such as the Heathrow Express train (fastest in 15-20min), Tube system, the N9 night bus, taxi, or easyBus and National Express coaches.
Flying from Amsterdam to London with KLM and Lufthansa
KLM Royal Dutch Airlines offers direct voyages between Amsterdam and London. The airline normally uses Amsterdam Airport Schiphol (AMS) as the origin airport, but the endpoint can be London Heathrow Airport (LHR) or London City Airport (LCY).
You can select between business class and economy cabins, and onboard services include reclining seats, in-flight entertainment, Wi-Fi connectivity, and catering. The travel time aboard KLM for this route is approximately 1h 30min. Lufthansa flights from Amsterdam to London embark from Amsterdam Airport Schiphol (AMS) and end the journey at London Heathrow Airport (LHR).
When choosing to fly with the airline, expect to make one flight change at Frankfurt am Main Airport (FRA) with switches lasting from about 1-7h and the total travel time averaging between 3-10h. Lufthansa offers first, business, premium economy, and economy class cabins. You can access onboard resources such as armrests, power outlets, meals, and in-flight entertainment.
To London by train/flight—travel tips
London is a destination that's on the bucket list of many people, with good reason. The city has multiple famous sights that are breathtaking to look at, from Buckingham Palace to the Tower of London to the London Eye—the list is endless. England's capital also has world-class shopping establishments that'll appeal to an avid shopper.
Carnaby Street has beautiful boutiques, while the prices at Knightsbridge are bound to stun you. History buffs will find this destination interesting, as the city's story is a long and dramatic one. When you travel to London, you can tour the London Dungeon and experience a "scary" history lesson or visit the Hampton Court Palace and bask in the royalty splendor amid your historical tour.
The nightlife in London is another appealing factor. Thanks to the various pubs, dive bars, clubs, and theatres full of Hollywood stars, any night owl won't lack something to do. Even if you aren't a night person, an evening show such as a live concert or a stand-up comedy will be a great experience. When it comes to food, your taste buds will thank you after sampling London's culinary delight that mixes modern and British cuisine, whether it's English breakfast, pie, chicken tikka masala, or roast duck.
Quick Guide: Traveling to
London
Free things to do in London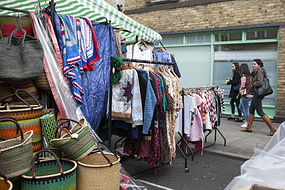 Broadway Market
Broadway Market, in London's east end, is the closest you're going to get to the traditional cockey wheeler and dealers of London! Although, hoards of hipsters have taken over and you'll find quinoa salads and chai seed puddngs along side stands that have been there every week since the 70s. It's also super close to Regents canal which is great for a stroll in the sun and people watching.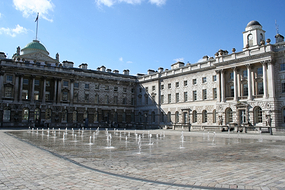 Somerset House
Built in 1775, this multi-purpose art gallery has everything from posh restaurants and out door cafes to a grand water fountain on the grounds. Aside from hosting some of the finest peices of art in the UK, the Somerset house is also the venue for numerous seasonal events all through out the year including open air cinemas in the summer and an ice rink in the winter.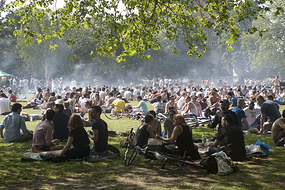 London Fields
Perhaps not London's most beautiful park, the atmosphere and surrounding areas more than conpensate. London Fields is perfect for those looking for a relaxing day of drinking and having a picnic. It is also the only park in the Borough of Hackney where you're allowed to barbecue. It's also within the vicinity of some of London's greatest traditional pubs.
Looking for something else?
Buses to London | Trains to London | Flights to London
About London
London is the capital of both the United Kingdom and England. It is a cosmopolitan city ranking both as one of the most popular, with the most international visitors annually in the world, as well as one of the world's wealthiest and most expensive. The metropolitan area of London is divided into 32 boroughs, with the center being Westminster. Transport for London (TfL) operates local transit which includes the famous London Underground, the oldest and one of the deepest in the world, as well as the iconic red double decker buses. There are five major airports and over 300 rail stations - including tube stations and regional rail stations. The city recently hosted the 2012 Summer Olympics, and continues to be an epicenter of culture, art, politics, and economics.
Quick Guide to London
Must Know: You shouldn't underestimate the size of London. Walking is the best way to see the sites, but take advantage of the public transport to avoid exhausting yourself.
Must See: There are many things to see in London including the Crown Jewels at the Tower of London and Big Ben at the Houses of Parliament.
Must Do: London has great food, some of the best places to experience it are the many markets throughout the city..
Did You Know: To be a 'black cab driver' one has to take an exam called 'the knowledge' which includes knowing 25,000 roads and 50,000 points of interest.