Trains from Barcelona to Valencia
The Barcelona to Valencia train is a frequent route, running more or less 10 times per day. The departures out of Barcelona heading towards Valencia are every one to two hours. In general, these journeys are direct and don't require changing trains along the way. The direct train ride to Valencia takes around 3h depending on the type of train and if it is one of the high-speed operators.
Barcelona to Valencia Train Time: Daily Departures
There are at least 10 daily departures going from Barcelona to Valencia. This adds up to over 70 journeys per week on trains from Barcelona to Valencia. The first train of the day leaving Barcelona on this route is at around 7:15 a.m. As for the last trip of the day, it departs out of Barcelona at approximately 8:15 p.m. These journeys run every one to two hours.
How long is the journey by train from Barcelona to Valencia?
The journey by train from Barcelona to Valencia covers a distance of more or less 187 miles (302 km). The fastest operator on this route makes it to Valencia in around 2h 40min. However, there are some trains that take up to approximately 5h 8min. Nonetheless, in general, all of these routes booked through Omio are direct and don't require passengers to switch trains along the way between Barcelona and Valencia.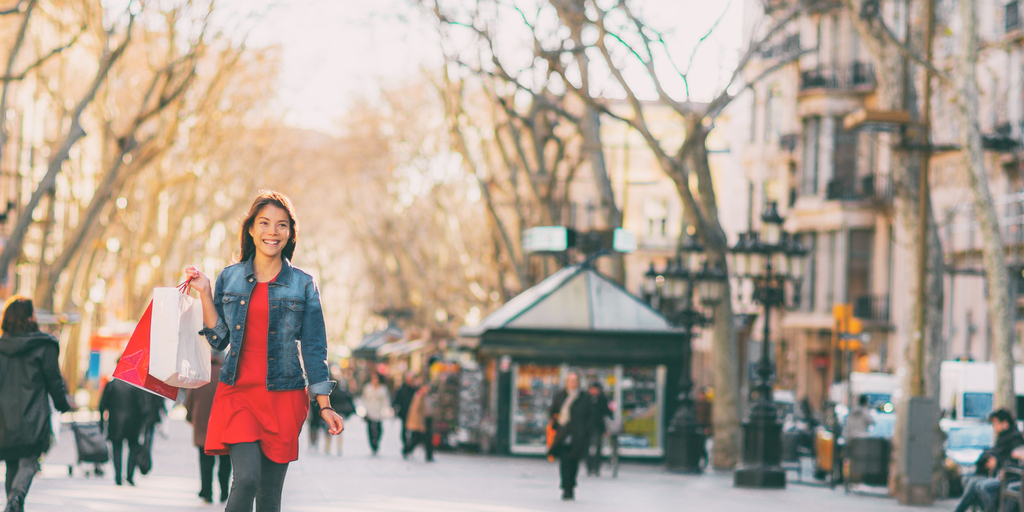 Woman walking in the streets of Barcelona. Source: Shutterstock
What are the departure and arrival stations for trains from Barcelona to Valencia?
Departure train station: These journeys by train from Barcelona to Valencia depart from the Barcelona-Sants train station. The Barcelona-Sants station is the city's main train terminal. The city center of Barcelona is more or less 2 miles (3.5 km) from the main train station. There are public transportation routes that get to Barcelona-Sants in about 6min. This train station offers a wide selection of restaurants, shops and travel information.
Arrival train station: The arrival station in this case is either the Valencia Joaquín Sorolla train station or the Valencia Estacio del Nord. Both of these train terminals are located south of the city center. The Estacio del Nord station is closer, just a 10min walk or so to the Ciutat Vella (Old City center). There are shops and cafés at either station, available for travelers to get what they need upon their arrival in Valencia.
Which train companies travel from Barcelona to Valencia?
The company operating the train to Valencia from Barcelona is the Spanish national railway, Renfe. Renfe offers different trains running the route, from the high-speed Alvia, Torre del Oro and Euromed trains, to the standard mid and long-distance InterCity and Regional Express routes. All of these train journeys are direct. The fastest Renfe journeys from Barcelona to Valencia are operated by the high-speed lines. In this case, the fastest trip takes more or less 2h 40min. However, the mid-speed trains can take up to around 5h 8min.
Night trains Barcelona
There currently aren't any night trains available traveling from Barcelona to Valencia. The latest train Renfe offers departs out of Barcelona-Sants station at around 8:15 p.m., arriving in Valencia at more or less 10:55 p.m. Nonetheless, most trains make the trip is around 3h, not needing an overnight train to get to Valencia.
Renfe trains from Barcelona to Valencia
Renfe is the Spanish national railway company and the sole provider of the journeys by train from Barcelona to Valencia. Getting inspiration through the Omio magazine, travelers booking their tickets through Omio will find there are 10 or more of these routes per day. The service offered by Renfe varies from high-speed trains to normal mid and long-distance lines. The fastest train for this route takes as little as 2h 40min to get to Valencia. However, it's possible to find specific journeys that take 5h 8min or longer.
Trains from Barcelona to Valencia: Sustainability travel
Nowadays, sustainable travel is a goal for many transportation companies, including the national Spanish railway company operating the trains from Barcelona to Valencia, Renfe. Traveling by train is one of the most eco-friendly ways of traveling long distance between point A and point B. Renfe encourages travelers to continue traveling sustainably, allowing bicycles on board its trains as a way to promote reducing each passenger's carbon footprint. The global goal is to lower carbon emission to the minimum with better use of resources and green energy.
Train Barcelona to Valencia: Services on Board
When booking your train ticket through Omio, you'll find that the Renfe high-speed Alvia, Torre de Oro and Euromed lines, as well as the standard Intercity trains, offer seating in both 2nd and 2nd+ Class. However, the Regional Express Renfe trains only have seats in 2nd Class. The amount of luggage allowed per person on board all Renfe trains is limited to two items that cannot weigh in total over 55 lbs (25 kg) or be bigger than 114 inches (290 cm). Bicycles are allowed on high-speed and mid to long-distance Renfe trains as well. Bikes can be brought on board either as hand luggage or special luggage. If the bicycle can fold and be put in a bike bag with dimensions that don't sum up over 71 inches (180 cm), it is considered normal hand luggage. However, the larger bicycles up to 47"x35.3"x16" (120x90x40 cm) must be treated as special luggage. Passengers may also bring up to one small pet with them on board Renfe trains. It must weigh under 22 lbs (10 kg) and be in a pet carrier at all times. Disabled travelers may purchase tickets with accessible seating on board as well as request assistance if necessary.
How to find cheap train tickets from Barcelona to Valencia?
The main way to find affordable train tickets from Barcelona to Valencia is by booking the fares in advance. In general, if you book closer to the departure date, the more prices tend to increase. Another way to find cheaper routes is by keeping a flexible schedule. If you don't have to travel on a specific day or at a specific time, you can choose a more affordable journey. Last but not least, avoid traveling at peak commuting times since the high demand also makes the tickets more expensive. In this case, there aren't any journeys available that require changing trains that could imply cheaper rates.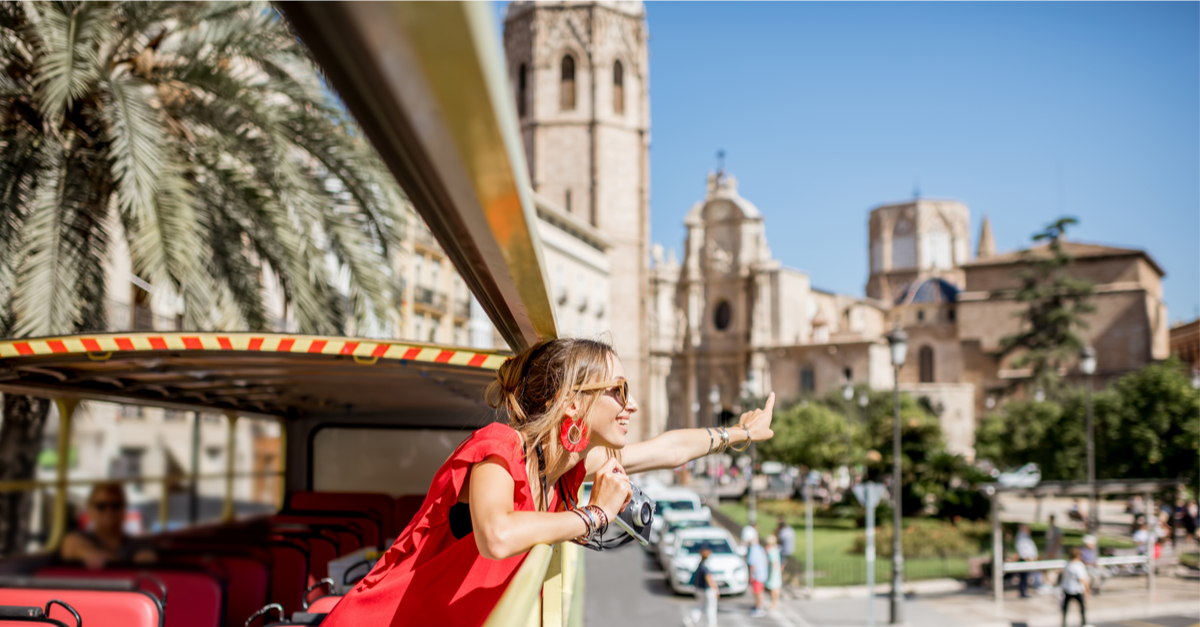 Woman visiting Valencia. Source: Shutterstock
To Valencia by train—travel tips
Valencia is a coastal city of Spain known for its pleasant and warm climate, along with its delicious Mediterranean cuisine. One of the iconic spots in the city is the City of Arts and Sciences, designed by the famous Spanish architect, Calatrava. This is a great spot for those visiting with children. The L'Oceanographic aquarium is within Calatrava City. In the center of the city, spend some time in the Ciutat Vella, exploring the architecture and old streets. While you're in Valencia, make sure to eat some of the traditional yellow paella rice.
Visit the thousand-year-old neighborhood of El Carmen in the Old City
Eat out at a restaurant on the Marina and enjoy the view
Spend a sunny day exploring the Turia Garden
Enjoy shopping in the districts of Ensanche and Ruzafa
Take a boat tour through the Albufera National Park