Trains from Munich to Paris
On average, 16 trains leave Munich for Paris. Peak seasons can run up to 20 trains in a day. The distance between Munich and Paris is approximately 424 miles (683 km). The journey takes about 4h 50min. The time travel per train varies depending on the individual speed of the train. High-speed trains have a speed ranging from 170 mph (280km/h) to 200 mph (320 km/h). Also, the route has connecting trains as well as direct routes.
Munich to Paris Train Time: Daily Departures
The first train departs as early as one minute past midnight. This train arrives in Paris at around 7:00 a.m. When using the first train, you can attend to your business and head back home on the same day. The last train leaves at around 5:50 p.m. It arrives at Paris Gare de L'est station a few minutes to midnight. The trains depart at a one-hour interval between departures. However, the frequency may increase with peak seasons and reduce with low travel seasons. Therefore, you must check the actual departure time indicated on your ticket. Also, arrive at least 30min before your departure time.
How long is the journey by train from Munich to Paris
The distance between Paris and Munich is 424 miles (683 km). It takes a direct high-speed train an average of 5h to arrive in Paris from Munich. However, depending on the individual speed train, the time might vary by 30mmin to a 1h window. Furthermore, if you are using a connection train, the journey might take 3 to 4 more hours before you arrive in Paris. Therefore, a slow train is the best option for good pictures and proper viewing for tourists interested in seeing the scenic journey.
Blue train in the streets of Munich. Source: Shutterstock
What is/are the departure and arrival stations for trains from Munich to Paris?
Departure train station:When traveling to Paris from Munich, you will depart from the Munich Hauptbahnhof (Hbf) station. Facilities at the station include food and drinks, ATMs, and Wi-Fi. You can book nearby hotels if you arrive on a late-night train. You can use a taxi or the metro to help you get to the city center. There are lounges for both first-class travelers and economy passengers where you can wait for your train to arrive.
Arrival train station:The direct train from Munich to Paris arrives in Paris at the Paris Gare de L'est station. The station has free Wi-Fi access as you wait for taxi pickup in the comfortable lounge. You can also freshen up in the toilets in the train station after your trip or fix yourself a snack or a hot drink in one of the cafes located within the station.
Which train companies travel from Munich to Paris?
Two prominent train companies providing transportation services along the Munich-Paris route include SNCF and the TVG. Other providers include TER, InterCity-Express, and Thalys. The companies provide direct and layover connections. Most trains are high-speed trains. However, if you are not in a hurry and would like to enjoy the scenic journey between the two cities, you can travel on a slower train. The fastest trains are the TVG, with trains that travel from 185 mph (300 km/h) to 280 mph (450 km/h).
Night trains in Munich
A Nightjet sleeper train leaves from Munich Hauptbahnhof (Hbf) station at around 8:00 p.m. and arrive around 4:00 a.m. at the Paris Gare de L'est station. The train has a sleeping car with a toilet and a shower. The bus has adequate AC to control train temperatures for travelers onboard. There are toilets at the far end of the corridor for people traveling in economy. If you are traveling in first-class, you will have the privilege of attendants who serve you drinks and food.
TVG trains from Munich to Paris
All TGV trains are high-speed trains. TVG offers both day and night trips along this route. It offers the most direct routes and one to two connection routes. TVG's fastest trains may take 5h to travel from Munich to Paris. The company also has slower high-speed trains that may take 6h to complete. Whether traveling with TVG or any other company, choosing a connecting train is usually cheaper.
Trains from Munich to Paris: Sustainability travel
Trains are the most sustainable mode of travel. Trains emit the minimum amount of air pollution compared to all modes of transport combined. Trains emit as low as 18% of the total carbon dioxide emitted in the transport industry. TVG's mission is to aim to provide environmentally sustainable services. They have addressed environmental concerns in the fight against environmental pollution. Most trains are fast and cost-effective, making them sustainable to their travelers.
Train Munich to Paris: Services on Board
All trains traveling this route have first-class and economy-class cars. The services provided in first-class vehicles are better than in second class. Most first-class trains have at least one power socket next to each chair and more space. First-class travelers can also order food and drinks through the TVG portal. Food is offered to both first-class and second-class cars.
However, the food served to passengers depends on the time of travel. For instance, the early morning train serves breakfast, while the mid-day travels offer lunch. You can also bring your bike onboard and carry as many as three suitcases. The train provides extra comfort facilities for the disabled. If you want to travel with your pet, you may need to carry it in a meshed cage and bring along any necessary documentation. It's also essential to specify that you are traveling with your pet in advance of your trip for further assistance.
How to find cheap train tickets from Munich to Paris?
The best way to find a cheap ticket is though booking in advance with the Omio booking company. The Omio app allows you book with ease. With Omio you can book as early as 3 months before your trip. Booking early will offer you a substantial discount on your ticket. Also, you can check specific dates when a provider is offering a discount. That way, you can secure a cheap ticket; however, you should be flexible to travel at any time. Although connecting trains take longer, it is also an excellent way to save some cash on ticket fees as it's cheaper to take connecting trains than direct ones. Slower trains are also pocket friendly. If you are not in hurry, taking a slow train is your chance to save on the fare.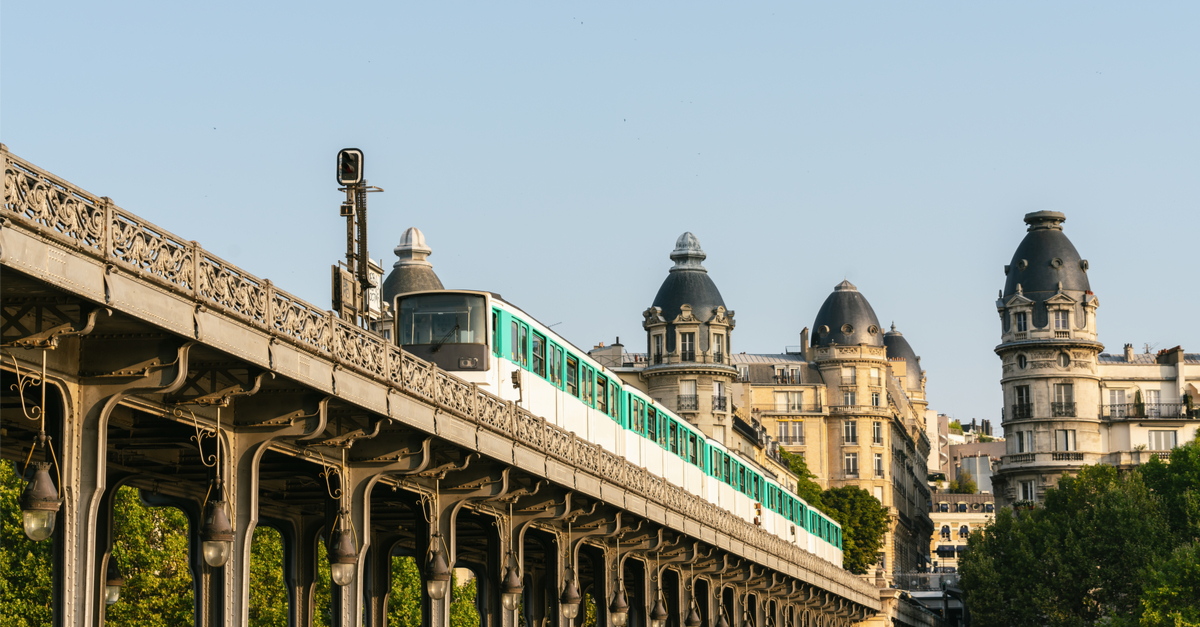 Bir-Hakeim bridge with train in Paris. Source: Shutterstock
To Paris by train—travel tips
Paris is an incredibly busy city due to many tourist attractions. When in Paris, you can't fail to identify the famous iconic Eiffel tower; it is made of wrought iron and 1,062 ft (324 m) in height. You can also get to the top of the tower via an elevator. In addition, Paris is famous for the Louvre Museum, the biggest museum globally. Another landmark that may interest you is the Notre Dame Cathedral. After a long walk in Paris, you might want to try some delicious French food.
Parisians also have an exciting coffee culture of sitting outside on patios to relax and sip their coffee. If you are looking for somewhere to relax, you can visit BoisDevinceddes Park or the Trocadéro Gardens. Other places that may interest you include the Mont Saint-Michel and Paris Disneyland. You can also download theOmio magazine for more exciting places to visit in Paris. Five things to do in Paris:
Jardin des Tuileries
Le Marais
Luxembourg Gardens
Arc de Triomphe
Versailles Palace