Trains from Paris to Milan
There are multiple trains from Paris to Milan throughout the day. These routes are operated by Trenitalia's Frecciarossa and inOui lines of the French national railway, SNCF.
Train rides going from Paris to Milan take an average of about 7 hours to make the 398-mile (640 km) trip. Nonetheless, the providers offer direct routes that do not require passengers to switch trains along the way.
Travelers depart most frequently from Paris Gare de Lyon and arrive in Milan Centrale or Porta Garibaldi.
Booking the Paris to Milan train with Omio
Booking your tickets for a train from Paris to Milan is even more convenient with Omio. After opening the website, just input the departure and arrival details, and the site presents you with all your options. In addition to this, you can easily compare the different trains' prices and consequently secure the best deals and select the time that best works for you. A digital ticket, which you can print at the station on departure, will be sent directly to your mobile phone. After all that is done, all you need to do is show up on the date and time of departure.
Paris to Milan Train Time: Daily Departures
There are about five departures per day by train from Paris to Milan. This adds up to over 30 trips from Paris to Milan per week. These train rides leave Paris Gare de Lyon station as early as approximately 6:31 a.m. and as late as around 3:18 p.m. every day. Between these times, the departures out of the Paris station are about every few hours.
How long is the journey by train from Paris to Milan?
The duration of the journey by train to Milan from Paris varies depending on the train provider and the time of day. Nevertheless, all of the route options available to book through Omio are direct and do not require passengers to change trains at any point along the way.
The fastest Paris to Milan train takes around 6h 49min and is operated by the Trenitalia Frecciarossa line. However, some of the routes can take a little bit longer, up to around 7h 19min.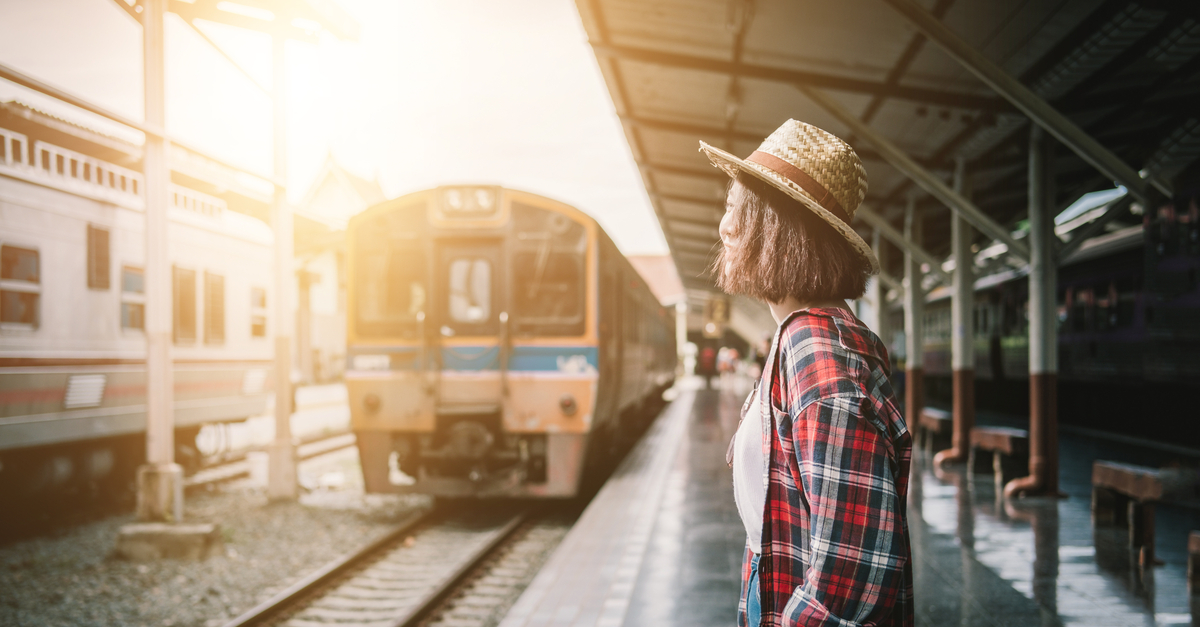 Train Journey to Milan. Source: Shutterstock
Popular trains from France
Besides getting around France via rail, you can also travel to some major cities in Europe. One of the popular international routes from France is Paris to Amsterdam, which takes an average of about 5h 45min, and costs approximately $124 (€105). Paris to Cologne is also a popular journey. It would take you around 5h 25min to get there, and you would part with around $65 (€55).
Another popular journey is from Lyon to Geneva, whose average ticket price is around $34 (€29), and takes around 2h 57min. You can also board a train from Paris to Frankfurt, and you would only spend around 4h 1min on the train. The journey would cost you approximately $134 (€114). Marseille to Milan, which takes around 8h 35min, is also a popular journey. It would cost you an average of about $119 (€101).
Popular train journeys from Paris to Milan
Most trains from Paris travel directly to Milan through the fantastic French Alps. However, the three TGV fast trains stopover at Turin before proceeding to Milan. It would take you around 6h 52min to get to Turin and cost around $122 (€104). Most travelers to Verona, Florence, Rome, and Naples also find It easy to change in Turin and Paris. Still, others proceed to Milan and opt to make a change at Porta Garibaldi station or Milan Centrale. To get to Milan, it would take around 7h 19min, and cost an average of $127 (€108).
Popular train routes from Paris
Apart from traveling to Milan from Paris, other popular routes start from Paris. One of them is Paris to Nice, a journey that would take you around 7h 7min. Paris to Bordeaux is another popular route, which takes around 3h 7min. Paris to Marseille is also a popular route, which takes approximately 5h 50min.
What are the departure and arrival stations for trains from Paris to Milan?
Departure train station: The departure station for the Paris to Milan trains is Paris Gare de Lyon. It's just about 2.75 miles (4.4 km) southeast of the central area, along the Seine river. The fastest way to get to Gare de Lyon station from the city center on public transport is taking the metro. This can take around 15 minutes.
Gare de Lyon station offers a variety of shops and restaurants inside.
Arrival train station: The two arrival stations for the train from Paris to Milan are Milan Centrale and Milan Porta Garibaldi. Milan Centrale is the final destination for routes on the Trenitalia Frecciarossa lines, while SNCF's inOui trains operate the journeys arriving at Milan Porta Garibaldi. The city center is just 15 minutes away on the line 3 metro from both stations.
The stations offer travel information, shops and car rental services.
Train companies in Paris
SNCF is the main national rail provider in France, locally responsible for all trains routes in the country. Regional and TGV, IDTGV, and Ouigo handle intercity trains, on the other hand. The route is also served by other train companies such as Deutsche Bahn, Renfe, Italo, and Frecciarossa. Renfe gives you three different ticket types (Promo, Promo+, and Flexible) to choose from, depending on your travel date and the kind of Renfe train. Italo and Frecciarossa offer high-speed trains if you want to get to your destination a bit faster. All these train companies offer bookings online via Omio.
Which train companies travel from Paris to Milan?
There are two companies operating the trains from Paris to Milan. Trenitalia is the Italian national railway company operating some of the routes. In this case, the Trenitalia trains making these journeys are the Frecciarossa lines. These trains are one of the high-speed trains offered by Trenitalia.
The other provider offering trains going from Paris to Milan is the French national railway company, SNCF. The specific trains making the journey are the inOui high-speed lines.
All routes from both providers are direct and don't have any train changes before arriving in Milan. In general, they also take more or less the same amount of time. All of these journey take about 7 hours to cover the distance between Paris and Milan.
Trenitalia trains from Paris to Milan
The Trenitalia trains going from Paris to Milan are the Frecciarossa lines. Frecciarossa trains are one of the Italian railway's highspeed lines. In this case, Frecciarossa, offers around two trips per day going from Paris, France, to Milan, Italy. All of its journeys are direct, meaning passengers do not need to switch trains during the ride. The Frecciarossa trains take from about 6h 49min to around 7h 19min to get to Milan.
SNCF trains from Paris to Milan
SNCF, the French national railway, operates the TDV high-speed trains. In this case, the trains making the journey from Paris to Milan are the TDV inOui high-speed lines. There are generally about three inOui departures out of Paris per day making their way to Milan. This adds up to over 20 trips per week. These journeys take about 7h 5min and don't have any stopovers along the way.
Night trains Paris
Night trains are a great way of getting around while saving time for those traveling on a tight schedule, or saving money on a hotel. When traveling by night train, you conveniently start your journey in one city in the evening and wake up the next morning in your following destination.
There currently aren't any overnight routes operating between Paris and Milan.
Trains from Paris to Milan: Sustainability travel
Sustainability is a goal for most transportation companies nowadays, Trenitalia and SNCF included. In general, traveling long-distance by train is the most eco-friendly travel method there is. The SNCF TDV inOui trains have a driver support system installed, reducing consumption by optimizing braking when on the move. Another project for SNCF is to use only renewable energy by 2025.
Trenitalia is playing their part in achieving sustainable travel as well. They are looking to become carbon neutral by 2050 with both the energy they consume and the energy they produce.
Train Paris to Milan: Services on Board
When booking your train from Paris to Milan through Omio, you'll find you have cabin options to choose from. If you're traveling with Trenitalia Frecciarossa, you can decide between riding in Standard, Business, or Executive Class. As for those with inOui tickets, the choice is between Second and First Class cabins.
The luggage allowance on both SNCF inOui and Trenitalia trains is not specified. However, in general, each passenger is allowed two suitcases and one personal item with them on board. Passengers must be able to carry their luggage on their own. Bikes are allowed on inOui trains. Nevertheless, if they cannot fold, you must pay a bike fee. As for traveling with your pet, it's permitted on both Trenitalia and SNCF inOui trains for a surcharge. Check the conditions related to the size of your pet beforehand.
If you require assistance when traveling, both Trenitalia and SNCF have services to aid passengers with reduced mobility. Contact your provider before your trip to get the help you require.
How to find cheap train tickets from Paris to Milan?
Once you find the inspiration you needed for your trip through the Omio magazine, there are a few tips to follow to find cheaper fares. The most basic thing to keep in mind is to purchase your train tickets in advance. This is a way to make sure you get a good deal before the prices start to increase as the departure date gets closer. It's also important to be flexible with your travel dates and times. This allows travelers to pick the cheaper options and departures. In the case of the trains from Paris to Milan, there isn't a specific provider offering better prices for their fares or slower and cheaper journeys.
Buying your train ticket from Paris - Milan 3 weeks in advance means you can save on average up to 21% compared to the price available on the day of departure.
If you book a ticket Paris - Milan with 2 months in advance you save up to about 7% compared to the initial price.
By booking 3 months in advance, you could save up to 17%.
On Omio you can find all offers, train times and prices for train travel in Europe, the U.S., and Canada.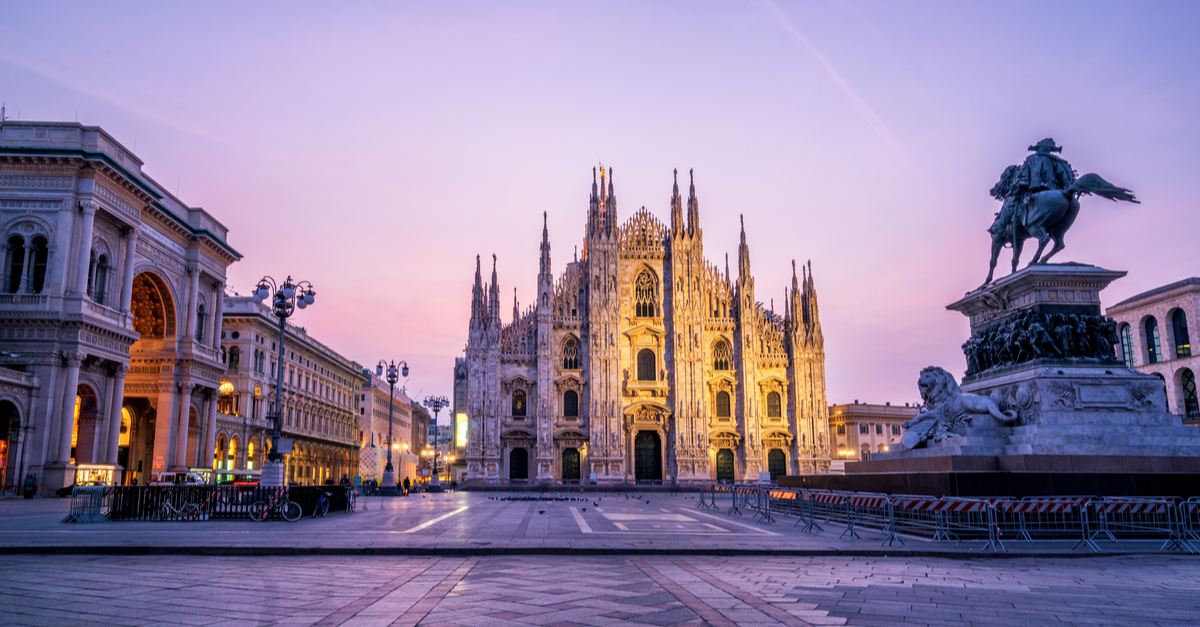 Visit the Milan Cathedral. Source: Shutterstock
Good to know
Paris has many train stations. The Gare du Nord happens to be the busiest in the beautiful city, with several destinations across Europe. The Gare de Lyon, however, receives passengers to and from Switzerland and Italy. Therefore, if you are traveling from Milan, this is where you will catch your ride. Taxis are a readily available form of transportation all over Paris. The other modes of public transport in Paris include Public buses and metro lines.
Paris has destinations for you to explore, whether you are traveling alone or with family or friends, and even more romantic and intimate places for you to visit with a special someone. You will be amazed by the incredible Eiffel Tower and be spoilt for choice from the attractions in the city such as the Louvre Museum, The Palace of Versailles, The Seine River, The intriguing Paris Catacombs, and so on.
In addition to this, you could enjoy the Seine cruises on the Illuminations River and River Seine. You could also enjoy bicycle rides in the vast Versailles fields or indulge in French food and French wine tasting. It goes without a doubt; you will have so much to enjoy in Paris.
To Milan by train—travel tips
Milan is an Italian city known for its iconic Gothic-styled Duomo and for its importance in the world of fashion. While you're visiting, make sure to spend some time exploring the streets, walking around and, of course, indulging in some delicious Italian cuisine. The city of Milan is spotted with beautiful churches and diverse architecture styles. Check out the guide to Milan in the Omio magazine, where you can find tips on getting around the city.
Book a show at the Teatro alla Scala opera house
See Da Vinci's famous "The Last Supper" painting at the Santa Maria delle Grazia church
Go shopping at the iconic Galleria Vittorio Emanuele II
When in Italy, stopping for a gelato is a must, especially during the summer
Enjoy a Milanese aperitif on a terrace to people watch and socialize