Trains from Madrid to Barcelona
Madrid and Barcelona are two of the largest cities in Spain and are therefore well-connected by train. There are a number of trains traveling from Madrid to Barcelona. They run throughout the day, from early in the morning to the evening. You will find a train leaving approximately every hour. The length of the journey will depend on the train and the route you choose, but the quickest train will get you to Barcelona in 2h 30min.
Madrid to Barcelona Train Time: Daily Departures
The popular route between Madrid and Barcelona is well-serviced. There are about 15 different train times, Monday through Friday. The departure times range from around 6:00 a.m. in the morning until the last train at around 8:30 p.m. On the weekends, you will find nearly the same number of trains, except for the first one. On Saturday and Sunday, the first train leaves about an hour later.
How long is the journey by train from Madrid to Barcelona?
The train from Madrid to Barcelona takes approximately 2h 30min to three hours. It will vary slightly depending on the specific train you take and what time of day it is. All of them are direct routes and require no changes or transfers. You can sit back and enjoy the scenery and small towns along the way.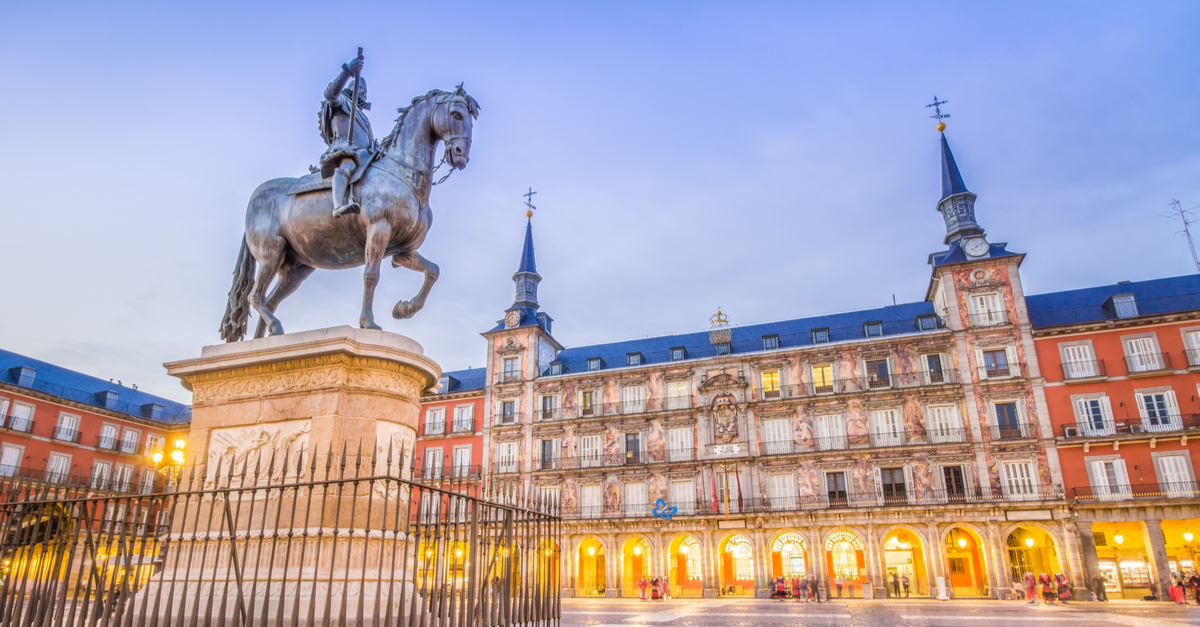 Plaza Mayor in Madrid. Source: Shutterstock
What is/are the departure and arrival stations for trains from Madrid to Barcelona?
Departure train station: There are two main stations in Madrid, Puerta de Atocha, and Chamartin. MostOmio travelers will leave Madrid from Puerta de Atocha Station. This station is located just 1.1 miles (1.8 km) south of the city center. As a major transit hub, the station is well-connected to the bus, train, and metro lines. Atocha station features dining options, a shopping area, and free Wi-Fi. Chamartin station is located 1.5 miles (2.4 km) north of the city center and is easily accessible via the metro. This station also features free Wi-Fi, along with shops and restaurants.
Arrival train station: Barcelona Sants Station is where long-distance trains will arrive. It is located about 1.2 miles (1.9 km) from the city center and is a major transportation hub. From here you can connect to several different trains, bus, and metro lines to take you around the city. When you arrive at the station, you will find luggage storage, free Wi-Fi, and an ATM.
Which train companies travel from Madrid to Barcelona?
Renfe is Spain's national train company and provides both regional and intercity routes. They offer a wide variety of routes to fit in any budget. Another main provider is Renfe AVE, which features high-speed trains and is more common for long-distance routes. They offer several different fare classes, and the AVE trains feature dining, Wi-Fi, and entertainment.
Night trains Madrid
Generally, late-night trains are offered for longer train routes. Currently, there are no late-night trains from Madrid to Barcelona, but there is an evening train. The last train from Madrid leaves around 8:40 p.m. and gets to Barcelona before midnight. The metro in Barcelona runs until midnight on the weekdays and later on weekends, so making onward connections to other areas of the city would still be possible.
Renfe AVE trains from Madrid to Barcelona
Renfe AVE offers trains seven days a week, at different times throughout the day. They currently offer around 15 daily departures, spaced throughout the day from early morning to evening. All routes are direct to Barcelona and require no transfers. The trip takes around 2h 30min to three hours on the high-speed train. Renfe trains feature power outlets, free Wi-Fi, entertainment screens, and dining on board.
Trains from Madrid to Barcelona : Sustainability travel
Lower your carbon footprint by eliminating flights from your itinerary. Taking the train is a more sustainable way to travel from city to city and is often more convenient as well. In recent years, the European Union has dedicated resources to lower CO2 emissions and has promoted the use of rail services. In turn, this leads to more investment, newer trains, and more routes. Because of this increased investment, train travel is not only more sustainable but soon will be more convenient and affordable as well.
Train Madrid to Barcelona: Services on Board
On the Renfe AVE trains, there is a choice of two fare classes, 2nd class, and 2nd+ class. The higher-class ticket offers a bit more comfort with a wide seat and extra legroom. All seats have power plugs and free wifi available. AVE trains are newly remodeled and have modern amenities, like a dining car. The trains and stations are accessible for handicapped passengers. Three baggage items per person are allowed, but the total weight must not exceed 55 lbs (25 kg). If you are traveling with a bicycle, you can bring it free of charge, provided that it is folded or disassembled and put in a case. Pets are welcome on board, as long as they are not a disturbance to the other passengers. You must purchase a ticket for your pet, which can be done at the time of booking. During the trip, they must be in a crate and weigh no more than 22 lbs (10 kg).
How to find cheap train tickets from Madrid to Barcelona?
Just like with airplane travel, it is usually beneficial to plan ahead in order to save money. Booking train tickets about one to three months in advance typically provides the most savings. Keeping flexible travel dates will allow you to adjust your dates to the most affordable travel days. Use theOmio calendar feature to look ahead at the months ahead and get general prices, then book according to affordability. You may also be flexible with the time of day that you leave, afternoon and evening trains tend to be more expensive. Joining a travel rewards program is also a good way to earn points and save money.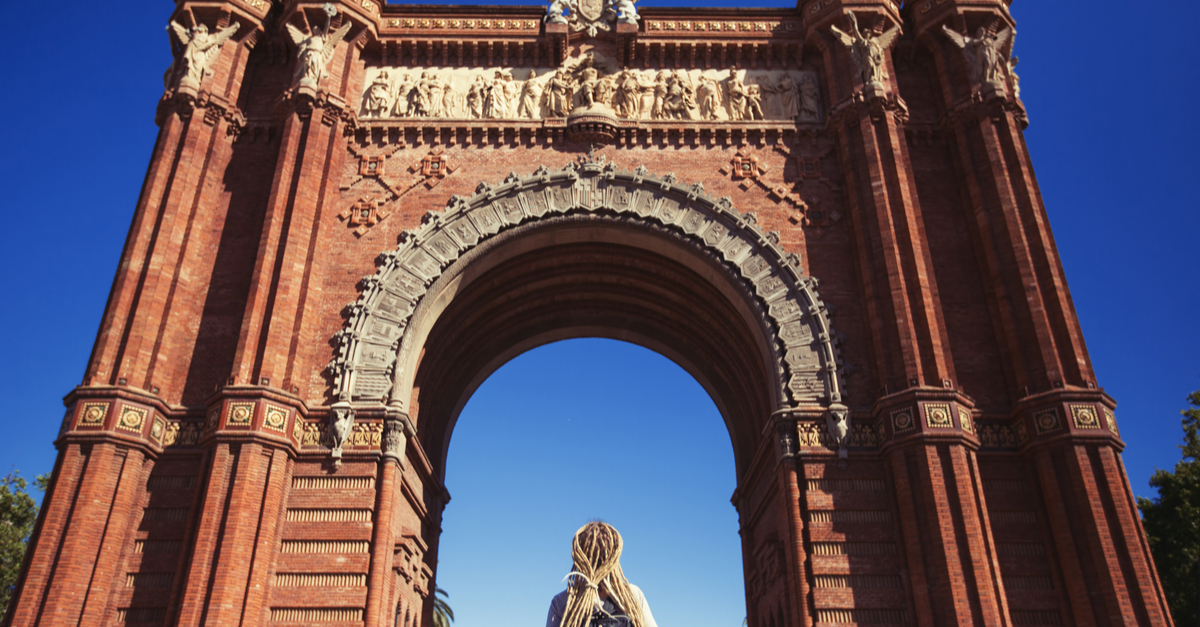 Arch of Triumph in Barcelona. Source: Shutterstock
To Barcelona by train—travel tips
Barcelona is a bustling seaside city, rich in culture and famous for its dining and nightlife. It is a city that seamlessly blends medieval with modern. Take a walk through the city and explore the diverse architecture. Get to know the work of architect Antoni Gaudí, including Sagrada Familia, now a UNESCO world heritage site. Get a taste for a different type of architecture in the Gothic Quarter, where you'll find the Barcelona Cathedral. Food lovers can get a taste of authentic flavors and ingredients at La Boqueria, Barcelona's oldest market. After getting your fix of the city, relax by the seaside and take advantage of the beaches in the city. You can enjoy a balance of sightseeing and relaxing in this vibrant city. Here are some more unique experiences Barcelona has to offer.
Sports fans can take a guided tour of Camp Nou, home of FC Barcelona.
Marvel at the intricate mosaics in Park Güell.
Admire Picasso's art in a collection housed in several palaces at the Picasso Museum
Explore a 17th-century hilltop fortress and enjoy great views of the city at Montjuic Castle.
Take a stroll down La Rambla, Barcelona's most famous street, full of vendors and people-watching.
Sun yourself at Barceloneta Beach, the most accessible one from the city center. Take a walk along the boardwalk which links the miles of beaches along the city Attend a classical music concert at the Palace of Catalan Music.