Trains from Portland to Seattle
Trains are an ideal way of traveling from Seattle to Portland. This is because trains on the Portland Seattle route offer travelers scenic views of the passing scenery. Train rides also place travelers in the middle of Seattle, saving you the time and money spent on commuting from arrival stations to the city center. Daily, about for trains depart Seattle for Portland. Seattle sits 145 miles (233km) from Portland and trains take 3h 38min to travel the distance.
Portland to Seattle train time: Daily Departures
The first train from Portland departs daily at 8:00 a.m. and arrives at 11:30 a.m. The last daily train departs Portland at 7:00 p.m. and arrives in Seattle at 10:30 p.m. Schedules may vary depending on the day of the week. Omio provides all schedules so that travelers can get the most convenient option.
How long is the journey by train from Portland to Seattle?
The average journey time by train takes 3h 45min to get from Portland to Seattle. The fastest train takes 3h 30min while the longest journey time takes 4h. Schedules may vary depending on the day of the week.
What are the departure and arrival train stations for trains from Portland to Seattle?
Departure train station: Trains from Portland to Seattle start their journey at Portland Union Station. It lies at 800 NW Sixth Avenue Portland, OR 97208-3789. Travelers can get to the station by bus or Light Rail. Bus lines 16, 17, 2, 20, and 77 have stops at the station, while the GREEN light rail provides services to the station. Travelers can so get on taxis or drive to the facility.
Portland Union Station features the Metropolitan Lounge for first-class and business-class travelers. There are ATMs, payphones, Quik-Trak kiosks, tickets sales offices, vending machines, and restrooms. The train station operates daily from 6:30 a.m. to 8:00 p.m. Travelers with luggage can find checked luggage services and storage at the station. Drivers can find long-term and short-term parking options at the station. The facility is wheelchair-enabled. It features wheelchair-enabled platforms, restrooms, tickets office, waiting rooms, and a designated parking spot. The facility provides a free wheelchair and wheelchair lift.
Arrival train station: The arrival train station for trains from Portland to Seattle is the King Street Station. The station is a hub for Amtrak trains and Greyhound buses. Travelers can get Greyhound buses, and Amtrak trains from the train station to their preferred destinations. Alternatively bus lines 101, 132, 26, 40, 522, 545, 550 and 74. Light Rail LINK also has stops at the station. It lies in the downtown area of Seattle within an easy walk to the station. It operates daily from 06:00 a.m. to 9:30 p.m.
The station provides a ticket sales office, vending machines, ATMs, and Quik -Trak Shops. The station is wheelchair accessible, and it provides wheelchair-enabled washrooms, tickets office, restrooms, and waiting rooms. There is a courtesy wheelchair for reduced mobility passengers as wheel as wheelchair lifts. The station provides luggage storage services, shipping boxes for sale, and checked luggage services if you need baggage services. Red Cap also provides luggage assistance at the station.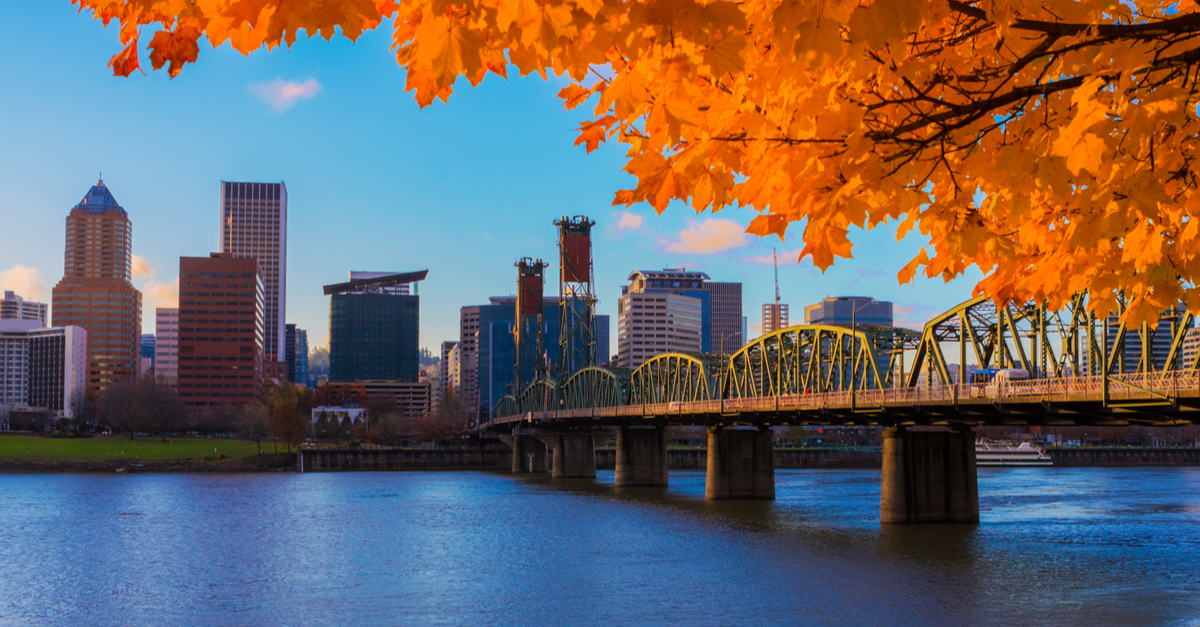 Portland Autumn. Source: Shutterstock
Which train companies operate trains from Portland to Seattle?
Trains from Portland to Seattle are operated by Amtrak. Amtrak is the national railroad provider service in the United States. It has routes to about 500 destinations in all the states of America. It provides intercity trains, regional trains and long-distance trains
Amtrak Trains from Portland to Seattle
Amtrak provides the Amtrak Cascades trains from Portland to Seattle. Amtrak Cascades operates at a speed of 79 mph (127km/h). Amtrak Cascades trains operate services from Vancouver to Eugene and the cities in between. Amtrak cascades feature European-style trains with plenty of amenities for travelers comfort.
Trains from Portland to Seattle: Services on Board
Amtrak Cascades offers two types of seating classes, including Coach Class and business class seating. Business-class seating features comfortable seats with free Wi-Fi on board, reclining seats with seatback trays, more baggage racks, and up-the-minute travel information. Business-class travelers also get priority boarding for extra costs. Coach class seating comes with Wi-Fi, reclining seats, and power charging outlets.
Onboard, there is a Bistro which provides local meals, beverages, sandwiches, and snacks. The restaurant is wheelchair accessible, and it offers panoramic windows. Amtrak Cascades trains feature a lounge car that provides casual eating for 30 travelers. These seats are provided on a first-come, first-served basis, and travelers can enjoy a game or a meal on the tables. Trains allow two free personal items and two free carry-on items. Personal items have a limit of 25lbs. (12kg) and 14*11* 7 inches. Carry On items have to be less than 50 lbs. (23kg) and less than 28 *22*14 inches.
All baggage must be visibly tagged with the owner's name and address. Carry-on luggage must be stowed in baggage racks or overhead compartments. Trains have ten bike racks, and passengers are served on a first-come-first-served basis. Boxed bikes do not require reservations, but larger bikes require a reservation. Small dogs and cats are welcome on board, and the maximum combined weight of the pet and the carrier is 20lbs. Trains are wheelchair accessible with low resistance entrances and ramps. Washrooms on board are wheelchair enabled for easy access by reduced mobility passengers.
How to find cheap train tickets from Portland to Seattle
Travelers that need cheaper train tickets should consider buying tickets in advance. Ticket-selling platforms often release tickets a few months before the journey dates. If you buy train tickets in advance, you might save more. Travelers that need cheaper train tickets should consider being flexible with their travel dates. If you are flexible with your schedules, you might land cheaper train tickets than in fixed schedules. Trains with stops often have cheaper train tickets than trains with direct routes. If you are not in a hurry to travel the route, consider getting on routes with layovers for cheaper train tickets. Remember to keep an eye on discounts and promotions offered by most ticket provider platforms to score cheaper train tickets.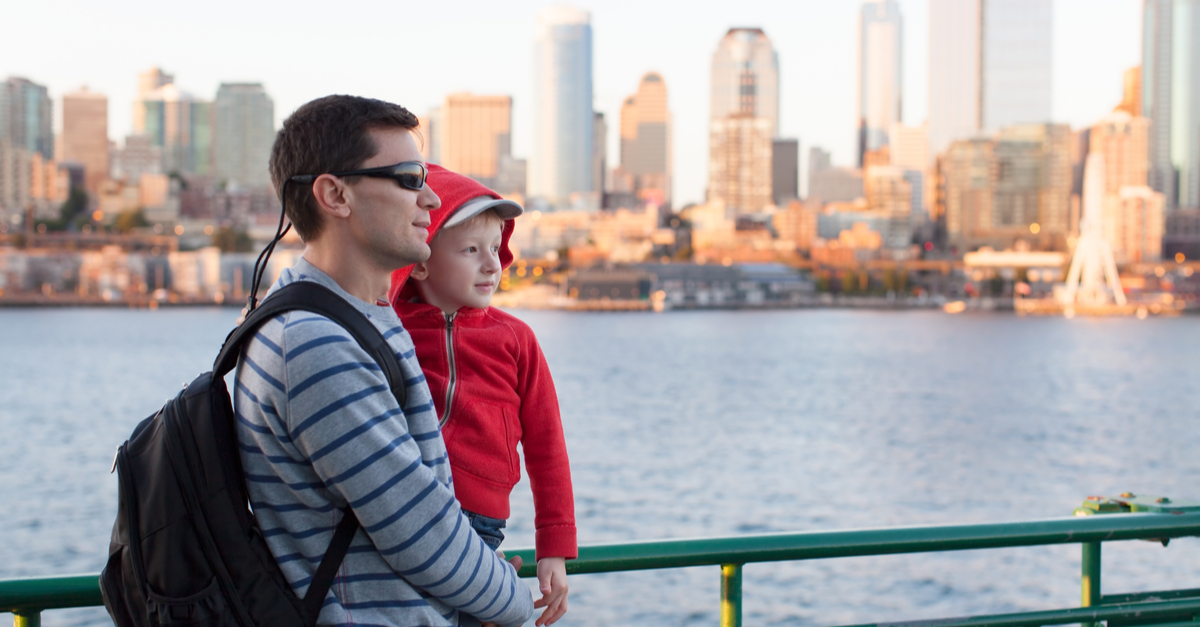 Seattle Father Son by the Sea. Source: Shutterstock
To Seattle by Train- travel tips
Seattle is set in the most scenic spots of the USA on the shores of Lake Washington. Seattle features a multitude of diverse neighborhoods, a skyscraper-studded city center, vibrant attractions, and multicultural centers without forgetting its iconic landmarks. Right in the city center, Seattle houses the Klondike Gold Rush National Historical Park, which showcases a variety of exhibits, photos, and artifacts ideal for charm lovers.
Visitors can also soak in some history at Seattle Art Museum, which features over 25000 artworks from all over the world. It showcases artworks from the 19th century as well as contemporary pieces. History buffs will love q tour to Seattle's Museum of Flight, which offers a wide variety of educational exhibits, aircraft collections, and flight-related historical artifacts. It houses the Personal Courage Wing, which showcases aviation exhibits from world war one and two.
Outdoor and nature lovers can visit Seattle Woodland Park, which houses over 300 species of snow leopards, grizzly bears, lemurs, grizzly bears, and jaguars. Families can enjoy various activities at the facility like carousel riding, daily programs, and educational lectures about wildlife. Volunteer Park is located in Central Seattle, and it provides lush picnic grounds, hiking trails, sports facilities, and a play area ideal for outdoor family fun.
Families will also love a visit to Discovery Park, which lies at the western end of the Magnolia Peninsula. Beach lovers can explore its beaches, dunes, and meadows and enjoy activities like swimming, boating, fishing, and sunbathing. Thrill-seekers will love a ride on the Seattle Great Wheel, which provides breathtaking views of the Seattle skyline and the Olympic Mountains. The Ferris wheel is 53 meters high, and it provides glass gondolas so visitors can catch the scenic sunset.
During your visit to Seattle, be sure to visit the Chihuly Garden and Glass, which features galleries colorful and creative glass sculptures. It features great exhibitions of glassworks in different shapes, colors, and sizes. Seattle features a diverse culinary scene with top, not dishes from all over the world. Cafe Juanita is popular for its Italian fare, be sure to treat your taste buds to its lamb sugo or its exhaustive wine list. Sea Wolf restaurant is ideal for its cinnamon rolls, while Barnacle bar provides silky chicken mousse with amaro-picked cherries.