Trains are a reliable and efficient way of traveling from Seville to Madrid. Trains take travelers to the middle of Seville so that you won't have worries about commuting from the arrival point to the city center. In addition, train travelers won't have to worry about outrageous parking fees or traffic delays. Madrid lies 241 miles (391 km) from Madrid, and the average train takes 2h 44min to travel the distance. There are about 12 daily trains from Seville to Madrid, and they all offer direct services. Trains from Seville to Madrid are operated by Renfe.
Daily, about 12 trains provide services from Seville to Madrid. This means that weekly there are about 85 trains from Seville to Madrid. The first daily train leaves Seville at around 6:43 a.m., and the last daily train leaves at approximately 8:58 p.m. Omio provides all available schedules for travelers to choose the most convenient ride.
The average journey time for trains from Seville to Madrid is 2h 44min. Since all trains provide direct services, the longest and shortest durations are a few minutes more or less than the average journey time.
Train station in Seville. Source: Shutterstock
Arrival train station:Trains from Seville to Madrid arrive at the Seville Atocha Station. It features a Sala Club First Class lounge, a left luggage area, food concessions, baby changing facilities, and water fountains. There are also several shops, ATMs, a waiting area, and currency exchange services. Travelers who need transfer services from the station can travel via Metro line 2 or a taxi. Seville Atocha train station is wheelchair accessible, and it provides accessible platforms, washrooms, and ticket offices.
Which train companies travel from Seville to Madrid?
Trains from Seville to Madrid are operated by Renfe. Renfe is the national railway carrier in Spain. It provides most regional and high-speed Ave trains. For the Seville to Madrid train journey, Renfe provides Renfe Ave trains.
Night trains in Seville
Renfe offers Trenhotel trains, which are long-distance trains with night services. They feature overnight compartments that facilitate easier night travel. Renfe overnight trains have different class categories for travelers. With Tourist class, trains have two-by-two seating arrangements, reclining seats, and folding tables. With Preferente, travelers get super reclining seats with armrests and folding tables. Grand Comfort class seats recline horizontally and offer plenty of space between rows. The seats have adjustable headrests and footrests alongside magazine racks, power sockets, and audio systems with audio channels. Tourist cabins have two upper and lower beds with washbasins, towels, and bedsheets. Travelers can choose between lady and gentlemen's cabins. Preference cabins feature two single beds, towels, bed linens, and sinks alongside telephones. Grand Class cabins have two beds, showers, and washrooms. Travelers with Grand Class get personalized services, daily newspapers, showers, and bed linens. These rooms are also equipped with wide night beds, 15-inch TFT screens, and luggage areas.
Renfe Trains from Seville to Madrid
Renfe Ave provides 12 trains daily from Seville to Madrid. All Renfe trains offer direct services from Seville to Madrid. Renfe Ave trains are high-speed trains that operate at an average speed of 193 mph (310km/h).
Trains from Seville to Madrid: Sustainability Travel.
Trains are by far the greenest and most sustainable means of travel. Trains emissions only represent less than five percent of the travel industry emissions. They also have low energy consumption, which equals a tenth of the energy consumed by personal cars and airplanes. Trains occupy small areas in the environment and still offer a lot of space for passengers onboard. Trains have a longer lifetime and can often last for 50 years without the need to re-invest in spare parts and non-renewable energy.
Train from Seville to Madrid: Services on Board
Renfe trains offer two travel classes, including second class (Turista) and Preferente (First Class). First and second classes differ in the seating arrangement. Second-class cars provide two-by-two-seat arrangements, while Prefente features two-by-one seating arrangements. First-class seats are more spacious and offer more legroom. First-class travel also offers a catering service served by attendants without going to the bistro cars and entry to the VIP lounge. Renfe trains provide attendants who speak several languages as well. All trains come with a Buffet Car, which provides seasonal menus, a menu for kids and various beverages. The trains also provide free Wi-Fi onboard for travelers' entertainment.
Renfe trains restrict luggage with a maximum of three bags per passenger. The measurement limit is 33x20x13 inches (85x55x35 cm), and the weight limit is 50 lbs (25 kg). They also offer power charging ports so that travelers can charge their devices. Pets are allowed on board for free as long as they are on a leash. Only dogs with muzzles are allowed on board, and carriers are not necessary. Renfe is wheelchair accessible with designated spaces for wheelchairs. The Omio Magazine offers you advice on the best travel experience from Seville to Madrid.
How to find cheaper train tickets from Seville to Madrid
Travelers that need cheaper train tickets from Seville to Madrid should consider buying tickets in advance. Ticket selling platforms often provide tickets a few months ahead of time. If you buy earlier, the tickets will be cheaper. Also, a flexible schedule helps in scoring cheaper train tickets. Trains with stops sometimes cost less than faster, direct trains. If you are not in a hurry to get to Madrid, consider choosing a train with stops.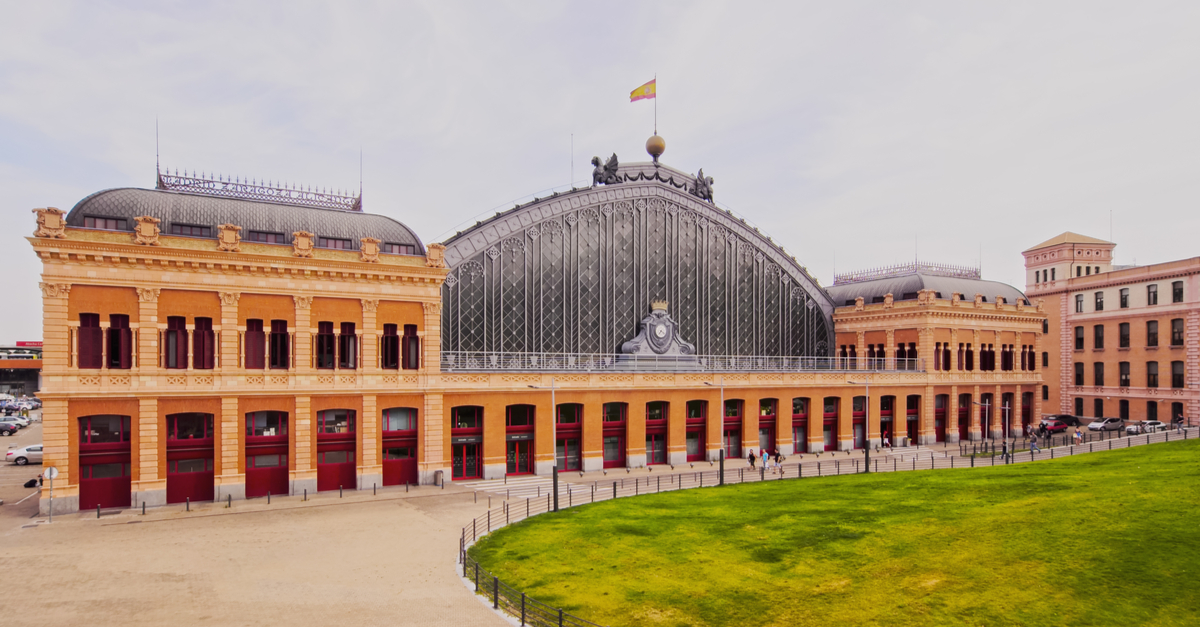 Tourist in Atocha train station in Madrid. Source: Shutterstock
To Madrid by train – travel tips
Madrid, Spain's capital, is a city popular for its elegant boulevards, expansive manicured parks, and rich repositories of European art. A popular attraction in Madrid is the Buen Retiro, which houses the Prado museum and artworks by popular artists Iike Goya and Velazquez. Puerta de Alcala is an ideal destination for history and charm lovers. Dating back to the late 18th century, this structure is one of the most popular attractions in Madrid. It features neoclassical arches made of granite, which imitate the Roman Empire Architectural design. Soak in some history at Museo Sorolla, a charming museum dedicated to the artist Joaquin Sorolla, one of the most famous impressionist painters in Spain. It features over 12,000 paintings and drawings by Sorolla. History lovers can visit the Temple of Debod. Situated in La Montana Park, the Egyptian temple offers history from the 18th century. It features well-preserved decorations dedicated to the Egyptian god, Amun, and goddess, Isis. It also features graceful gardens surrounding a monument with reflective pools and a fountain. Nature lovers will love a visit to Cybele's Fountain. It houses the Coleccion Cibeles café and Palacio, which offer spectacular city views.
Torre del Oro
Plaza de Espana
Park Maria Luisa.
Triana District
Royal Palace and Gardens