Trains from Rome to Naples
Trains from Rome to Naples are the best means of traveling between the two cities. This is because trains are not only fast, but a comfortable speed of traveling this route. Train stations often lie in the middle of cities, saving you the hassle of negotiating traffic congestions and outrageous parking fees. There are over 97 trains that leave Rome headed to Naples. Out of the 97, 93 trains provide direct connections. The average distance between Rome and Naples is 117 miles (189km). On average, trains take 1h 41min to get from Rome to Naples.
Rome to Naples train time: Daily Departures.
There are around 97 daily train rides from Rome to Naples. This leaves about 700 train ride options to choose from weekly. The earliest train leaves Rome at around 5:00 a.m. and arrives at Naples at 8:00 a.m. taking about 3h. The last train departs Rome at 10:50 p.m. and arrives in Naples at 12:01 a.m. taking 1h 11min. Schedules vary depending on the day of the week and providers. Omio platform has all information about providers and their schedules for travelers to select the most convenient ride for them.
How long is the journey by train from Rome to Naples?
The average train ride from Rome to Naples is 1h 41min. The fastest train takes 1h 11min. Direct routes typically have shorter schedules than routes with stops. The slowest train on the Rome –Naples route takes 3h 28min and usually has one or two layovers along the way.
What are the departure and arrival train stations for trains from Rome to Naples?
Departure train station:Trains start the Rome –Naples journey at Rome Termini station. It is the main railway station of Rome, and it lies at Via Giovanni Giolitti, 40, 00185 Roma. It operates daily from 6:30 a.m. to 10:00 p.m. Since it is within the city center, travelers can easily walk to the station. Metro lines A and B offer rides from other parts of Rome to the station. Travelers can also take trains from their destinations to the station. Rome Termini has over 31 platforms, and Platform 1 to 24 provide trains to Naples.
The station provides free Wi-Fi for traveler's entertainment. It also features a left luggage office on platform 24. Travelers can find ATMs all over the station. There is a sales ticket office in the middle of the atrium, right ahead of the main entrance. Lounges are available all over the facility with numerous amenities. Food concessions at the station include Acafe, Moka Café, McDonald's, and many more. The facility is wheelchair accessible for reduced mobility passengers. Drivers can find long-term and short parking options at the station.
Arrival train station: Trains from Rome to Naples arrive at Naples Centrale that sits at P.za Giuseppe Garibaldi, 80142 Napoli NA. Naples Centrale is the main train station in Naples. The station operates daily from 7:00 a.m. to 9:00 p.m. There are several transport options from the station to other areas. Le Frecce and Italo trains provide services from the station to other parts of Napoli. On the platform level, visitors will find numerous shops and restaurants. The station also features a tourist information office, a sales ticket office, and currency exchange services. KiPoint luggage facility provides lost and found properties near track two. There are washrooms near the luggage facility and some on the underground level. All amenities at the station are wheelchair enabled for reduced mobility passengers. There are TTY payphones to aid customers with hearing problems.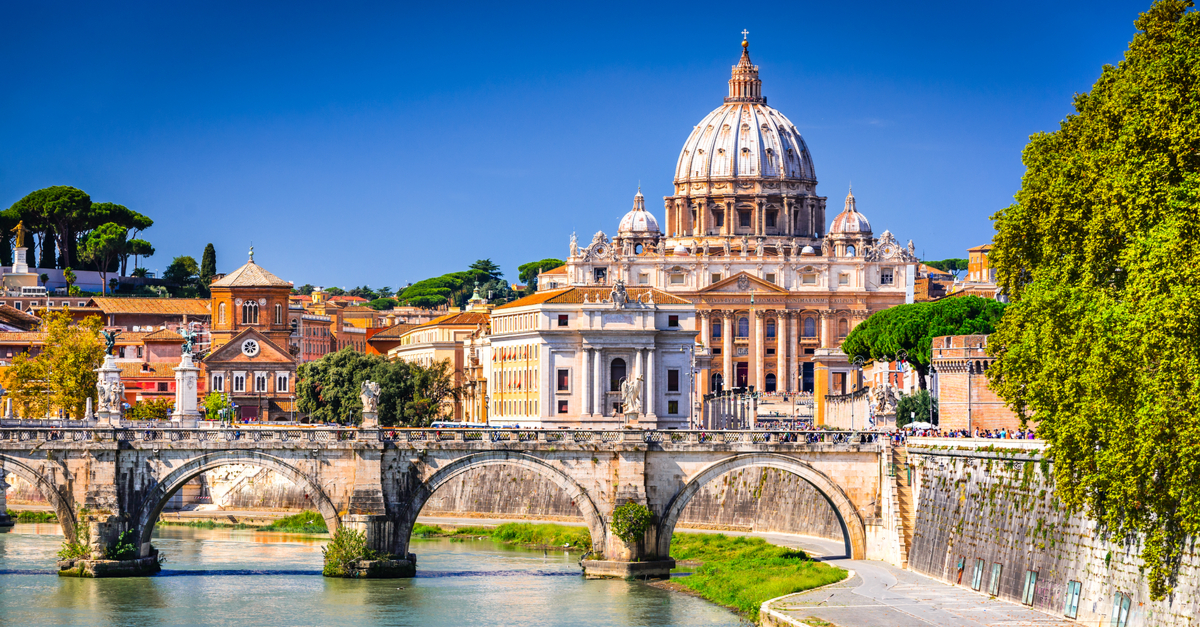 Rome View. Source: Shutterstock
Which train companies travel from Rome to Naples
Trains from Rome to Naples are provided by Trenitalia or Italo. Trenitalia trains typically provide more train rides along this route. Italo trains also operate services in cities within Italy, while Trenitalia operates in different cities even outside Italy.
Trenitalia trains from Rome to Naples
Trenitalia is the national railway company of Italy. It has a fleet of high-speed trains that include Frecciarossa, Frecciargento, and Frecciabianca. Frecciargento trains connect northwest and southern Italy. They operate at a speed of 155mph (250km/h). Frecciarossa trains can operate at high speeds with a maximum speed of 186mph (300km/h).
Italo trains from Rome to Naples
Italo trains are high-speed train operators that provide services within major cities in Italy. They provide three classes of services for their travelers. They can operate up to 190mph (300km/h).
Trains from Rome to Naples: Services on Board
Italo trains offer travel classes. Smart class is the cheapest option, and it features standard privileges. Comfort class provides wider seats and extra legroom. Prima class travelers get a welcome selection of meals and drinks while Executive Club passengers get lounge access, personal entertainment at seats, and priority boarding. Frecciargento trains provide first-class and second-class types of seating. First-class travelers on these trains get wider reclining leather seats, complimentary drinks, snacks, and a free newspaper.
Frecciarossa trains provide four levels of services, including Standard, Premium, Business, and Executive. Premium-class travelers get drinks and snacks upon arrival, while business travelers get larger seats. Executive class passengers get lounge access, wider seats, and at-seat meals. Travelers can bring luggage on the train without any weight or size restrictions on Trenitalia trains. Italo trains limit each passenger to two items of luggage that measures less than 11*27*35 inches (30*70*90 cm). Carry on bags have to fit on the passenger's lap.
Trains typically provide luggage compartments for passengers to store luggage during their journeys. Travelers can bring a pet on board as long as they are under 22 pounds (10kg). If the pet weighs over 10kg, you have to buy a ticket for the pet. Trains provide onboard cafes for travelers to grab drinks or meals. Folding bicycles are considered to be standard luggage, and they go in luggage racks. We recommend buying boxes for the bicycles at respective stations to ensure their safety. Trains come with low resistance doors and wider entrances for easy access of reduced mobility passengers. Trains provide forklifts to access train cars, equipped washrooms and seats near washrooms for easy access.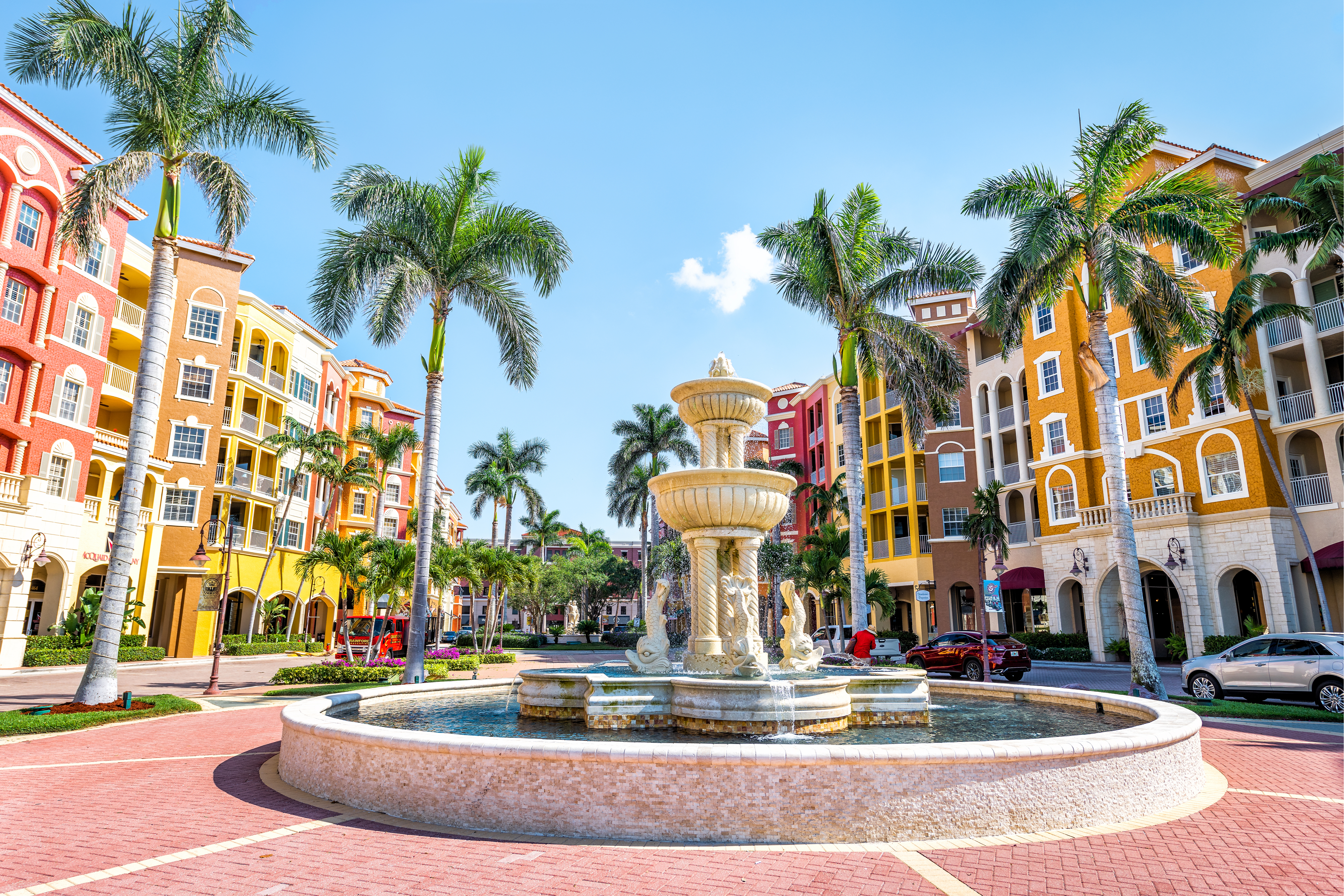 Naples Fountain Town. Source: Shutterstock
How to find cheap train tickets from Rome to Naples?
if you need cheaper ticket deals, consider buying tickets in advance. Train tickets often cost cheaper a few months before their scheduled dates. Travelers should also consider being flexible with their travel dates to get cheaper deals. When trying to get cheaper trains from Rome to Naples, consider trains with stops along the way. This is because trains with stops cost cheaper than trains with direct routes. Remember to keep an eye on cheap discounts, deals, and promotions that offer cheaper train tickets to Naples
To Naples by train- travel tips
There are several transportations means in Italy, but trains are the best means of getting from Rome to Naples. This is because trains are fast, efficient and a great way of exploring Italy's landscapes. Naples is a city in Southern Italy, and it features a blend of contemporary art and natural wonders. It is commonly known as the birthplace of Pizza. Whether you like sunbathing on beaches, kayaking, exploring natural sites, or kayaking, Naples has it all.
During your visit to Naples, visit Castel Ovo, which features a historic gateway and a harbor. Visitors can opt to sunbathe on the Lungamore beach or stroll on the beach. There are plenty of food concessions, a lively atmosphere, and an Ethno-Prehistory Museum. Cultural enthusiasts will love a tour around the marble sculpture at Capella Sansevero. It also showcases exhibits of Masonic symbols and a demonstration of the human circulatory and muscular systems. The Catacombs of San Genaro provide history tour guides along with tomb charters and a large underground basilica.
Shopping lovers will love visiting San Gregorio Armeno, which has some of the best craftsmen and vibrant shopping options. Travelers can enjoy running, cycling, or strolling at Cedric Maes. You can also catch views of Ischia and Capri islands from the Parco Virgiliano. Outdoor and nature lovers can take a tour or hike Mount Vesuvius to get scenic views of the caldera.
Naples has plenty of restaurants that provide world-class fares from all over the globe. Palazzo Petrucci offers exquisite dishes in colorful and careful presentation. Treat your taste buds to Sorbillo's pizza options or Friggitoria Vomero's panzerotti or arancini dishes.