Bus to London
Considered to be one of the greatest cosmopolitan cities in the world, London is renowned for its museums, restaurants, and architecture. The city is filled with different bus stations, with some of the largest and most popular being at Victoria Station and White City. Because London is considered to be the major bus terminal of the United Kingdom, you can find journeys to this destination from most major mainland cities. Those that are interested in booking a bus to London have a few popular departure cities to choose from, including Amsterdam, Paris, and Prague.
National Express to London
Depending on what city you are departing from, your bus to London may be serviced by National Express, which is known for being one of the United Kingdom's major travel providers and for servicing almost all domestic buses in the country. Since it was founded in the early 90s, National Express has grown to be one of the largest transport companies in Europe, servicing not just buses, but also trains and trams. When you are traveling in a London coach that is serviced by National Express, you can expect for your arrival bus station to be Victoria Coach Station, which is one of the largest bus stations in the city.
Eurolines to London
When taking a bus to London from an international city, such as Paris or Prague, your journey may be operated by Eurolines. Eurolines was created in the mid-1980s and has now become a major travel provider in Europe, servicing voyages to over 600 different destinations in 36 European countries, as well as Morocco. If you will be traveling to London on a coach that is run by Eurolines, you can typically expect for your arrival station to be St Pancras International. Along with Victoria Coach Station, St Pancras International is also one of the largest bus stations in the city.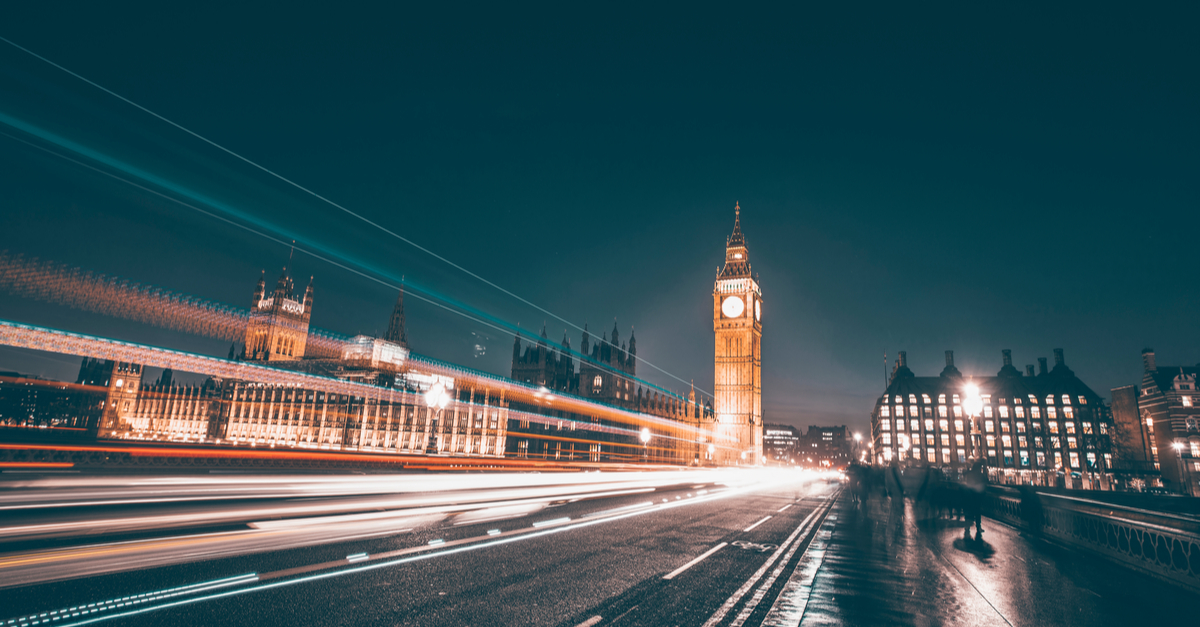 London Lights Night. Source : Shutterstock
Main bus stations in London
There are two primary bus stations in London that are used for journeys operated by companies such as National Express and Eurolines, and they are known as Victoria Coach Station and St Pancras International. Victoria Coach Station can be found approximately 1.5 miles (2.4 km) south of the city center. Those that would like to travel to the city center from here can always grab bus line C1, which will take you around 5min to arrive at your destination.
St Pancras International is placed approximately 3 miles (4.8 km) north of London's city center. To go to downtown London from this bus station, you can take the local Thameslink train line, and the journey will last you around 10min in total. Both of these stations provide a few different services and facilities that travelers are welcome to use after their trains have arrived. For example, there are public restrooms, access to free Wi-Fi, areas to sit and relax, shops to purchase light refreshments and travel essentials, luggage storage services, and outlets to keep all of your electronic devices charged.
Onboard facilities London
Both National Express and Eurolines have a few different services that customers are welcome to take advantage of on their bus to London. For example, most of their London coaches are equipped with public restrooms. Depending on what city you depart from, your coach may even sell basic snacks and drinks in case you are hungry during your journey. You will also have access to a spacious seat that reclines and provides you with plenty of legroom. Many seats on buses operated by each of these companies also have their own outlet for you to use for the duration of your trip.
You will find that almost all coaches have their own onboard Wi-Fi connection, and passengers are welcome to use this at no cost in order to stay connected during their travels. National Express has its own entertainment system, which is known as VUER. You can connect to VUER with any of your personal electronic devices, including cell phones, tablets, and laptops.
This system allows passengers to access a variety of free media, including movies, television shows, and sports updates. On some coaches operated by Eurolines, you may have access to your own miniature television that you can use to watch free movies and television shows. Many of the buses also have radio access, and you can choose from a selection of music and news stations.
Bus tickets to London: useful to know
When you travel to London with National Express, you have the choice of either presenting a physical copy of your ticket or receiving a digital version of your ticket via email. If you opt to have a digital version of your reservation, you will find that there is a barcode on the document that the driver can scan directly from your phone. Many of the routes serviced by Eurolines also allow travelers to use a mobile ticket, rather than being obligated to print their reservation.
Keep in mind that for both of these companies, you will be asked to provide proof of identification that has the same name as the name that is on your reservation. Some examples of documents that you may use include passports and government-issued driver's licenses. When you book your bus to London through Omio, the entire experience will be simple and quick. Our platform even allows you to directly store your tickets through your Omio account.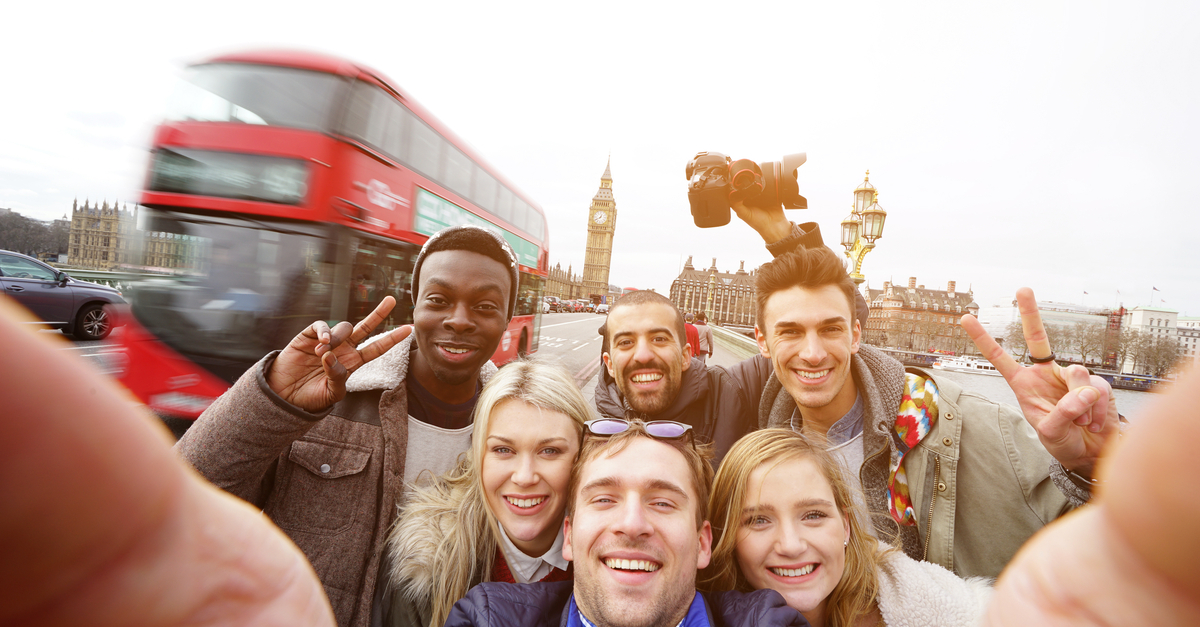 London Selfie. Source : Shutterstock
To London by bus - travel tips
There are numerous reasons why travelers from all over the world decide to visit London. London is known for being a major business hub, so it's quite common for individuals to come for work-related reasons. The city is also famous for its vibrant nightlife which includes diverse clubs and pubs. While in London, you can rely on the area's extensive public transportation system to travel around.
The local underground system is known as the Tube, and it consists of over 10 lines that are spread throughout the entire city. There is also an extensive bus system that is simple to navigate. While most parts of the city are well connected to public transport, staying somewhere in the city center will help to provide you with the most choices.
You'll never run out of things to see and do while visiting London. The British Museum is one of the most famous museums in the world, and it houses more than 7 million objects. You won't want to miss out on seeing the Tower of London, which is famous for being home to the Crown Jewels.
If you want to see some impressive views of the entire city, make sure to take a ride on the London Eye, a ferris wheel that is located on the South Bank. Enjoy some fresh air and time outdoors by going to Hyde Park, a large green space that also has its own amusement park.
If you're an art lover, you will want to go on a tour of the National Gallery, which has works from between the 13th and 19th centuries. Treat yourself to a day of shopping and head over to Oxford Street, a major road that is lined with approximately 300 shops, ranging from major brands to charming local boutiques. Learn more about the famous British Royal Family by going to Kensington Palace, which has been one of the family's residences since the 17th century.