Flight to Granada
If you are on a flight departing from a major US city to Granada, your destination can be either of the two airports present in or near Granada. Thus, planes can find an arrival station in Malaga Airport or Federico García Lorca Granada-Jaén Airport. Federico García Lorca Granada-Jaén Airport, popularly known as Granada International Airport, receives many local Granada flights. However, Malaga Airport is the primary recipient of international flights. Some of the US cities you can travel to Granada from are New York, Los Angeles, Atlanta, Chicago, and Washington DC. Note that flights to Granada are usually indirect, with one or two layovers. They may last between approximated durations of 9h 50min and over a day.
Iberia Airlines to Granada
Iberia Airlines, which operates under the International Airlines Group, is among the companies that provide a flight to Granada from the US. The company is the primary air carrier in Spain and has headquarters in the country's capital, Madrid. You also can use the airline to make flights from Granada to other cities. If departing from the US, Iberia Airlines planes depart from JFK International Airport in New York. When used to connect flights, Iberia planes depart from Madrid, specifically Madrid Barajas Airport, where the first stopover occurs. The usual arrival station for the airline is Malaga International Airport. However, some flights, such as those from Ronald Reagan Washington National Airport in Washington, have a destination in Granada International Airport.
Delta Airlines to Granada
Delta Airlines, which provides thousands of flights daily, enables flying from the US to Granada. While its headquarters are in Atlanta, Delta allows passengers to depart from established US urban centers like Los Angeles, New York, Seattle, Chicago, and Atlanta and enjoy a flight to Granada. In addition, most Delta flights are indirect and take travelers as far as Madrid, where they can take Granada flight deals offered by Iberia Airlines.
Granada Girl . Source: Shutterstock
Main flight stations in Granada
Malaga Airport is among the international flight stations close to Granada, where a US flight to Granada can find a destination. Being an international Airport, it features various facilities, including free Wi-Fi, restaurants, cafes for refreshments, ATMs, and a medical center in case of emergencies. There are also particular areas for travelers with disabilities. Malaga Airport is about 77 miles (125 km) from Granada city center. Getting from the airport to central Granada entails taking a cab, which takes about 1h traversing the distance. On the other hand, you can take a bus, the cheaper alternative, which takes nearly 1h 30min traveling from Malaga Airport to downtown Granada.
Federico García Lorca Granada-Jaén Airport is another possible destination in Granada city. Despite its proximity to Granada city center, the flight station is smaller compared to Malaga Airport. However, it features facilities like shops and a spacious waiting area. Between the airport and Granada city center, there are about 7 miles (12 km). When covering the distance, you can board the affordable and local 0245 buses that get to downtown Granada in approximately 49min. If pressed for time, you can opt for boarding the comparatively expensive taxis, which reduces the travel duration to roughly 20min.
Onboard facilities Granada
If you are set to travel by flight to Granada through Delta airlines, you can be sure to delight in a wide range of services that warrant adequate travel comfort. Enjoy stable in-flight Wi-Fi that allows surfing while on the plane. The company equips planes with cabin air filters that refresh air at 2min intervals, such that passengers can breathe fresh and clean air throughout their trips.
Delta also incorporates comfortable and spacious seats with an armrest. Further, you can use a seatback screen to watch entertaining content on board. If you get hungry during your flight, you can go for ordering food or snacks at the comfort of your seat. Beverages and hot meals are also available, especially for first-class travelers. When savoring your drink, you can request glassware available for all passengers. For additional comfort while resting, you can access bedding, including a blanket and pillow. You may also peruse through the Delta Magazine provided at no cost to keep up with current events while traveling.
As an added advantage, Delta does not restrict pet travel. However, only small pets in a carrier can make traveling in Delta planes. The airline also commits to coming to the aid of disabled travelers if you take it upon yourself to call them and tell the staff of the situation. Onboard an Iberia flight, you can access commendable services like comfortable, reclining chairs with an adjustable headrest. Also available with every seat is a blanket and pillow, allowing quality resting time as your fly. In front of every seat, you can use a panel that is only an arm stretch away and order food or watch videos. When it comes to meals, you can settle for Spanish cuisine or order a custom dish.
However, you must make a reservation 24h in advance if you prefer having special meals. For business, Premium, and Economy classes, an in-flight magazine is available. If you happen to be working on the plane, Iberia allows internet and GSM services, such that you can browse and makes calls on board. You also don't have to worry if a pet accompanies you on the plane, as Iberia allows small pets. Be sure that the pet's weight doesn't exceed 17 pounds (8 kg). If you have reduced mobility, Iberia personnel will help you get on or off the plane and other mobility issues while onboard.
Flight tickets to Granada: Useful to know
You don't need a printed ticket to board Granada-bound flights departing from the US. With a mobile ticket, also known as an e-ticket, you are free to make a flight from an airline of your choice. However, company policies change from time to time. The situation calls for a passenger to check if they can use e-tickets during specific times. When using an e-ticket, you need to provide a valid government-issued ID. The names indicated on the ticket must match those displayed on the identification document. To make ticket management easy, be sure to book flights through Omio. On Omio, buying flight tickets to Granada is fast and easy, and it's possible to store all your tickets in your Omio account.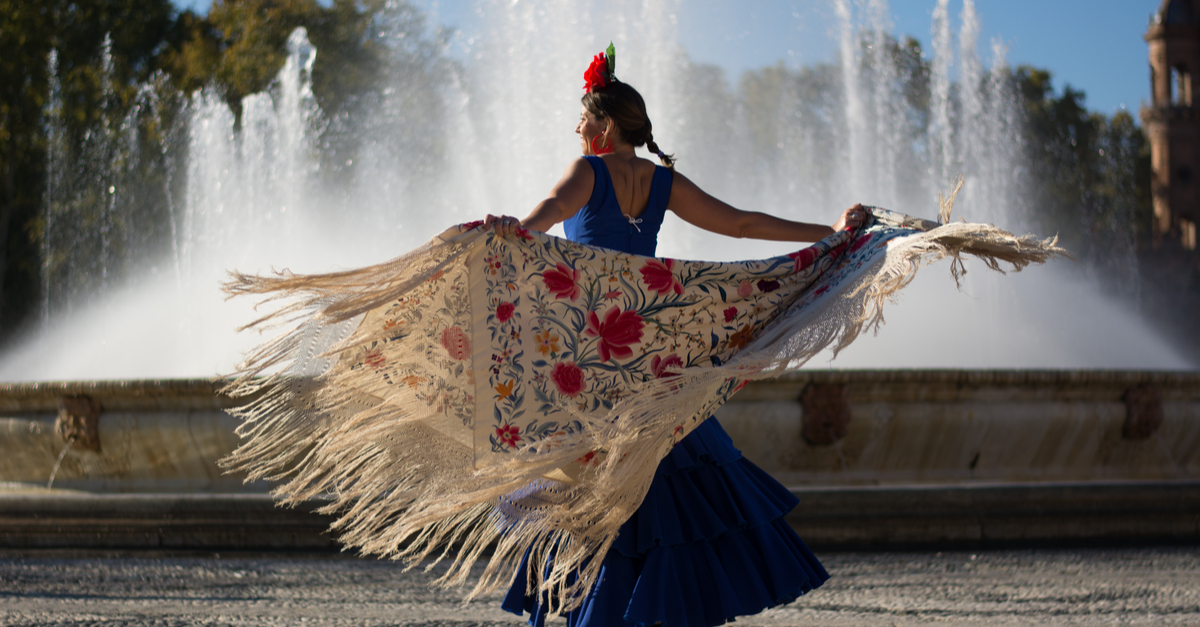 Granada Woman Dancing . Source: Shutterstock
To Granada by flight – travel tips
One of the reasons you can schedule a tour to Granada by flight is to experience, firsthand, the magnificence contained in the Alhambra Palace. The centuries-old structure combines well with lush green surroundings covering the area immediately after the palace's red walls. While at Alhambra, you can take some time to tour surrounding constructions, including Palacio de Carlos V, Alcazaba, and the well-maintained Palacios Nazaríes. Accessing the sites is relatively simple via the public transport in Granada, consisting of trains, buses, and taxis.
You can board the tourist buses if you are in the city for leisure only. Intercity and metro buses allow traveling within and out of Granada. Granada train station, which operates in Granada, serves as the departure and arrival terminal for the high-speed AVE trains that service Granada. If you opt for taxis, you can ride in the urban taxis that serve travelers to the city center or intercity cabs that can ferry you to various Granada villages.
From heritage sites to outdoor paradises, Granada has a lot to offer you when touring the city. You can commence by visiting the medieval neighborhood of Sacromonte. There are numerous cave houses here that have been in existence for centuries. In Sacromonte, you can enjoy the traditional flamenco Spanish dance. For local dishes, including the famous tapas, be sure to make time to visit the bars and restaurants in Almiceros. If you harbor some love for the outdoors, set foot in the Sierra Nevada, which features fresh air and spectacular trails for hiking.