Train to Barcelona
Barcelona is the beautiful capital city of Spain's northeastern Catalonia region. As Spain's second most populous municipality, it's very easy to travel by train to Barcelona from many other major cities in Spain such as Seville or Valencia. In fact, Barcelona trains arrive regularly throughout the day at the city's Sants Station not only from national departure points like Madrid but also from foreign cities such as Paris, France or Geneva, Switzerland.
Renfe to Barcelona
The primary provider of domestic trains to Barcelona from within Spain is Renfe, or sometimes Renfe Ave, its high-speed branch. Direct Barcelona trains are available from Renfe every day of the week, departing from major cities around the country, such as Valencia (Estacio Del Nord or Joaquin Sorolla), Madrid (Puerta de Atocha or Chamartin), or Seville (Santa Justa). Connecting trains to Barcelona are also provided by Renfe from cities such as Cadiz (connecting in Seville) or Salamanca (connecting in Madrid), all arriving within hours at Barcelona Sants Station.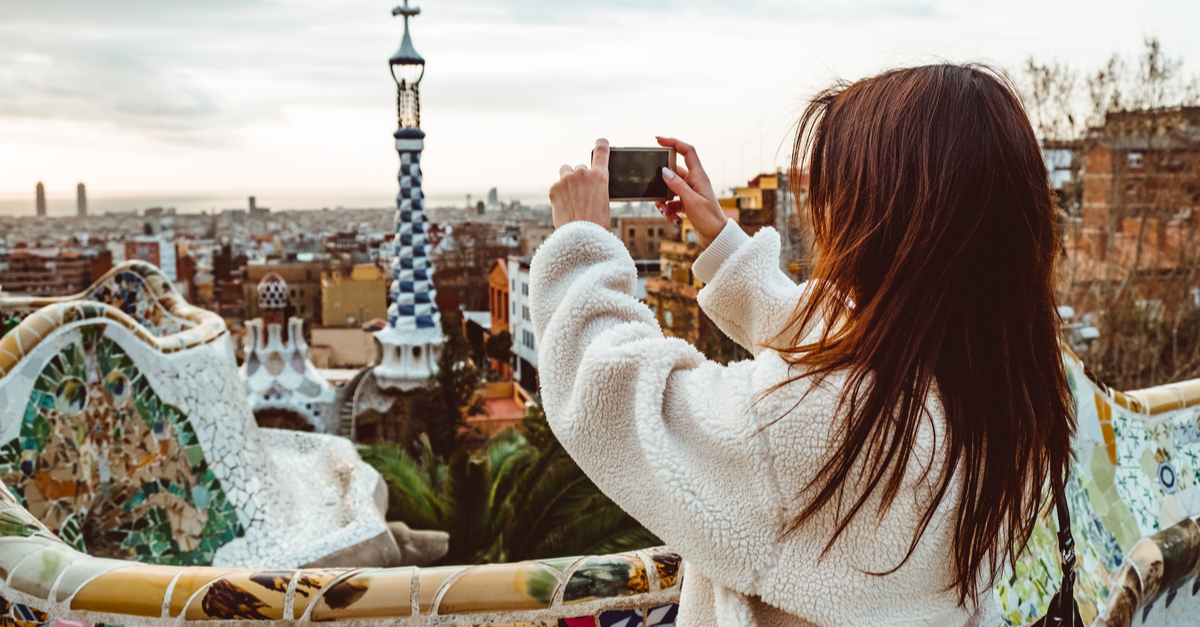 Barcelona Photograph : Shutterstock
Main train station in Barcelona
Barcelona's main railway station is Barcelona Sants Station, located on the Avinguda Roma right between the Joan Peiró and Plaça dels Països Catalans squares. Positioned as it is just a short distance to the western edge of the city's center, Barcelona Sants Station is very easily accessed by city bus or taxi, both of which stop just outside of the station.
After taking the train to Barcelona, you can also access any of the city's major neighborhoods within minutes by taking the city Metro which departs from the nearby Barcelona Estació Metro Station. Visitors by train to Barcelona Sants Station will be able to utilize services at the station such as a tour desk, luggage storage, and car rentals, in addition to the typical shops and cafés. Departing passengers traveling in 1st Class may also relax in the station's Club Lounge.
Onboard facilities Barcelona
Renfe passengers by train to Barcelona may enjoy PlayRenfe, the free onboard WiFi service which also includes onboard entertainment options. Barcelona train travelers may select between Economy (also called Tourist) and 1st Class (also called Preferential) seating. In Economy seating, rail passengers will be offered a mobile bar service and coffee shop, in addition to access to a Quiet Car for a more relaxing journey to Barcelona Sants. In this class of seating, passengers may bring along one pet (dog or cat) so long as it is small and remains within its travel carrier.
This pet will require its own "pet ticket" which generally costs about 25% of the owner's ticket fare. In 1st Class seating, rail passengers also have access to a Quiet Car in addition to newspaper service on morning routes and food/drink catering at their seats. First Class passengers may also travel with their pet for free (a "pet ticket" is still required, although without cost) in addition to being granted access to the Club Lounge at the Barcelona Sants Station on their return trip.
Passengers on Renfe's trains to Barcelona may bring up to three items of luggage onto the train to Barcelona just as long as these items do not total more than 55 pounds (25 kg) altogether. This includes foldable bicycles and musical instruments. Some non-foldable bikes may be permitted depending on the train in question. These onboard facilities are consistent regardless of regular, long-distance, or high-speed domestic Renfe trains to Barcelona. All passengers requiring the assistance of a service animal, such as a seeing eye dog, etc., may bring the service animal onto any Renfe train without restriction.
Train tickets to Barcelona: useful to know
Tickets for trains to Barcelona can be purchased either in paper form or as electronic tickets. Both can be changed or canceled up to 15min before departure, depending on the fare type. When traveling in Spain, it is advisable that rail passengers always carry a government-issued photo identification card in case a member of the railway staff asks for ID when presenting or validating their rail ticket.
Thankfully, Omio makes buying train tickets to Barcelona and many other destinations both fast and easy, and now it is even possible to store all of your tickets in your online Omio account for better peace of mind.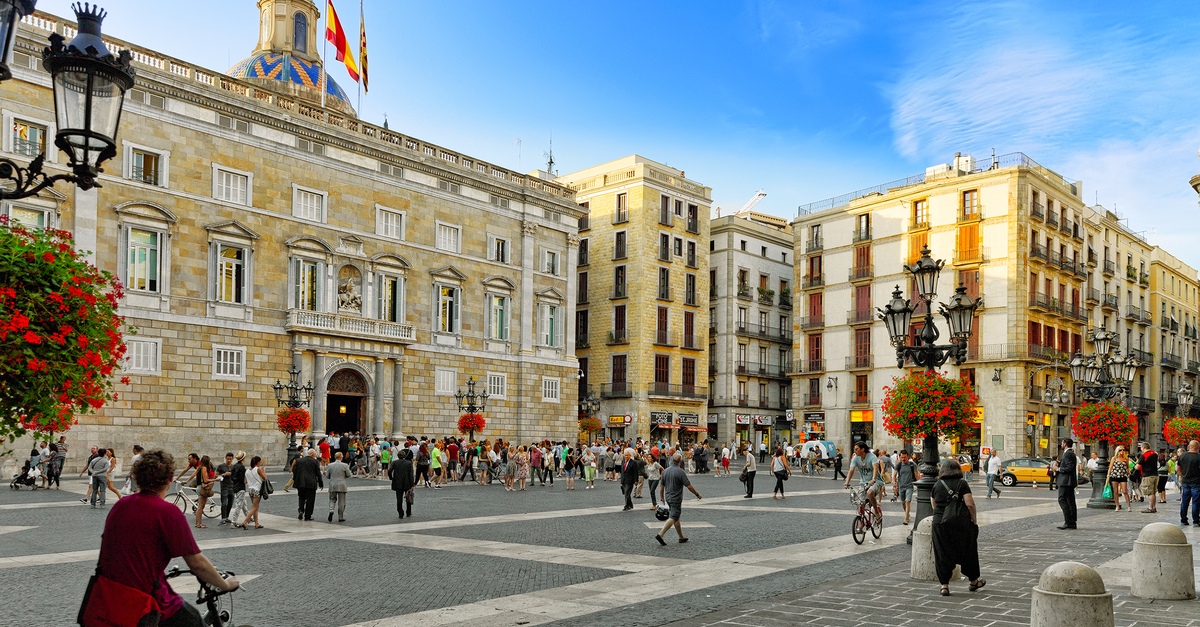 Barcelona Square : Shutterstock
To Barcelona by train: travel tips
Barcelona is a city of grand architectural displays and amazing history, all of which can be experienced for yourself when you book your trip by train to Barcelona through Omio! Visitors to the city on Spain's northeastern coast will most surely want to take in the astonishing beauty of the city's churches, such as the Basilica of the Holy Family or the Basilica of Santa Maria Del Mar.
To truly experience local culture and history, every visitor to Barcelona should also set aside time to wander the Palace of Catalan Music or perhaps savor some local flavors at the Mercat de la Boqueria farmer's market! The National Museum of Catalonian Art will take your breath away, and of course, you just can't leave town without first taking a selfie in front of the city's famed Magic Fountain during one of its colorful nighttime displays!
Are you looking for something a little more modern to enjoy in Barcelona? Then be sure to make it to Camp Nou to catch a thrilling FC Barcelona soccer (football) match such as only the people of Catalonia can offer! Camp Nou can be reached from the Barcelona Sants train station by taking the Metro to the Les Corts, Palau Reial, or Maria Cristina stations. All of these amazing attractions and many more are so easy to visit and explore thanks to Barcelona's incredible public transportation system which includes local and regional trains, buses, and an unbeatable Metro system, all easily accessed from the Barcelona Sants railway station!
Barcelona is a tourist's dream destination, filled with exciting museums and world-famous architectural displays, but there is so much more to Barcelona than just flashy photo-ops and guided tours within ancient churches. To really experience this ancient city and its unique people, you have to hop into a local taxi or perhaps take the Metro to one of Barcelona's diverse and vibrant neighborhoods.
For example, children and adults alike will never forget the exhibits and interactive displays at the CosmoCaixa in the Sant Gervasi-La Bonanova neighborhood of the city, while history buffs will marvel at the Casa Vicens, a UNESCO World Heritage site since 2005 which features the Vicens family's former vacation home in the city.
You can find this gem in the Gracia neighborhood. Looking for something a little more out of the ordinary? Then perhaps you should consider taking an aerial lift or the local funicular train to the Parc de Montjuïc, an inspiring mountain overlook and castle which is certainly one of Barcelona's best-kept secrets, tucked away in the Sants Montjuïc neighborhood of the city.
All of these and so many other unforgettable experiences can be found when one takes the time to dig just a little deeper and truly explore Catalonia's magical capital city. And when you book your train to Barcelona through Omio, you are not just buying a train ticket to another beautiful Spanish destination. You are taking the first step on a journey whose memories will last a lifetime!