Trains in Washington, DC to New York
Traveling by train to New York City from Washington, DC is the most reliable and quickest way. You can consider flying because it is faster, but it is more expensive than via train. When traveling by train to New York from Washington, DC, you arrive 1h 30min earlier than an equivalent bus journey. With at least 37 trains leaving Washington, DC for New York, you have multiple trains to choose from. Using the train promises stunning views when cutting through the Northeastern corridor and spanning the Eastern Seaboard. You also get to spend more time at your destination because you arrive on time.
Booking your Train Ticket with Omio for Washington, DC to New York
The most reliable way to find cheaper train fares is booking your ticket several days in advance. You can book your train ticket with Omio to avoid traveling at the rush hour. Our experts have walked an extra yard to ensure that your travel to New York City from Washington, DC is as smooth as possible. We work out all the complicated bits of the journey, which gives you time to plan and budget your trip. Better still, we offer an ideal platform to compare train fare prices and the available options before picking one that best fits your pocket and personal needs. Our site also recommends cheaper alternatives that provide better benefits to travelers.
Train Companies in Washington, DC to New York City
Amtrak is the mainstay company operating trains to New York City from Washington, DC. Regardless of your schedule, Amtrak company has a departure that suits you best. We have early morning and late-night departures. Our convenient departure times make planning your Washington, DC to New York trip a snap. With Amtrak, your journey time can be cut down to approximately 3h 20min. We recommend that you book your train ticket at least 14 days earlier to enjoy our heavy discounts on the available fares. The best thing about Amtrak is that you do not compromise space and comfort. You can rest assured of a reclining seat and ample legroom in each of our trains.
Popular International Routes with Omio
Undoubtedly, you want to know the best routes to take and find the best prices when traveling. The best thing is that Omio can help you get the answers you are looking for. Besides the Washington, DC to New York City route, our platform also serves international routes. Some popular international routes include New York City to Toronto, Los Angeles to Paris, Washington, DC to London, Chicago to Barcelona, and Boston to London. We guarantee that you will have a delightfully relaxing and scenic experience when traveling with us. You need to arrive at least 30min before train departure because there are no overwhelming security lines, no waiting, and no traffic.
When Arriving by Train from Washington, DC to New York
Washington, DC, is around 225 miles (362 km) from New York. The travel time between the two cities varies depending on the Amtrak train services you choose. Besides being on the east coast of the US, the two cities don't look like each other. Washington, DC has a restricted height above which buildings cannot be built, while New York City (particularly Manhattan) is popularly known for its multiple tall skyscrapers. The population difference between the two cities is also quite significant because more people live in New York. Washington, DC is also tranquil and peaceful compared to New York, maybe because of its smaller population.
Train Provider from Washington, DC to New York City
Amtrak is the leading and most convenient train provider in Washington, DC. Therefore, you can expect to travel in one of Amtrak's trains. The train provider has two services operating between the two cities. These are the Acela Express line and the Northeast Regional train line. The Northeast Regional line is relatively slow but the busiest rail line in the US. It connects the whole Northeastern corridor to Washington, DC, and New York from Boston. If you are a business traveler, the Acela Express rail service is your safest bet. This is because it is the fastest train in the US. It has a high-speed line of 83 mph (133 km/h). Wi-Fi is also available in the Acela Express trains.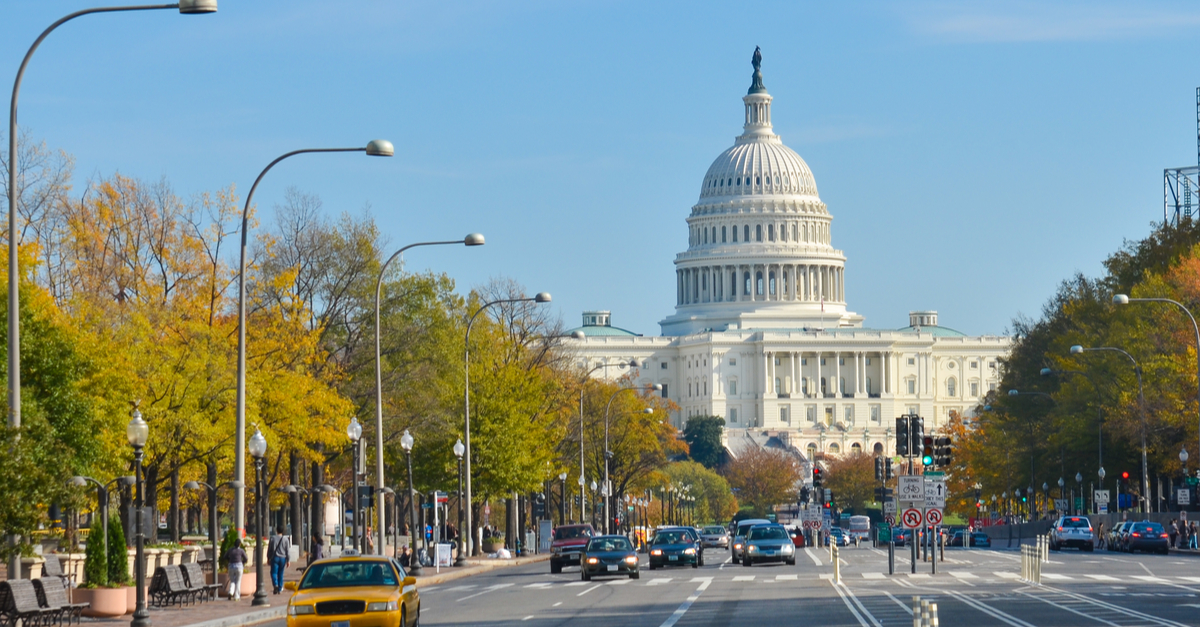 Washington DC Capitol Building. Source: Shutterstock
Main Train Stations in Washington, DC to New York City
When traveling to New York City from Washington, DC by train, you'll depart from Washington Union Station. The station is conveniently located approximately 9min from central Washington, DC. The station is well-accessible by anyone with limited mobility and is equipped with essential amenities. With Amtrak, you can arrive at the station at least 30min earlier before departure time, but if you have some concerns arriving 45min earlier will be better. Your arrival train station in New York is the New York Penn Station. The station is wheelchair accessible, with essential amenities and Wi-Fi. The cafes and restaurants at the New York Penn Station might have that dish you've always desired.
Popular Journey in Washington, DC to New York City
Traveling by train to cities within the US is easy, thanks to Omio. You can easily use Amtrak to traverse to New York City from Washington, DC. Besides, some of the most popular journeys you can book with Omio include Washington, DC to Springfield, IL, which takes 26h 04min, and the price is $256, from Washington, DC to Norfolk, VA takes 5h 53min, and the train ticket price is $38. From Washington, DC to Bridgeport, CT takes 5h 00min, and the ticket price is $196. Traveling from Washington, DC to Atlantic City, NJ takes 5h 32min, and the price is $34 while traveling from Washington, DC to Lancaster, PA takes 4h 56min.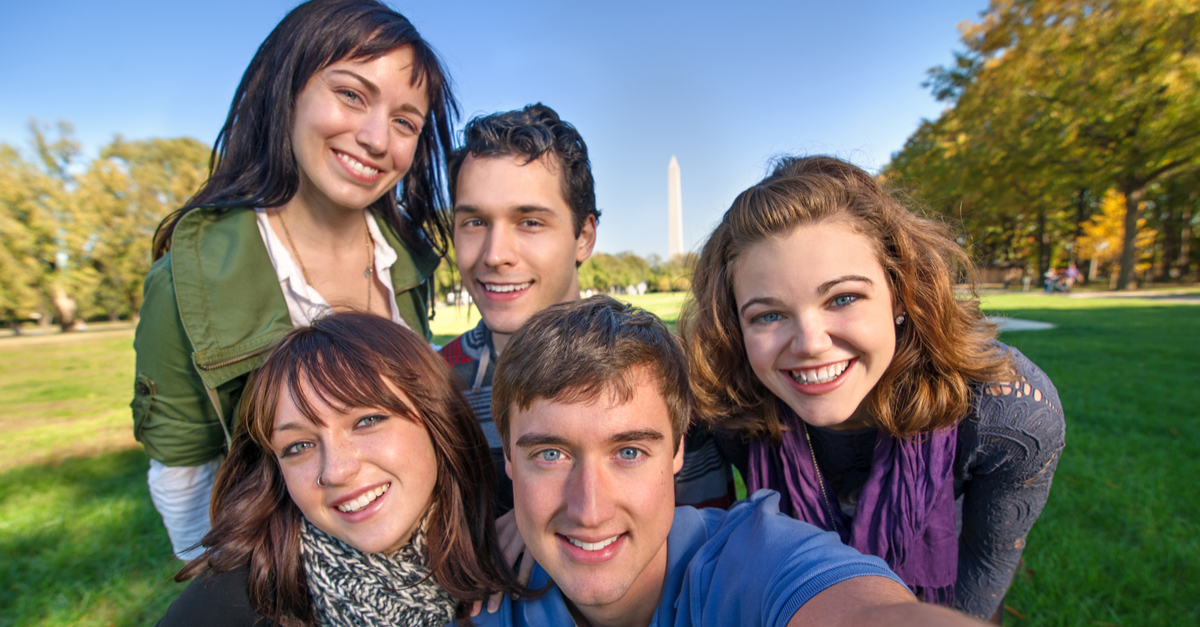 Washington DC Friends. Source: Shutterstock
Popular Train Routes from Washington, DC to New York City
With over 30 train routes across the United States and Canada, Amtrak travels to more than 500 destinations in at least 46 states. The trains give you the most stunning views North America can offer. Amtrak Cascades covers Vancouver, Seattle, Tacoma, Portland, Salem, and Eugene and allows you to experience the popular Pacific Northwest. Some popular international routes include Canada and London-Paris. Trains travel from several United States cities to Canada. Traveling from New York City to Toronto takes 12h 30min, and the train price ticket is $142. Only one train makes a trip to this international route, so you need to book on time.
Good to Know
If you are traveling by train to New York City from Washington, DC is vital to book your ticket with Omio at least two weeks earlier. You can research the amenities available on the different trains to choose one that works for you. With the various amenities such as Wi-Fi, your journey is fun. Arrive at the station around 30min to the departure time to avoid inconveniences.
To New York City- Travel Tips
You might be traveling to New York City for a wide range of reasons, but it's important to make the most out of your time in the city that never sleeps. You can visit historic neighborhoods and a wide range of top world museums. Some of the best museums in New York City include Tenement Museum, Brooklyn Museum, and The Frick Collection. Here, you can look and various historical collections, and if you are lucky, you can learn more about history from the professionals in the museums.
The best thing is that most of the best places to visit in this city are within walking distance of each other or a few minutes ride away. Most tourist attractions offer unique perspectives of New York City and an array of things to learn about the city. For quality entertainment, you can go to New York's theater district, where you get entertained every second. other than the theater, there's Times Square, where your eyes will enjoy watching the beautiful neon lights.
If you love art, this city has lots of architectural wonders, such as Gothic structures between the skyscrapers and the Rockefeller Plaza building. So, be assured that your eyes will never get enough as you move around the city. If you feel hungry, you can eat corned beef, New York-style cheesecake, or New York-style pastrami from famous restaurants such as Keens Steakhouse or Katz's Delicatessen. You can also enjoy sipping archetype cocktail, which is a classic drink in this vibrant city.