Trains from Paris to Nice
When you are traveling on trains from Paris to Nice you will be covering a distance of around 461 miles (741 km). On average, the trip time on trains to Nice from Paris is around 6h 45min with the quickest journey on this route being around 5h 40min. On a daily basis, there are around 10 Paris to Nice trains.
Paris to Nice Train Time: Daily Departures
Every day of the week you will find around 10 departures on trains from Paris to Nice. The first train of the day departs Paris at around 7:40 a.m. and after that, there are four more departures in the morning hours. There are three additional departures in the afternoon hours and then there's a final overnight train that will depart at around 9:20 p.m.
How long is the journey by train from Paris to Nice?
The trip that you will make on trains from Paris to Nice is going to travel around 461 miles (741 km). The quickest trip on this route will take around 5h 40min to get from Paris to Nice and the longest trip takes around 11h 45min. Most of the trains offered on this route are direct trains although there are a couple that require one transfer along the way.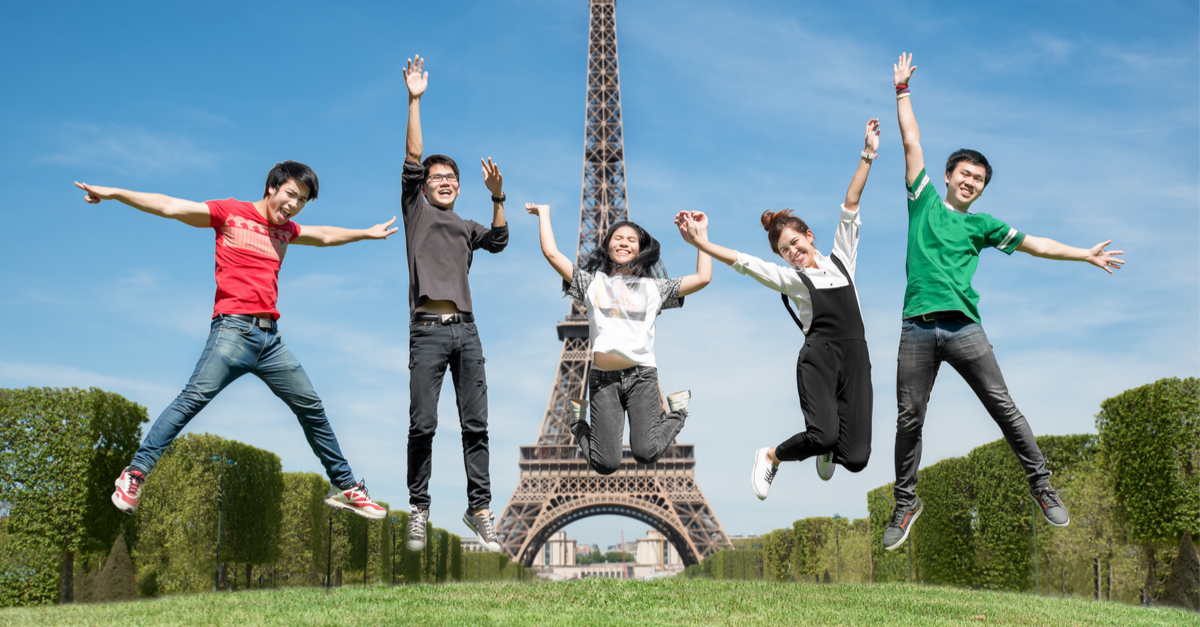 Friends having fun in Paris. Source: Shutterstock
What are the departure and arrival stations for trains from Paris to Nice?
Departure train station: Paris Gare de Lyon. The departure station for trains from Paris to Nice has a location right along the Seine River in the heart of Paris. If you would like to make the journey of around 1.4 miles (2.3 km) from downtown Paris to the station you can do so on board the line 14 subway that will make the journey in around 3min. This train station has a reputation for having quite an iconic clock tower, plus inside the station you will find a ticket office, transportation connections to several local destinations, as well as food and beverage options, shopping options, and seating and restrooms for passengers. The late-night train on this route will depart from the Austerlitz Station but this station is quite easy to find since it sits right across the Seine River from the Gare De Lyon station.
Arrival train station: Nice Ville Station. This is a station that sits right in the center of the city of Nice a few blocks away from both Old Nice and the waterfront of the city. After your trip on a train from Paris to Nice, a good way to get from the station to the center of the city is aboard bus routes number 57, 87, and 70 that will make the trip in around 4min. This is an architecturally stunning station that offers both a ticket office as well as ticket machines, plus plenty of seating and restrooms, some shopping options and food options, plus right outside of the station you'll also find quite a few great spots for food, shopping, and places to stay.
Which train companies travel from Paris to Nice?
All of the train offerings on this route have SCNF as the operator. Most of the trains that they offer on this route are aboard their InOui high-speed trains although their final departure of the day at around 9:20 p.m. is aboard one of their standard inner-city trains. Most trips on these trains throughout the day will take roughly 6h to complete although three trains require one transfer and these trains will take around 1h more. The overnight train that makes this trip will take around 12h and that is because this is on a standard intercity train as opposed to a high-speed train.
Night trains Paris
If you prefer to travel at night on trains from Paris to Nice there is one departure every day that departs the station in Paris at around 9:20 p.m. and will make the trip to Nice overnight arriving just a little after 9:00 a.m. the next day. While the reason for the longer journey on this train is because this is the only train that is not a high-speed train offered on this route, the train is a direct one so you will not need to change to another train during the trip overnight.
SCNF trains from Paris to Nice
SCNF has around 10 daily departures on trains from Paris to Nice with nine of those trains aboard high-speed offerings. Of these nine trains, five of them are direct trains with the other three requiring one transfer in one city along the route. Transfer times aboard these trains can range from anywhere from around 10min up to 1h. There is one final overnight train every day that departs at around 9:20 p.m. and takes 12h to make the trip on Paris to Nice trains.
Trains from Paris to Nice : Sustainability travel
One of the reasons that this trip on trains from Paris to Nice is such a sustainable alternative as opposed to driving a car, is that you have so many people traveling in one vehicle making a trip. Beyond that, the train provider has a goal of cutting their carbon dioxide emissions by up to 25% by the year 2030 and they are doing this through modernization of their fleet as well as a streamlining of all of their business practices.
Train Paris to Nice: Services on Board
Most of these Paris to Nice trains are going to offer two different classes of service called second and first. Some of the amenities the travelers will find in all these trains include things such as a power outlet at each of the very comfortable reclining seats. What is quite special about this route is the food menu that is quite extensive and even offers organic and vegetarian options. You can bring carry-on bags aboard the train and place them under the seat in front of you or in overhead racks and larger items can go in the storage areas at the end of the cars. The only stipulation about luggage is that you must carry all of your bags onto the trains yourself and they cannot block aisleways or doors on the train. You can bring small domestic pets aboard the train but you will need to pay an extra fee to bring them with you. All of these trains offer plenty of amenities for passengers with disabilities and limited mobility including giving them a place to ride while in their wheelchair. These passengers will generally also have priority access for getting onto and off of trains plus the provider offers discounts for traveling companions to assist disabled travelers in their journey.
How to find cheap train tickets from Paris to Nice?
As you look through the choices for trains from Paris to Nice you will see one way that you can save quite a bit of money on your train travel. If you are not picky about the time that you depart or the time you arrive you can often find a much cheaper option at times that are in less demand. You will also see that the overnight train that takes the longest amount of time to make this journey is the cheapest option on this route. Another good tip for saving money on your train fare is to try to book well in advance of the day that you plan on traveling as this gives you the best opportunity to find specials or discounts offered on this route. If your departure day is not important try searching around several days to see if there is one that is in lower demand than others offering lower train ticket prices. For more tips and tricks on travelling by train check our magazine The Window Seat.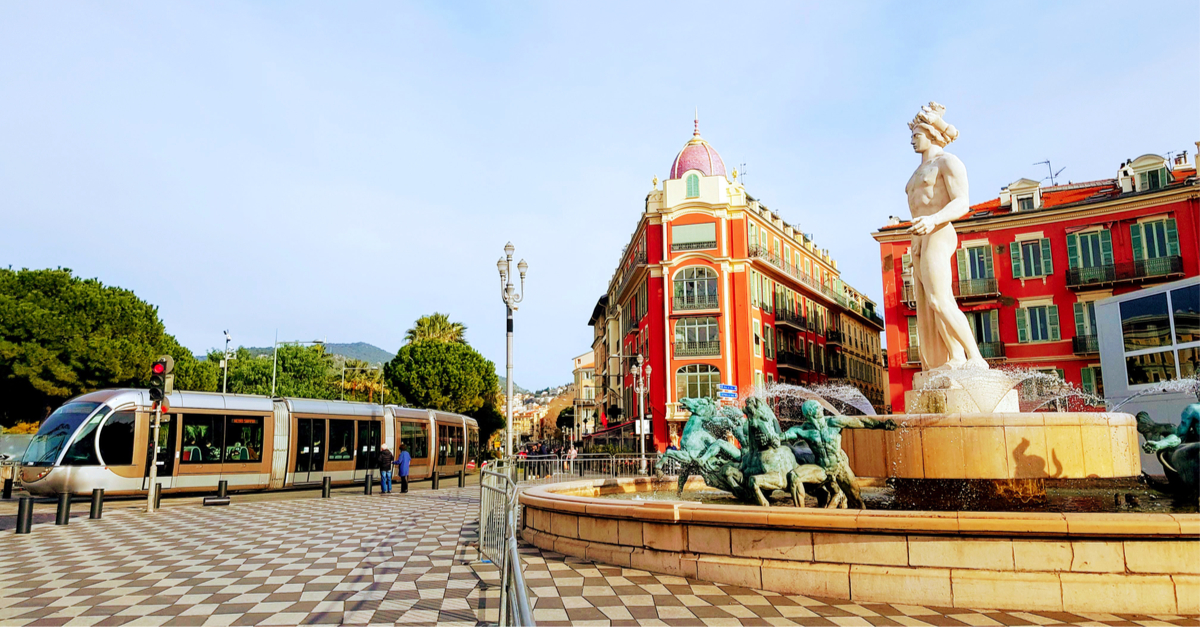 Train in square in Nice. Source: Shutterstock
To Nice by train—travel tips
For years people have flocked to this centerpiece of the Riviera to find sun and fun on the curve of the Bay of Angels. The Mediterranean climate of the city is one that is fantastic for many months of the year. The provincial setting combined with the bustling local culture and very upscale cuisine make this a city in France that most people absolutely need to visit. On top of that, there are quite a few festivals that occur here every year that celebrate historic events in this region and this country's past. That is why this is generally the second most popular tourist destination in France trailing only Paris. Some sites to visit when you are here include:
Promenade des Anglais
Castle of Nice
Fondation Maeght
Musée Matisse
Cours Saleya
St Nicholas Russian Orthodox Cathedral
Parc Phoenix
Marc Chagall National Museum