Trains from Milan to Zurich
The 135-mile (217 km) trip to Zurich from Milan takes an average of 3h 17m. Trains servicing this route are available throughout the day, with departure hours usually staggered two hours apart. Most trains average similar trip times because a majority of them are scheduled as direct train routes. The main departure station in Milan is Milano Centrale, with a few trains departing from Milano Lambrate station.
Milan to Zurich Train Time: Daily Departures
Trains from Milan to Zurich are available throughout the day every day of the week. Options begin in the early morning hours, with a train leaving the station every two hours. The evening trains have a different frequency, with departures occurring a little more often, averaging about one train leaving an hour. The last train departs from the station in the evening.
How long is the journey by train from Milan to Zurich?
A train trip from Milan to Zurich takes about 3h 17min on average. The journey time is fairly consistent since the majority of the trips are direct. There is a slight variance in journey time depending on where you choose to depart from in Milan. Trips from the Milano Lambrate station are generally longer and average about 3h 35min of travel time.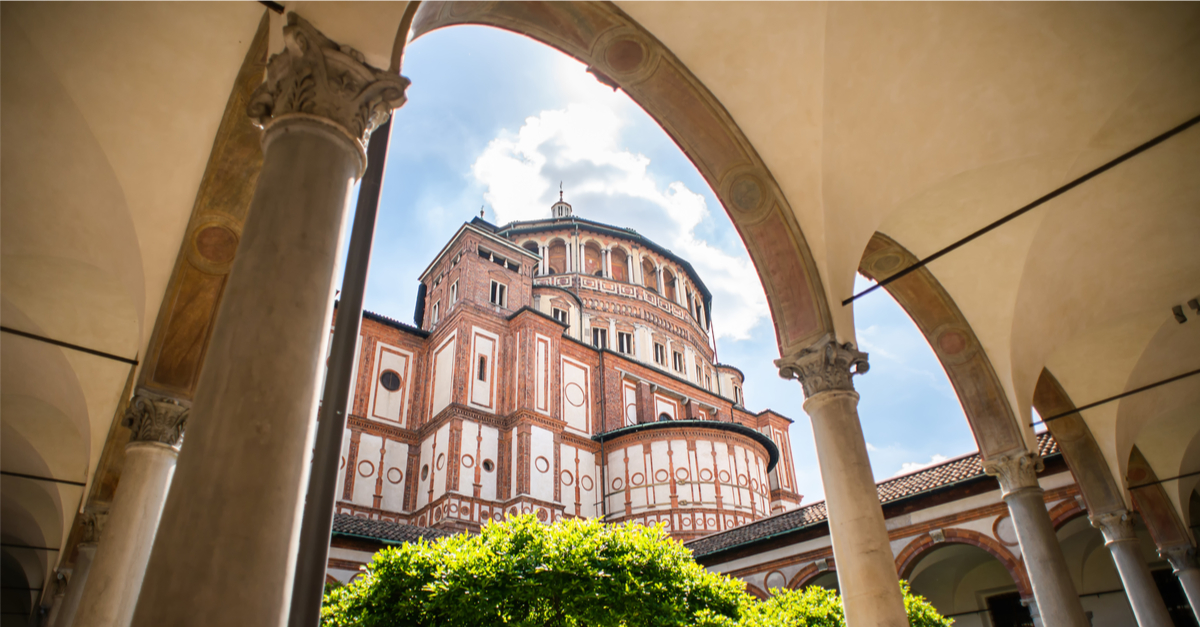 Sant Marta church in Milan. Source: Shutterstock
What are the departure and arrival stations for trains from Milan to Zurich?
Departure train stationMost trains to Zurich depart from Milano Centrale station, which is located about 1.8 miles (3 km) from the city center. You can easily travel to the station via metro. Other transport options include trams and buses. You can leave your luggage at the left luggage office at the station, freeing yourself to visit the various facilities within the station, which include cafes, shops, and even bars. There are also multiple ATMs installed at convenient locations within the station to facilitate any transactions you might want to make.
Arrival train stationTrains from Milan use the Zurich Hauptbahnhof station as their main arrival station. This station is located in the heart of Zurich, thus you can get to the city center on foot. Other travel options include trams, cable cars, buses, or lake boats, depending on which part of the city you would like to visit. The station has multiple eateries, a mini-market, some drinking spots, and even a chocolate shop where you can purchase some Swiss treats.
Which train companies travel from Milan to Zurich?
The main train company operating trains on this route is Trenitalia. This company offers Eurocity train tickets throughout the day over the course of the week, with trains departing from Milan at consistent times.
Night trains Milan
The latest daily train departures from Milan are in the evening hours. Due to the lengthy trip time, trains on this route arrive in Zurich close to midnight. There are, however, no further trips at night, and passengers have to wait until the following day to board a train on this route.
Trenitalia trains from Milan to Zurich
Trenitalia offers ten direct trips every day of the week. During the day, the train departures are staggered fairly consistently, with a train leaving the station every two hours. The departure frequency slightly increases during the evening, with trains departing hourly. Depending on the Milan station you select to board your train, travel time will vary slightly, from 3h 17min to 3h 35min.
Trains from Milan to Zurich: Sustainability travel
Railways are responsible for about 2% of the transport sector's emissions, despite being responsible for 8% of the global passenger and freight activities. This makes rail the most eco-friendly high-volume form of transport. With rail management companies such as Trenitalia adopting more environmentally friendly rail technologies such as hybrid trains, which reduce fuel emissions by 20%, train travel's sustainability will only improve. Such advancements ensure that choosing to travel via train will not compromise the environment.
Train Milan to Zurich: Services on Board
Trenitalia trains offer both first- and second-class seating. Booking tickets on these trains ensures that travelers will have plenty of storage space, armchair seating, and even bistro services. Travelers are advised to carry luggage that can fit in the designated spaces and that do not obstruct other travelers. Passengers are allowed to bring their bikes onboard for free. However, the bike has to be disassembled and stored in a bag. If the bike can be folded closed, then disassembly is not necessary for it to be allowed on the train. Trenitalia also allows passengers who'd like to travel with pets to bring their furry friends onboard for free. However, the pet has to fit in a carrying case or an additional fee will be incurred. Larger dogs have to be both muzzled and leashed for the crew to allow them onboard. Dogs, however, are not allowed on the train during the rush hours between 7:00 and 9:00 a.m. If a passenger is visually impaired and needs a guide dog on the train, no fee will be incurred.
How to find cheap train tickets from Milan to Zurich?
There are multiple ways to save on ticket prices to Milan. One such way is by booking your ticket in advance. Early booking allows you to browse the available price offerings and select one that fits your desired price range. Being flexible with travel dates will also allow you to take advantage of cheaper ticket prices found during certain days of the week. This flexibility gives you the freedom to pick a travel date with the lowest ticket prices during the course of that week.
Another cost-effective method is booking trips that do not coincide with the rush hour period. Ticket offerings outside that time frame tend to be lower-priced, and you are therefore likely to find a good deal. Finally, you can choose the slower trains, which tend to have cheaper tickets. To find more tips and tricks for traveling by train, check out the Omio magazine href="//https://https://www.omio.com/window-seat/">Window Seat.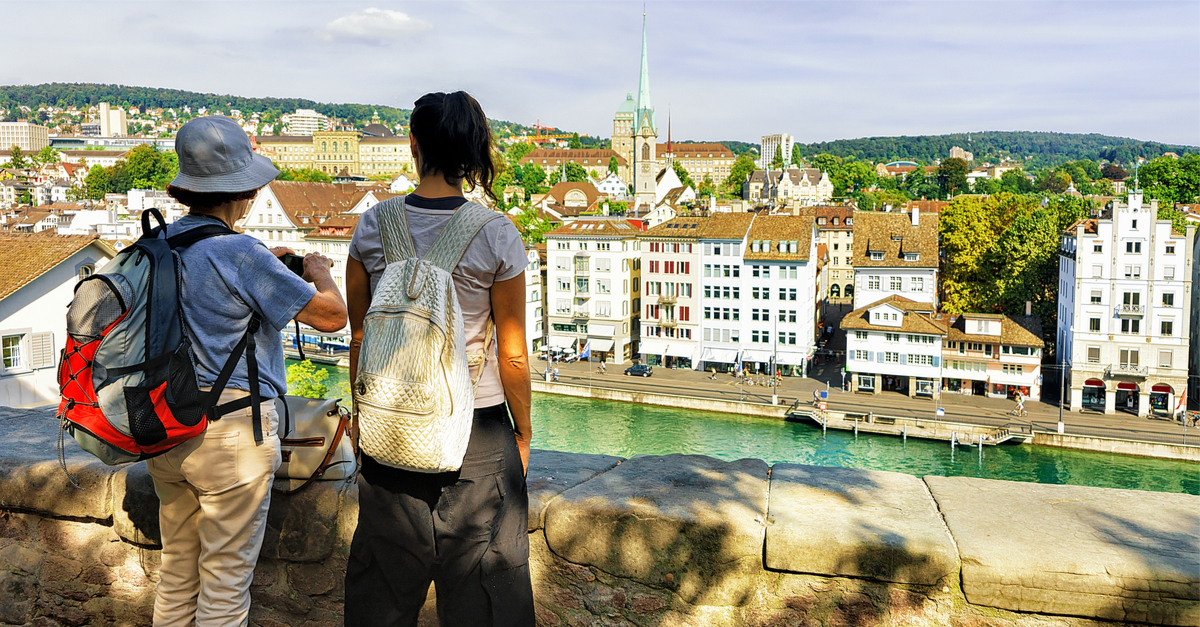 Tourist looking at the river in Zurich. Source: Shutterstock
To Zurich by train—travel tips
Zurich is one of the best cities to visit in Europe. To get a good feel for the city, we recommend a trip to the Zurich Opera house and the Swiss National Museum to learn about Swiss culture and art. The city is also laden with exclusive boutiques, where you can shop for any number of items. These shops are mainly along the Bahnhofstrasse, which is the main shopping street in Zurich. If you visit Zurich during winter, you can also go skiing in the beautiful snow-capped Swiss Alps.
Enjoy a concert performed by the Tonhalle Orchestra.
Visit St. Peter's Church, home to Europe's biggest church clock face.
Go for a walk at the Burkliplatz, a boat dock, and indulge in some local shopping.
Visit Old Town, which has preserved its medieval look and feel.
Eat at one of the many diners and restaurants in the city to enjoy Swiss cuisine, such as cheese fondue and Raclette.
Visit the Zurich zoo, which has over 300 species of animals. See the world's largest land mammals in the elephant building and visit the rainforest hall.
Enjoy a day out at Lake Zurich. See the beautiful swans and go bicycling or boat riding with the kids.