Trains From Kansas CityTo St. Louis
Trains From Kansas CityTo St. Louis take about 5h 40min to cover the 237 miles (382 km) between Kansas City, MO and St. Louis, MO. There are about 11 trains leaving Kansas City for St, Louis, MO daily.
Kansas City To St. Louis Train Time: Daily Departures
Train departures from Kansas City to St. Louis vary based on day of the week and seasons but usually they take about 5h 40min to arrive. Most trains depart between 1:00 a.m. and 9:25 p.m. The number of trains leaving Kansas City weekly are about 60, ranging from 10 during the off season to 50 during peak season.
The trains leave the station every 15min on average. The first train leaves at 1: 00 p.m. while the last leaves at 9: 00 p.m. There is a 20% chance that you will have to wait for the next train if your arrival time is between 5 p.m. and 9: 25 p.m., so be sure you don't miss the train.
How long is the journey by train from Kansas City To St. Louis
The journey by train from Kansas City To St. Louis takes an average of 5h 40min, covering a distance of 237 miles (382 km). The fastest train takes 5h 9min while the slowest takes 7h 30min. Notably, this route has both express and passenger trains that stop at multiple locations including, Chicago Union Station, Indianapolis, IN and Princeton Jct., IL. The express trains are a higher speed service, while the long distance trains are slower and stop at every station.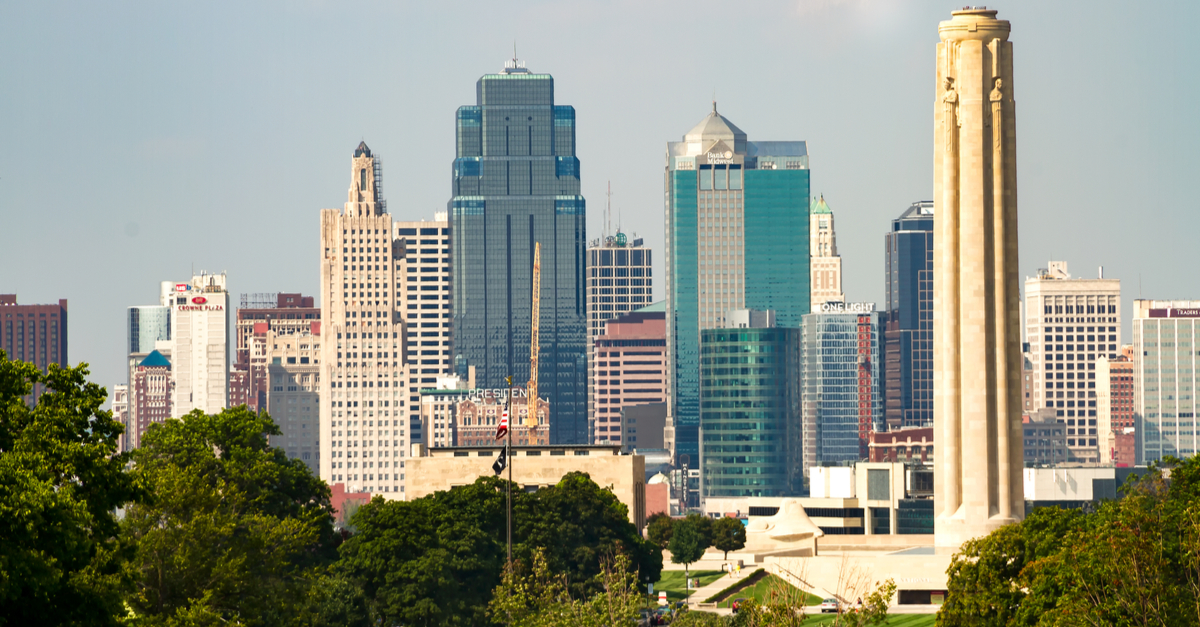 Kansas City Clouds. Source: Shutterstock
What is/are the departure and arrival stations for trains from Kansas City To St. Louis?
Departure train station: The departure station in Kansas City is KCMO Union Station. From the city center, the distance to the KCMO Union Station is about 1 mile (1.6 km) and takes about 18min. Notable facilities available at the station are a taxi stand, public restrooms and a newsstand. They also offer a paid luggage storage service, mobile charging areas and Wi-Fi zones. Passengers traveling to St. Louis from this station enjoy access to some of the finer hotels and accommodation options in Kansas City.
Arrival train station: The destination station in St. Louis is Saint Louis Union Station. It is one of the busiest stations in the U.S., serving more than 100 passenger trains and having an annual ridership of 1 million people. There are also facilities for travelers including a customer service center with information about places to visit, an ATM and a lost and found. The station also has a contactless ticketing system for easy checking-in. The station has a connection to the city's Red Line light rail service that can take you to the central business district in about 20min. Saint Louis Union Station also offers connections to other trains as well as buses and shuttles that may take passengers to their final destination.
Which train companies travel from Kansas City To St. Louis?
Amtrak is the only company that operates trains from Kansas City to St. Louis and there are about 60 departures per week. Amtrak stands out for its unparalleled safety record and excellent on-time performance. It is considered to provide top quality customer service, as well as being very affordable and environmentally friendly. The various classes that are available for travel from Kansas City, MO To St Louis. These are Saver, Value, Flexible, Business and First Class. Saver class is ideal for budget travelers as the tickets are very affordable.
The difference in price from any other class is minimal and it also offers amenities like free drinks, meals and Wi-Fi. Business Class is more luxurious and features wider seats, a roomier cabin and fewer stops. The top class available is First Class, which has larger seating areas with better views of the scenery along the route.
Amtrak trains from Kansas City To St. Louis
Amtrak has both direct and connecting trains from Kansas City to St. Louis every day of the week. There are several trains each day along this route with a range of departure times in the morning and evening that will suit any traveler's schedule. The high speed trains take 5h while stopping trains take about 6h 30min to 7h. Amtrak has various train types departing from Kansas City To St. Louis including the Southwest Chief (trains 21-50), California Zephyr (trains 291-290), City of New Orleans (trains 431-). The routes follow the Jefferson National Expansion Memorial and take in some great views of the scenery along the way.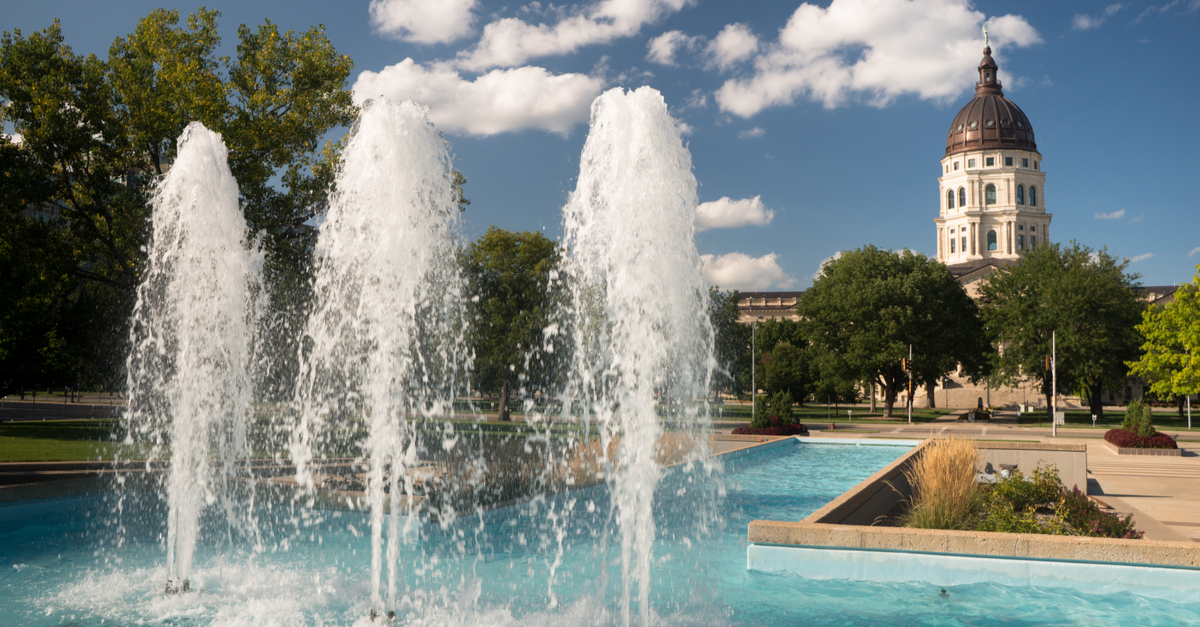 Kansas City Clouds. Source: Shutterstock
What are the amenities onboard Amtrak trains from Kansas City To St. Louis?
Trains on his route offer a number of onboard amenities but these may vary depending on the class you go for. There is a dining car available on most long distance trains and this offers hot meals cooked onboard as well as snacks, beverages and other refreshments. The cars also have a dining car catering to vegetarian and gluten-free meals. Meals are served by friendly and attentive staff, who have been trained to offer assistance where required. Luggage can be stored safely onboard during travel in the storage compartments located at either end of the cars.
For your entertainment, most trains offer a library car with books to borrow and read. You can also find games and puzzles available on the train or in the lounge car that offers comfortable seating for passengers traveling alone or in groups. Kids will be kept occupied by the juvenile facilities that feature games, toys and coloring materials which you can borrow from the train staff. You can also choose to watch a video or listen to music on your own devices using the Wi-Fi access available onboard trains from Kansas City, MO To St. Louis.
How to find cheap train tickets from Kansas City To St. Louis
The best way to get cheap train on this route is by booking in advance. This is because the price of your ticket will depend on when you book and the rail company may have changed their pricing in between. Advanced tickets are also available for a fixed schedule over a longer period such as an entire month, which means that you can plan to travel at any time over that period without facing additional charges.
You can also save money by choosing an off-peak train or by traveling on a special event day. The cheapest tickets are usually available for booking 7 to 21 days in advance, as demand is highest during the weekends and holidays. You can also save by choosing slower trains since the higher the speed, the higher the ticket price.
To St. Louis by train—travel tips
St. Louis is a popular US destination for many reasons. The city is steeped in history, thanks to its status as one of the oldest settlements on the river, but it's also a hub of contemporary culture and nightlife. Other popular tourist attractions in St. Louis include the Gateway Arch, a 630 ft (192 m) tall monument that looms over downtown and is symbolic of the city's role as a gateway to the West.
There are many things to do in St. Louis including visiting museums like the National Museum of Transportation, which has exhibits on railroads and travel, or the popular Missouri History Museum, which features exhibits on a wide range of topics. You can also visit the Scott Joplin House, where you can learn about one of St Louis' most famous residents who was an accomplished ragtime composer.