Trains from Valencia to Madrid
Trains from Valencia to Madrid are a cheap and reliable way of traveling between the two locations. A train ride gets you to the city of Madrid, saving you the hassle of commuting from the arrival point to the city center. Moreover, you won't have to worry about parking fees and traffic delays with train rides. Madrid lies 187 miles (302 km) from Valencia, and the average train ride takes 1h 50min. Trains from Valencia to Madrid provide direct services, and daily there about 13 trains providing services along this route. Renfe is the main provider for trains from Valencia to Madrid.
Valencia to Madrid Train time: Daily departure
About 13 daily trains run from Valencia to Madrid. This means that there are over 90 different options on a weekly basis for travelers to choose the most convenient option. The earliest daily train starts its journey at around 6:38 a.m., and the last daily train leaves Valencia at around 7:10 p.m. Departure schedules may vary depending on the day of the week.
How long is the journey by train from Valencia to Madrid?
On average, trains take 1h 40min. Journey durations are typically affected by the number of layovers along the way. Since all trains from Valencia to Madrid provide direct services, journey durations may take a few minutes longer or shorter than the average duration.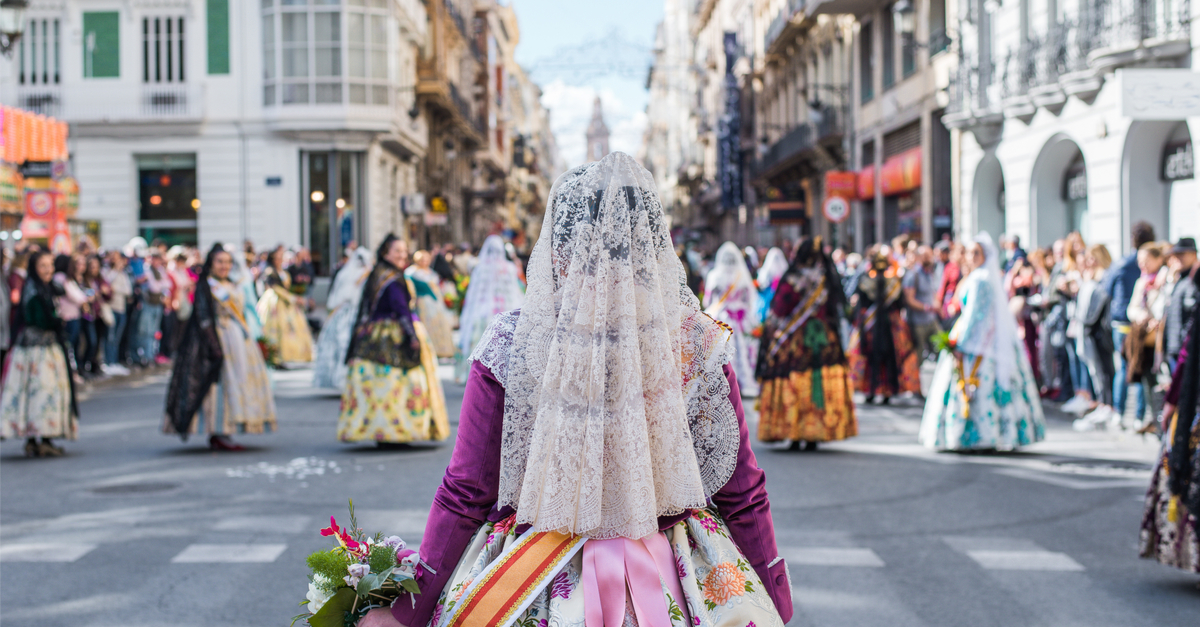 Fallera in the festivities of Fallas in Valencia. Source: Shutterstock
What are the departure and arrival stations for trains from Valencia to Madrid?
Departure train station: The departure train station for trains from Valencia to Madrid is Valencia Joaquin Sorolla Train Station. It features a first-class club equipped with comfortable, relaxing areas, drinks, and an internet connection. The station also offers several restaurants and cafes where travelers can relax and dine. It also provides ATMs, washrooms, and travel information displays. If you drive to the station, you'll find parking with long-term and short-term services. If you need help with your luggage, the station offers several luggage trolleys and luggage lockers for storage purposes. The station is wheelchair-equipped, and it offers accessible platforms, washrooms, and amenities. Travelers can get to the station by foot from the city center. Alternatively, they can take taxis or drive to the station. Bus lines 9, 27, and subway line 2 provide services to the station.
Arrival train station: Trains from Valencia to Madrid arrive at Madrid-Puerta de Atocha train station. It offers a Sala Club first-class lounge that provides complimentary beverages, snacks, and alcohol alongside free Wi-Fi for travelers' entertainment. If you need help with your luggage, the station provides luggage trolleys and luggage lockers. There is a lost and found area, several food concession stands, vending machines, washrooms, and a travel information display. It caters to reduced mobility travelers with accessible washrooms, platforms, water fountains, restaurants, and ticket offices. Travelers can get from the station to the city center by foot. Alternatively, they can take the Metro line 2 or a taxi to their preferred destination.
Which train companies travel from Valencia to Madrid
Trains from Valencia to Madrid are provided by Renfe. Renfe is Spain's national train company, and it offers domestic and international routes to Portugal and France. It provides Renfe Ave trains for long-distance routes and Alvia and Altaria for regional routes in Spain.
Night trains in Valencia
Night trains in Valencia provide overnight services that facilitate easy night travel. Night train services are operated by Trenhotel, which offers three categories: Turista class bed, Grand Class, and First class beds. Turista class beds feature cabins with four beds, sinks, and basic bedding linens. Travelers on Turista class bed can choose between male and female compartments. First-class beds have single or twin beds. They provide personal hygiene items and lockable cabins with sinks and personal hygiene items. They also feature wider beds and necessary beddings Grand-class cabins have single or twin beds, and they feature showers, sinks, and private bathrooms. Travelers also get complimentary toiletries and linens. All cabins have power sockets and a bar coach with simple meals, snacks and drinks.
Renfe trains from Valencia to Madrid
Renfe provides the Renfe Ave trains from Valencia to Madrid. Renfe Ave trains are high-speed trains that operate at an average speed of 193 mph (310 km/h). They operate direct services with 13 daily trains from Valencia to Madrid.
Trains from Valencia to Madrid: Sustainability travel
Compared to buses, aircraft and ships, trains are by far the most sustainable means of travel. They are the greenest and cleanest means of transport. Trains don't occupy much space in the environment. They have low energy consumption and only use a tenth of the energy that fuels small cars and aircraft. Trains also have minimal emissions, representing less than three percent of the travel sector emissions. Trains and railways are also very durable and can go for half a century without the need to reinvest in non-renewable energy or spare parts.
Trains from Valencia to Madrid: Services on Board
Renfe trains offer two travel classes, first class and second class. First-class travelers get a one-by-two seating arrangement with comfortable reclining seats. They also get at-seat meal services served by attendants, an entry in all first-class lounges, and free parking at the station. Furthermore, first-class travelers can enjoy media screens, newspapers, and onboard private areas. All seats on Renfe trains are comfortable and come with an armrest and folding tables. Trains also come with buffet cars where travelers can buy drinks, snacks, and meals. Renfe allows passengers to bring three luggage items with maximum measurements of 35x21x13 inches (85x55x35 cm). They also have to be under 55 lbs (25 kg). Trains come with luggage storage areas like overhead racks and areas at the end of the car. Pets are allowed on board, provided they are on a leash. Dogs must be muzzled. Travelers do not need to purchase a ticket for their pet as they are welcome on board for free. All trains are wheelchair accessible with accessible washrooms, designated wheelchair areas, and accessible washrooms. The Omio magazine provides insights into the best travel experience from Valencia to Madrid.
How to find cheaper train tickets from Valencia to Madrid
If you are looking for cheaper train tickets from Valencia to Madrid, consider buying tickets three months before the departure date. Having flexibility also helps you score cheaper train tickets. Also, trains with slower journeys have cheaper tickets than trains with faster direct services. Consider opting for slower journeys for cheaper train ticket deals.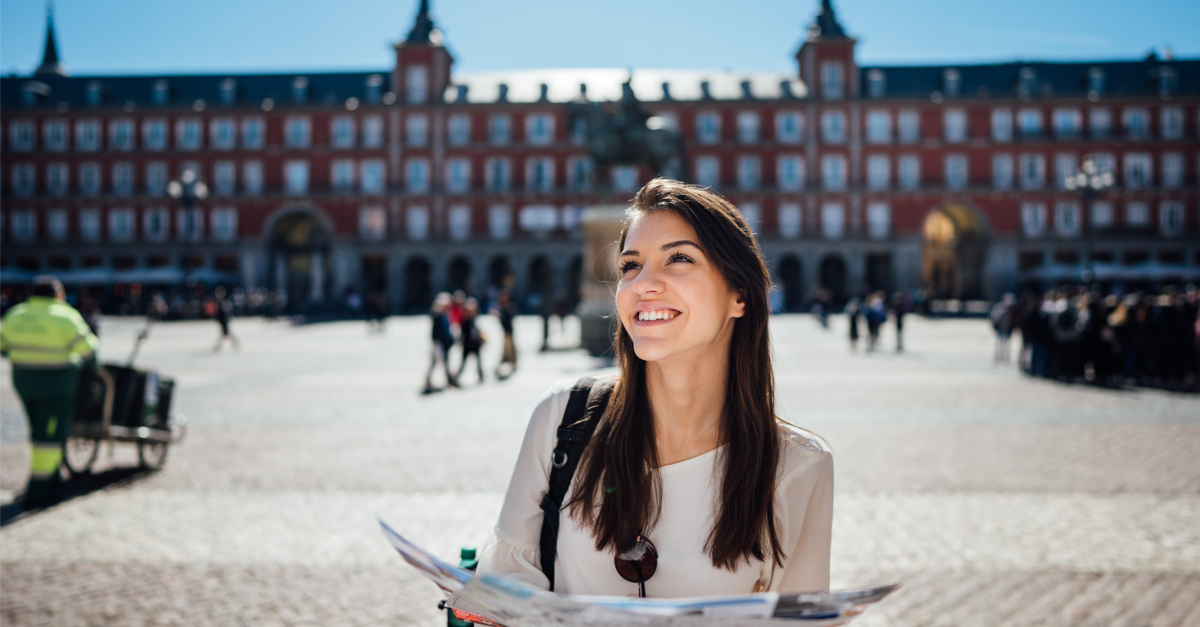 Tourist in Plaza Mayor in Madrid. Source: Shutterstock
To Madrid by train—travel tips
Madrid, Spain's capital, is popular for its world-class art museums and numerous tourist attractions. Puerta del Sol is one of the highlights in Madrid. It serves as a scene of festivals, providing street performers and numerous activities for its visitors. Nature lovers will love a visit to Buen Retiro Park. This park offers lush and well-manicured parks. Travelers can enjoy rowing boats at the Par's tranquil lake, puppet shows at the Teatro de Titeres, or a walk along its elegant walkways. The Royal Palace and Gardens offers travelers guided tours of Spanish history. Travelers can marvel at the establishment's iconic columns, Doric pilasters, and scenic interiors. History lovers can visit the Royal Armory, which features over 3,000 exhibits from the Middle Ages.
Prado Museum
Fuente de Cibeles
Museo Sorolla.
Madrid Rio Park.
Almudena Cathedral