Trains from Seattle to Portland
Four trains make the daily journey from Seattle, WA to Portland, OR, with departures scheduled every few hours throughout the day. Most trains take about 3h 30min to complete the journey, but the trip can take as long as about 4h 15min on the slowest trains. Regardless of the train you catch, you'll travel directly between the Pacific Northwest cities.
Seattle to Portland Train Time: Daily Departures
There are four daily Seattle to Portland trains on the schedule, with the first train scheduled to depart Seattle at about 7:25 a.m. and the last train departing at about 6:10 p.m. The two mid-day trains depart at about 9:45 a.m. and 2:20 p.m. The schedule is the same every day, including weekends and holidays.
How long is the journey by train from Seattle to Portland?
The journey by train from Seattle to Portland usually lasts about 3h 30min. However, the Coast Starlight train that departs at about 9:45 a.m. takes a bit longer to arrive in Portland, reaching its destination in about 4h 15min.
What are the departure and arrival stations for trains from Seattle to Portland?
Departure train station: All of the trains from Seattle to Portland depart from Seattle's King Street Station. The station is located about 0.5 miles south of City Hall in downtown Seattle, which is about a 7min walk. It takes about 14min to walk the 0.7 miles to the station from Seattle's Art Museum in the central business district, or you can take the #36, #14, or #41 bus to the station, which will take less than 15min. Both the North and South lines of the Sounder commuter rail stop at King Street, as do the Amtrak Cascades, Coast Starlight, and Empire Builder lines.
Facilities at the station include a seated waiting area, Amtrak and Sounder automated ticket machines, an Amtrak ticket office, restrooms, vending machines, ATMs, and checked baggage service and Red Cap baggage assistance for Amtrak customers. King Station is fully accessible for people with disabilities.
Arrival train station: All of the trains from Seattle to Portland arrive at Portland's Union Station, which is located about a mile north of City Hall in the city center. It takes about 12min to reach City Hall using the MAX Green or Orange light rail service. Facilities at the station include an Amtrak ticket sales office and automated ticket machines, Amtrak's Metropolitan Lounge, restrooms, ATMs, vending machines, a seated waiting area, Red Cap baggage assistance, and baggage storage. Like most Amtrak stations, Union Station is fully accessible, including accessible platforms, wheelchair lifts, and elevators.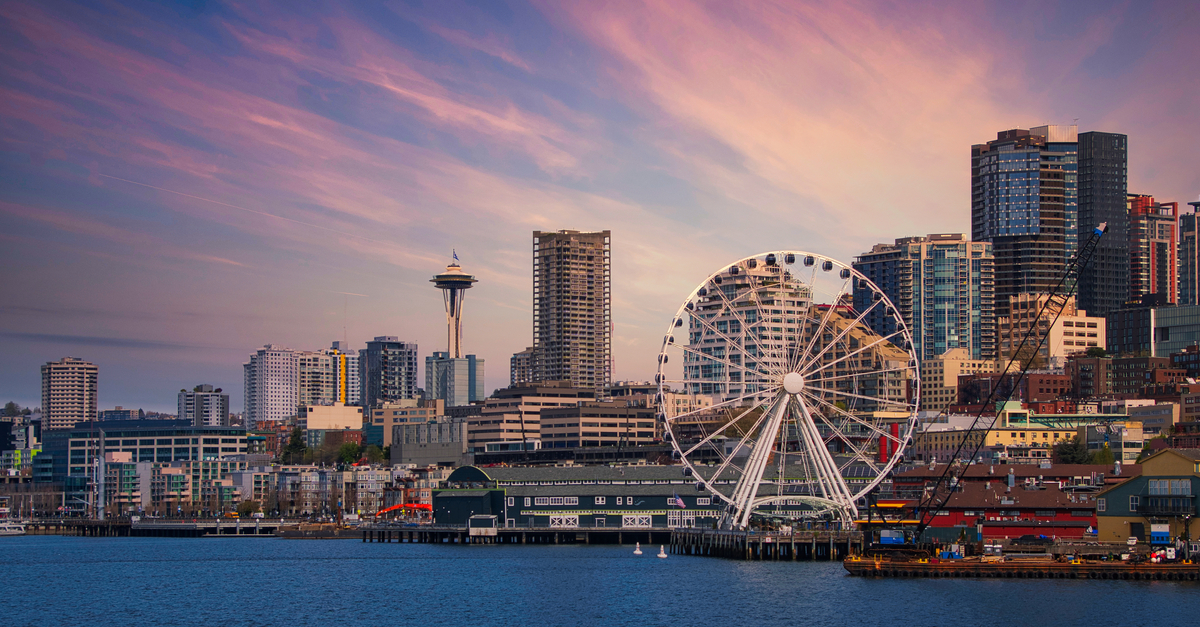 Seattle View. Source: Shutterstock
Which train companies travel from Seattle to Portland?
Amtrak is the train company that travels from Seattle to Portland. Three of Amtrak's lines serve this route: The Empire Builder, the Coast Starlight, and the Cascades. All of these lines operate comfortable, long-distance trains directly between the cities without need of a transfer. The Coast Starlight takes a bit longer to arrive at its destination; this route reaches Portland in about 4h 15min after leaving Seattle versus a 3h 30min trip with the other two lines.
Amtrak trains from Seattle to Portland
All three Amtrak train lines from Seattle to Portland offer direct service between the cities. There are four daily trains that serve this route. The Empire Builder departs Seattle at about 7:25am, the Coast Starlight departs at about 9:45 a.m., and the Cascades trains depart at about 2:20 p.m. and 6:10 p.m. All of these long-distance trains are equipped with comfortable seats and electrical outlets at each seat, and the Empire Builder and Cascade trains also offer free Wi-Fi on board. Passengers can purchase light snacks and beverages in the café car; passengers riding the Empire Builder and Coast Starlight can also enjoy traditional dining services.
Train Seattle to Portland: Services on Board
When traveling from Seattle to Portland by train, passengers have access to both Coach and Business Class seating. Amtrak passengers may bring up to two personal items (such as a purse, backpack, or laptop bag), up to two carry-on items (weighing less than 50 lbs each), and up to two checked luggage items (weighing less than 50 lbs each) on board for free. Passengers may also check up to two additional luggage items for an additional fee. On most trains, bikes must be packed in an approved bicycle box and checked in as a large luggage piece for an additional fee. The checked bike will count toward your checked luggage limit. Passengers with a folding bike can bring their bike on board; the folded bike will count as one of your carry-on items. For a small fee, passengers traveling with a bike on a Cascades train can make a reservation for one of the ten available bike rack spaces on the train.
Amtrak welcomes one small dog or cat weighing up to 20 pounds on board per passenger as long as it can travel comfortably in a pet carrier that meets the carry-on baggage requirements. The pet carrier will count as one carry-on item, and you'll be charged an additional fee to bring your pet with you. Service animals are not considered pets and are always welcome aboard any Amtrak train. All Amtrak trains are fully accessible, and special wheelchair seating can be reserved on board any Amtrak train. It is recommended that passengers who need to arrange for special seating make their reservation in advance by calling Amtrak directly or by visiting a staffed ticket office.
How to find cheap train tickets from Seattle to Portland?
There are several easy strategies to find cheap train tickets from Seattle to Portland. If you're able to book your ticket in advance, you'll not only guarantee your spot on the train, but you may also pocket a little extra cash. Savvy passengers who want to save money know to look for slower trains or trains that travel at off-peak times or on off-peak days of the week, as these tickets are usually less expensive. A bonus is these trains may also be less crowded, making for a more comfortable trip.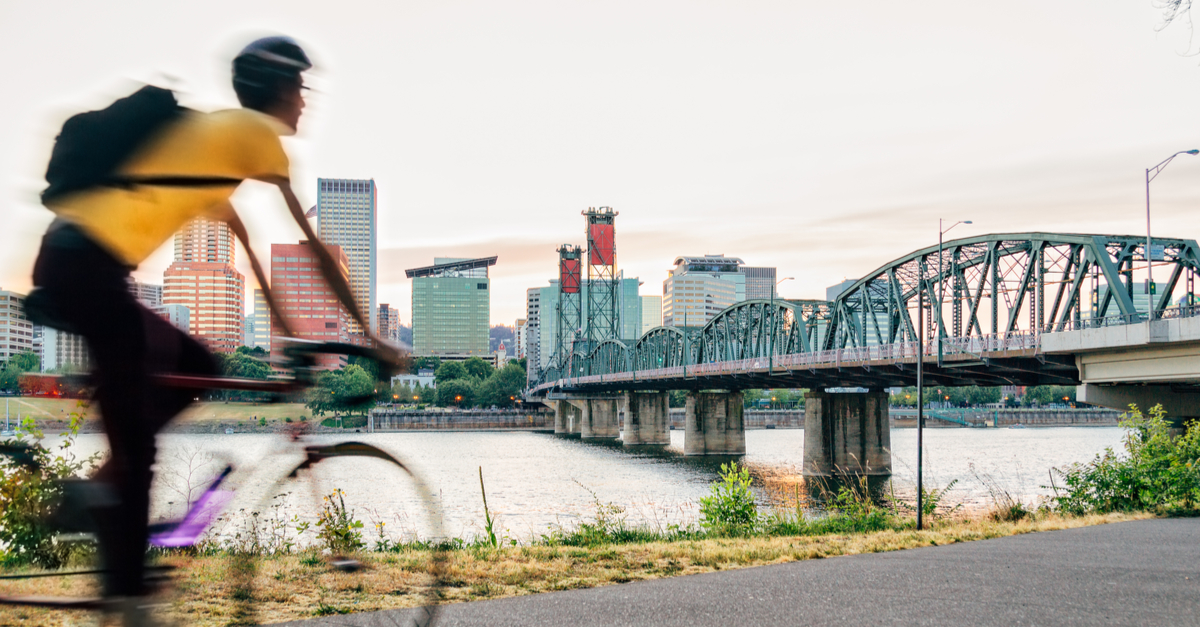 Portland Cyclist. Source: Shutterstock
To Portland by train—travel tips
Portland, also known as the City of Roses, features many beautiful public gardens. The International Rose Test Garden, Japanese Garden, and Lan Su Chinese Garden in Chinatown are just a few that are popular with visitors and residents alike. Another natural treasure within the city limits is Forest Park, which has about 70 miles of wilderness trails for hiking or biking. The Oregon Zoo and the interactive Oregon Museum of Science and Industry are fun family destinations.
Some other notable museums in the city include the Portland Art Museum and Portland State University's Jordan Schnitzer Museum of Art, as well as the uniquely weird Hat Museum, Freakybuttrue Peculiarium, and Ping Pong's Pint Size Puppet Museum.
At Powell's City of Books, Portland's iconic new and used bookstore, you can browse the aisles for the perfect read and then enjoy your book with a cup of coffee at one of the local coffee shops; many of the shops roast their own coffee beans. If you prefer to beer to coffee, you'll be happy to know that Portland is home to over 70 microbreweries, so you won't have to go far to find a bar or restaurant with a wide selection of local craft beers on tap.