Trains from Vienna to Salzburg
If you plan on traveling from Vienna to Salzburg, you should consider taking the train. This route is served by over 60 trains every day, which means you're guaranteed to find a train regardless of when you plan on traveling. The trip should be about 2h 20min, but it can extend by over an hour depending on the train company and number of transfers.
Vienna to Salzburg Train Time: Daily Departures
With well over 60 trains on the schedule for thisroute every day, finding an appropriately timed train should be relatively easy. The first train departs the station at around 4:55 a.m., while the last one leaves at around 11:27 p.m. This means you don't have to shake up your schedule to accommodate your trips, but instead, you can schedule your trip to accommodate an already planned schedule.
How long is the journey by train from Vienna to Salzburg?
Vienna and Salzburg are about 180 miles (289 km) apart. This makes traveling by train an ideal way to move around because it is not too long that you'll be stuck on the train for hours but long enough that other means wouldn't be appropriate. On average, a journey takes about 2h 20min, but if there are any transfers, it can go up to 3h 30min.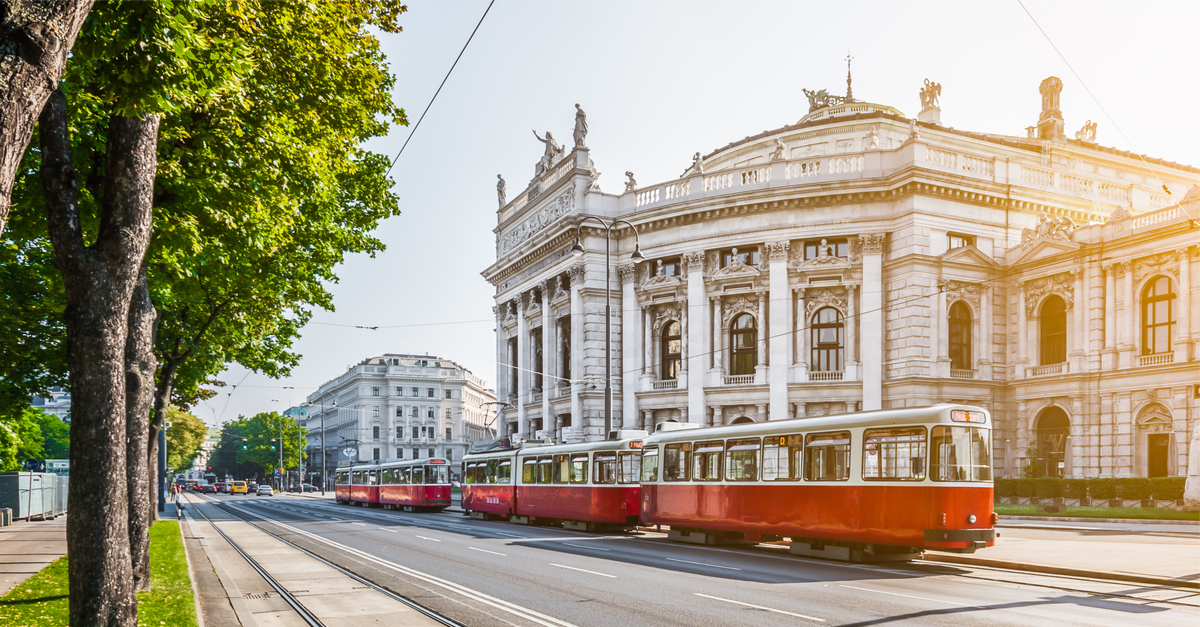 Wiener Ringstrasse street in Vienna. Source: Shutterstock
What is/are the departure and arrival stations for trains from Vienna to Salzburg?
Departure train station: When departing Vienna for Salzburg, you'll board your train at Vienna Central Station. It is the main train station in the city and only about 2.1 miles (3.4 km) from the city center. To get there, take the REX 9 bus towards Wien Floridsdorf Bahnhof. Some of the amenities found at this station include a waiting lounge, ticket offices, retail shops, and a few restaurants.
Arrival train station:When you get to Salzburg, you're expected to drop off at Salzburg Hbf, the main train station in the city. It is just under one mile away (1.1 km) from the city center, and you can get there with a 10-min walk. Some of the amenities you can find here include ample parking, ATMs, a ticket office, and a few restaurants.
Which train companies travel from Vienna to Salzburg?
At the moment, OBB and Westbahn Westbahn are the two main train companies serving this route. OBB is one of the biggest train companies in the country, serving over a hundred different train routes, both domestic and cross-border. Westbahn, on the other hand, is relatively new to the game, having started operations about 10 years ago. However, their consistency and top-of-the-range customer service will have you thinking they've been in it for longer than that. All the trips offered by Westbahn are direct, while OBB provides a mix of direct and connecting trains.
Night trains Vienna
If you prefer traveling at night, you should know that this route is served by ten-night trains every day. The night trains are well distributed between 7:15 p.m. when the first one is scheduled for departure and 11:27 p.m. when the last train is supposed to leave the station.
OBB Trains from Vienna to Salzburg
As mentioned earlier, OBB is one of the biggest train companies in Austria. The company has availed close to 50 trains every day on this route alone, so travelers should not have a hard time finding convenient times to travel. The company has both high speed and standard trains, and you also get to choose between direct trains and connecting trains. The average duration when traveling on a high-speed train is 2h 22min while others take up to 4h 11min.
Westbahn Trains from Vienna to Salzburg
Westbahn, on the other hand, has about half the number of trains provided by OBB, but their efficiency and reliability are almost unmatched. The trains are well spread throughout the day such that passengers get the option of traveling either morning, afternoon, evening, or late at night. All the trains by Westbahn are direct, so you don't have to worry about any delays during your journey. Barring unexpected conditions, your trip should take about 2h 28min.
Trains from Vienna to Salzburg: Sustainability travel
Anyone looking for sustainable ways to travel should consider taking the train. It is arguably the most sustainable means of transport between Vienna and Salzburg when compared to the other available means. Most of these trains are powered electrically, so the carbon emissions are very minimal. To add to that, the stations are powered by renewable energy sources, and rarely do the cabin crew offer food or drinks on non-recyclable material.
Train Vienna to Salzburg: Services on Board
OBB trains give travelers the option of the first-class and second-class, both of which have various perks and privileges. Other than that, the company has also put in place measures to ensure that any passengers with a disability that limits mobility can get the special services they need to help them travel comfortably. As for the luggage policy, they have none. This means passengers can bring as much luggage as they need as long as the bags fit in the designated luggage compartments and that they don't block any corridors. This also applies to special luggage such as bikes and sporting equipment. If you want to travel with a pet, you will have to restrain them in a hand carrier and keep them with you at all times. Westbahn has almost similar policies when compared to OBB, with the only difference being that the trains only have one distinct class for all passengers.
How to find cheap train tickets from Vienna to Salzburg?
If you're looking for cheap tickets for the journey to Salzburg from Vienna, you should consider being flexible with your travel dates. Avoid traveling on those days that are deemed as 'peak" since demand is usually highest at that time, making ticket prices more expensive. You can also try and go for connecting trains whenever possible. This is because you are more likely to pay a higher price for direct and high-speed trains. Finally, book your tickets as early as possible. As highlighted earlier, ticket prices are mainly affected by demand, and demand tends to increase as the date of travel approaches, thus forcing ticket prices to also increase. For more tips you can visit the Omio Magazine.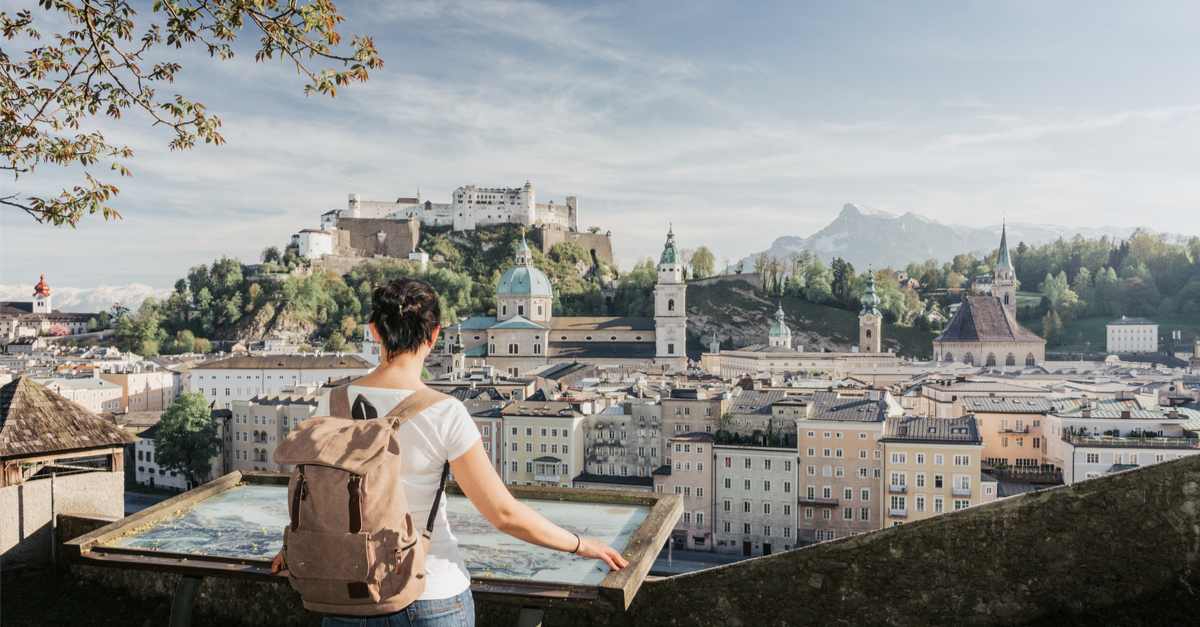 Tourist in Salzburg. Source: Shutterstock
To Salzburg by train—travel tips
If you're traveling to Salzburg, you should know that the city has plenty of historic landmarks you can visit as well as a wide range of activities to engage in. Whether you prefer thrilling adrenaline-pumping activities or you would rather just hang out in a quiet setting, you're sure to find something you'll like. For instance, you can visit Mozart's Birthplace to check out the actual birthplace of the legendary composer. Don't miss checking Mirabel Palace which is part of the Historic Centre of the City of Salzburg UNESCO World Heritage Site and a listed cultural heritage monument. If you love animals don't forget to check out Salzburg Zoo which is one of the most popular Zoos in the city and houses over 1500 animals from close to 150 different species. For an exemplary experience don't forget to visit the following places when you visit Salzburg:
Altstadt Salzburg
St. Peter's Abbey
Fortress Hohensalzburg
Salzburg Cathedral
Hellbrunn Palace and Fountains
Mirabell Palace and Gardens