Trains from Prague to Vienna
Trains from Prague to Vienna are a convenient way of traveling between the two cities as you won't have to worry about parking fees. The train ride gets you to the middle of Vienna, saving you the hassle of getting commuting services from the arrival destination to the city center. Trains from Prague to Vienna take 4h 40min to cover a distance of 157 miles (253 km). Trains are provided by OEBB and Regiojet, and they offer direct and connecting services.
Prague to Vienna Train time: Daily departure
Each day, 17 trains provide services from Prague to Vienna. This means that weekly about 100 trains provide services along this route weekly. Schedules can vary depending on the day of the week and the hour.
How long is the journey by train from Prague to Vienna?
The average journey time for trains from Prague to Vienna is 4h 40min. The slowest trains take 5h 45min with two layovers at Praha and Linz. Journey durations vary depending on the number of stops along the route.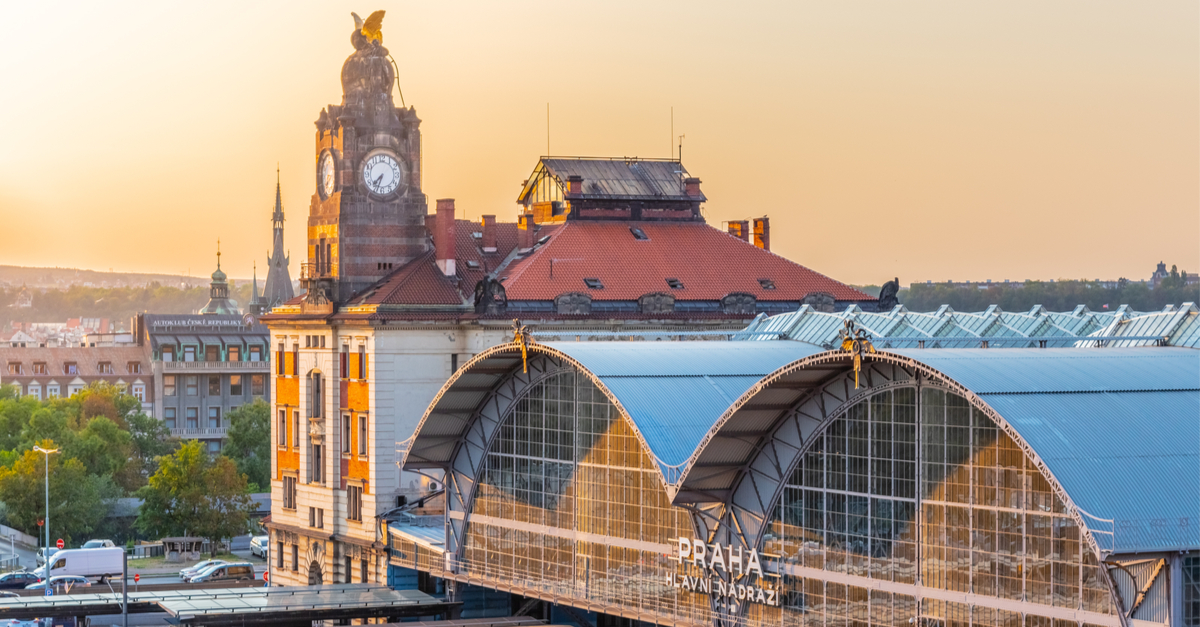 Main train station in Prague. Source: Shutterstock
What are the departure and arrival stations for trains from Prague to Vienna?
Departure train station: Trains from Prague to Vienna start their journeys at Praha Liben train station. It features a ticket counter that operates daily from about 5:55 a.m. to 8:55 p.m. There is also a souvenir shop, a CD center, and ticket vending machines. Additional amenities include a waiting room, a restaurant, ATMs, and luggage storage lockers. Travelers can get to Praha Liben train station via taxi, bus, tram, or train. From the city center, the station is an easy walk. Bus line 136 and tram line 8 have stops at the station. The station is wheelchair accessible with accessible platforms, washrooms, and ticket offices.
Arrival train station: Trains from Prague to Vienna arrive at Vienna Central Station. It houses over 100 shops and food concessions that invite travelers to relax and dine. It also offers travel information displays, waiting rooms, vending machines, and food concessions. There are washrooms, water fountains, and a parking lot with short-term and long-term parking options. Travelers can get from the station to the city center by foot. Bus lines 13A and 69A and tramlines 18, D, and O offer service from the station to other destinations.
Which train companies travel from Prague to Vienna
Trains from Prague to Vienna are operated by Regiojet and OEBB. Webb is the national railroad operator of Austria. Regiojet is a private Czech company that provides passenger rail and bus services.
Night trains in Prague
Night trains in Prague offer three types of accommodation: second-class sleeper cabins, deluxe sleeper cabins, and second-class couchette cabins. Second-class sleeper cabins can house one, two, or three people with a sink, bunk beds, lockable doors, and a small breakfast. Washrooms are communal, and there are one-gender-only cabins. Deluxe sleeper cabins provide bunk beds, private showers, and toilets. They also feature sinks, wardrobes, and bunk beds, and travelers can choose gender-sensitive compartments. Second-class couchettes can house four to six guests, and they provide beddings and bunk beds. Travelers in these cabins can use the communal washrooms.
OEBB Trains from Prague to Vienna
OEBB provides the rail jet and EC trains from Prague to Vienna. Rail jets operate at an average speed of 143 mph (230 km/h). OEBB provides 12 daily trains from Prague to Vienna, including direct services, one-stop and two-stop trains.
Regiojet trains from Prague to Vienna
Regiojet provides five daily trains from Prague to Vienna. They operate at a maximum speed of 124 mph (200 km/h). All Regiojet trains offer direct services.
Trains from Prague to Vienna: Sustainability Travel
Trains are the most sustainable means of travel. Their emissions represent less than five percent of the travel industry emissions. They provide a lot of space for travelers onboard. They also don't occupy much space in the environment and have low energy consumption, which equals a tenth of the energy consumed by aircraft and small cars. Trains can also go for more than 50 years without reinvesting in spare parts and non-renewable fuel.
Trains from Prague to Vienna: Services on Board
RegioJet trains offer four service categories onboard, including business, relax, standard and low cost. Business travelers get free daily newspapers, magazines, and refreshments. They also get entertainment portals with a wide selection of movies and news channels. Relax travelers get a large capacity coach with adjustable leather seats. They also have large tables and entertainment portals. Regiojet trains offer children's compartments for families traveling together. OEBB trains have economy, first-class, and business class. The economy second class offers two-by-two seating arrangements with power sockets and drop-down tables. They also offer large luggage racks in each train car for luggage storage. First-class offers a two-by-one sitting arrangement with tables for two or four. Seats come with power charging sockets and at-seat meal services. Business-class offers seat reservations, carpeted corridors, and spacious 3 or 4 semi-seat compartments. They also provide wide reclining seats for travelers' comfort. All trains from Prague to Vienna feature a bistro car with various meals and drinks. They do not have a strict luggage policy, and travelers can bring any amount of luggage, provided it fits in the luggage compartments. Small dogs, cats, and pet birds are allowed on board for free, but larger dogs require a separate ticket to board. All trains are wheelchair accessible. Omio magazine provides useful insights on the best travel experience from Prague to Vienna.
How to find cheaper train tickets from Prague to Vienna
If you need cheaper train tickets from Prague e to Vienna, consider purchasing tickets in advance. Ticket providers often release tickets a few months before their journeys. If you buy them about three months before their scheduled dates, you are likely to score cheaper train tickets. Also, consider being flexible with your journey dates. The more flexible you are, the more likely you will score cheaper train tickets. It also helps to go with trains that have layovers. Trains with faster direct services often have more expensive tickets than slower journeys.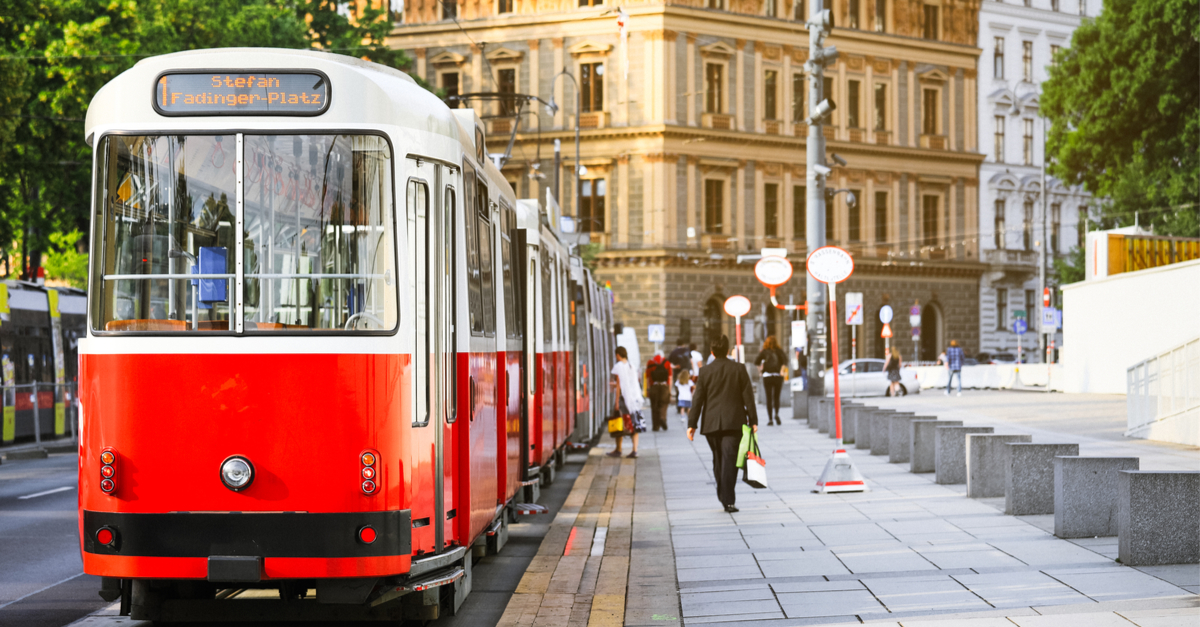 Tram in the streets of Vienna. Source: Shutterstock
To Vienna by train – travel tips
Vienna boasts charm and history in addition to its strategic location on the banks of the Danube River. It offers fine old architecture, horse carriages, and splendid coffee houses. Vienna houses world-class attractions like the Hofburg, a sprawling complex with numerous historical buildings and museums. It also houses the Schonbrunn Palace and Gardens, a spectacular 18th-century palace with more than 1,441 rooms. Nature lovers will enjoy a visit to Prater. This massive natural park is one of Vienna's most popular recreational areas. Art and charm lovers can head to the Vienna State Opera House. One of the world's largest theaters, this massive structure offers opera and ballet performances.
The Museum of Natural History is an ideal destination for history lovers. This natural museum is popular for its Dinosaur Hall, which offers the world's largest meteorites exhibit. It provides 39 exhibit halls with subjects like human development and the evolution of human culture. Treat your taste buds to cakes at Vienna's Ultimate Café. This is the oldest cafe and bakery in Vienna, and it is popular for its exquisite dishes and desserts. Thrill-seekers can visit Danube Tower. This tower stands taller than any other building. It offers visitors a speedy elevator ride to the observation deck where they can enjoy scenic views of the river and the city attractions. Here are other must-see attractions in Vienna:
State Hall
Naschmarkt
Parliament Building
Stadtpark
Albertina