Discover Valencia, the OUIGO Way
This spring, travel between two of the most important and gorgeous cities in Spain for less—and with all the comforts you could wish for! Book your OUIGO trains directly with Omio and get your tickets on your phone. The iconic pink and blue high-speed OUIGO trains have all the amenities at affordable prices, and with many scheduled daily, there's plenty for you to choose from.
Madrid blooms in spring, offering perfect weather: think long, warm sunny days (that aren't too hot) with stunning sunsets. Making spring the ideal time to explore everything Madrid offers: tapas bars in La Latina, vintage stores in Malasaña, gay clubs in Chueca and strolls across the Retiro Park with a stop at its gorgeous Crystal Palace.
However, Valencia has nothing to envy about the capital: it's already summer there! And you'll find long sandy city beaches like La Malvarrosa, trendy neighborhoods to have brunch at like Russafa and imposing museum buildings like the Ciudad de las Artes y las Ciencias.
Discover both now thanks to OUIGO! Travel the best way, aka the OUIGO Way. Book your tickets with Omio.
Ouigo Tickets Can Be Purchased Directly From Omio
Ouigo is one of the most popular train services in France, offering low-cost train tickets to several major towns and cities. It's fast, it's affordable, it's reliable, and you can buy Ouigo tickets right here at Omio.
Omio has over 1,000 travel partners, including Ouigo
A fast and easy way to book train tickets
The cheapest and easiest way to book tickets for your journey
Find Cheap Ouigo Train Tickets Around France on Omio
You can find cheap Ouigo tickets right here. Just enter the details of your journey above, follow the link, and buy your tickets. It couldn't be easier. Your tickets will be stored in your Omio account, helping you to stay organized regardless of what kind of trip you have planned ahead.
If you need to book multiple trips, whether by train, plane, bus, or ferry, just return to Omio and get more tickets!
About Ouigo
Ouigo roughly translates as "yes go", but it also sounds like "we go". It's the perfect brand name for a train service in France that's used by millions of locals and tourists every year.
The brand is owned by Société Nationale des Chemins de fer Français (SNCF), the national train provider in France, and it's available in 18 stations. In 2021, the brand was also launched in Spain, where it operates a number of popular routes under the name Ouigo España.
In many ways, Ouigo works similarly to budget airlines. It doesn't stop at the biggest stations, keeps the amenities basic, and charges extra for oversized baggage. As a result, it's able to keep its prices low. As you'll see when you travel, the cost of Ouigo tickets is much less than that of other long-distance train services.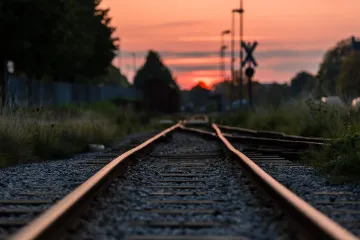 A close-up image of train tracks at night. Source: Pexels
Daily Ouigo Train Departures
You can buy Ouigo tickets for both conventional and high-speed trains, and the company runs dozens of trains in France on numerous routes every day. The trains run from morning to night and carry over 15 million passengers every year.
Between 2021 and 2022, Ouigo España also stamped its mark on the European travel industry, carrying more than 2 million passengers. This popular Spanish train service runs several routes to and from Madrid and in 2022, it opened up new routes to several popular Spanish seaside resorts.
Whether you're travelling through France or Spain, you can take advantage of Ouigo's services.
Ouigo: One Ticket to Rule Them All
With Ouigo, you don't need to worry about whether you should go First Class, Second Class, Premium, Economy, or anything else. There are no "classes" here—everyone gets the same ticket and has the same benefits.
However, there are a few optional extras that you may consider adding to your train ticket in France when you make your Ouigo booking.
Electrical Outlet: For a small fee, you will be given access to an electrical port through which you can charge your phone, laptop, or tablet. It's a good option if you have a long journey ahead and need to work or recharge.
Extra Baggage: Ouigo luggage options are very generous, but if you have a large item or multiple bags, you can arrange for extra space.
Pets: Pets under 6KG (14 lbs.) can be carried onboard providing they are in a carrier. If so, they will simply be classed as one of your luggage options. If they exceed this weight limit, however, you must pay extra for them.
Stroller/Buggy: When you book your Ouigo tickets, indicate whether you will have a stroller/buggy with you. You can then take it on the train. Just make sure you fold it up before you get on.
Quiet Seating: When making your Ouigo train reservation, consider if you will need to be in a quiet area or not. It's a good option if you will be working or just want to take a quick nap. If so, you can pay a small fee to access such an area.
The Most Popular Trips with Ouigo
One of the most popular Ouigo routes is Marne-la-Vallée—Chessy, which takes travellers to the popular Disneyland Park resort, also known as Disneyland Paris. It is also the first train that many international travellers take, as it connects to Charles de Gaulle Airport.
Generally speaking, whatever you want to see in France, you can get there with an Ouigo train.
See below for more popular Ouigo routes:
Marseille-Paris with Ouigo
Marseille and Paris are the two biggest cities in France, as well as two of the most popular destinations for tourists. This Ouigo route connects these locations in a trip that takes around three and a half hours.
From Marseille-Saint-Charles to Paris Gare de Lyon/Paris Lyon
Journey is approximately 3.5 hours
Available 3 times a day
One of the longest Ouigo routes
Paris-Bordeaux with Ouigo
Bordeaux is home to great gothic architecture, amazing museums, and fantastic food and wine. It takes just over two hours to get there from Paris.
From Paris Montparnasse to Bordeaux St-Jean
Direct journey—no stops
Spans about 310 miles
Lasts for 2 hours and 11 minutes
Paris to Bordeaux is one of the brand's most popular routes and it's also very cheap.
Paris-Strasburg with Ouigo
With Ouigo, Strasburg is always just a short journey from the capital, and with Ouigo prices being so low, it's the perfect excuse to visit.
From Paris Gare de L'Est to Strasburg
High speed Ouigo trains get there in 1 hour 46 minutes
Direct train journey—no stops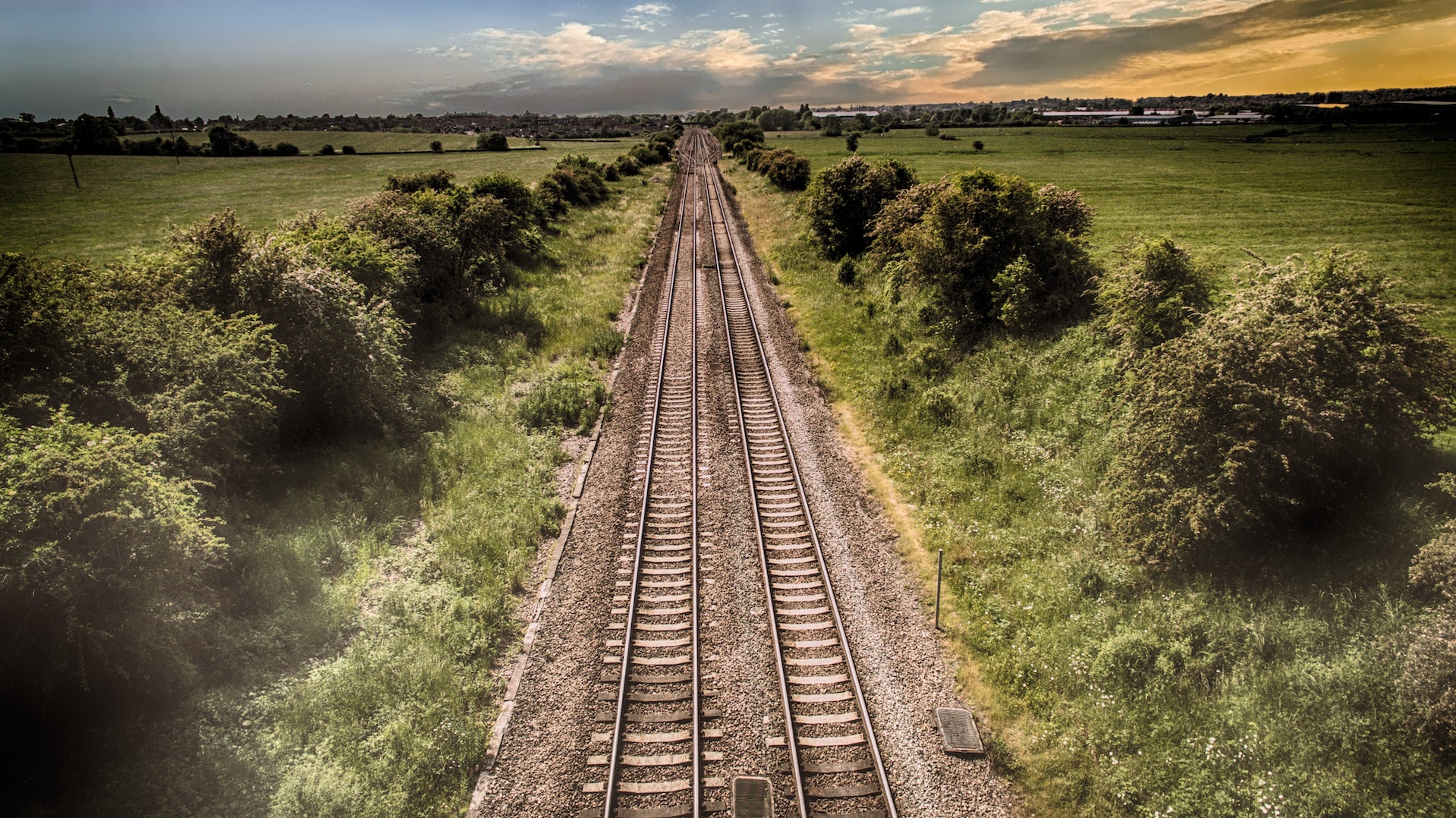 A train track. Source: Pexels
Ouigo: Services on Board
Ouigo offers low-cost train tickets to destinations across France and Spain. It's not a brand built on luxuries and it focuses on price, speed, and reliability above all else. Ouigo's goals are to get you there are as cheaply and as quickly as possible.
As a result, there is no buffet carriage here and you can't order any drinks or food. If you want to eat and drink, you'll need to stock up before you get on board.
Here's what else you need to know about Ouigo services:
Ouigo Plus: Ouigo Plus is a premium option that has a couple of benefits. The main ones are that you can choose your seat and benefit from the Fast Track system, which lets you board the train just 5 minutes before it leaves. This service costs extra.
Toilets: You can't buy a sandwich, but your basic needs are still covered and you'll find several toilets on Ouigo trains.
No WiFi: Unfortunately, Ouigo trains don't have WiFi. That's the bad news. The good news is that you should only be on the tracks for a couple of hours, so it won't be long before you can reconnect.
Baggage Options: Do you have extra baggage? Ouigo luggage rules let you take a couple of bags on the train, but if you have extra bags, you must pay to take them with you.
Information on Ouigo Timetable and Timetable Change
Ouigo runs routes to most of France's major cities, including trains to Paris, Lyon, Strasburg, Marseille, Nantes, Bordeaux, and Montpellier. The trains run from early in the morning until late in the evening, and bookings can be made months in advance.
Once you have made your booking with Omio, you can check the Ouigo train timetable from your account. We'll make sure you're updated about any changes to your journey and will ensure that all of your Ouigo train tickets are organized.
Travel France Sustainably with Ouigo Trains
Generally speaking, trains are an eco-friendlier option than cars and planes. They create less carbon emissions, and if more travellers take trains, the transport industry can greatly reduce its carbon footprint. This is especially true with Ouigo, as the trains are designed to accommodate as many travellers as possible, with no room wasted on buffet carriages and First Class seat.
Other sustainable options include green driving and parking methods, as well as the introduction of electronic tickets. Insisting that all tickets are bought online and sent to devices and computers means that less paper is used, less waste is created, and there is no need for additional equipment or ticket booths.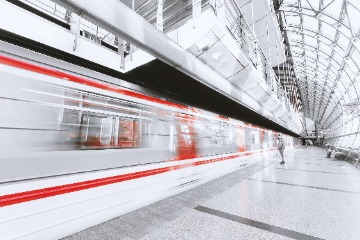 A train in motion as it leaves the station. Source: Pexels
Visit France with Ouigo - Travel Tips
Depending on who you ask, France is either the most visited country in the world or just one of the top 5. In any case, it's an incredibly popular travel destination, and when you see what's on offer, it's easy to see why.
After all, we're talking about the country that gave us the world's best cheese and wine, as well as mediaeval towns, world-famous art, fantastic cinema, and many great landmarks.
If you're visiting France by train, consider adding some of the following to your itinerary:
Take a river cruise on the Seine
See world-famous paintings and sculptures in Parisian museums
Sample fresh baguettes at a French bakery
Try some locally produced wine and cheese
Sate your morbid curiosity at the Paris Catacombs or the Père Lachaise Cemetery
Visit the calming and beautiful lavender fields of Provence
Do a spot of shopping on the Champs-Élysées
If you need some more travel tips or insights, take a look atThe Window Seat, our online travel magazine.
Frequently Asked Questions about Ouigo
You can buy Ouigo tickets right here at Omio. We have tickets for all Ouigo train routes, as well as many other service providers in France.
You can print your ticket if you want, but you can also just show your Ouigo ticket on your app. You'll receive an electronic ticket when you buy Ouigo train tickets through Omio.
Ouigo tickets are non-refundable, so cancellation of a Ouigo ticket will not give you a refund. However, you can exchange them for another Ouigo train ticket.
You can change a Ouigo ticket up to an hour before boarding. However, you will be charged a small exchange fee.
Ouigo luggage allowances—like all Ouigo services—are very simple. All travellers are allowed the following: 1 bag no bigger than 36 x 27 x 15cm and 1 suitcase/bag no bigger than 55 x 35 x 25cm. You can pay a small fee during the Ouigo booking process to carry additional bags. If not, you may be charged more at the gate.
To get assistance with mobility, contact Ouigo directly. They may request that you show up an hour before departure so they can help you board the train.
Children under the age of 12 can travel for a low fixed fee on Ouigo trains. They can also benefit from free Ouigo Plus access, which allows them to choose their own seat. However, they cannot travel alone and all children under 12 must be accompanied by an adult.
Ouigo trains do not have WiFi.
There are several reasons that Ouigo can afford to keep its prices so low. The first is that it operates stripped-back trains, focusing on speed and simplicity as opposed to any luxuries like bars and buffets. You can still eat and drink on the train, but you must take your own food and beverages. Secondly, there is no First Class and Second Class. It's all one, and this allows them to keep the trains near capacity at all times. Combined with the fact that Ouigo is a huge company operating across dozens of stations, it means they can play the numbers game and keep profits high while margins stay low. You're still getting a brilliant service for your money and you'll also be arriving at your destination quickly and without fuss. But if you want a drink, you'll have to take it onboard; if you want extra baggage or a plug socket, you'll need to pay extra.
Yes, you can change the name on a ticket by visiting your Omio account and looking for the ticket. You may need to pay a small fee for this.
A COVID test is currently not needed to travel on Ouigo trains.
Providing it meets the baggage requirements, you can take it on the train with you. If not, you may need to pay extra. As noted previously, you can also take a pram and a bike with you, as long as they fold away.