Founded in 2013, FlixBus original aim was to provide Germany with long-distance bus journeys. With low-price, comfort, ease, and free WiFi being Flixbus main selling points it quickly became one of Germany's go to bus companies. In 2015, FlixBus popularity in Germany allowed them to expand into neighboring countries such as France, Italy, Denmark, the Netherlands, and Croatia, as well as regular services to Norway, Spain and England. Now Flixbus is one of the biggest names in bus travel not just in Europe but across the world making it a great choice for a trip in Europe. You can book Flixbus tickets with Omio.
Booking your FlixBus ticket with Omio is fast and easy, and you will enjoy several benefits. With Omio, you can book your ticket in advance from the comfort of your home. Our free Omio app is easy to use, and the journey planner feature allows you to compare different bus types, prices, and departure times for your convenience. Moreover, as an official partner of FlixBus, you will have our customer care available for you 24/7, ready to solve any problems or answer any questions you might have.

+
Travel with FlixBus
FlixBus is a long-distance bus company originally founded in Germany. Affordable tickets, ease of use, and comfortable amenities, including free Wi-Fi, have made FlixBus a popular choice, allowing it to expand to the rest of Europe. Now FlixBus is big in both Europe and the US, after successfully launching in the western region of the US in 2018. FlixBus US has expanded even further since then, with destinations in major cities including Las Vegas, New York, Washington, and Chicago. FlixBus booking is fast and easy with Omio.
Couple on Bus. Source: Shutterstock
FlixBus in the US
FlixBus US is one of the biggest bus companies in the US, and after partnering with Omio, booking your cheap FlixBus ticket has become a whole lot easier. FlixBus headquarters are in Los Angeles, and the company is now conquering the States with its environmentally-friendly business model, cheap travel, high-quality standards, and green buses. You can now travel across the US on a budget by bus via FlixBus and Omio, with new routes launched every day.
FlixBus destinations in Europe
FlixBus Europe is the leading intercity bus service in Europe, covering countries across the continent. You will find major coverage in Italy, Germany, France, Czech Republic, Switzerland, and the Netherlands. Through Omio, you can book a trip to northern Europe as well, and major FlixBus routes in Europe include London to Paris, Vienna to Prague, Berlin to Prague, Amsterdam to Brussels, and Milan to Rome. With the Omio app, booking your FlixBus Europe ticket is quick and easy to complete from the comfort of your home.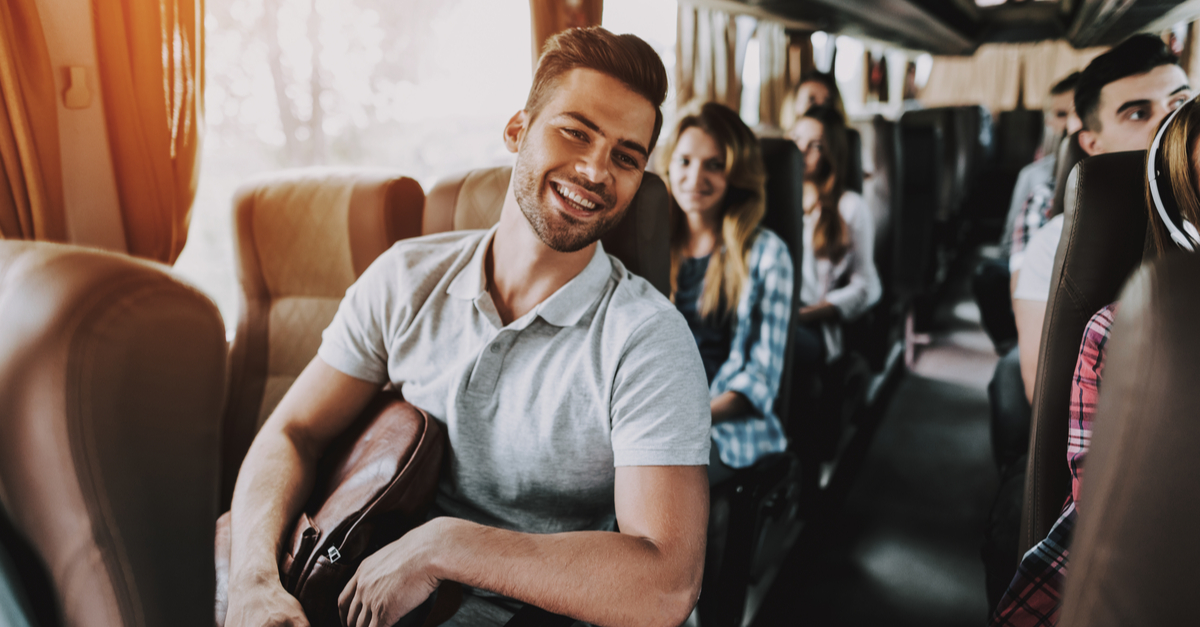 Man on Bus. Source: Shutterstock
FlixBus destinations in US
After successfully launching in the US, FlixBus now has major destinations across the country. Affordable, comfortable, and easy-to-book transport has made FlixBus a leader in the US long-distance transport sector. Los Angeles is the biggest FlixBus destination in the US and is also where the company's headquarters are situated. From Los Angeles, you can take a direct bus to Las Vegas with zero transfers. You can also take a direct FlixBus bus to Phoenix or Tucson from Los Angeles. Another popular route is a Flixbus ride from Las Vegas to San Diego.
Booking FlixBus tickets
Booking FlixBus tickets is fast and easy with Omio. All you need to do is key in your travel information (travel date, arrival and departure cities, and the number of passengers) in the Omio search bar and hit "search." You will then see the results for available buses, prices, and departure times. Pick the FlixBus bus that best meets your needs before proceeding to payment on the FlixBus website. Once you have confirmed your payment, you will be issued an electronic ticket. Occasionally, there are price reductions and offers, so make sure to book your FlixBus ticket through Omio for a better chance of enjoying these special offers.
Couple Smiling. Source: Shutterstock
FlixBus: Bus types
Traveling with FlixBus means your comfort is guaranteed. Whether you are on the early morning, morning, afternoon, or night bus, you will enjoy the best services in the market. On FlixBus buses, you can take advantage of free Wi-Fi, affordable snacks and drinks, extra legroom, and plenty of space for your luggage. The seats are well-bolstered and cushioned and comfortable. You can also choose to travel neighbor-free for maximum comfort. To book your next FlixBus ticket, download the Omio app, select your journey, and choose the FlixBus bus type that best meets your needs.
FlixBus bus: What you can do
When you travel with FlixBus, you can relax and enjoy the ride with several amenities. Every FlixBus has free Wi-Fi to keep you entertained along the way. You can stay in contact with your friends or family as you chat or video call at 4G speeds. Don't worry about your devices powering down because FlixBus buses provide numerous power outlets to keep all your devices powered. If you get hungry, you can purchase affordable snacks and drinks on FlixBus buses. If you need restroom services, FlixBus has you covered. Onboard every bus is a clean and functioning restroom that you can use at all times. Travel in absolute comfort on the well-cushioned seats with adjustable backrests and extra legroom. If you're traveling with luggage, you're welcome to use the overhead compartment or the cargo hold below. Book your next FlixBus ticket with Omio today.
FlixBus Bus: FAQs