Train to Milan
Whether you're going to Milan for business or pleasure, the train is a good way to travel. You'll find numerous trains running daily to Milan from other cities in Italy such as Ravenna, Venice, Genoa, and Parma. With connections, trains to Milan are also possible from other cities in Southern Europe including Paris, Barcelona, Nimes, and Monaco. There are over twenty train stations in Milan, however, Milano Centrale Railway Station is recognized as the main station.
It is a very large and busy station that is about 15min from downtown Milan. Milan Porta Garibaldi is the second-largest station in the city. It too is a short drive from downtown. The city of Milan is known for its Fashion District and its history, art and culture. As in many other cities in Italy, Milan also has several beautiful churches and cathedrals that you can visit. In the city of Milan, you can enjoy both Italian and Milanese cuisine.
Trenitalia to Milan
Take a train to Milan from most major cities around Italy with the Trenitalia Train Company. The Trenitalia Company is owned by the Italian government and has its headquarters in Rome. When Trenitalia trains arrive in Milan, they stop at either Milan Centrale or Milan Porta Garibaldi.
SNCF to Milan
If you're traveling from France or other parts of Europe, you might ride with SNCF (the French National Railway Company). SNCF operates out of Milan's Porta Garibaldi station.
Italo to Milan
Italo provides train travel to Milan from cities like Naples, Venice, and Florence. It is a private Italian train company that works out of Milan Centrale.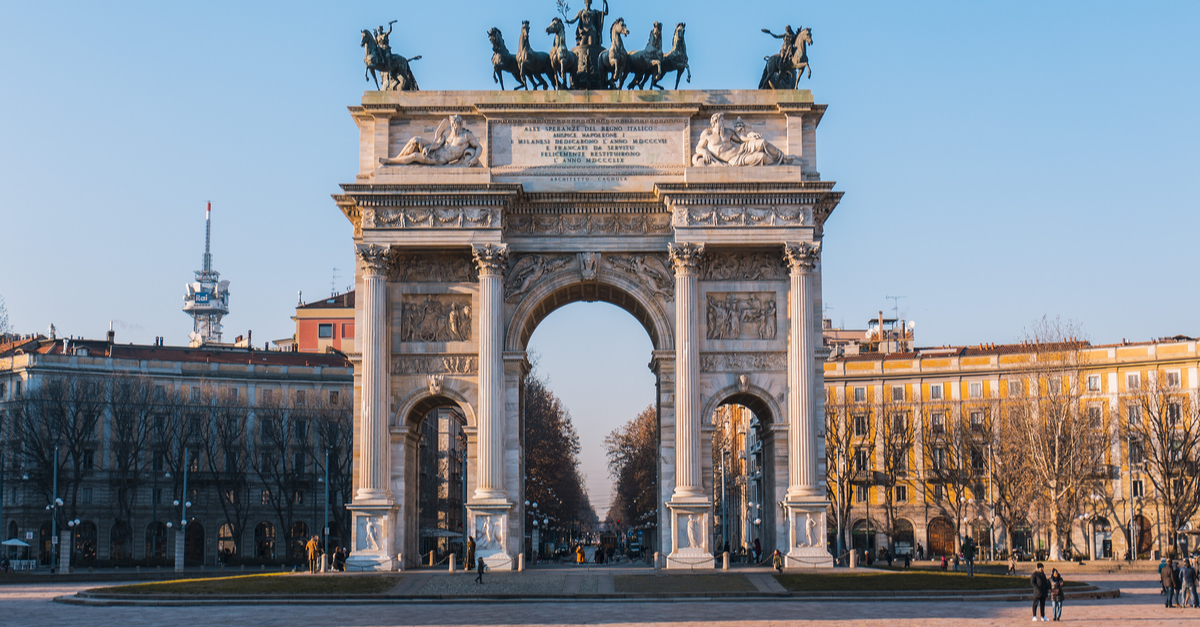 Milan Gate : Shutterstock
Main train stations in Milan
There are several stations in Milan, however, Milan Central is the main station. It is a short drive from the heart of the city and offers several conveniences for train travelers. While at the train station, you can get something to eat at one of the restaurants or shop for sundries at one of the small shops. There is also a post office and restrooms available for public use. The Milan Porta Garibaldi is another major station in Milan.
It is used most often by trains coming in from France and other nearby countries. It is about a 15-minute drive from the center of the city. This station also has several amenities such as free Wi-Fi and food and retail establishments. Just outside of the station, there is a taxi and bus stand for easy transport to your hotel or Airbnb.
Onboard facilities Milan
When you travel by train to Milan, you'll enjoy several comforts and amenities on your trip. With SNCF, you'll have access to free Wi-Fi so that you can stay in contact with the office. If you have your kids with you, you can use Wi-Fi to let them watch their favorite cartoons or play some online games during the ride.
You won't have to worry about your electronic device losing power because there are electrical outlets on every seat. SNCF also has a cafe bar where you can buy sandwiches, snacks, and drinks. Upgrade your ticket for premier seating such as side-by-side or face-to-face seating when riding with family and friends. Catch a Milan train with Italo and enjoy services like leather reclining seats, free Wi-Fi, a snack center, and tables for eating or working. You'll be just as comfortable on board Trenitalia's high-speed trains. Along with high-speed travel, it offers onsite dining on your trip to Milan. You can also enjoy free Wi-Fi which will keep you in touch with everyone. You can check on e-mails, chatting with friends, or posting photos on social media.
Train tickets to Milan: useful to know
Today's modern train companies offer an e-ticket or mobile ticket. When you purchase a ticket with SNCF, you can download your ticket at any time from your smartphone or tablet. SNCF tickets are also printable from your home or office printer. Passengers boarding an SNCF train must show a photo id or passport for proof of identity.
Italo makes it easy to purchase tickets. You can buy an Italo ticket through their call center, at one of the ticket offices at the train station. Italo also has an app for buying tickets or managing your trip. When you purchase your Italo ticket online, you'll just need your confirmation code and photo id before boarding the train. Likewise, Trenitalia offers electronic tickets to eliminate the need for a printed ticket.
You can buy your ticket online and can show it or share your booking code with the conductor at the station. Buy your ticket from Omio with any of these train companies and you'll have access to your ticket and itinerary from the Omio website. With your information stored in the cloud, you won't have to worry about storing your ticket somewhere on your electronic device.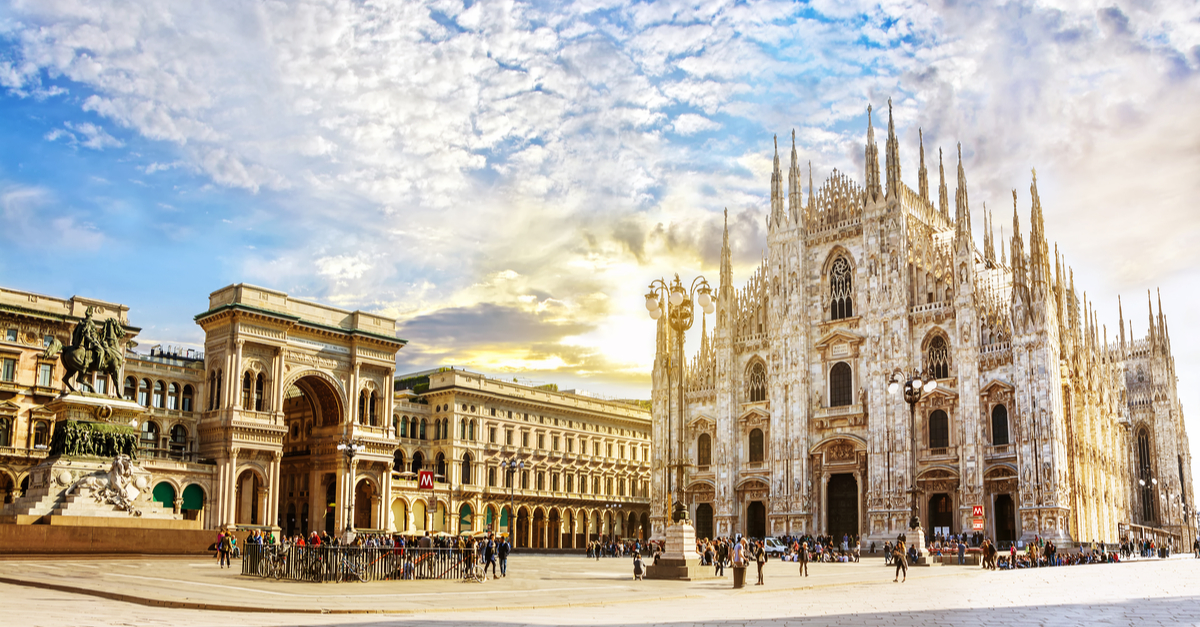 Milan Duomo : Shutterstock
To Milan by train—travel tips
Milan is known for its famous fashion designers. However, Milan is also a great place to shop for vintage clothing and antiques. If you want to see something funny, stop by the L.O.V.E., a giant middle finger statue located in the Piazza Affari Square. This statue is also within walking distance of downtown Milan and Piazza Gae Aulenti where there are several skyscrapers and interesting architectural buildings. Be sure to take a cable car ride to the mountains for amazing views.
To get around the city, there are three modes of public transportation. You can ride the Metro or the bus to tourist attractions or places to eat. At night, when you're coming from the bar or a nightclub, you might want to ride the tram. Trams tend to run later than the bus or metro. Trams and buses also provide an easier way for you to see the city because the Metro is underground. If you plan to depend upon public transportation to get around, you should purchase a day pass for unlimited rides.
On your tour of Milan, you'll be able to tour and see lots of architectural buildings including the Duomo di Milano Cathedral, Castello Sforzesco, and Parco Sempione (a grand castle), and Bosco Verticale (apartment buildings known as the vertical forest). Leonardo da Vinci lived in Milan for some time.
See his most talked about work, the Last Supper, at Santa Maria Delle Grazie while you're in this part of Italy. Explore other artwork in Milan at the Cimitero Monumentale (a gallery of sculptures), Poldi Pezzoli Museum (showcasing a private collection), and the Pinacoteca di Brera (a public art museum). Because fashion is so big in Milan, you can't visit without shopping for some of the latest fashions. Some of the best shopping sites in Milan include the Corso Buenos Aires, La Rinascente Department Store or Galleria Vittorio Emanuele II.
When shopping is over and you're ready to taste some authentic Italian cuisine, you can dine at Enrico Bartolini MUDEC Milan, a three-star Michelin restaurant. If your budget doesn't work with a Michelin restaurant, you can visit Mercato di Via Osoppo for some budget-friendly food. If you want to enjoy the outdoors, you can go biking on one of its many trails, hike Monte San Primo or do some scuba diving or snorkeling in the Italian Lakes. Milan