Iryo train tickets can be purchased directly with Omio
You can book your Iryo train tickets directly through Omio, making it easy to travel around Spain. You'll find all the information on Iryo provided on a single page so that you can get your ticket in just a few clicks.
Use search filters to find the best prices for your chosen route when getting Iryo tickets with Omio.
There are a range of language options when searching for Iryo trains.
Book Iryo routes directly through Omio, without the need to go to the provider's website.
Find cheap Iryo train tickets with Omio
It's easy to get cheap Iryo tickets. Omio collects information from various online sources to find you the best deals. You can also search and filter your results, making it easy to book your Iryo train reservation.
To find lower cost Iryo tickets, you can book your trains with Omio well in advance.
Filter results based on duration, price and departure time to find the perfect Iryo train schedule.
Get your Iryo booking on your phone by using the Omio mobile apps, which is great when you're on the go.
About Iryo
If you want to get around quickly Spain by train, then Iryo is a popular choice, boasting superior comfort and modern facilities. You'll complete your journey in style, travelling on state-of-the-art Hitachi-Bombardier ETR 1000 trains, some of the fastest and most sustainable trains in Europe. Iryo train speeds can get up to 224 mph (360kph), meaning you spend less time in transit and more time exploring Spain's great cities. A modern onboard air conditioning system ensures that your comfort is paramount, keeping temperatures pleasant - important during a hot Spanish summer. Iryo is also an ecological brand, with 98% of their train parts being 100% recyclable. With many trains departing daily from stations such as Madrid Puerta de Atocha to destinations like Barcelona, it's a great alternative to flying.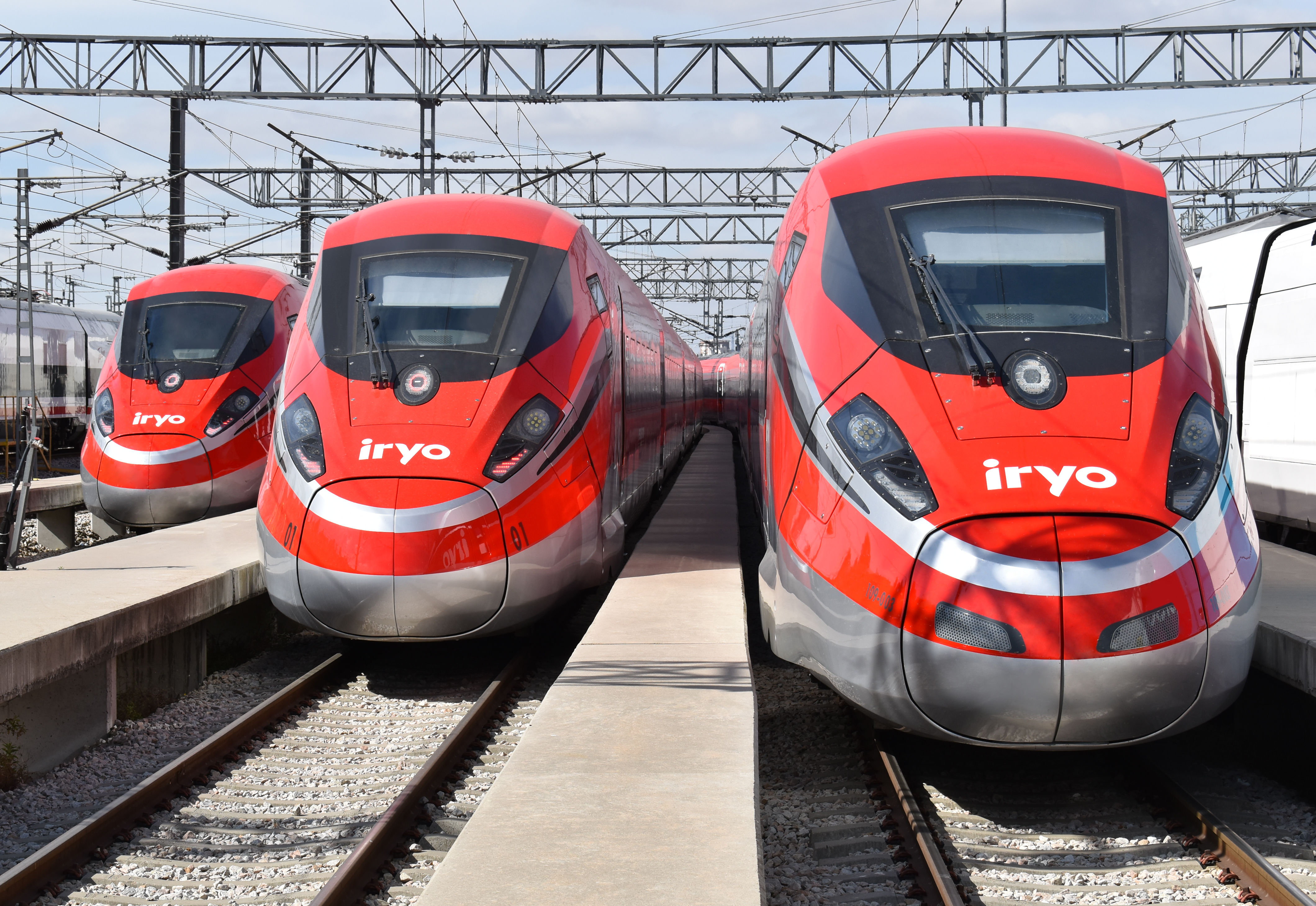 Iryo Train. Source: Iryo
Daily Departures of Iryo Trains
Iryo launched the first of its routes in late 2022, with a maiden journey on the Madrid to Barcelona Sants route. Following that route, other cities, including Zaragoza, Seville, and Malaga, were added to their network. Using a fleet of 20 new Frecciarossa model trains, Iryo delivers about 16 daily journeys between Madrid and Barcelona each way. Trains depart once an hour, from early morning until late at night, giving you ultimate flexibility with your journey.
Iryo Type of tickets
Iryo offers four ticket types so that you can get your ideal Iryo train ticket around Spain.
Standard: This is the cheapest of the Iryo ticket options. You'll still get a range of benefits, including wi-fi, comfy seats and air conditioning.
Premium: An upgrade on Standard Class, you'll enjoy enhanced benefits such as wide reclining seats and unlimited luggage.
Business: Business Class with Iryo is great if you have work to do, as you are guaranteed a quiet carriage to avoid distractions. You'll also receive all the benefits of Premium Class, such as additional luggage space and legroom.
Executive: With the highest ticket class on Iyro trains, you can travel in style. The added benefit of the Executive ticket is the opportunity to use a meeting room on Iryo trains.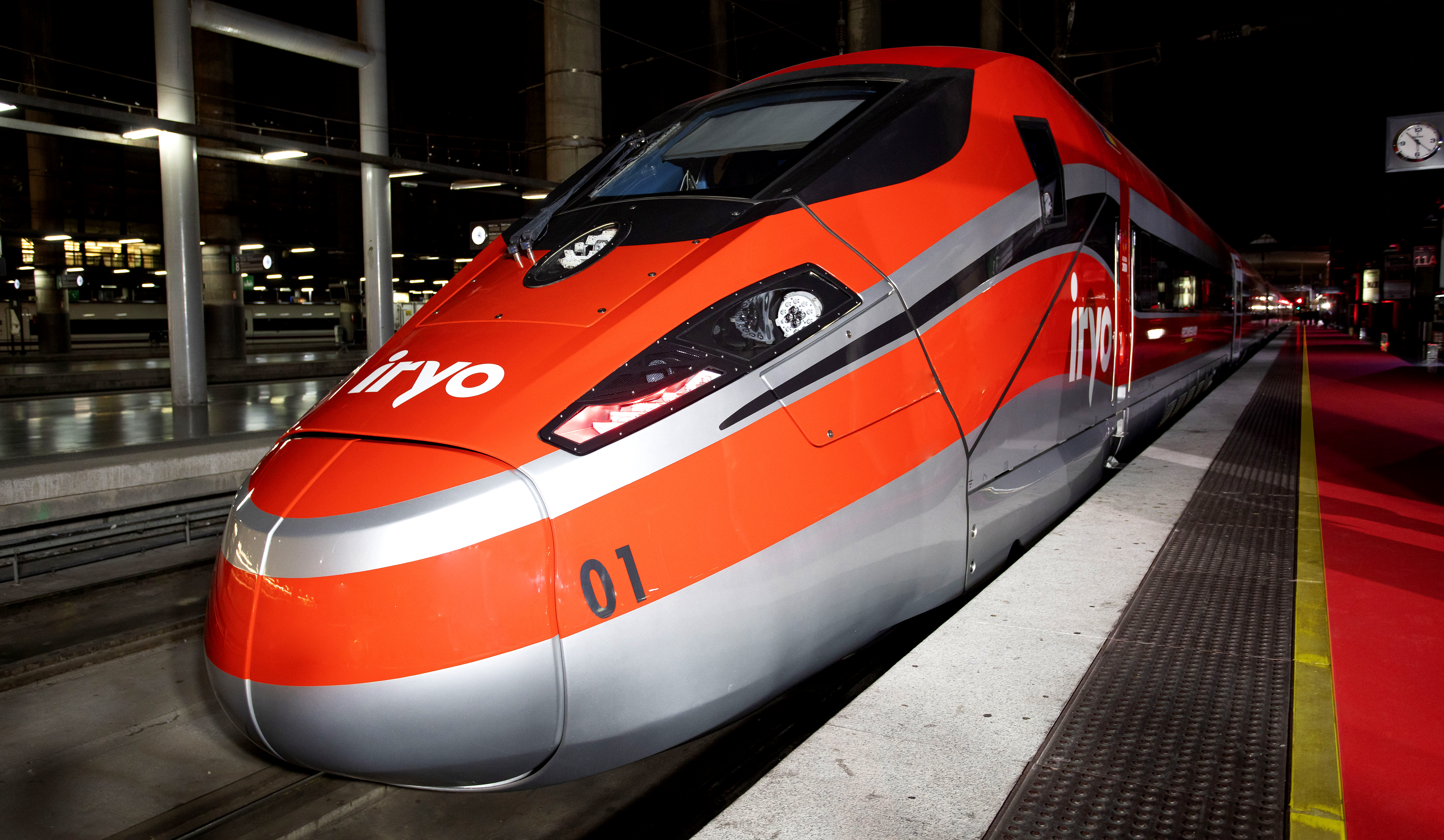 Iryo Train. Source: Iryo
Most Popular Journeys with Iryo
There are some fabulous Iryo destinations worth visiting in Spain. Some of the most popular destinations Iryo trains travel to include Barcelona, Valencia, Madrid and Zaragoza. A popular daily route is that between the capital city, Madrid and Barcelona, which operates about 32 trains daily. The journey duration of this route is approximately 2h 30min, with Iryo train speed getting up to 224 mph (360kph).
Madrid-Zaragoza with Iryo
Iryo trains from Madrid to Zaragoza connect travellers between these two beautiful cities.
Iryo train journeys from Madrid to Zaragoza are part of the route between Madrid and Barcelona, so there are 16 daily departures.
The Iryo train time takes about 1h 15 mins to complete, so it won't be long before you've arrived at your destination.
The total journey distance is about 170 miles (273 km), with trains travelling as fast as 224 mph (360kph).
Barcelona-Madrid with Iryo
One of the most popular routes, Iryo trains from Barcelona to Madrid are a great way to travel between these two iconic cities.
A frequent route, with 16 trains departing Barcelona for Madrid on a daily basis.
Iryo trains from Barcelona to Madrid depart every hour, so you can choose the most convenient time for your journey.
Iryo trains offer a premium service, focusing on the finer details. Enjoy comfortable seating, air conditioning, gourmet lunches and much more.
Valencia-Madrid with Iryo
Travelling from the coast to the centre of Spain has never been easier with trains from Valencia to Madrid.
With Iryo completing the journey in about 1h 40min, you'll be able to go from the sea to Sol in the blink of an eye.
The journey is approximately 188 miles (303km), with trains reaching speeds of around 224mph (360kph).
This route is also ideal for those looking to travel from Valencia to Cuenca, the historic mountain city in east-central Spain.
Iryo Services on Board
Enjoy great Iryo services on board trains, with access to many cities across Spain. Find out more about your destination with the useful Omio Window Seat guide to Madrid and other cities.
You can access four ticket types, with Executive, Business, Premium and Standard options. Standard is the most basic ticket, with comfortable seats, wi-fi and air conditioning. All the other classes provide reclining seats and additional leg room. In Business class you're guaranteed a quiet carriage, whilst in Executive class, you can use a meeting room.
You can only take your bike on board if you have disassembled it and placed it in a bike bag no larger than 80 x 110 x 40cm. You can bring folded bikes on trains.
Iryo pets policy lets you take your furry friend on board, but you must ensure they are on a lead or in a suitable pet box at all times.
You are only permitted to bring as much luggage as you can reasonably hold on Standard Class. If you have a lot of luggage, you should upgrade to premium Class, with no Iryo luggage limit.
If you have a disability, you should contact Iryo ahead of your journey so they can arrange for suitable assistance during your journey.
Sustainability train travel with Iryo
Due to the speed of Iryo trains in Spain and the number of passengers they can hold, it is far more sustainable than the same journey by car, bus or plane. Iryo trains emit fewer kilos of carbon dioxide per passenger than other modes of transport, so you can be sure that your journey is environmentally friendly.
Visit Spain with Iryo — Travel Tips
There are some great places in Spain your train ticket can get you to. From highlights in the capital city, such as Retiro Park and the Prado Museum, to the Camp Nou football stadium and La Rambla street in Barcelona, there are many iconic landmarks to visit. In Seville, you can explore the magnificent Plaza de España before visiting the historical site of Real Alcazar de Sevilla. Whereas in Valencia, you can cool off and enjoy the beautiful beaches or see some marine life at Oceanograpfic Valencia. Valencia is also a great place to enjoy the regional cuisine of Paella, which has become a world favourite. To find out more about The Best Things to do in Valencia, check out the city guide in the Window Seat magazine. For those visiting Zaragoza, the top of your list should be the spectacular Basilica de Nuestra Senora del Pilar.
Bernabeu Stadium
La Sagrada Familia
Plaza de Toros de Valencia
Catedral de Sevilla
Catedral Del Salvador de Zaragoza
FAQ's about Iryo
You can buy your Iryo ticket on the Omio website, using the search and filter functions.
You do not need to print your ticket; you can redeem it as a mobile e-ticket.
You may be eligible for a refund, but this depends on the ticket type. During the booking process, you can check to see if the Iryo ticket cancellation policy applies, as you may only be eligible for a partial refund.
You can usually exchange your Iryo train ticket before your departure, providing you pay the difference in fare. It's best to check the Iryo ticket change policy before booking, as this can vary depending on the class of your ticket.
In Standard Class, you must be able to carry your luggage yourself. In Premium Class and above, there are no baggage limitations.
You can take bikes on board trains if you fold them or store them in a bike bag with dimensions no larger than 80 x 110 x 40cm.
If you have reduced mobility or a disability, you can request assistance in advance by contacting Iryo, who will ensure a member of staff is on hand to help you with your journey.
All Iryo trains are accessible for people with reduced mobility or those who are in wheelchairs. This includes ramps onto the train, accessible toilets and the ability to move from your carriage to the restaurant carriage in a wheelchair
Normally, children above the age of 13 but below 18 can travel by themselves on trains in Spain with written permission from their parent or Guardian.
Every passenger will get a seat reservation with their ticket, so you'll be guaranteed a comfortable journey.
When travelling with Iryo, you can access food and drinks at the onboard restaurant. Some tickets also have free refreshments included in the price.
Book in advance to get the cheapest fares. The cost of your Iryo ticket will depend on the class. You can also check to see if you're eligible for a discounted ticket price, like a senior citizen discount. Keep tabs on Iryo social media channels to see if there are any current offers available.