Trains in St. Louis to Chicago
The Amtrak trains operate from St. Louis to Chicago, taking approximately 5h 30min to the union station in Chicago. Amtrak rail runs from St Louis, Missouri, to Chicago via Illinois. The train is a fast-speed train moving at an average speed of about ten miles in an hour. There are at least three to four direct trains, helping you travel without changing trains. They cover a distance of 254 miles (409 km), taking 6h 50min. Some speed trains take 5h 30min. Slowest trains may take up to 10h, significantly if you are changing trains on the way. The Texas eagle also makes a journey through the trip. However, whichever route you choose, the eye-catching scenery is something that will make your five-hour journey worthwhile.
Booking your train tickets from St. Louis to Chicago using Omio
Omio is the leading online booking platform. We have a user-friendly website that you can operate at two to three clicks on your computer; we have a step-by-step outlined easy procedure for your booking. All you need to do is go to the Omio website. When at it, choose your means of transport (train). Then enter the city you wish to travel to.
The best thing is that you can book two months before your departure date! It helps you to plan for your money while you have it. The next best thing is to cancel your ticket for a full refund eight days before the trip if you change your mind about the travel. In case of misunderstanding, we make follow-ups and ensure you get your ticket. Book with us now and secure your access.
Train companies Operating from St. Louis to Chicago
St Louis operates with the Amtrak Company. It serves two trains from St Louis to Chicago; the Texas eagle and the Lincoln service. However, the Lincoln service train is a regional route, making it cheaper than the Texas eagle, booked to Los Angeles. The Texas eagle has a sleeper's car to accommodate long-distance travel. Visit our booking page today and book your best seat now.
Popular international routes by train from St. Louis
St Louis to Los Vegas is one of the popular routes by train from St Louis; the journey will take approximately 22h 50min. The journey is long; it will need you to book a sleeper car. With Omio, it would only cost you $171. Another famous journey is St. Louis- Oakland train voyage. It costs only $338 for the whole 67h and 50min ride.
Other cruises you can try include the St Louis-New York route and the St. Louis-Sacramento route. Please have a look at our website and choose your destination from St Louis. Remember, with train voyages, you can always depend on our schedule in helping you return home within the same day, in short travels.
When arriving in Chicago
Chicago is one of the busiest cities in the US. From St. Louis, you will arrive in Chicago through the Chicago Union station. The station is close to the city, and it might cost you $3 by bus or a walk to the city Centre. Chicago is a multipolitant city, making it diverse in culture. You can grab a bite of your favorite meal in one of the restaurants or, better yet, try the Spanish dishes served in most hotels: they are delicious. You won't change currencies as the currency used in the US is the dollar.
Amtrak
It is the largest train provider in the US, owning over 600 mile (965 km) rail trucks. It has fast, medium, and slow trains operating in more than 500 destinations. The fastest train moves at a speed of 240 km/h. The state owns Amtrak; however, it runs as a profit-making entity, helping in generating revenue. Its headquarters are in Washington DC. It also extends its services beyond the US borders to nine Canadian cities. Amtrak has accommodation, food, and comfortable seats for long-distance travelers.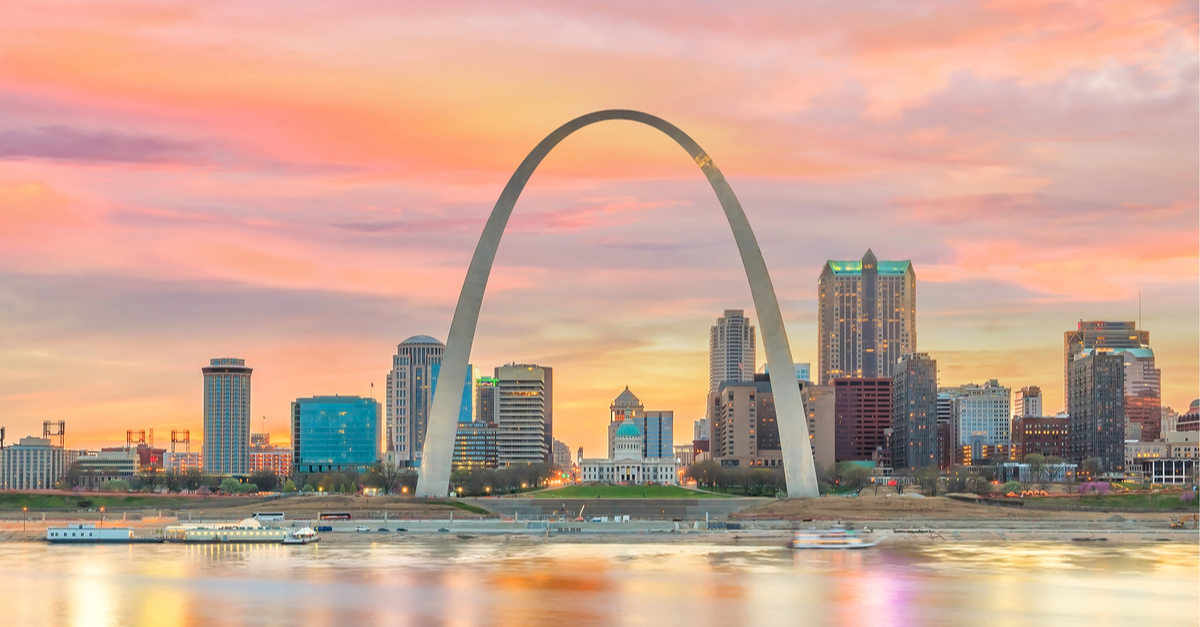 St Louis City Lights. Source: Shutterstock
Main train stations in St. Louis
St Louis union station is the central train station in St. Louis. It is also a historical icon, located in St. Louis, MO 63103, United States. It was among the initial train stations in the world. Central West End train station serves St. Louis Children's Hospital, St. Louis University High, Washington-University medical center, and the Barnes-Jewish Hospital. Its central position aids in learning activities and access to health facilities.
Popular route from St. Louis to Chicago
The Lincoln service route moves through eleven stations from ST Louis to Chicago union station (Alton, Carlinville, Springfield, Lincoln, Bloomington-Normal, Pontiac, Dwight, Joliet Union Station, and Summit). Trains operate from 4:34 p.m. to 5:30 p.m. daily. The route allows you to look at different towns and cities as you get to your destination. It also avails transportation for passengers traveling to cities between St. Louis and Chicago.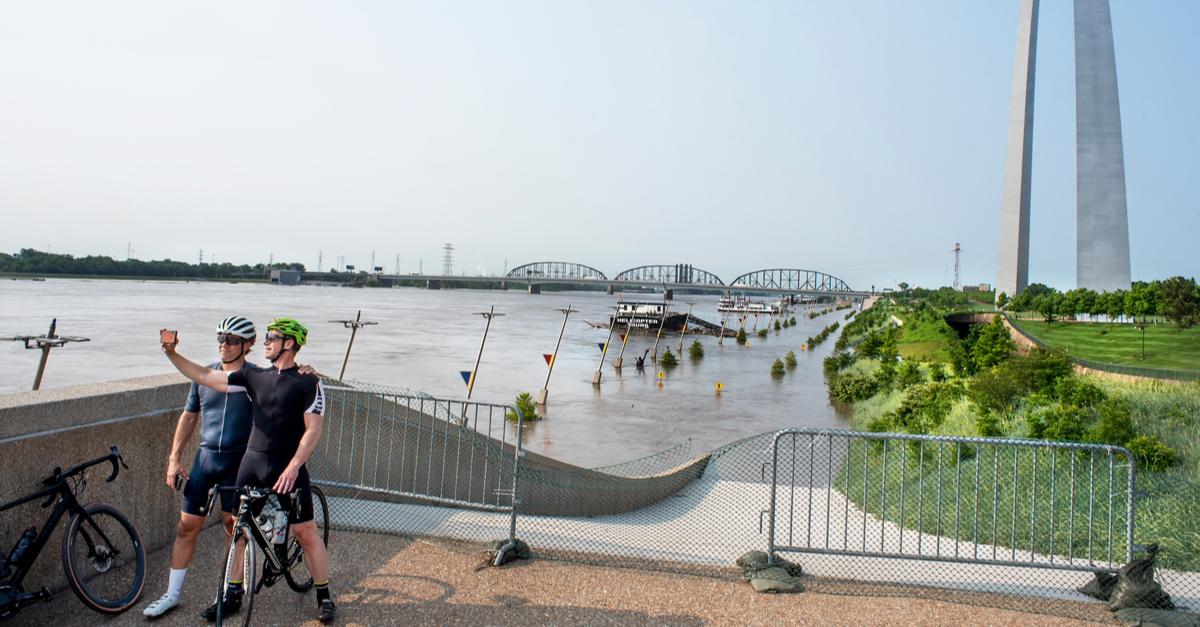 St Louis Bikers City. Source: Shutterstock
The famous journey from St Louis
The St. Louis Denver train route is the most popular, probably because Denver is the capital and has a widely known municipality in Colorado, US. The journey has breathtaking views, from the south plate valley in the high planes to the Rocky Mountains. Please book your ticket with us and visit the most incredible places. Don't miss out on the thrills and the beautiful scenery. Carry your camera and capture memorable moments through your travel. Other popular journeys that you should try are trips to New York City, Oakland, and California. Take your trip around the US. Book with us and experience your fascinating moments.
Good to know
Here are some of the points to note before you plan your journey. Carry with you a camera to capture the scenic view as you move through the country. Imagine all the beautiful pictures you will have in your gallery collection. Book your ticket as early as possible. Do not wait for the rush hour. You might miss your train. If you are planning on a journey, reserve your ticket two weeks before the travel. Arrive as early as one hour earlier before the departure time. It will give you plenty of time to make arrangements for your luggage and, importantly, ensure you don't miss your train.
To Chicago by train—travel tips
Chicago has friendly people. Its cultural diversity is beyond any state in the US. You will not miss a few artists taking videos of their new songs. Chicago is also the home of basketball; if you have never tried playing, it is fun you can try it. Almost all food types in the restaurant, from shallow fries to deep-fried, don't get surprised to find your favorite food on top of the menu list.
Use this chance and visit the Willis Tower. For a long 20-year period, it had maintained its position as the highest tower for twenty years. However, today it is the second-largest tower in the world. You have probably visited the beach; therefore, you can agree that it's a fantastic place to relax. After you have seen all the possible locations in Chicago, visit the beach and relax. Busking on the sand is not only relaxing but therapeutic too. Book your train from St. Louis to Chicago here. It is sure to be a train ride that you will never forget.