New direct Frecciarossa train between Rome Fiumicino to Naples
Trenitalia is intent on improving train connections throughout Italy as well as offering more sustainable travel options, making its latest route announcement an exciting one!
You can now travel by train directly from Rome's Fiumicino Airport to Naples. Meaning, if you're flying into Rome's Fiumicino 'Leonardo da Vinci' Airport, you don't need to take a connecting flight to Naples—you can take the train instead.
The service started on the 11th of July and uses Trenitalia's high-speed Frecciarossa trains, with the journey taking around two hours. You can book your Rome Fiumicino to Naples trains with Omio.
Buy your Trenitalia tickets directly with Omio
When you're looking to book your Trenitalia train tickets, purchasing them directly through the Omio platform is a very convenient way. Both the website and app offer a very visual way of comparing cheap train tickets, allowing you to filter by price, travel company, departure times and number of changes. With our free app you can easily access your tickets and all of your journey tickets. If you travel with Trenitalia you can also enjoy live journey updates, meaning you'll get notified if any platform changes or delays occur as well as when it's time to get off. Explore your train options on Omio and book Trenitalia train tickets from the comfort of your home or on the go.
Omio is an official partner of Trenitalia
Download the free Omio app
Consult our Customer Care 24/7
Booking Trenitalia tickets with Omio is easy, simply put in your departing and arriving city, as well as the date you want to travel and then we'll do all the hard work! We find all the possible routes for Trenitalia as well as other Italian train and bus companies. Allowing you to pick the best option for your journey.
Trenitalia Ticket Types
All Trenitalia tickets are offered as singles or return. Pre-purchasing Trenitalia tickets online and in advance often saves you money and allows you to take advantage of further discounts and promotions. Check out the different ticket types below:
Base Tickets: These tickets are great if you're looking for flexibility; a ticket of this type can be changed as many times as you need.
Economy Tickets: These tickets can be purchased up to two days before departure and allow you to change the time and date of travel once.
Super Economy: These tickets are the least expensive, although the date and time of travel cannot be changed.
Best Time to Book Trenitalia Trains
The further in advance you book your Trenitalia train tickets, the less money they'll cost you. The table below shows the differing cost of train tickets depending on how long before departure you book. Booking a month in advance can almost half the cost of most train tickets, so it's worth planning ahead!
Changes, refund and tickets conditions with Trenitalia
The ticket changes and refund policies when traveling with Trenitalia vary depending on the type of ticket purchased (Base, Economy or Super Economy). With Base and Economy tickets, it's possible to change your booking on the high-speed Trenitalia Freccia trains free of charge as long as you cover the difference in the ticket fare. This also applies to changing the cabin class you wish to travel in and your travel dates. Once the train has departed, however, it's not possible to make any more changes. With the Super Economy fares, it's not possible to make any changes to your train booking times and dates. If you purchased a Base fare for your trip, refunds are possible up to the departure time of the train. However, bear in mind that 20% of the original price of the ticket will be deducted from the amount refunded.
Trenitalia tickets from €35 for Milan-Paris route
Milan-Paris trains in less than 6h30 at a special price: the new route, operated by Trenitalia, lands on Omio!
Starting from the 20th of December it is possible to book tickets for the new Frecciarossa 1000 trains connecting Milan to Paris on the Omio website and app.
Omio is delighted to make available this new service offered by the Italian railway transport company, Trenitalia, which allows travelers to reach the French capital in less than seven hours. The maiden voyage departed at 6.25 am on Saturday 18th December from Milano Centrale, bound for Paris Gare de Lyon.
Omio users can book one of the four daily round trips from Milano Centrale to Paris Gare de Lyon, stopping in Turin, Modane, Chambéry and Lyon Part Dieu.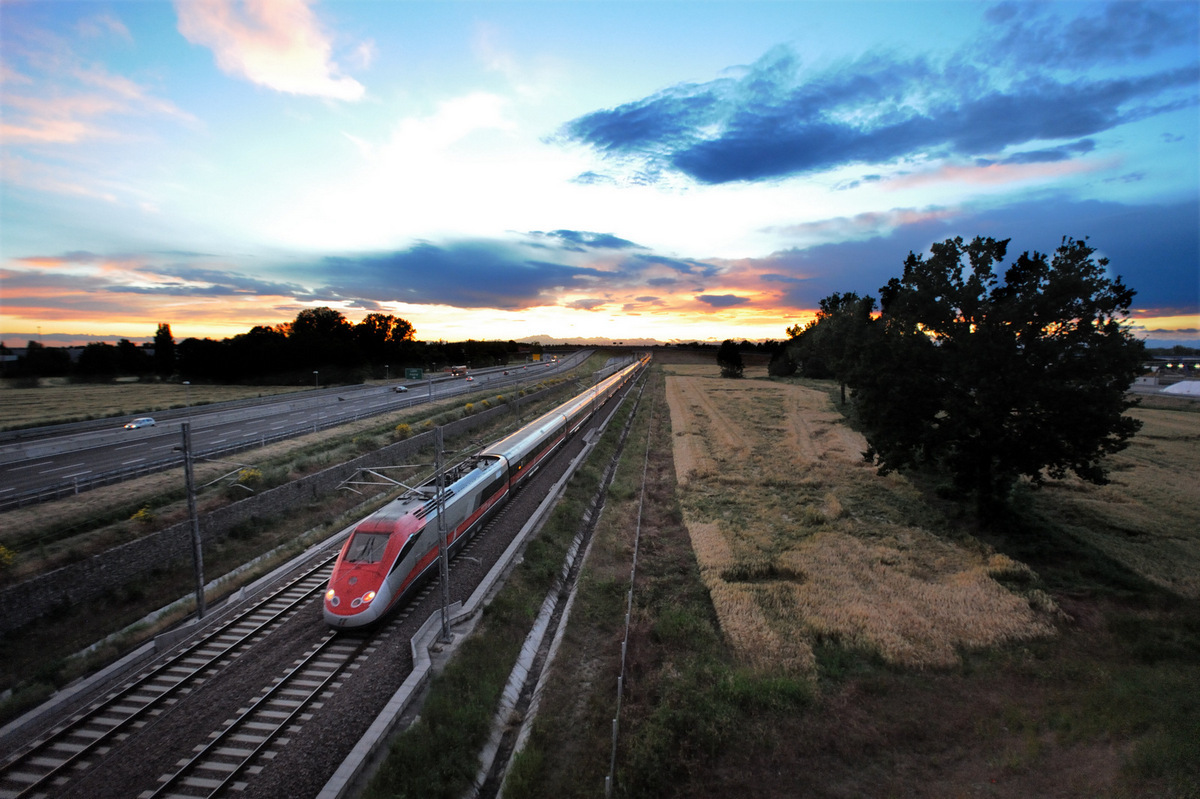 Trenitalia Frecciarossa Landscape. Source: Trenitalia
Popular Trenitalia journeys
Rome-Florence
The train journey going from Rome to Florence operates multiple times throughout the day. Trenitalia is just one of the train providers that make the journey. Nonetheless, it is the main train company in Italy. The Trenitalia trains from Rome to Florence can take as little as around 1h 17min on direct journeys, and up to about 6h 28min on night trains with a stopover. There are over 50 departures to Florence with Trenitalia Italy per day, a few times per hour. This provider offers trains departing from different stations around Rome such as the main Rome Termini, and also Rome Tiburtina and Rome Ostiense.
The train stations in Italy where the Trenitalia routes stop at in Florence are the Santa María Novella, Campo di Marte and Rifredi stations. Trenitalia offers a variety of train lines for this route, from high-speed trains to standard regional ones. The high-speed trains tend to be more expensive.
Milan-Rome
The trip by train between Milan and Rome is one of the most popular long-distance train routes in Italy. The distance these trains cover is approximately 296 miles (477 km). Trenitalia operates almost all of the routes going between these two Italian cities. The fastest Trenitalia ride to Rome from Milan is on the high-speed trains and can take as little as about 3 hours. These trips are nonstop and don't require passengers to change trains along the way. However, there are other journeys that make one or two stopovers and can take up to around 11 hours.
The Trenitalia train rides depart out of Milan multiple times per hour, making the trip at least 50 times a day. The highspeed Trenitalia Frecciarossa and Frecciabianca trains tend to be more expensive than the other regional and long-distance Trenitalia lines. The main departure station offered via Omio is Milan Centrale, and these routes normally arrive at Rome Termini station.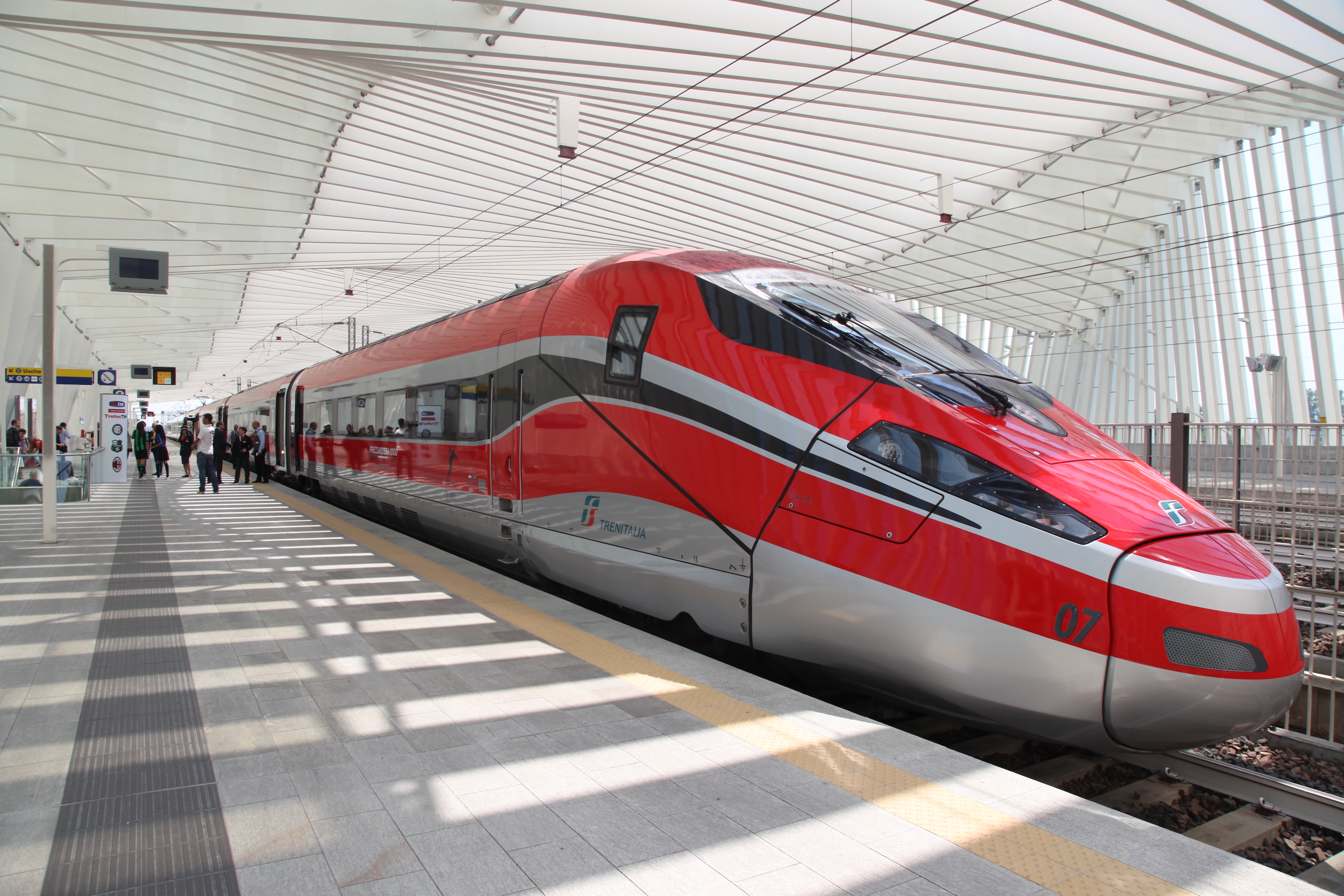 Trenitalia Frecciarossa Reggio Emilia Station. Source: Trenitalia
Milan-Florence
Book a train ticket from Milan to Florence through the Omio platform. There are more or less 40 departures per day going between these Italian cities, leaving Milan at least twice an hour. These trains cover a distance of approximately 167 miles (269 km). The duration of the Trenitalia journeys depends on the line operating the route. Trenitalia offers both high-speed trains as well as regional and standard long-distance routes. There are also some options that have one or two stopovers in between, extending the train ride a little bit more.
The fastest routes are on the Trenitalia Frecciarossa high-speed trains. The fastest Trenitalia journey from Milan to Florence takes more or less 1h 50min. However, there are some trips that can take up to around 6h 50min, such as the regional lines stopping at one or two stations along the way where passengers are required to switch trains.
Other popular routes in Europe with Trenitalia
There are more routes to travel by train in Italy, operated by Trenitalia. Find inspiration in the The Window Seat. A lot of these trips go through some of the main cities in Italy such as Rome or Milan, and to surrounding countries like Vienna, Zurich or Munich.
Rome-Vienna: The trains going from Rome, Italy to Vienna, Austria cover a distance of around 475 miles (765 km). The average route with Trenitalia takes at least 11h 50min. Currently, Trenitalia does not offer direct routes between Rome and Vienna through Omio, and one or two stopovers are required before arriving at the final destination in Vienna.
Zurich-Milan: The Zurich to Milan train journeys with Trenitalia are direct. They run more or less once every hour or two starting at around 6:33 a.m. until approximately 5:33 p.m. The Zurich train station is Zurich HB. As for the station in Milan, the routes mainly operate in and out of Milan Centrale Station.
Rome-Munich: The train routes going from Rome to Munich and back with Trenitalia are not direct. The journeys require passengers to switch trains at least once. The stops are generally in Verona, Italy. These trains cover a distance of about 434 miles (698 km) in around 9h 24min.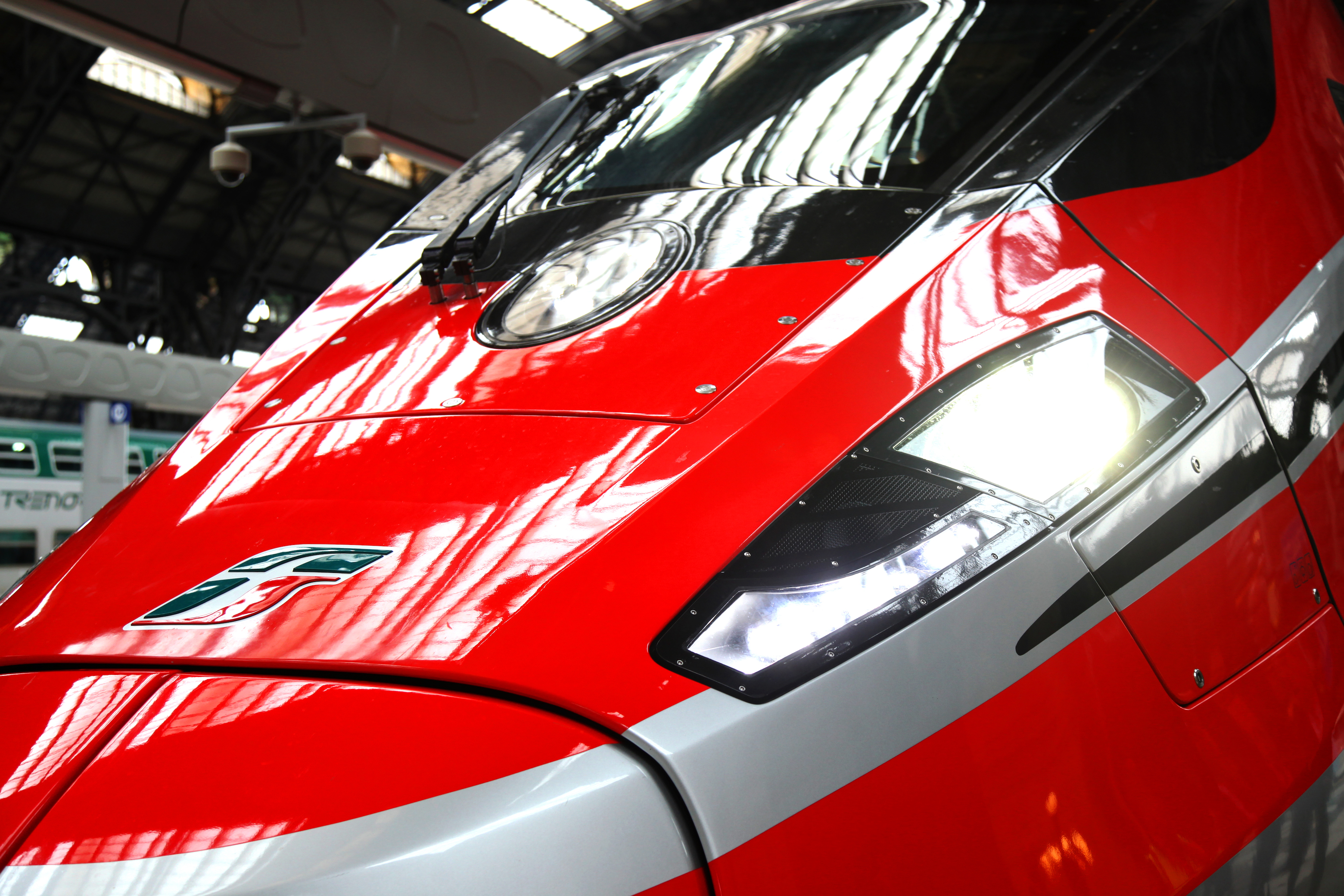 Trenitalia Front. Source: Trenitalia
Trenitalia Train Types
Frecciarossa
Frecciarossa is the fastest type of Trenitalia train, reaching speeds of up to 300 km/h.
Traditional Frecciarossa trains (known as ETR 500) connects more than 15 cities in Italy including Milan, Rome, Bologna, Florence, Naples, and Turin.
Frecciarossa 1000 (known as ETR 1000) trains travel the Naples-Rome-Milan-Turin route 28 times per day.
Frecciarossa 1000 trains can connect big cities such as Rome and Milan in under 3 hours.
All Trenitalia Frecciarossa trains include WiFi, power outlets, air conditioning, washrooms, luggage storage, restaurant and bar services.
Frecciargento
Frecciargento is the second fastest type of Trenitalia train, reaching speeds of up to 250 km/h.
Frecciargento trains travel between Rome and northeastern and southeastern Italy, several times a day.
Frecciargento trains services include WiFi, power outlets, air conditioning, luggage storage, washrooms, a dining car, and seats reserved for the disabled.
Frecciabianca
Frecciabianca trains run outside of the high-speed trainlines, reaching speeds up to 200 km/h.
Frecciabianca trains travel between many of Italy's biggest cities and along the Adriatic coast.
Frecciabianca runs approximately 86 trains per day and offers spacious seats, power outlets, washrooms, luggage storage and disabled seating.
Intercity
Intercity trains are slower than high-speed trains, but are still faster than local transport trains.
Trenitalia's Intercity trains connect approximately 200 cities throughout Italy.
Intercity Night trains travel overnight and serve the greater distances.
Intercity trains are equipped with air conditioning, washrooms, and disabled seating.
You can also take the regional trains which connect all of Italy's smaller areas, often frequented by commuters and students. Regional trains are operated by local companies.
Trenitalia Class Types
On board the Trenitalia Frecciarossa high-speed trains, you can choose between four seating classes and unlike many first class service options, they're all affordable! Trenitalia aims to accommodate every type of traveler (even those with a modest budget). Below are images of popular seating classes and summary of the services available on all class types:
Standard class: With Standard class, inclusive of your ticket, you'll also get:

WiFi
Tables
Bistro table service
Power sockets
Entertainment portal

Premium class: From €10 extra, with a Premium ticket you'll get:

All the standard class benefits
Large leather seats
Complimentary newspapers
Complimentary welcome drink (coffee, soft drink or prosecco)

Business class: From €33 extra, with a Business ticket you'll get:

All the standard and premium class benefits
More leg and elbow room
Table service
High quality, healthy Italian products
Trenitalia and sustainable travel
Traveling by train in Italy is currently the most eco-friendly method of long-distance travel, emitting the least amount of carbon dioxide. Trenitalia has the objective of reaching carbon neutrality by 2050. This will refer to both the energy it demands as well as the energy it produces. They are continuously promoting the use of the national railway system as a more sustainable way of getting around, attempting to reduce the use of private vehicles.
Night trains and routes with Trenitalia
Traveling on night trains is a great way of being efficient with your travel time, as well as reducing hotel and overnight expenses. Arriving the following morning in your next destination allows you to visit and see more. Trenitalia operates various night trains within Italy on the InterCity routes. These specific InterCity lines are called InterCityNotte. These overnight trips go from cities like Milan to other Italian cities such as Syracuse, Naples, or Palermo. From Rome, there are the same InterCity trains making the overnight trips within Italy to the same cities, as well as Venice and Bolzano.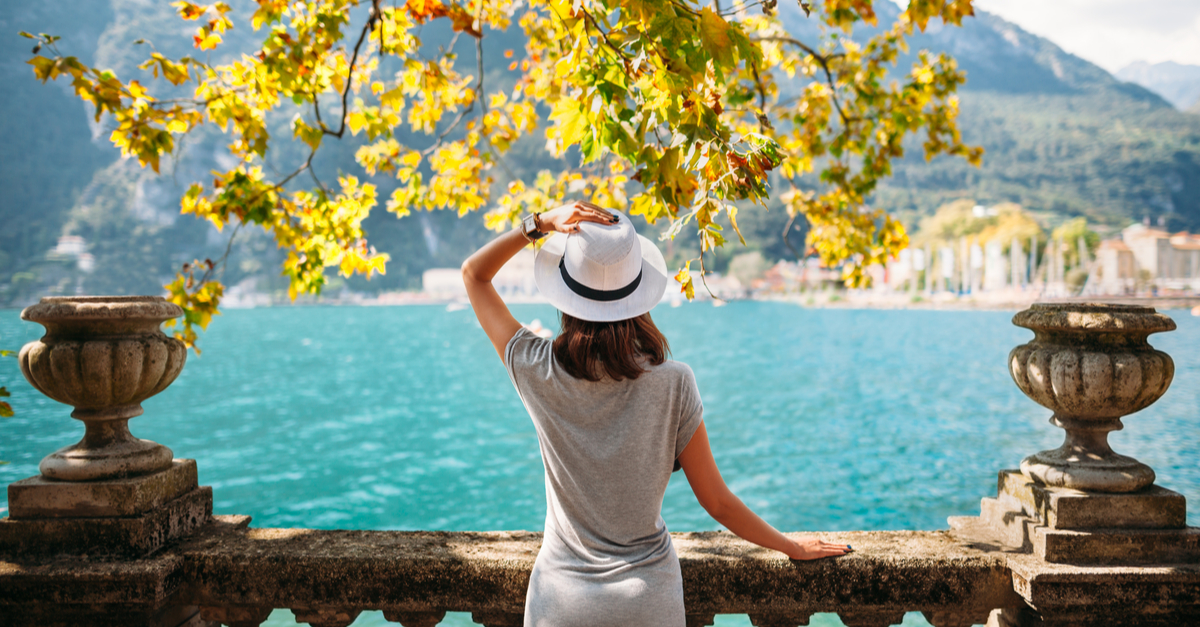 Trenitalia FAQ's
Where can I buy my Trenitalia train ticket?
Omio offers multiple Trenitalia options between large cities like Rome, Naples and Milan as well as other regional destinations. Booking through Omio is easy whether you do so on the website or the mobile app. It's a great way to see all your options by price or duration and purchase your tickets on the go.
Do I need to print my train ticket?
Generally, it's not necessary to print tickets, especially those considered mobile tickets. Mobile tickets can be accessed through the Omio mobile app. If mobile tickets are not available for the journey you're interested in, you will most likely receive an electronic ticket in your email.
Can I cancel my train ticket?
Canceling your tickets is possible through the Omio page where the tickets were purchased, on the "Your Bookings" page. However, any cancellation fees and possible refunds depend on the type of fare purchased and the services it includes.
Can I exchange my train ticket?
Making modifications to your Omio Trenitalia tickets is generally not possible, but depends on the type of fare purchased. However, these changes may be possible through the Trenitalia travel site.
What are the services available for people with reduced mobility?
Italian stations, where Trenitalia routes operate, offer the Sala Blu service. This is where passengers with reduced mobility may request assistance, if needed, for getting around the stations as well as boarding Trenitalia trains.
Are the trains adapted to persons with restricted mobility?
Most Trenitalia trains offer wheelchair-accessible seating, especially the long-distance and highspeed routes. In the case of the Trenitalia Frecciarossa high-speed trains, the accessible seating is located in first class. However, disabled passengers are charged a second-class fare.
Can children under 18 travel by themselves?
Yes, there aren't any policies indicating the contrary. There are no specific restrictions for the age of passengers on board Trenitalia trains traveling without an adult.
What is the luggage allowance per passenger?
Trenitalia does not have a specific luggage allowance per passenger. In general, you must be able to carry your own luggage and normally it's two suitcases per person, in addition to one hand luggage item.
How can I find the cheapest train tickets?
Omio allows travelers to filter their searches by price. It's always a good idea to book in advance to get more affordable prices. Being flexible also allows you to choose cheaper options.
Do I need a COVID test to travel by train?
You may be required to present a Digital COVID certificate or equivalent to board Trenitalia trains. However, this may change and it also depends on the departure and arrival station, especially if you are crossing country borders. Check the restrictions of the departure and arrival cities beforehand.
Do the trains offer any special services on board?
Most of the high-speed Freccia routes have a restaurant service on board their trains. In some cabin classes, a welcome drink or snack may be included in your train fare. Nonetheless, all Trenitalia trains have restrooms.
If I have questions about the route, is there assistance or someone to help me?
Omio has a Customer Help Center to assist travelers with their bookings. Through this platform it's possible to get more information on your routes as well as solve any questions about booking modifications.