Trenitalia's Train Types
Frecciarossa
Frecciarossa is the fastest type of Trenitalia train, reaching speeds of up to 186 mph (300 km/h).
Traditional Frecciarossa trains (known as ETR 500) connects major cities in Italy including Milan, Rome, Bologna, Florence, Naples, and Turin.
Class types: Standard, Frecciarossa Business, Frecciarossa Premium & Frecciarossa Executive
Frecciarossa 1000 (known as ETR 1000) trains travel the Naples-Rome-Milan-Turin route 28 times per day.
Frecciarossa 1000 trains can connect big cities such as Rome and Milan in under 3 hours.
All Trenitalia Frecciarossa trains include WiFi, power outlets, air conditioning, washrooms, luggage storage, restaurant and bar services.
Frecciarossa offers international routes to cities across Europe, including Milan to Paris
Frecciargento
Frecciargento is the second fastest type of Trenitalia train, reaching speeds of up to 155 mph (250 km/h).
Frecciargento trains travel between Rome and north-eastern and south-eastern Italy, several times a day.
Frecciargento trains services include WiFi, power outlets, air conditioning, luggage storage, washrooms, a dining car, and seats reserved for the disabled.
Frecciabianca
Frecciabianca trains run outside of the high-speed trainlines, reaching speeds up to 124 mph (200 km/h).
Frecciabianca trains travel between many of Italy's biggest cities and along the Adriatic coast.
Frecciabianca runs approximately 86 trains per day and offers spacious seats, power outlets, washrooms, luggage storage and disabled seating.
Intercity
Intercity trains are slower than high-speed trains, but are still faster than local transport trains.
Trenitalia's Intercity trains connect approximately 200 cities throughout Italy.
Intercity Night trains travel overnight and serve the greater distances.
Intercity trains are equipped with air conditioning, washrooms, and disabled seating.
You can also take the regional trains which connect all of Italy's smaller areas, often frequented by commuters and students. Regional trains are operated by local companies.
Discover train routes in Italy
Popular destinations with Trenitalia
Rome to Florence
The train journey going from Rome to Florence operates multiple times throughout the day. The Trenitalia trains from Rome to Florence can take as little as around 1h 17 min on direct journeys, and up to about 6h 28 min on night trains with a stopover. There are over 50 departures to Florence with Trenitalia Italy per day, a few times per hour. This provider offers trains departing from different stations around Rome such as the main Rome Termini, and also Rome Tiburtina and Rome Ostiense.
The train stations in Florence are the Santa María Novella, Campo di Marte and Rifredi stations. Trenitalia offers a variety of train lines for this route, from high-speed trains to standard, regional ones. The high-speed trains tend to be more expensive.
Milan to Rome
The train between Milan and Rome is one of the most popular long-distance train routes in Italy. The distance is approximately 296 miles (477 km). Trenitalia operates almost all of the routes going between these two Italian cities. The fastest Trenitalia train ride to Rome from Milan can take as little as about 3 hours. These trips are nonstop and don't require passengers to change trains along the way. However, there are other journeys that make one or two stopovers and can take up to around 11 hours.
The Trenitalia train departs fromMilan multiple times per hour, making the trip at least 50 times a day. The highspeed Trenitalia Frecciarossa and Frecciabianca trains tend to be more expensive than the other regional and long-distance Trenitalia lines. The main departure station offered via Omio is Milan Centrale, and these routes normally arrive at Rome Termini station.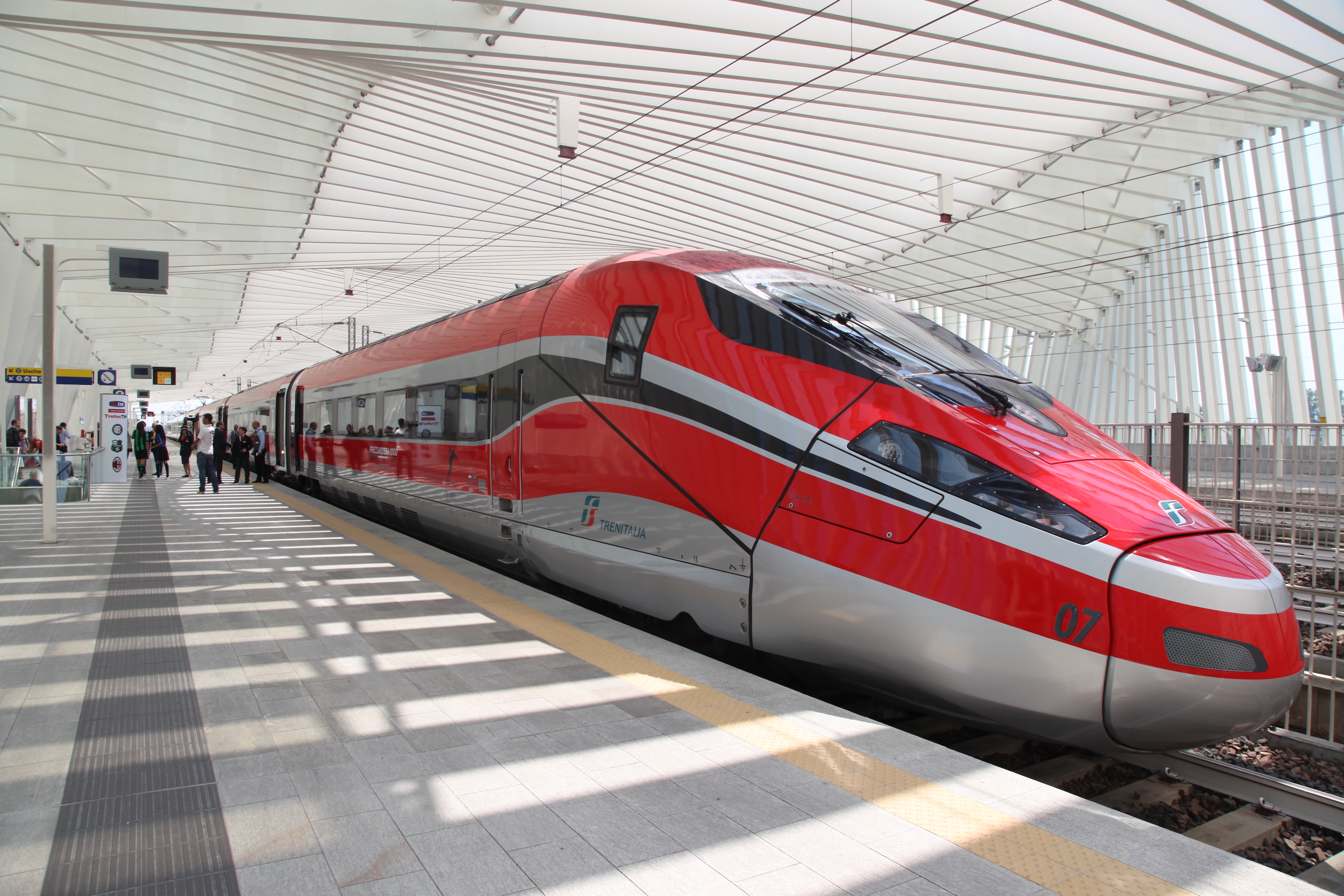 Trenitalia Frecciarossa Reggio Emilia Station. Source: Trenitalia
Milan to Florence
Book a train ticket from Milan to Florence through the Omio platform. There are around 40 departures per day going between these Italian cities, leaving Milan at least twice per hour. These trains cover a distance of approximately 167 miles (269 km) and Trenitalia offers both high-speed and standard long-distance trains. The fastest journey takes around 1h 50min. However, there are some trips that can take up to around 6h 50min, such as the regional lines stopping at one or two stations along the way where passengers are required to switch trains.
International rail travel to Europe with Trenitalia
There are an increasing number of train routes opening up scenic journeys between countries in mainland Europe. It's now easy and hassle-free to travel from one city center to another in Europe. Have a coffee by the colosseum in Rome for breakfast, and a beer by a Swiss lake later that day. There are many international routes to and from Italy, operated by Trenitalia. Find inspiration in our online magazine the Window Seat and take a look at things to do in cities such as Vienna, Zurich or Munich.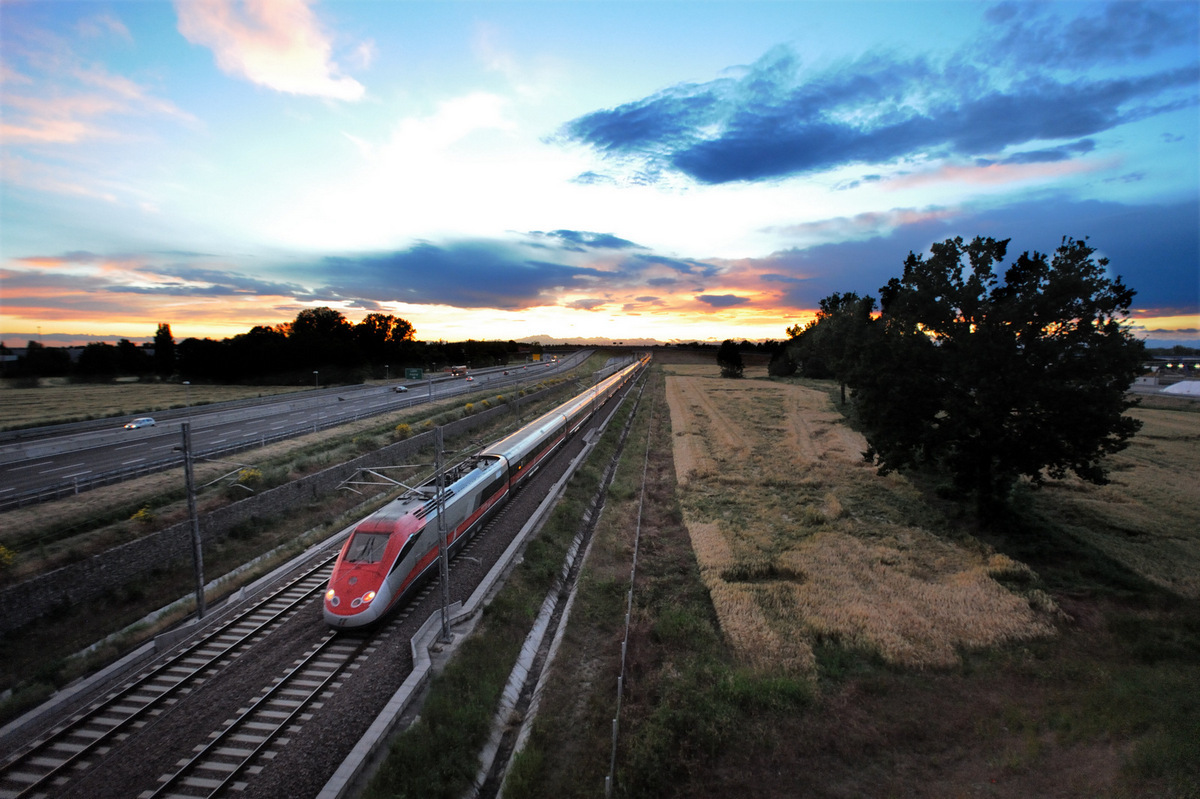 Easy airport transfers with Trenitalia
Trenitalia is now offering daily, high-speed train service that connects international airport hubs to Italy's biggest cities, including Rome, Milan, Naples, Florence and Venice. It's now easier to land in Rome or Milan and explore the rest of Italy's most iconic cities by train. There's no need to take a connecting flight, just hop on a Frecciarossa and enjoy a picturesque (and comfortable) journey instead. Check out some of the routes, Frecciarossa train schedules and destinations from Rome Fiumicino airport to the rest of Italy.
Trenitalia's summer train experience in Italy
Heading to Italy for your summer vacation? Over the summer holidays, Trenitalia opens up multiple routes from the North to Southern Italy, meaning you can take your dream vacation by train and visit the mountains by taking the Inter City (IC) train Rome to San Candido or visit the sea with a train from Milan to Savona. Some of the new summer stops include Polignano a Mare, Cattolica, Diamante, and Orbetello. The new routes include 8 new high-speeds trains from the North to Calabria, 32 new trains from Northern Italy to the Adriatic coast, and 13 from Rome to Puglia. Among them is the highly anticipated, high-speed Frecciarossa train to Pompei, close to the city of Naples. Two direct trains run every third Sunday from Rome's Termini train station and from Florence's Firenze train station to Pompeii.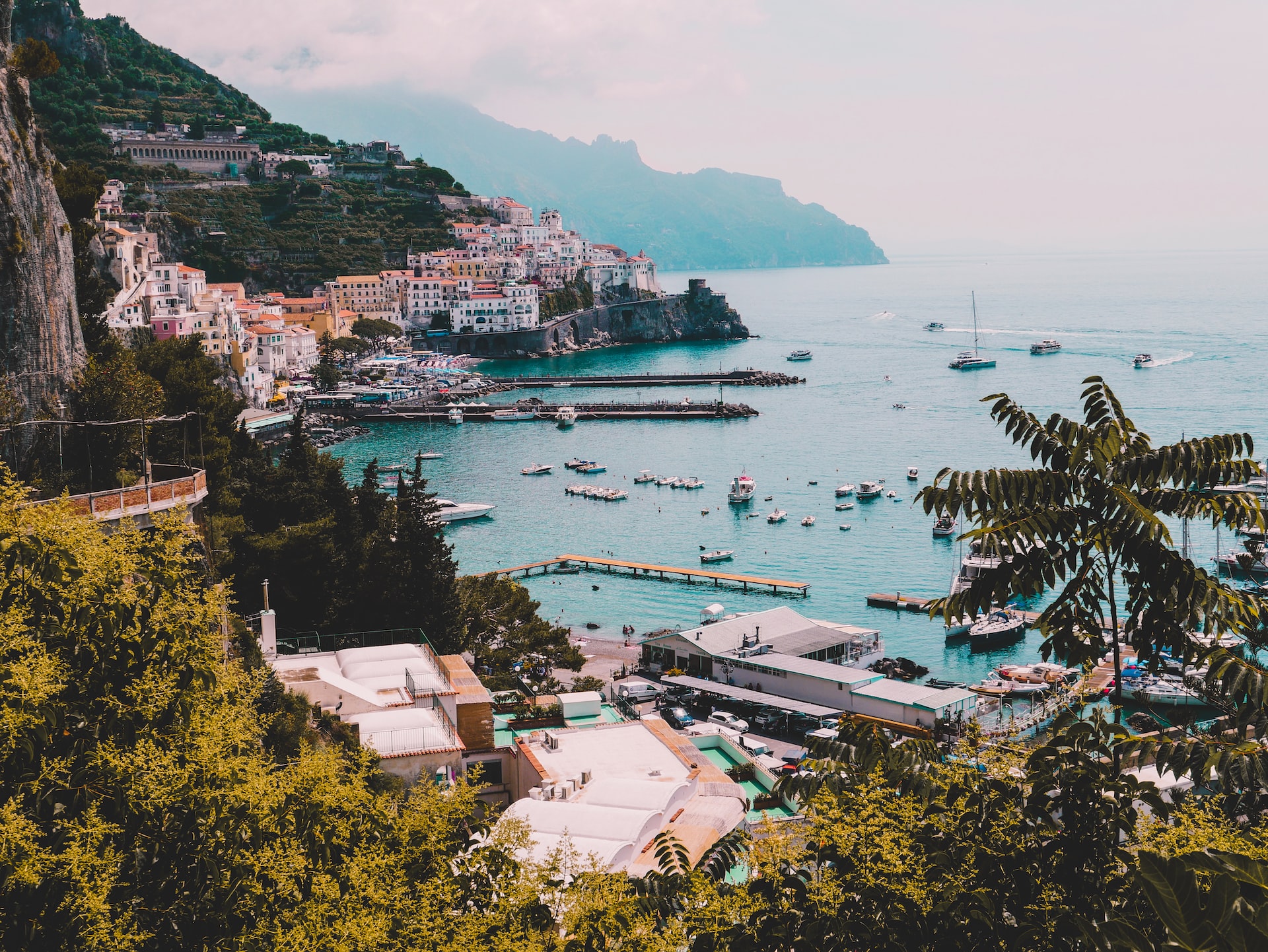 Italy's stunning Amalfi Coast. Source: Unsplash
More ways to travel with Trenitalia
To make vacations extra special, Trenitalia have teamed up with bus, ferry and plane providers to link up some of the most beautiful destinations across Italy. It's now possible to hop on a train then find an easy connection across the Gulf of Naples by ferry. You can take a Freccelink, a combination of train and bus, to seaside towns such as Sorrento, Piombino, Cecina, Vieste or Peschici. Or travel abroad on the train from Milan to Paris, with a stop in the mountain town of Bardonecchia en route.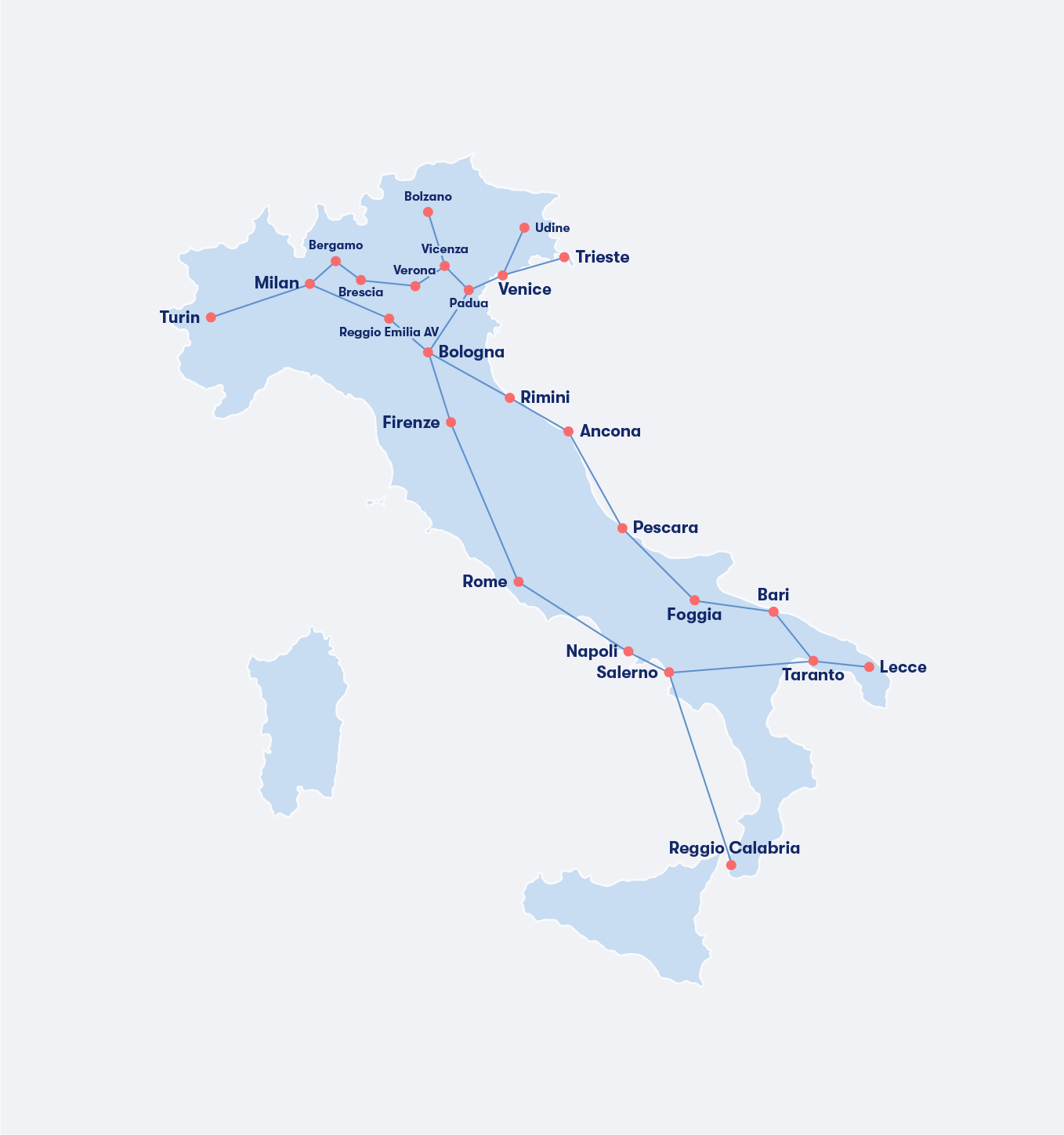 Frecciarossa Map connections in Italy
Best Time to Book Trenitalia Trains
The further in advance you book your Trenitalia train tickets, the less money they'll cost you. The table below shows the differing cost of train tickets depending on how long before departure you book. Booking a month in advance can almost half the cost of most train tickets, so it's worth planning ahead!
Changes, refund and ticket conditions with Trenitalia
The ticket changes and refund policies when traveling with Trenitalia vary depending on the type of ticket purchased (Base, Economy or Super Economy). With Base and Economy tickets, it's possible to change your booking on the high-speed Trenitalia Freccia trains free of charge as long as you cover the difference in the ticket fare. This also applies to changing the cabin class you wish to travel in and your travel dates. Once the train has departed, however, it's not possible to make any more changes. With the Super Economy fares, it's not possible to make any changes to your train booking times and dates. If you purchased a Base fare for your trip, refunds are possible up to the departure time of the train. However, bear in mind that 20% of the original price of the ticket will be deducted from the amount refunded.
Trenitalia and sustainable travel
Traveling by train in Italy is currently the most eco-friendly way to travel long distances, emitting the least amount of carbon dioxide. Trenitalia has made it one of its principle objectives to f reach carbon neutrality by 2050. This relates to both the energy it needs to run as well as the energy it produces. They are continuously promoting the use of the national railway system as a more sustainable way of getting around, attempting to reduce the use of private vehicles.
Night trains with Trenitalia
Looking for an overnight train adventure? Trenitalia have a number of trains making comfortable overnight journeys from one major city to another. These domestic, long-distance trains run under the name InterCity Notte and go from cities like Milan to Syracuse and Naples. There is even an overnight train from Rome to Palermo, where the entire train is pushed (shunted) onto a ferry. These trains are generally slower and are for travelers looking for an easy journey at a long-distance. Traveling on night trains is a great way of being efficient with your travel time, as well as reducing hotel and overnight expenses. There are various sleeping options from single or double cabins, to couchettes with multiple bunks.
Overnight train options across Europe operate under Trenitalia's Euronight trains. Routes are open to Vienna and Salzburg in Austria.
FAQs
Omio offers multiple Trenitalia options between large cities like Rome, Naples and Milan as well as other regional destinations. Booking through Omio is easy whether you do so on the website or the mobile app. It's a great way to see all your options by price or duration and purchase your tickets on the go.
Generally, it's not necessary to print tickets, especially those considered mobile tickets. Mobile tickets can be accessed through the
Omio mobile app
. If mobile tickets are not available for the journey you're interested in, you will most likely receive an electronic ticket in your email.
Canceling your tickets is possible through the Omio page where the tickets were purchased, on the "Your Bookings" page. However, any cancellation fees and possible refunds depend on the type of fare purchased and the services it includes.
Making modifications to your Omio Trenitalia tickets is generally not possible, but depends on the type of fare purchased. However, these changes may be possible through the Trenitalia travel site.
Italian stations, where Trenitalia routes operate, offer the Sala Blu service. This is where passengers with reduced mobility may request assistance, if needed, for getting around the stations as well as boarding Trenitalia trains.
Most Trenitalia trains offer wheelchair-accessible seating, especially the long-distance and high-speed routes. In the case of the Trenitalia Frecciarossa high-speed trains, the accessible seating is located in first class, however passengers will not be charged a higher fare.
Yes, there aren't any policies indicating the contrary. There are no specific restrictions for the age of passengers on board Trenitalia trains traveling without an adult.
Trenitalia does not have a specific luggage allowance per passenger. In general, you must be able to carry your own luggage and normally it's two suitcases per person, in addition to one hand luggage item.
Omio allows travelers to filter their searches by price. It's always a good idea to book in advance to get more affordable prices. Being flexible also allows you to choose cheaper options.
You may be required to present a Digital COVID certificate or equivalent to board Trenitalia trains. However, this may change and it also depends on the departure and arrival station, especially if you are crossing country borders. Check the restrictions of the departure and arrival cities beforehand.
Most of the high-speed Freccia routes have a restaurant service on board their trains. In some cabin classes, a welcome drink or snack may be included in your train fare. Nonetheless, all Trenitalia trains have restrooms.
Omio has a Customer Help Center to assist travelers with their bookings. Through this platform it's possible to get more information on your routes as well as solve any questions about booking modifications.