Bus from Barcelona to Madrid
For your bus from Barcelona to Madrid approximately 18 direct buses depart daily. The earliest bus departs around 7:00 a.m. and the latest bus around 8:00 p.m. The journey takes an average of 8h 4min, but the fastest bus can get you there in 7h 20min. The trip covers 313 miles (194 km) of scenic views and you'll arrive in Madrid in no time.
Barcelona to Madrid Bus Time: Daily Departures
For your bus to Barcelona from Madrid there are 18 direct buses daily. The buses run about every hour, so you won't have to wait long. The trip covers 313 miles (194 km) and takes 8h 4min. The earliest bus departs around 7:00 a.m. and the final bus around 8:00 p.m. These times change, so get the Omio App to get the latest travel news.
How long is the journey by bus from Barcelona to Madrid?
The bus from Barcelona to Madrid takes 8h 4min and covers 313 miles (194 km). The fastest bus can get you there in 7h 20min. For your journey, 18 direct buses depart close to every hour, and because there are no stops along the way, you'll get to Madrid faster. For your reading pleasure on the train, be sure to look at Window Seat magazine. It has lots of useful information about train travel.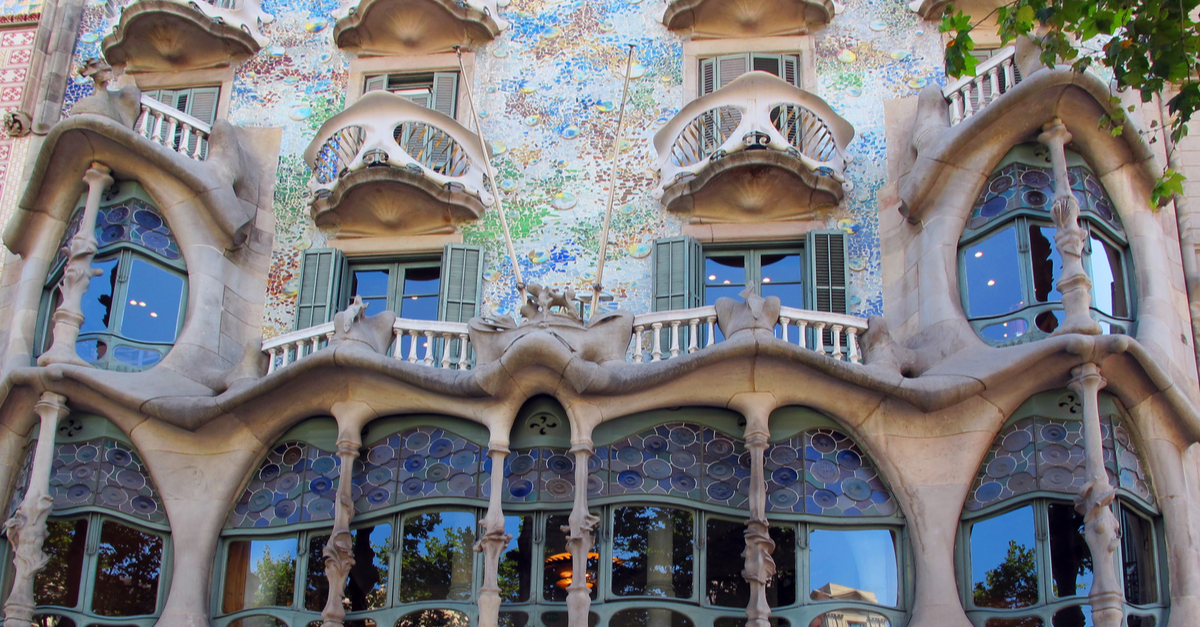 Casa Batllo in Barcelona. Source: Shutterstock
What are the departure and arrival stations for bus from Barcelona to Madrid?
Departure bus station: For your bus departing Barcelona to Madrid, the bus station is Barcelona Sants Station. Its located 0.5 miles (0.8 km) from the city center and the distance is easily walkable. You can take bus line 54 from Plaza Universitat or Metro line 1, but it's much easier to just walk the distance since it's so close to the station. Your other option is to hire a taxi, but again it's a short trip to the city center. The station has restaurants and shops, as well as charging stations.
Arrival bus station: While you can get Barcelona to Madrid tickets cheap at the station, the arrival station is Estación Sur. The station is only 1.8 miles (3 km) from the city center, and it's easily walkable and a great way to see the city. You can use public transportation by taking bus lines 8 or 102, and Metro line 6. These routes will take you to other connecting stops in the event you want to explore the area. You can also get a taxi at the station. The station has cafes and shops plus ATMs.
Which bus companies travel from Barcelona to Madrid?
Alsa bus company is the only carrier for your bus from Madrid to Barcelona, so you won't have to compare different buses. Alsa has 18 daily bus departures, and the service offers many choices when it comes to fares. Alsa has three different fares that are designed to save you money. Their fleet of sleek buses offers comfort during your journey, like adjustable seats and wide, panoramic windows. The earliest bus departs around 7:00 a.m. and the latest bus around 8:00 p.m. The trip to Madrid takes around 8h 4min, but some buses might get you there faster. If you book your Alsa bus early, you could save money on your fare. We recommend booking at least one month in advance.
Alsa buses from Barcelona to Madrid
While Alsa offers cheap tickets from Barcelona to Madrid, its superior service and buses make it one of the most popular bus travel providers in Europe. They have three different coaches that suit every budget, and their plush, adjustable seats and plentiful legroom make travel a joy. You also have three choices in fare options, from value to premium fares. Alsa has 18 different buses departing daily, and their efficient and friendly service makes travel an experience you'll never forget.
Traveling by bus is a sustainable journey
Your Barcelona to Madrid bus is more than just a bus ride, as travel by bus is one of the most sustainable ways to travel. Buses emit less Co2 than other forms of travel, and that's good for the environment. Alsa strives to improve its fleet of buses every year, with new technologies in fuel efficiency, and cutting-edge green engine improvements. So, the next time you book your fare, know that you're taking care of the earth.
Bus Barcelona to Madrid: Services on Board
For your Alsa bus from Madrid to Barcelona, there are so many choices when you book your bus fare. Alsa offers three different ticket choices, from a value fare to a premium fare, and this saves you money. You can also choose between three coach options, with a basic and premium bus for your journey. All Alsa's buses provide the ultimate comfort for your journey. Their luggage allowance lets you take up to 66 lbs (30 kg) of bags, plus a carry-on item. Alsa lets you take sports equipment like bicycles, too. The equipment must be covered, and bags are available for purchase in the event you don't have one. The coaches' floor-to-ceiling windows offer you magnificent views as you make your way on your scenic adventure. Alsa is a leader in facilitating passengers with disabilities, and all their buses include tools to get you where you want to go. Wheelchair lifts help simplify transfers, and special seats and spaces provide safe comfort during your trip.
How to find cheap bus tickets from Barcelona to Madrid?
For ideas on how to get from Barcelona to Madrid the cheapest way, we'd like to make a few suggestions. Overall, taking extra time to carefully organize your trip before booking tickets is the best course. Booking your tickets in advance will save you big on your trip. We recommend you book at least one month in advance, or even longer if you can. Trips booked early will discount tickets. Another option is to choose routes that have stops or that take longer. You should also be mindful of when you book your travel day. There are always certain days that are busier and more expensive, so pick a day like Monday for the best deals. Many times, you'll find discounts with specials, too. Buying more than one ticket often comes with deep discounts per ticket. The best course of action is to plan and study prices, routes, and the best time to travel.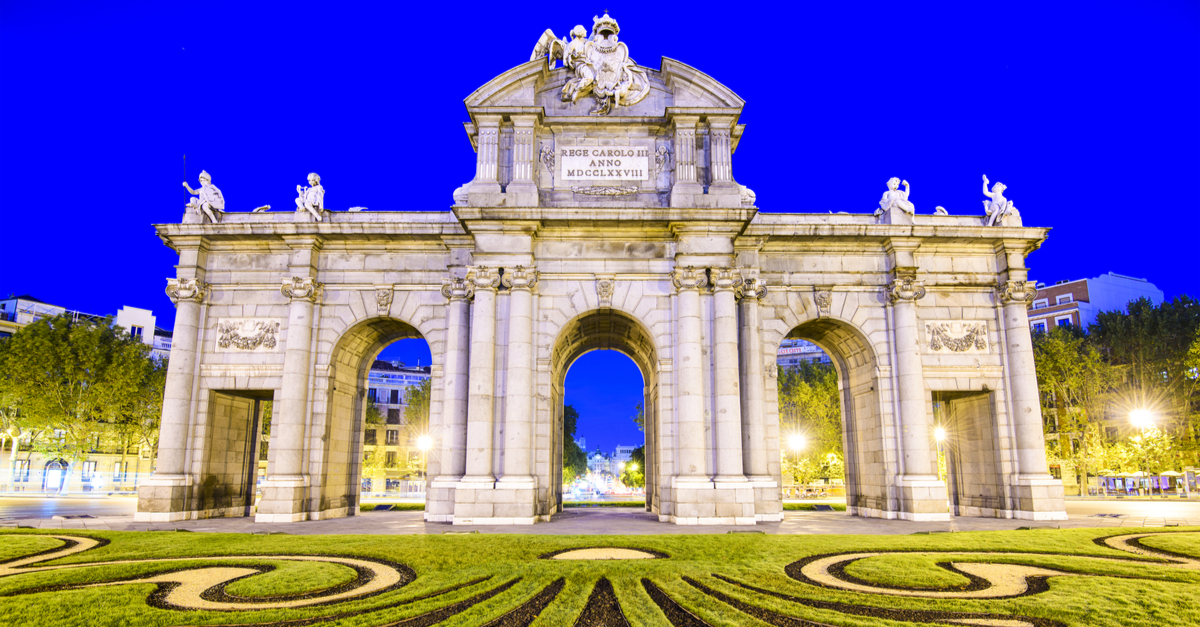 Puerta de Alcala in Madrid. Source: Shutterstock
To Madrid by bus—travel tips
After you arrive on your bus from Barcelona to Madrid, it's time to explore the city and see the sights. Madrid is a bustling European city, and you won't want to miss places like Plaza Mayor. This marvelous square is in the center of Madrid and surrounded by lively cafes, restaurants, and shops. It's a great place to grab a drink and people-watch. For a day of culture, spend it at the Prado Museum (Museo del Prado). We recommend skipping the lines and booking the tour, as you'll get a lesson in the history of all the pieces of art. It's an enormous place with a varied collection of art from all over the world. After, grab a bite at the café's that are around the museum. Madrid is full of world-renowned restaurants with famous chefs, and the food is locally sourced from the city's farmers and tradesmen. Don't miss these sites:
Retiro park
Reina Sofía
Matadero Madrid
Museum of Illusions
Dani by Four Seasons