Train to Amsterdam
There are twelve railway stations in operation throughout Amsterdam, with the primary station being Amsterdam Centraal Railway Station. This station provides service for nearly 200,000 people on a daily basis, and is the second-busiest train station in the Netherlands. It operates across eleven platforms and is the most popular national heritage site in the country. Other railway stations within the city include Amsterdam Amstel on the Amstel River, and Amsterdam Bijlmer Arena near Amsterdam ArenaA of AFC Ajax.
Amsterdam Centraal serves as the terminal station for some of the largest railway lines throughout Europe, and is connected to an elaborate system of tracks that make train travel an extremely popular option for residents and visitors alike. Some of the prominent cities connected to Amsterdam via train are London, Berlin, and Paris. Common routes that run on a more regular basis include destinations such as Basel, Switzerland and Hesse, Germany.
Nederlandse Spoorwegen to Amsterdam
The primary train company providing services via train to Amsterdam and throughout the surrounding area is Nederlandse Spoorwegen, the state-owned train company of the Netherlands. This company operates out of Utrecht Centraal railway station in Utrecht. It frequently stops at Rotterdam Centraal or Leiden Centraal before arriving at Amsterdam Centraal, which serves as a common terminal station for many of its routes. Nederlandse Spoorwegen operates nearly 5,000 domestic trains with over one million passengers each day. The company is owned by the government and has been operating since 1938.
Deutsche Bahn to Amsterdam
Another train company that is frequently operating services via train to Amsterdam is Deutsche Bahn, based in Berlin, Germany. This company frequently stops at Utrecht Centraal railway station in Utrecht, Netherlands or Köln Hauptbahnhof in Cologne, Germany before arriving at Amsterdam Centraal. A majority of the routes operating out of Germany will involve at least a connection through Deutsche Bahn.
Eurostar to Amsterdam
Trains to Amsterdam may also be operated by Eurostar, an international high-speed rail system. This company will stop at Brussels-South railway station and Rotterdam Centraal railway station before finishing its route at the terminal station of Amsterdam Centraal. Eurostar also operates routes that stop in major European cities such as London, Paris, Brussels, and Berlin.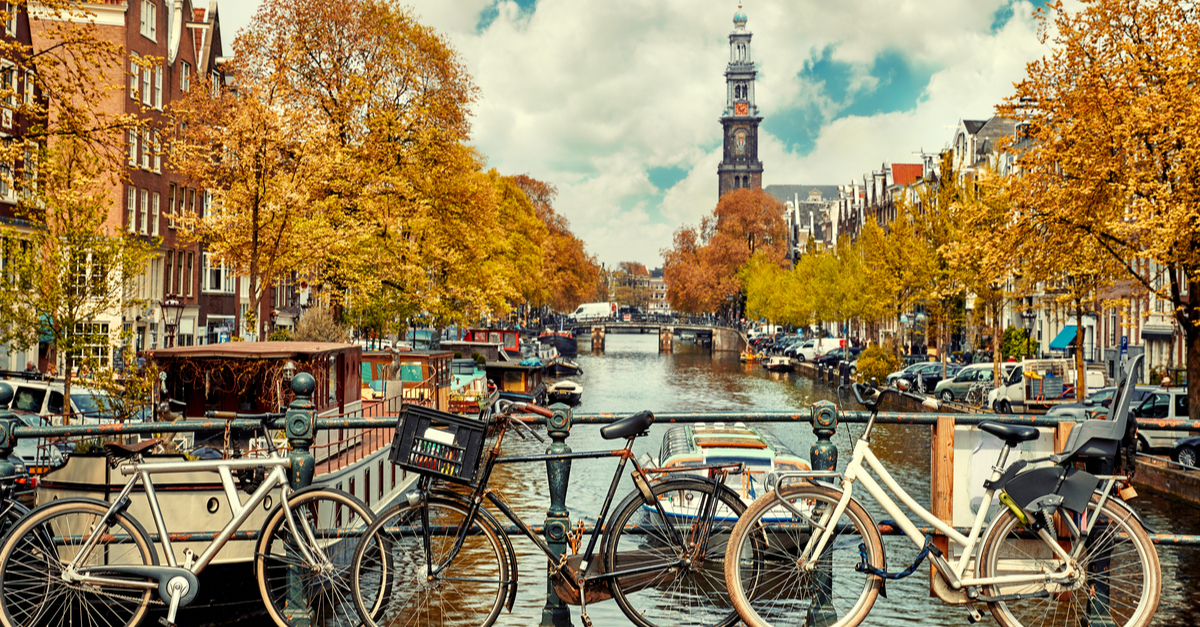 Amsterdam Canal Bike. Source: Shutterstock
Main train stations in Amsterdam
Out of the twelve available train stations throughout Amsterdam, the largest and most frequently used is Amsterdam Centraal railway station. With eleven platforms, eight international routes and 22 domestic routes, this station is a focal point for travel in Europe. Built in 1889, Amsterdam Centraal is located in the heart of the city center and offers easy connections to metro, tram, and bus transportation.
There are several other smaller stations dispersed throughout Amsterdam and its surrounding boroughs. Amsterdam Amstel railway station is located on the route from Amsterdam to Utrecht, and is found near the Amstel River in Amsterdam-Oost. The main station for Southeast Amsterdam is Amsterdam Bijlmer ArenA, which is also the primary stop for Amsterdam ArenA - home of AFC Ajax. Another station in the southeast region of the city is Amsterdam Holendrecht railway station, which is close to the University of Amsterdam's Academic Medical Center.
In West Amsterdam, you can find Amsterdam Lelylaan railway station, which serves as a stop for Amsterdam Municipality Transportation Company's metro, tram, and bus routes. Located in Southern Amsterdam near the RAI Exhibition Hall is Amsterdam RAI Station, which was recently expanded to offer services on four tracks. Amsterdam Science Park railway station is found in the Amsterdam-Oost borough near Science Park, Amsterdam University College, and Watergraafsmeer.
Onboard facilities Amsterdam
When you travel with trusted names like Nederlandse Spoorwegen, Deutsche Bahn and Eurostar, you can expect convenient amenities and quality facilities. Coaches provide complimentary Wi-Fi, streaming entertainment, electrical sockets, restrooms, quiet zones, and baby-changing facilities. There are even works of art in the long-distance trains, along with drinks and meals available in dining cars. Many long-distance tickets include complimentary meals and refreshments during the journey, which can be eaten in the dining cars, personal seats, or overlooking the scenery in lounge cars. If you need to get some work done while you travel, there are work cars dedicated to business and reading on long-distance Eurostar coaches.
Train tickets to Amsterdam: useful to know
You can save time, paper and the hassle of printing tickets by using a mobile ticket instead. These electronic tickets can be saved onto your smartphone or mobile device and scanned for proof of purchase. These QR codes can be used to enter through ticketing gates and while on board the train. You will need a valid form of identification to accompany your ticket, and it must match the name you have on your ticket.
Be sure to keep your device charged when you anticipate traveling via trains to Amsterdam, as you will need power to scan your ticket when necessary. The easiest way to simplify your travel and keep your tickets safe is by purchasing travel through Omio. You can compare prices, check for the schedule that best fits your timeline, and store tickets in your Omio account to ensure your journey is smooth and enjoyable.
Amsterdam Girl Street. Source: Shutterstock
To Amsterdam by train—travel tips
Upon your arrival in Amsterdam, you can find your way around the city using the extensive public transit system. You can use any of the buses, trams, and metros with a public transport chip card, commonly known as the OV Chip Card or OV Chipkaart. You can purchase an OV Chip Card in advance or while you board the trams, buses, or metros. These cards are pre loaded for unlimited travel between hours and multiple days.
Be sure to bring your debit or credit card, and there is no cash accepted on the buses and trams when you purchase rides. Between sixteen tram routes and five metro routes, many of which connect directly to Amsterdam Centraal, you can visit unique locations such as the Amsterdam Stock Exchange. This is the oldest stock exchange in the world, operating since its founding in 1602 by the Dutch East India Company.
You can take a free tour of the historic building, see the original trading floor, and participate in a trading simulation. If you need a lift across the IJ River, you can take advantage of the free ferry system for pedestrians, cyclists, and mopeds. The most popular ferry route departs from behind Amsterdam Centraal and connects to Amsterdam Noord. You can also ride the ferry to IJplein and NDSM Wharf, which has evolved into a culinary and entertainment hotspot.
As the former residence of notable figures like Vincent Van Gogh and Anne Frank, Amsterdam is full of historic landmarks and exciting attractions. There is an entire museum dedicated to the life and work of Van Gogh, and you can visit the house where Anne Frank and her family lived in secret. No visit to Amsterdam is complete without a ride through the iconic canals, which earned this city the appropriate nickname as "Venice of the North." For a deeper appreciation of these canals and the history of Amsterdam, make a visit to the Rijksmuseum.
This museum is dedicated to the history of Amsterdam and the Netherlands, from the Middle Ages to modern times. It even includes works of art from notable Amsterdam artists like Rembrandt, Frans Hals, and Vermeer. Before you leave, be sure to grab a Kroket - a crispy snack that is filled with meat and popular among locals and visitors alike. For dessert, enjoy an authentic Netherlands stroopwafel - two thin wafer cookies with a caramel filling between them.