Trains from Vienna to Budapest
On average, 18 trains leave the Vienna Hauptbahnhof station to Budapest in a day. At least 12 are direct trains. However, the frequency of trains leaving for Budapest depends on peak seasons, holidays, weekends and events. It takes a minimum of 3h 13min for a direct train to cover the 133 miles (214 km). High-speed trains traveling more than 185 mph (300 km/h) take 2h 35min.
Vienna to Budapest Train Time: Daily Departures
Depending on the number of trains scheduled to journey in a day, the interval between each train departure may vary from 30min to 1h. For example, the first train is expected to depart at around 6:30 a.m. and the last train at around 10:00 p.m. However, if you plan to use the first train for your travel, ensure you check the departure time on the ticket and arrive 30min earlier than the indicated time.
How long is the journey by train from Vienna to Budapest?
When traveling by train from Vienna to Budapest, you can use two types of trains: direct or connecting trains. Direct trains travel to the destination without stopping along the way for passengers to change trains. Connection trains may be heading to other routes and will drop you off on the way for you to take another train to your destination. If you are using direct trains, the average time to arrive at Budapest is 3h 13min. However, if you are taking connection trains, the journey may take you 8h 20min.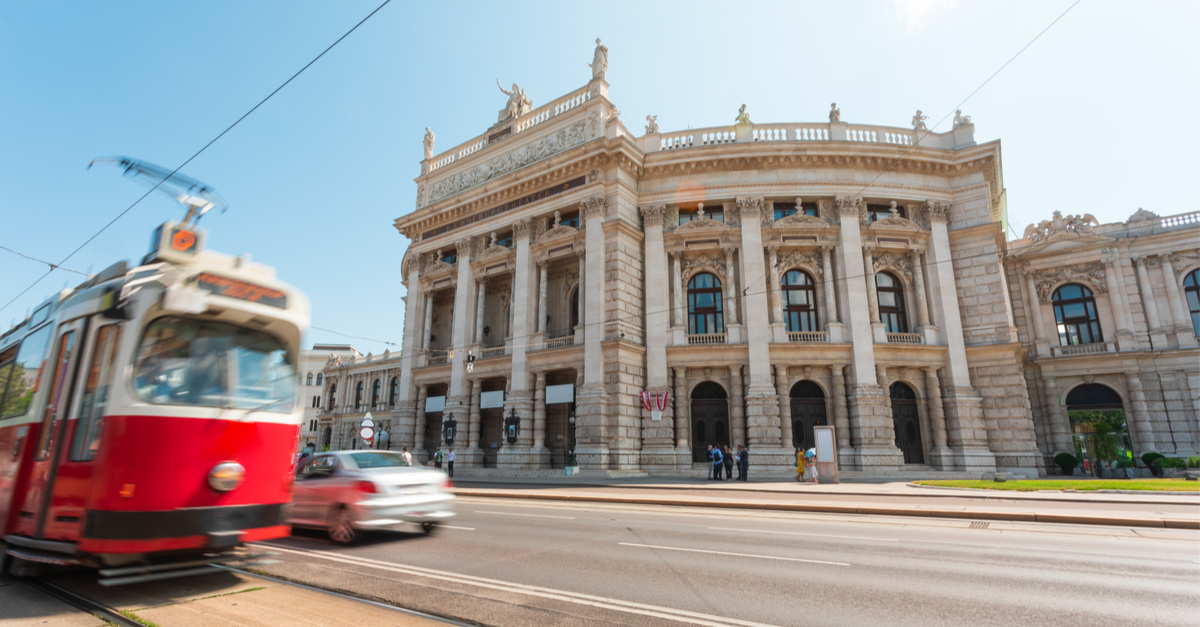 Burgtheater in Vienna. Source: Shutterstock
What are the departure and arrival stations for trains from Vienna to Budapest?
Departure train station:You will depart from the Wien Westbahnhof train station for your journey to Budapest. It's not a problem to get to the station as you can take a taxi from the city center to the station, or use the metro or bus to travel the 1.8 miles (2.9 km) distance. There is a lounge where you can wait for your train to arrive and toilets where you can freshen up before your journey begins. Other amenities include luggage storage and shops to buy a snack for your journey.
Arrival train station: Budapest-Déli train station is your arrival station in Budapest. The station has facilities such as ATMs and restrooms. Also, if you arrive when hungry, there is a cafeteria and restaurants where you can have something to eat. The distance between the station and the central city is about 2.2 miles (3.5 km). You can walk to the city center in approximately 35min if you love walking. However, the best way to get to the city, especially with luggage, is via the metro or a taxi.
Which train companies travel from Vienna to Budapest?
The company operating from Vienna to Budapest is ÖBB. It owns several trains such as the Euro City (EC), ÖBB, REX, ÖBB, Regionalzug, InterCity, ÖBB, and Railjet, ÖBB. Most trains are high-speed, ranging from 140 mph (230km/h) to 190 mph (310km/h). Most trains in the day have a direct connection, and two or three change passengers on the way. If you want to save some cash, you can choose a connecting train, but they are slower. However, consider taking a direct train if you are in a hurry. Omio will help you choose your preferred ticket, depending on your budget.
Night trains Vienna
OBB has night trains called night jets. The trains are comfortable with adequate leg allowance and slightly inclining seats. The train has a sleeper cabin, couchette and seating carriage. The trains also have breakfast options before you alight the train in the morning. On some trains, you can carry your car or motorcycle. However, you are required to carry the necessary documents to show ownership.
OBB trains from Vienna to Budapest
At least 18 OBB trains leave for Budapest from Vienna on a typical day. OBB has a variety of trains you can book depending on comfort, time of travel, and speed. Most of their high-speed trains take 3h or less to make the journey. Slow trains, as well as connecting trains, are cheaper compared to other trains. The ticket price you purchase also depends on the cabin you are traveling in. for instance, economy cars are way cheaper compared to first-class.
Trains from Vienna to Budapest: Sustainability travel
OBB has shown remarkable progress in ecology, economy and social responsibility and ensures an eco-friendly relationship with nature. Its ambition is to own trains with an almost zero carbon dioxide emission in the future. With the introduction of high-speed electric trains, the carbon emission by train has decreased significantly. Currently, train travel is the most environmentally sustainable mode of transport.
Train Vienna to Budapest: Services on Board
The OBBrailjet has economy class, first-class and business class travel cars. The economy class carries most passengers. It has amenities such as folding tables where you can secure your laptop as you type, a power outlet per seat, snacks and beverages, luggage compartments, onboard Wi-Fi, magazines and five bicycle stands. The first class and the business cabin offer extra comfort for passengers. You can work on your computer or have a peaceful nap as you travel. Traveling in business class allows you to choose a beverage free of charge. In addition, OBB has unique facilities and equipment for people with difficulty walking and those in wheelchairs to make their travel as comfortable as possible. You can carry your bicycle on board. However, you should indicate that you are traveling with a bicycle in advance and carry the necessary documents to prove ownership.
How to find cheap train tickets from Vienna to Budapest?
Booking with Omio will help you find cheap tickets from Vienna to Budapest. Omio compares different train fares in a day. Depending on how much you want to spend, you can easily choose the train you want to travel in. You can also obtain cheap tickets by booking in advance. Booking earlier can give you up to a 20% ticket discount. Also, if you want to travel cheaply, consider being flexible with travel dates. Some dates are pocket friendly. You can also travel in slow trains or connecting trains as they are usually cheaper. However, such trains have fewer amenities and can take double or triple the time of the fastest high-speed train.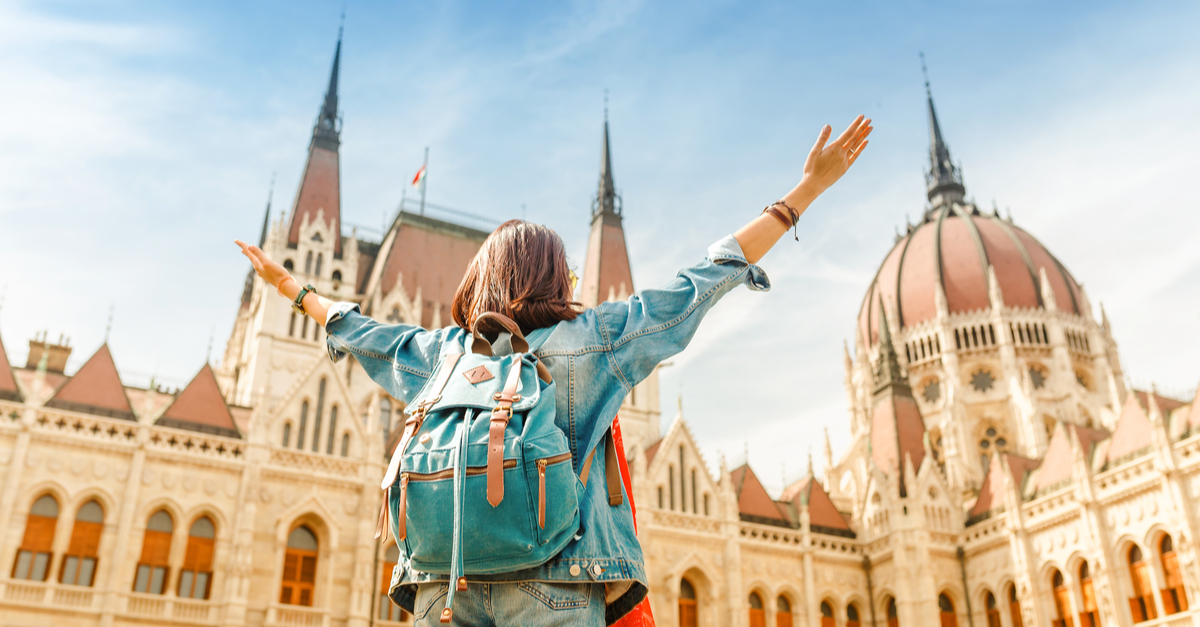 Tourist visiting Budapest. Source: Shutterstock
To Budapest by train—travel tips
Budapest is a beautiful city. If you are traveling for the first time, you will have some memories to cherish. The city has a unique folk culture that visitors love to see. In addition, it has different ethnic groups, making the city culturally diverse. When in Budapest, ensure you visit the Danube at night. The view of the lit-up parliament building reflected on the river is a view you can't forget. Castle Hill is also a place you might love. Other things you can do are stroll along the Danube River, relax at the Szechenyi Baths, and ride tram 2 along the river with locals. You can also find out more places you can visit while in Budapest with the help of the Omio magazine.
Heroes' Square
St. Stephen's Basilica
House of Terror
Margaret Island
See the Budapest memorial shoes