Trains from Copenhagen to Malmo
Trains from Copenhagen to Malmo are a reliable and efficient way of traveling. A train ride leaves from the Malmo City center, saving you the hassle of commuting from the arrival point to the center. Moreover, you won't have to worry about finding a parking area or paying outrageous parking fees when you travel by train. Malmo lies 17 miles (28 km) from Copenhagen, and the average train ride takes 39min. There are about 25 trains traveling daily from Copenhagen to Malmo, and trains are provided by Oresundstag and SJ. There are trains with direct transfers and others with stops.
Copenhagen to Malmo Train time: Daily departure
Daily, about 25 trains operate services from Copenhagen to Malmo. This means that there are about 175 trains weekly providing services on this route. The first train leaves Copenhagen at around 1:07 a.m., while the last train is at around 11:47 p.m. Departure hours may vary depending on the day of the week and the season of the year. Omio provides all schedules for travelers to get the most convenient option.
How long is the journey by train from Copenhagen to Malmo?
The average journey time for trains from Copenhagen to Malmo is 39min. Trains offer direct and connecting services, and the journey time may vary depending on the number of stops along the route. One-stop trains can take up to 1h with a layover at Tarnby.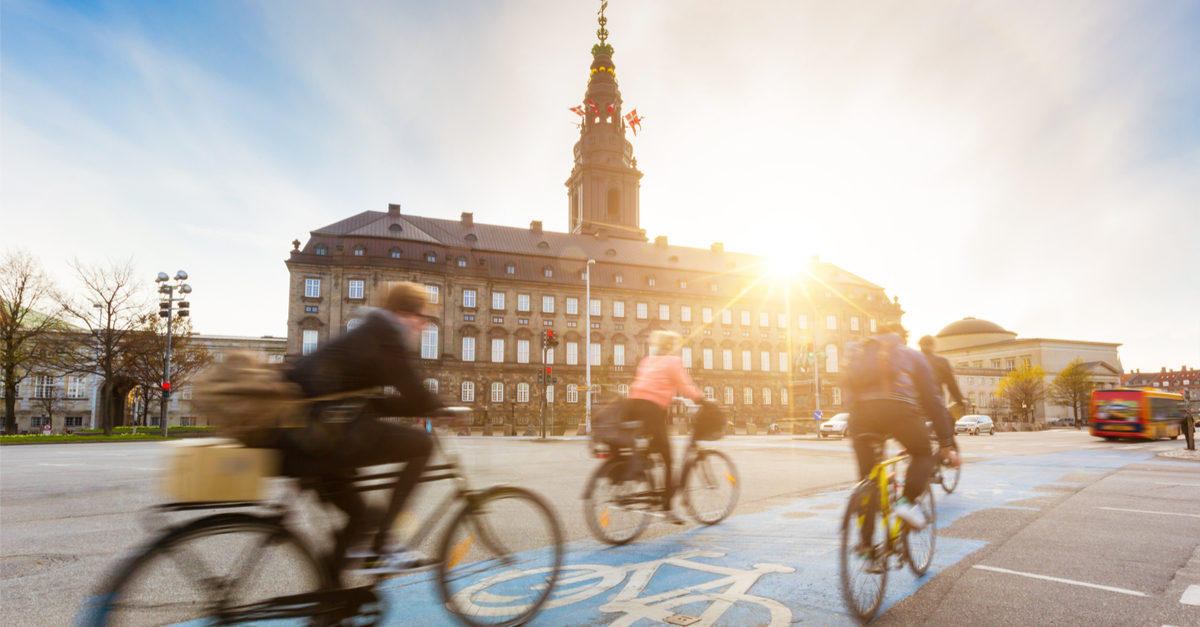 Christiansborg Palace with bikes in Copenhagen. Source: Shutterstock
What are the departure and arrival stations for trains from Copenhagen to Malmo?
Departure train station: Trains from Copenhagen to Malmo start their journeys at Copenhagen Central train station. It offers a post office, bakeries, eateries, baby changing facilities, showers, luggage storage areas, and a lost items area. There is a shopping center, washrooms, and a ticket office. Travelers can go to the station by bus or train. Bus lines 11, 5C, 68, and 7A stop at the station. Train lines A, B, BX, and E also operate services from other locations to the station.
Arrival train station:Trains arrive at Malmo Central station, which operates daily from around 4:40 a.m. to 12 a.m. The modern station provides ATMs, storage lockers, and a lost and found area. Additional amenities include food courts, shops, bars, an information desk, and public restrooms. It also features a parking area and free Wi-Fi for travelers' entertainment. Travelers can travel from the station via bus 8. There are also train services from the station to other destinations in Malmo. Travelers can also hail a taxi or book a private transfer.
Which train companies travel from Copenhagen to Malmo?
Trains from Copenhagen to Malmo are operated by SJ and Oresundstag. The latter is part of a regional train network that operates services from Denmark to Sweden. SJ is a government-owned passenger train operator in Sweden.
Night trains in Copenhagen
Interrail trains provide sleepers and couchettes that facilitate overnight travel. Sleeper trains offer travelers economy and first-class options. Sleeper trains feature a washbasin, showers, and toilets. Travelers on night trains receive complimentary snacks and water bottles alongside their preferred breakfast. Couchette cars come with four to six beds and are suitable for groups of travelers and families. They provide travelers with clean bedding, breakfast, wake-up services, and mineral water. Couchette cars also offer separated gender compartments and women-only sections.
Oresundstag Trains from Copenhagen to Malmo
Oresundstag provides the most services from Copenhagen to Malmo. It operates regional trains that offer direct services from Copenhagen to Malmo. They operate at an average speed of 112 mph (180 km/h). Oresundstag provides 20 daily trains from Copenhagen to Malmo. They also provide connecting trains with one layover at Tarnby.
SJ trains from Copenhagen to Malmo
SJ provides five daily trains from Copenhagen to Malmo. They offer high-speed trains along this route, which operate at an average speed of 125 mph (200 km/h). They all provide direct services from Copenhagen to Malmo.
Trains from Copenhagen to Malmo: Sustainability Travel
Trains are one of the most sustainable means of transport. They only represent a small percentage of the transport sector's total emissions. They also consume less energy, which equals a tenth of the energy that aircraft and cars use. Trains are super durable and can go for up to 50 years without the need to invest regularly in non-renewable energy and spare parts.
Train from Copenhagen to Malmo: Services on Board
Trains from Copenhagen to Malmo offer two seating categories, including first and second-class. First-class seats are equipped for extra comfort with a reclining mechanism, and they offer more luggage space and at-seat meal services. There are also fold-down tables and power charging outlets. The first-class area is quieter and comes with complimentary newspapers. Trains from Copenhagen to Malmo provide complimentary Wi-Fi for travelers' comfort. Travelers can bring any amount of luggage on board provided they fit in dedicated luggage spaces, under seats, or in overhead racks.
Trains also have an onboard café, washrooms, and travel information on display. Small pets are allowed on board for free, provided they are confined in carriers that go under the seats. Travelers with larger pets have to pay for their pet's tickets. Trains are wheelchair equipped with designated spaces onboard, accessible washrooms, and TTY phones. Bikes are welcome on board for free as long as they can fully fold. The Omio magazine offers travelers tips on the best ways to travel from Copenhagen to Malmo.
How to find cheaper train tickets from Copenhagen to Malmo
Travelers that need cheaper train tickets from Copenhagen to Malmo should consider buying tickets in advance. Ticket sellers often provide tickets about three months before the journey dates. If you buy these tickets three months in advance, you are more likely to score cheaper ticket deals. Also, consider being flexible with your schedule to score a cheaper ticket deal. Trains with stops often have cheaper tickets than trains with faster services without stopovers. If time is not a factor, consider choosing a slower train. Remember to keep an eye out for ticket discount periods for a chance to score cheaper train tickets.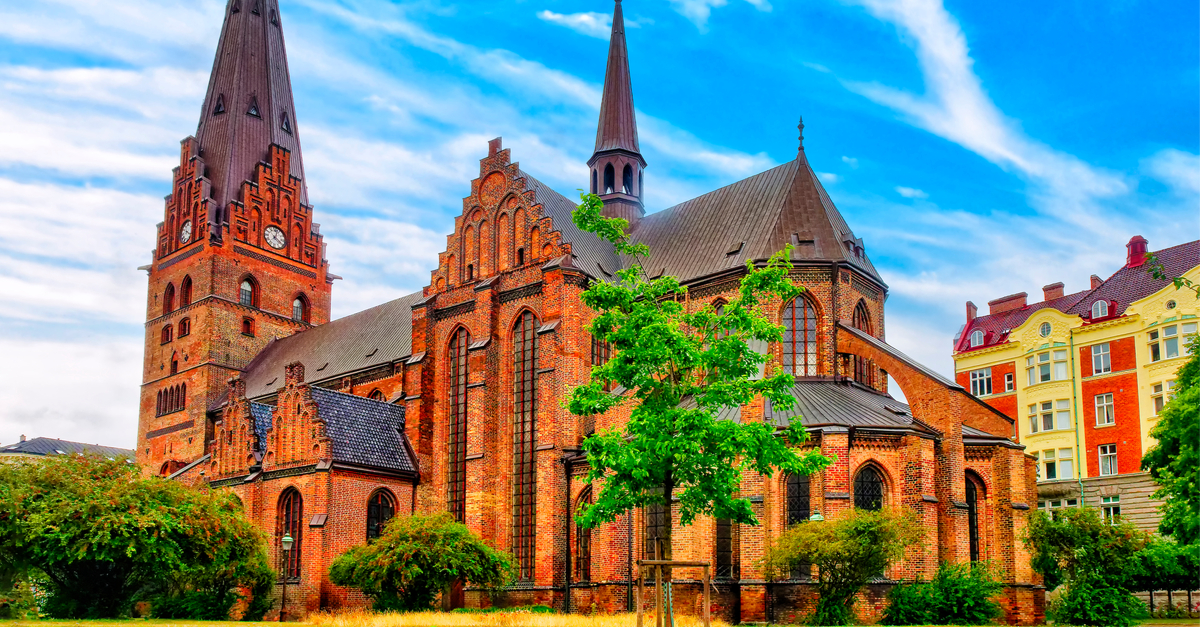 Sant Peter's church in Malmo. Source: Shutterstock
To Malmo by train – travel tips
Malmo is popular for its iconic Oresund Bridge, which links Denmark to Sweden. It offers a diverse variety of attractions ideal for exploring. One of the most popular attractions is Turning Torso. Also known as the twisted skyscraper, this tower is the tallest building in Scandinavia. It towers up to 62 ft (19 meters) high, and it features an observation deck that offers great city views.
Another major attraction is Lilla Torg. This square is one of Malmo's busiest spots, famous for its medieval market, numerous terraced cafes, and eateries. These eateries provide cuisine from all parts of the globe with traditional Swedish fare in addition to sushi and more. History lovers will enjoy a visit to Malmous Castle. Soak in some history at this historic castle, which houses several museums, including the Malmo Museum City Parks. These green spaces feature lush lawns, well-manicured gardens, a vaulted cave, and a scenic pond with ducks. Nature lovers can explore the vicinity and enjoy a picnic or a stroll on one of its walkways.
Malmo Castle
Malmo Art Gallery
Moderna
St. Peter's Church
Katrinetorp Country House