Which Train Companies Travel from Valencia to Barcelona?
Trains operating on the Valencia-Barcelona route are usually managed by Renfe. High-speed Renfe trains provide you with the best alternative to travel from Valencia to Barcelone. With this train company, you will not have to worry about changes on your trip to Barcelona. Also, this train company offers various ticket classes that provide and plenty of luxury features.
Euromed trains from Valencia to Barcelona
Euromed trains are managed by Renfe train company. They operate between the Valencia and Barcelona route along the east coast part of Spain. These direct high-speed trains can travel at a speed of about 330 km/h(205 mph), making your journey from Valencia to Barcelona last approximately 2h 35min. Euromed high-speed trains offer more than eight services per day along this route.
Talgo Trains from Valencia to Barcelona
Talgo trains are also run by Renfe train company. Unlike Euromed, Talgo trains are slower but affordable. Their average travel time between Valencia and Barcelona is about 3h 25min. Talgo trains depart from Valencia Estacio Nord to various destinations across Spain. What's more, they offer comfortable travel on this train route.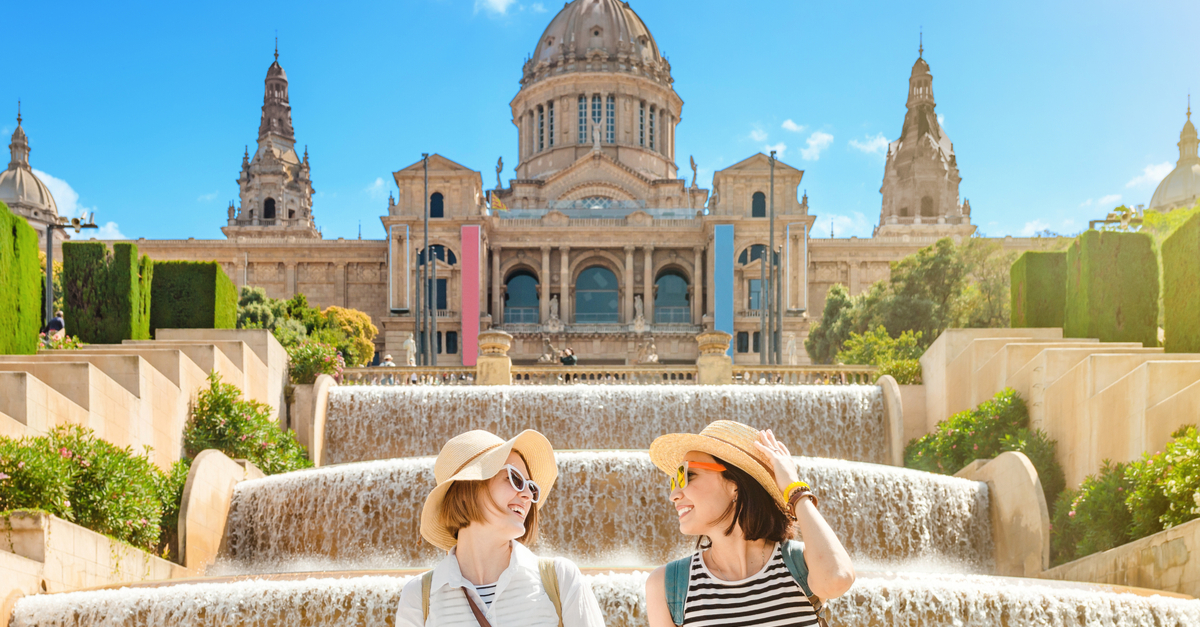 Barcelona Happy Girls. Source: Shutterstock
Train from Valencia to Barcelona: Services on Board
When booking trains from Valencia to Barcelona, you need to compare their services. Luckily, you'll find different classes of tickets with both Euromed and Talgo trains traveling between these two cities. Examples of classes are Turista or standard class complete with fold-down tables and deluxe comfort reclining seats; Turista Plus, which is an upgrade version of Turista offers spacious, reclining seats; and Preferente or First class provides deluxe reclining leather-seats and a la carte restaurant with bar services at your seat.
These trains allow luggage such as handbags, travel bags, suitcases, and backpacks. Your total luggage should not exceed three items or weigh more than 55.12 lbs (25 kg) in total weight. Your pets (cats, dogs, and birds) can travel free of charge on these trains and there's no weight limit for them. Renfe trains from Valencia to Barcelona have free care of passengers with limited mobility both temporary and permanent throughout their journey
How to Find Cheap Train Tickets from Valencia to Barcelona
Whther you are booking a Standard Class or a First Class train ticket from Valencia to Barcelona, you need to consider the cost. For cheap tickets, you should make an advance booking. Most train companies in Spain release their tickets as early as three or six months before the travel date. Therefore, train tickets may be cheaper during this period.
Be a little bit flexible with your travel schedule to find the most appropriate time to acquire cheap tickets. During peak hours most companies increase their ticket prices. Make sure to travel outside of the train peak hours to get lower-priced tickets. A connecting or slower train can also be a better way to get affordable tickets.
To Barcelona by Train-Travel Tips
Your arrival in Barcelona by train will give you the opportunity to explore the city. This is one of Spain's tourist destinations, featuring breathtaking attractions and everything that can please a visitor. Barcelona is a city that never sleeps and it's full of charm that will make your stay worthwhile. The city is home to artistic treasures, modern art, unique architecture, and Romanesque churches. Not to mention its picturesque beaches at La Costa Brava.
As one of the most cosmopolitan cities in Europe, Barcelona is also a modern city. The city features restaurants and cafes that offer impeccable quality of dishes and pleasant service. You can have your lunch at Nouvelle Cuisine Restaurant or dine at Mediterranean restaurant, all located within Barcelona. Cafes, tapas bars, chocolate bars, and wonderful terraces are part of this city and visitors can spend their evening time at any of these establishments.
If you love sports, then you can go to Camp Nou Stadium to watch soccer. A visit to Sagrada Familia Cathedral will make your trip to Barcelona complete. Certainly, Barcelona has plenty of attractions to offer and your stay in this city will be a memorable one.