The Valencia to Barcelona Train
Want to find the best tickets for the Valencia to Barcelona train? Well, look no further! Omio has pulled together the most up-to-date and important information for you to plan your journey from Valencia, home of the paella, to the Catalonian capital of Barcelona. Our easy guide covers everything from the train stations in Valencia and Barcelona, high-speed trains, the fastest routes, train providers, how to book cheap tickets, train schedules, as well as travel tips for your time in Spain.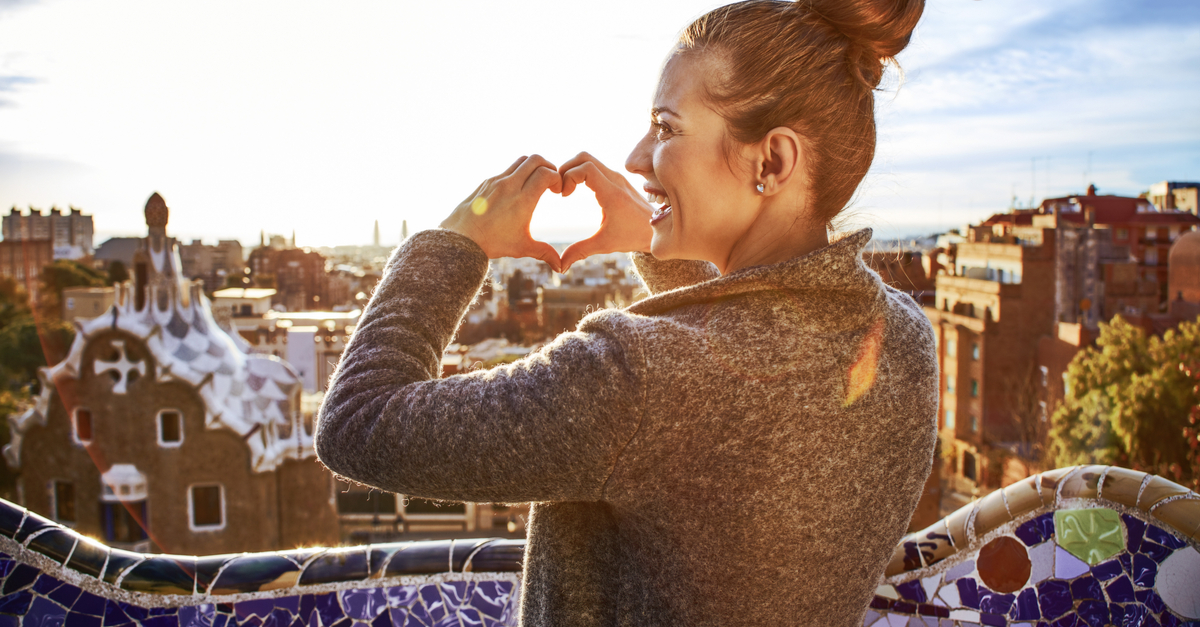 Barcelona Love. Source: Shutterstock
How to find cheap train tickets from Valencia to Barcelona
Most train companies in Spain release their tickets as early as six months to three months before the travel date so buying train tickets as far in advance as possible is the most secure way to ensure cheap train travel. If you can be flexible with your travel date, you can also look for dates and times that offer cheaper tickets. During peak hours most companies increase their ticket prices. Look for connecting trains, which may be slower, but are cheaper than direct trains. Omio compares the prices of different train providers at different times on any given date and allows you to choose the cheapest available option. You can also download the Omio app and get notifications for offers and discounts from different train providers.
Paperless train tickets from Valencia to Barcelona
The Omio booking pages have been designed to give you a quick and easy snapshot of the best tickets available. Once you've purchased your ticket, you'll have everything sent to your phone with no need to print. What's more, you can also enjoy live journey updates, meaning you'll be notified of any platform changes or delays, and we'll send you a reminder when it's time to set off. If you need any help along the way, there's a dedicated helpline to make your journey as enjoyable and hassle-free as possible. Explore your train options on Omio from the comfort of your home or on the go.
Which train companies travel from Valencia to Barcelona?
Trains operating on the Valencia to Barcelona route are usually managed by Renfe,Spain's national rail operator. Renfe runs several fleets of trains which operate between Valencia and Barcelona.
Renfe Euromed is the high-speed train that covers the east coast of Spain, along the Mediterranean and the route between Barcelona and Valencia is its most popular. These direct, high-speed trains can travel at a speed of about 205 mph (330 km/h), making the average journey from Valencia to Barcelona last approximately 3h 01 min. Euromed high-speed trains offer more than eight services per day along this route.
Talgo trainsare also run by Renfe but unlike Euromed, Talgo trains are slower and therefore slightly cheaper. The average travel time between Valencia and Barcelona is about 3h 25 min. Renfe Regional is a regional train service and offers the slowest and cheapest option. All train options offer comfortable train travel between Valencia and Barcelona.
Travel first class on trains from Valencia to Barcelona
When traveling with Renfe you'll have the option to choose between three different ticket types. Each ticket type is priced according to the flexibility of the ticket, the level of comfort and service you'll receive onboard.
Básico (Basic) ticket: these are the cheapest tickets on the standard coaches. Passengers will receive all benefits of traveling on standard including plenty of legroom, WIFI, luggage storage and power sockets. Básico tickets cannot be exchanged or canceled for a refund. Add-ons can be bought however, and these include seat selection for €5 extra, or bringing a pet for an extra €10.
Elige (the Pick and mix) ticket: these tickets can be tailored to your needs. Elige ticket holders have more flexibility with exchanging or canceling their tickets or even changing the ticket holder. The Elige ticket also gives the option to travel on Elige ESTÁNDAR (with standard seats) or Elige CONFORT (with XL comfort seats). Add-ons include seat selection, traveling with pets, or a box of food delivered to your seat for an extra €7.50
Prémium (Premium) ticket: these tickets offer full first class comfort and flexibility. The perks of traveling with this ticket includes XL comfort seats, unlimited free changes to your ticket, a full refund if you cancel your ticket 7 days in advance, and if you miss your train simply hop on the next one for free. The Prémium includes all add-ons including seat selection, taking pets, food service to your seat.
How long is the journey between Valencia and Barcelona
The fastest journey from Valencia to Barcelona by train will take approximately 2 h 55min on Euromed's high-speed trains. The longest trip on this route can take up to 6 h 10 min on the slower Renfe Regional train. There are around 9 departures per day, covering a distance of about 187 miles (302 km). All options are available on the Omio website, where you can filter your search to find the fastest journey.
Daily departures from Valencia to Barcelona
Trains from Valencia to Barcelona depart during the morning, afternoon, and evening hours. The earliest morning train leaves Valencia around 7:05 a.m.. There are around three morning departures in total. Throughout the afternoon there are usually three departures and three further trains in the evening. The latest train leaving from Valencia is at around 8:30 p.m.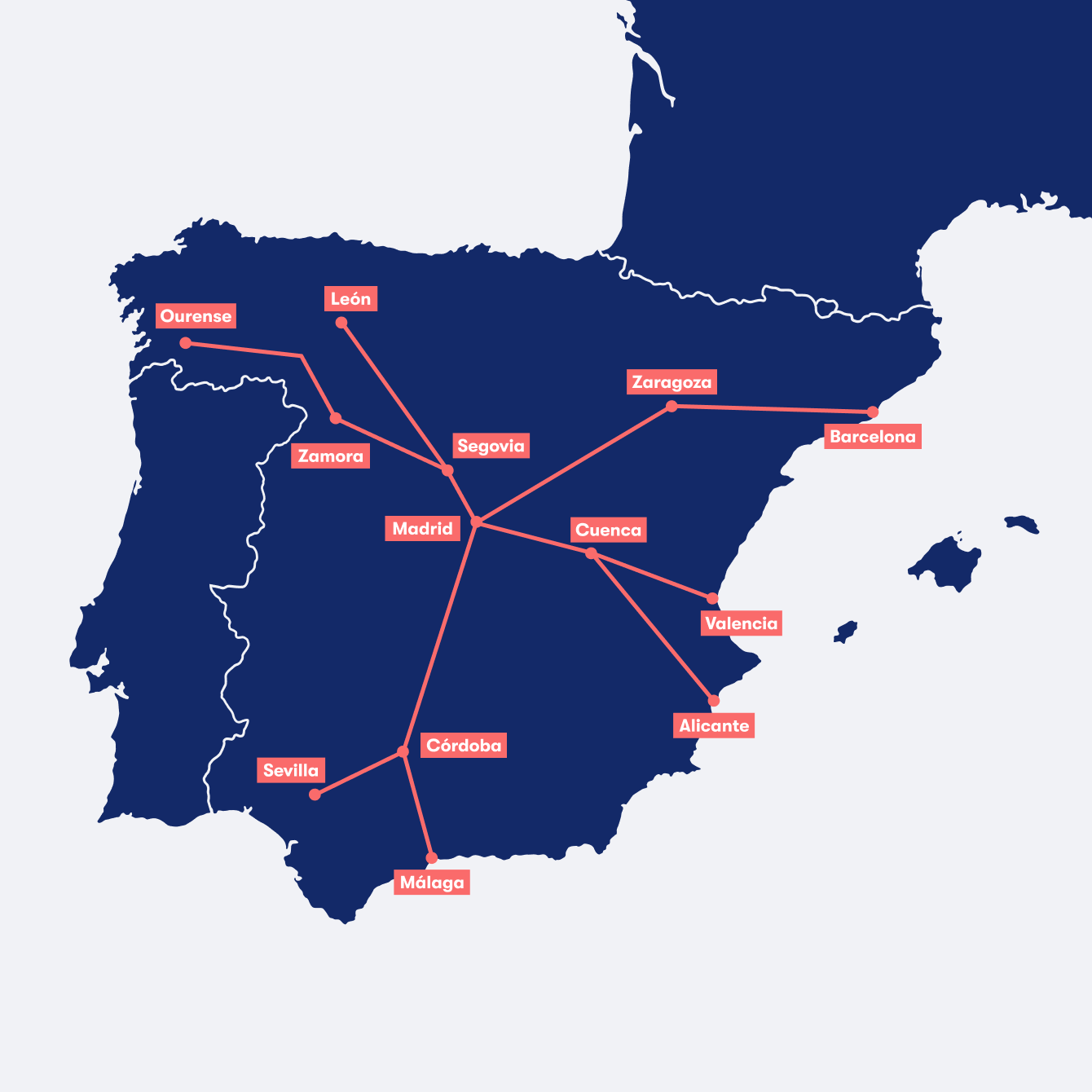 Popular Train Journeys in Spain
We've compiled a list of the most popular train routes through the country. These include high-speed, low cost trains from Madrid to Alicante and Malaga to Madrid, as well as the speedy inter-city trains between Barcelona and Madrid. Omio helps you compare prices to different cities, see journey times and click through to buy train tickets for your upcoming holiday in Spain.
| | |
| --- | --- |
| Trains from Madrid to Barcelona | |
| Trains from Barcelona to Valencia | |
| Trains from Madrid to Toledo | |
| Trains from Madrid to Valencia | |
| Trains from Seville to Cordoba | |
| Trains from Alicante to Madrid | |
| Trains from Zaragoza to Barcelona | |
What are the departure and arrival stations for trains from Valencia to Barcelona?
Departure train station: the Valencia to Barcelona train departs from Joaquin Sorolla station located at Carrer de Sant Vicent Martir, 171-46007, Valencia. The station is served by high-speed trains that connect the city of Valencia to Barcelona and Madrid. Connections to this station include shuttle buses, metro on lines one and five, and taxis just outside the station's entrance. The station is about 0.6 miles (1 km) south of the city center and has nine tracks and six platforms including 15 high-speed trains to various cities every day. Onsite amenities consist of banking services and currency bureau, post office, traveler lounges, restrooms, medical center, car rentals, fast food cafes, and restaurants.
Arrival train station:the Valencia to Barcelona train arrives at Barcelona Sants station. Located about 2 miles (3.2 km) southwest of areas like Eixample and Gracia, Barcelona Sants station is a perfect gateway to the city center. You can use Metro Lines L3 or L5 (indicated by blue and green) to Barcelona city center. The journey will take only 10 min. On the other hand, you may go for a fancy bite or drink at Gothic Quarter, which is a short car ride away. The station is also close to a chain of trendy bars, cafes, and restaurants along the Quarter's medieval streets.
Services on board the train from Valencia to Barcelona
Whether you're traveling on Euromed or Talgo, you'll find great services on board the trains to ensure a smooth train ride. Trains are equipped with a buffet car, which offers seasonal menus, a children's menu, and a variety of drinks. The trains also provide free Wi-Fi onboard for travelers' entertainment. Renfe trains have luggage restrictions with a maximum of three luggage items per traveler. The measurement limit is 33x21x13 inches (85x55x35 cm), and the weight limit is 50 lbs (25 kg). They also offer power outlets for travelers to keep their equipment charged. Pets are allowed on board with a ticket and as long as they are on a leash. Renfe trains are wheelchair accessible with designated areas for wheelchairs, step-free boarding equipment, and adapted services.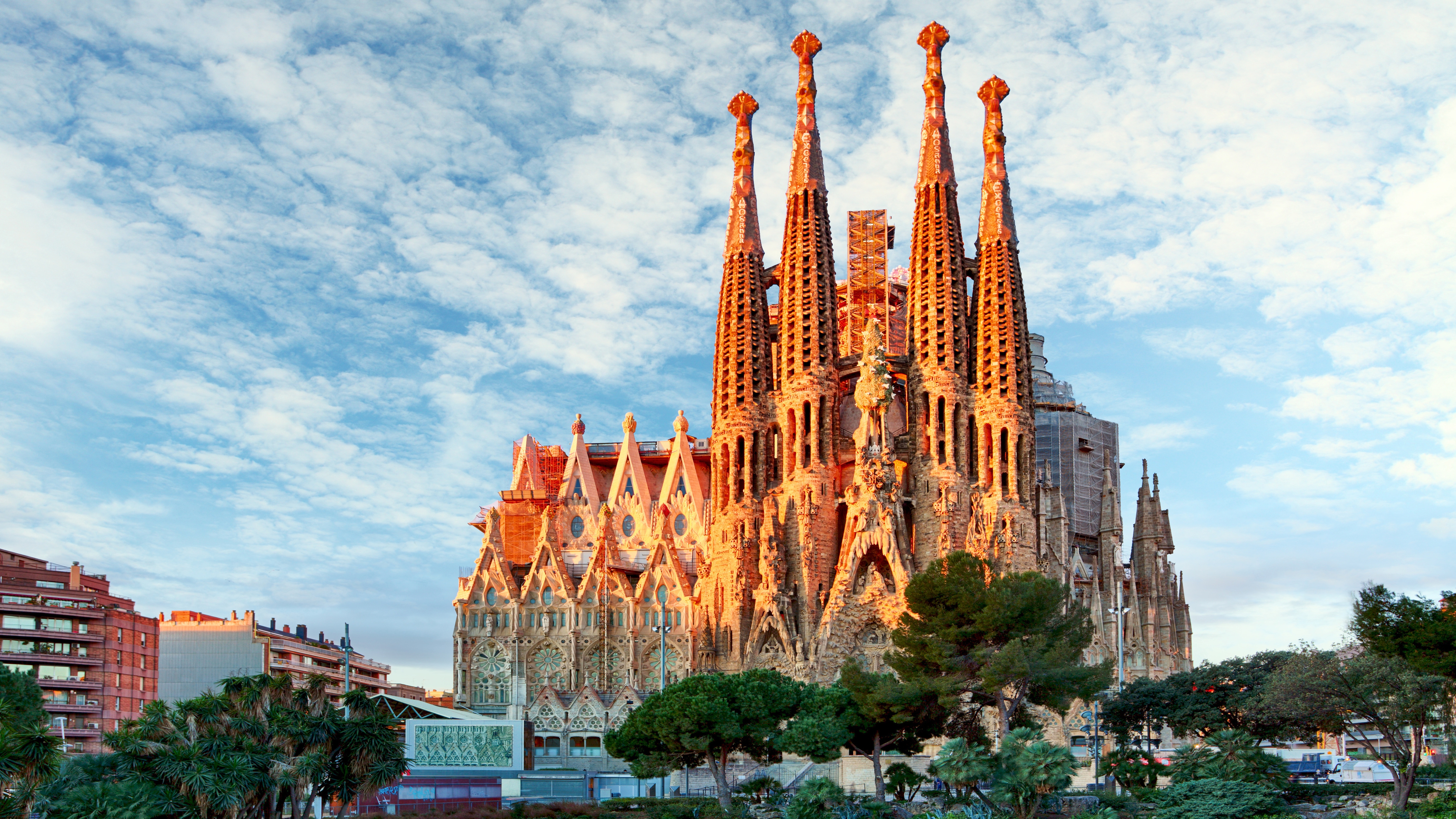 The iconic towers of the Sagrada Familia. Source: Shutterstock
Travel tips: exploring Barcelona
Barcelona is a sea port city on the north-eastern coast of Spain and the capital of the autonomous region of Catalonia. It is a magical city to visit, dotted with modernist artwork, historic markets and lively alleys for food and drinks. It is one of Spain's most popular tourist destinations, attracting visitors from around the world. Whether you are a traveler with a penchant for art, or a sun-seeker that loves a cosmopolitan city vibe, Barcelona is loaded with attractions to excite all needs. Here's a list of a few top things to see and do when visiting Barcelona:
Relax along the Costa Brava: Barcelona has its own, white sandy beach close to the city center. But for those looking to go somewhere a little quieter, it's easy to hop on a train and visit any of the picturesque beaches a short ride away along the coast.
Indulge in the food. Spain is renowned for its cuisine and Barcelona's proximity to the sea means that it is brimming with restaurants serving up fresh seafood, as well as tapas and regional Catalonian dishes
If you love sports, then the Camp Nou Stadium is a great place to have a beer and watch soccer.
No trip to Barcelona would be complete without a visit to Sagrada Familia Cathedral. Designed by the architect Antoni Gaudi, this stunning (but yet unfinished) cathedral is a UNESCO world heritage site.
Looking for more inspiration and top tips for things to do in Barcelona? Visit the Omio magazine which offers you advice on the best travel experience in Barcelona and beyond.