Buy your night train tickets on Omio
Omio is a user-friendly platform that makes it easy to browse and book transportation, ranging from trains to buses and planes. When you create an account through Omio, you can find all of your transportation information conveniently stored directly in your account, including tickets on your phone. In addition to trains that run during the day, Omio also sells a variety of night trains throughout the world, including Europe and the US. Booking your night train tickets through the Omio platform will help to ensure that you have access to the most affordable tickets available and that your travel experience is as smooth as possible. Get travel inspiration and fuel your wanderlust browsing through Window Seat, our official magazine.
European Night Train Map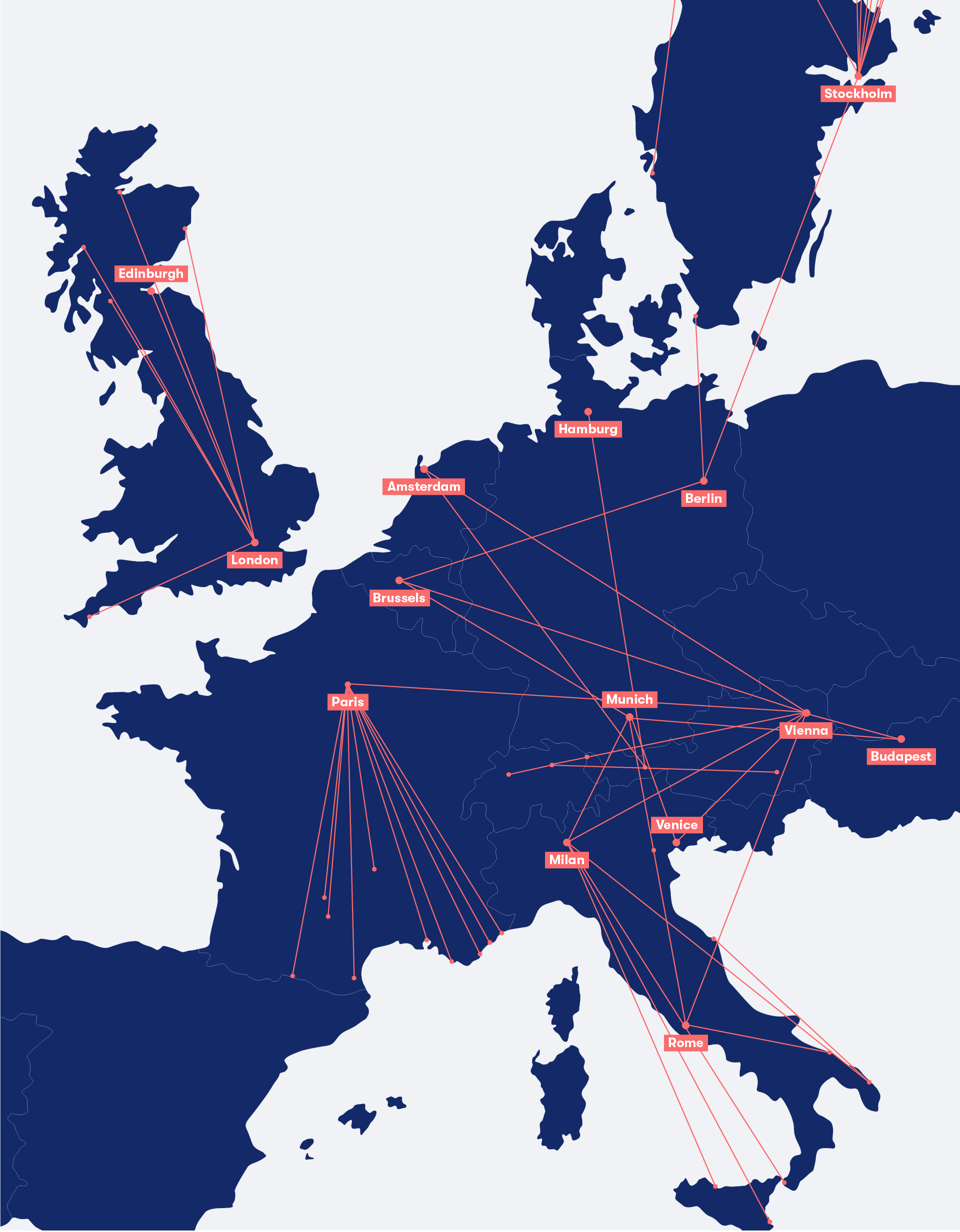 Night trains connecting Europe
Night trains exude the charm of times gone by, yet they're more convenient than ever—and practical. Depending on the fare, you can expect a comfortable bed or recliner, snacks, and breakfast in the morning. In the evening, make yourself at home and let the gentle hum of the train lull you to sleep. In the morning, you'll wake up refreshed at your destination and can start exploring right away.
The advantages of a night train are clear: you save both time and a night in a hotel, plus you don't have to worry about luggage allowance. Night trains are also environmentally friendly, something that is becoming increasingly important to many travelers around the world with irreversible climate change on the horizon.
Discover how to make your trip by night train an unforgettable experience. Check out our tips and tricks for a pleasant overnight journey!
How to buy cheap night train tickets in Europe
There are a few different ways to find cheap night train tickets in Europe. For example, if you opt to travel in Second Class rather than First Class, this will typically be a cheaper journey. When you have the option, try to also book slower journeys, as these will normally be more affordable than high-speed trains. Make sure to book your trip as far in advance as you can, as prices will generally rise the closer it gets to your selected day of departure. If you are flexible with the date of your journey then you may also find this helps you locate cheaper night train fares in as travelling a few days either side off your preferred date might cost less.Those that are flexible with the dates and times that they will be traveling will also have a larger selection of trains to choose from, making it easy to opt for a cheaper journey.
Night trains are more sustainable than flights
Choosing to take a night train is a convenient way to travel while being more environmentally friendly than other alternatives, such as traveling by plane. When you decide to head to your destination by train, you can rest assured that your carbon footprint is smaller than if you were to be on a plane. Plus, taking a night train does not require you to sacrifice conveniences or comfort. Taking a train is typically a quicker experience than traveling by plane, as it does not require you to arrive at an airport hours ahead of your flight, or go through security. With spacious seats and amenities such as outlets, trains are often the most practical and comfortable choice.
Sleeper trains in Europe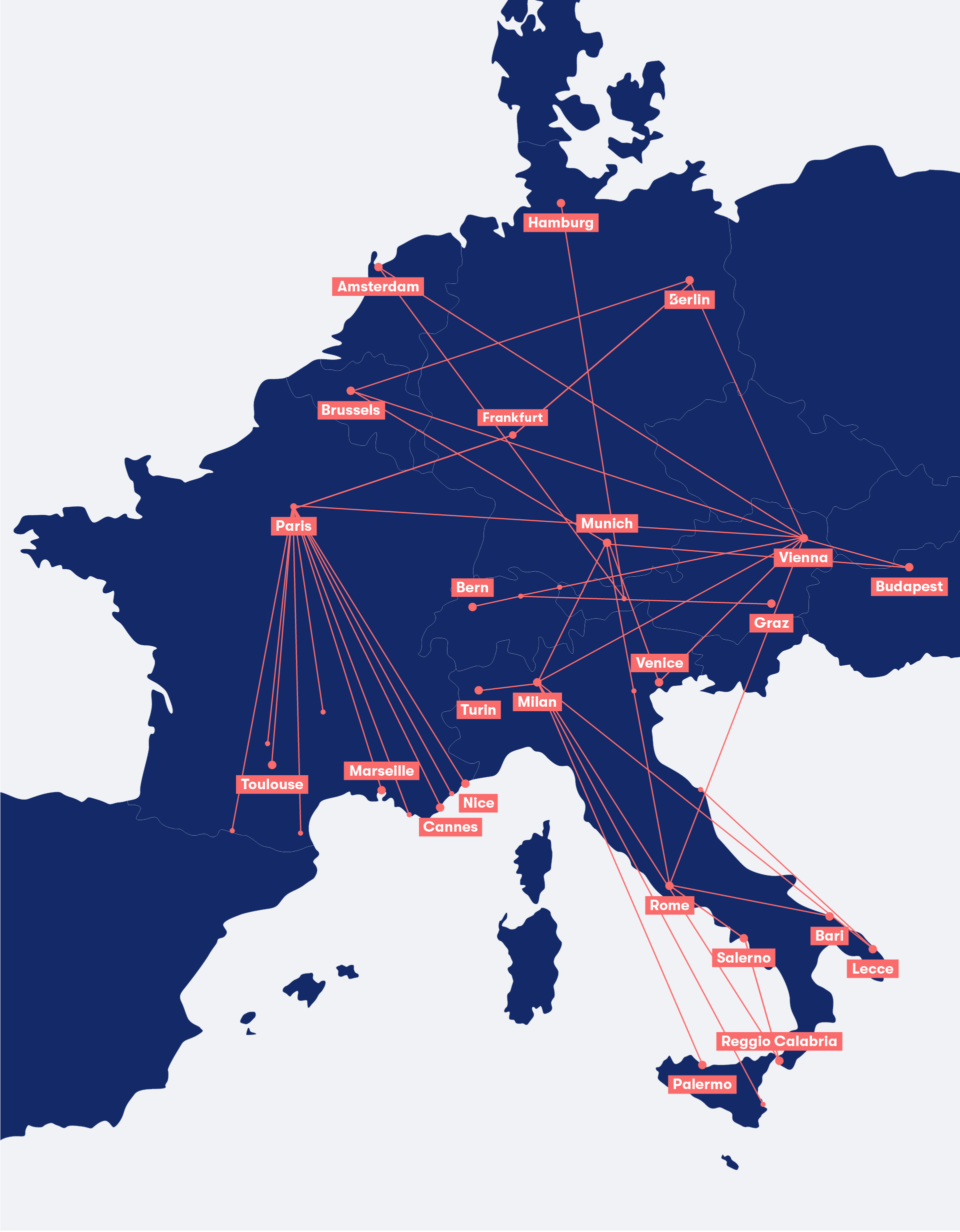 For longer journeys, including both domestic and international trips, there are many night trains in Europe that are also sleeper trains. For example, the company ÖBB offers its Nightjet service, which runs between destinations in Austria to other major cities in Germany, Switzerland, and Italy. If you would like to hit the slopes in the French Alps, the Eurostar ski train can take you there from London. The French Intercités de Nuit, operated by SNCF, can take you to a variety of locations throughout the country. To go between London and Scotland, there is the Caledonian Sleeper.
Night trains in Europe
To travel throughout Europe, there are a variety of companies that conveniently offer night trains. For example, Trenitalia has its Intercity Notte, which travels across the entire length of Italy. Trenitalia also offers Euronight, which can take customers between Italy and other countries such as Germany and Austria. ÖBB's Nightjet runs between Austria, Germany, Switzerland, and Italy, while the Dutch company Nederlandse Spoorwegen has a selection of night trains that travel within the Netherlands. In France, SNCF has the Intercités de Nuit, which run from Paris and Toulouse between towns that are on the Italian and Spanish borders.
Popular night trains in Europe
There are many popular destinations that you can visit with a night train in Europe. Traveling with Trenitalia from Milan to Palermo is a common voyage, with the journey typically lasting between 15 and 21 hours. Trenitalia also services trains from Rome to Bari, a trip that lasts around 4 to 7 hours. You can also go from Paris to Nice with Intercités de Nuit, which normally takes anywhere from 6 to 12 hours. Travel from Milan to Vienna with the Euronight, a journey that takes 11 to 15 hours. The ÖBB Nightjet goes from Berlin to Vienna, taking anywhere from 8 to 12 hours.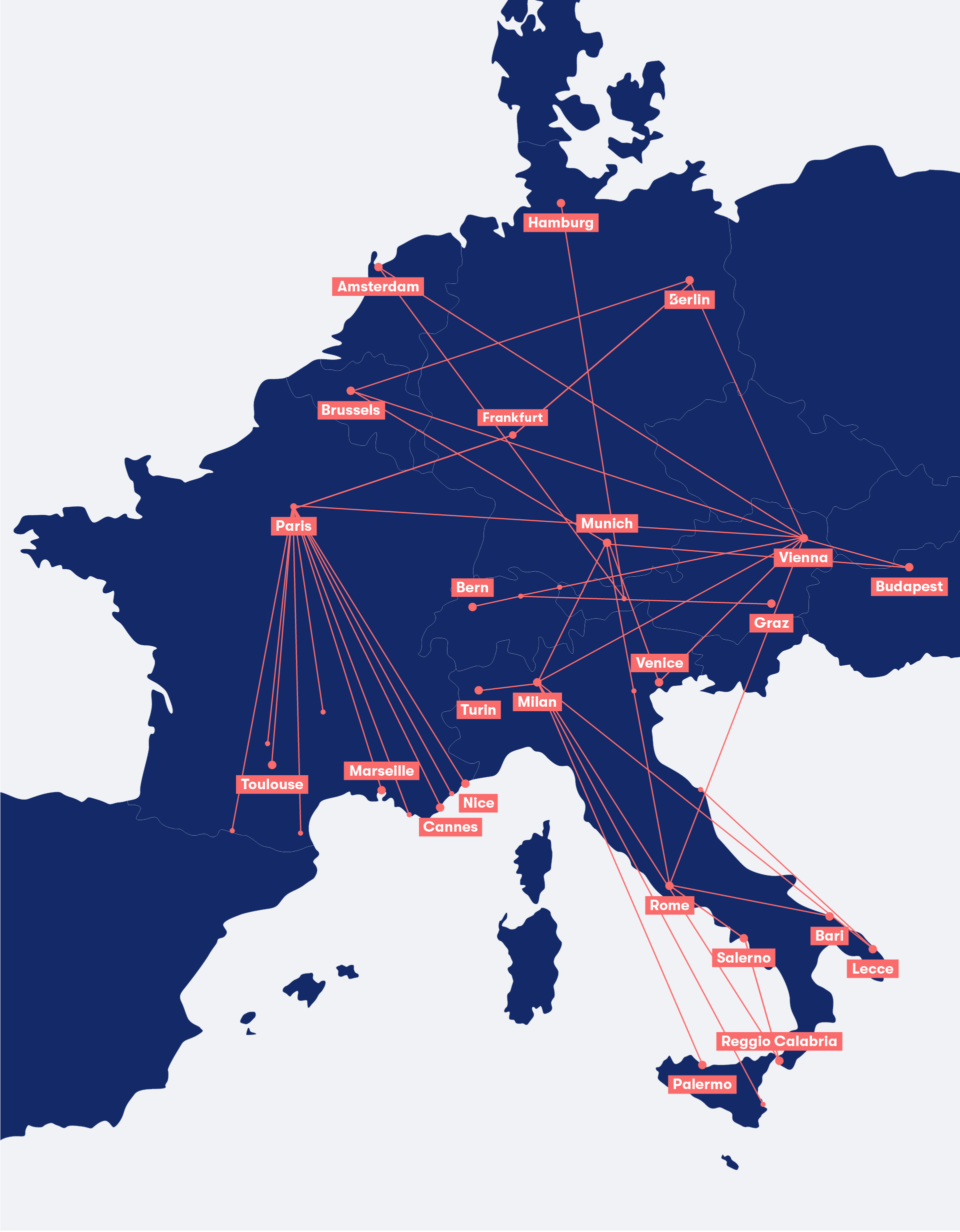 Travel by sleeper car across Europe
Use the Caledonian Sleeper to travel between London and Glasgow, a trip that takes between 4 and 5 hours, or go from London to Edinburgh, which takes around 5 to 6 hours. With DB, you can go between Zurich and Zagreb, a journey that lasts around 19 hours in total.
Traveling with a sleeper train in Scandinavia
There are a variety of sleeper trains to choose from in Scandinavia, and more specifically Sweden. The company that typically services night trains in Scandinavia is Statens Järnvägar, typically known as SJ. When you travel with SJ, you can choose from a selection of voyages that go between many major cities, including journeys from Stockholm to cities such as Åre, Kiruna, Narvik, Abisko, and Luleå. Through SJ, you can go from Stockholm to Narvik which usually takes 18 to 19 hours, or you can go from Gothenburg to Boden, which takes around 15 to 18 hours.There is also a diverse selection of trains that originate in the city of Gothenburg, with the final destination being places such as Gällivare and Boden. You can also choose from trains that start in Malmö and go to towns like Umeå and Kiruna. The company Snälltåget offers some journeys as well, which includes trains from Malmö to Berlin. Popular Connections in Sweden
Night trains in the UK
It is possible to find night trains that travel throughout the UK. The primary night train that is offered in the UK is known as the Caledonian Sleeper, which offers a large selection of routes for customers to choose from. With the Caledonian Sleeper, voyagers can travel from London, England to a variety of cities in Scotland, which include choices such as Glasgow, Edinburgh, Inverness, Aberdeen, Fort William, and Penzance. In addition to trips that ultimately originate in London, you will typically be able to find journeys that originate in these cities in Scotland and travel back to England's capital.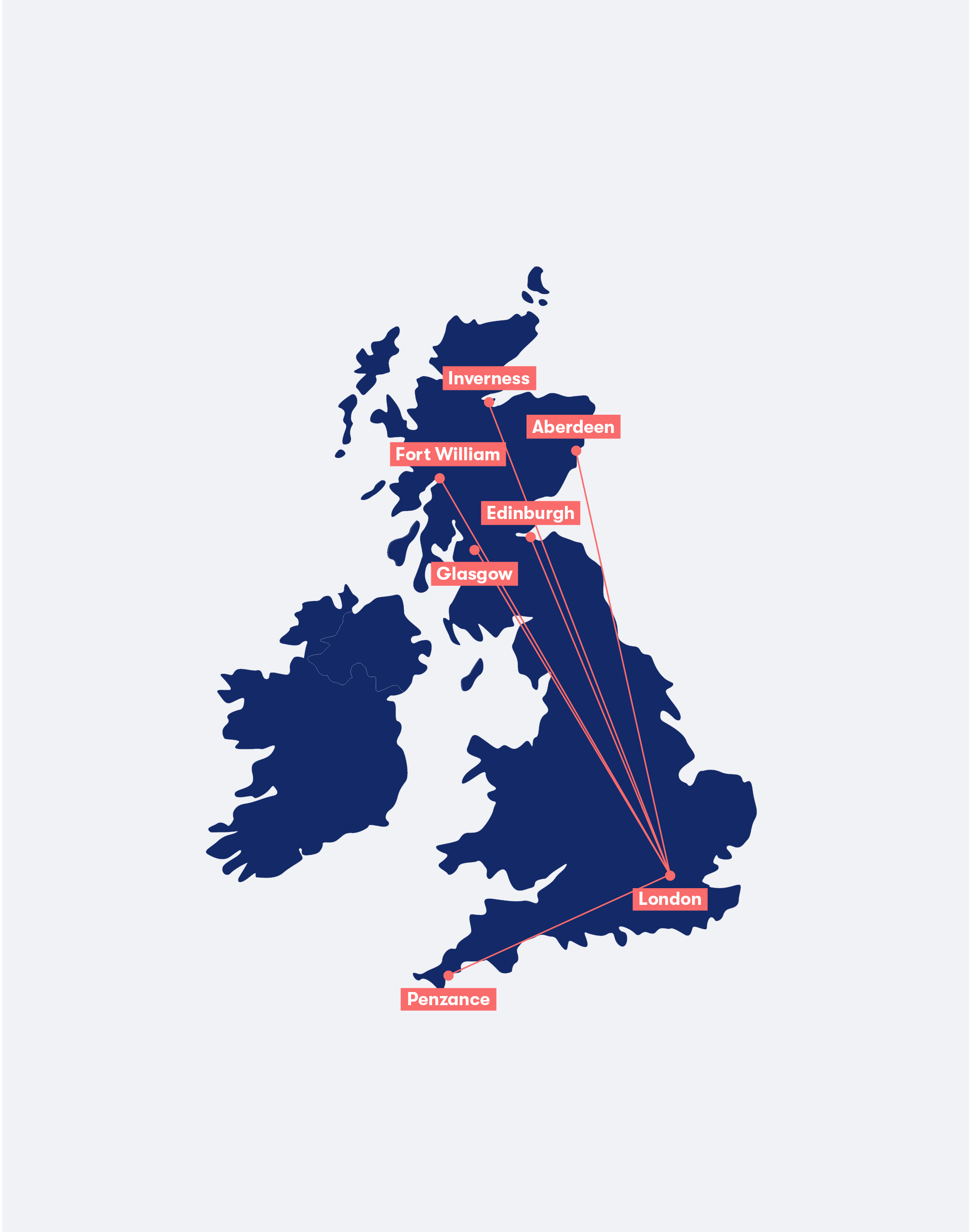 Couchette vs Sleeper
When you book a night train, you will typically have to decide whether you would like to travel in a couchette or a sleeper. Couchettes are normally available in cabins that hold between four and six travelers, and they consist of ordinary seats that are used during the day and then transformed into padded bunks that can be slept on during the night. In comparison, a sleeper is a cabin that is similar to a moving hotel. These cabins can normally hold between one and four travelers. During the day, they are similar to a sitting room, including a table and chairs. At night, there are beds that are freshly made with clean duvets and pillows. Sleeper cabins also commonly have their own sink and include towels and toiletries so you can arrive at your destination feeling refreshed.
Popular Sleeper Train Connections in the UK
Night trains in the US
A selection of night trains are also offered in the US. The primary company that is known for servicing night trains in the US is the National Railroad Passenger Corporation, otherwise referred to as Amtrak. You will find that Amtrak offers a variety of sleeper cars between the country's largest cities. Amtrak is famous for being the largest railroad company in the US, and it services many medium and long-distance inter-city rail journeys between cities across the country, as well as a few destinations in Canada.
Popular US destination on night trains
Amtrak has a large selection of journeys in the US for customers to choose from, including routes such as New York to Miami, which normally takes between 27 and 28 hours, and New York to New Orleans, which lasts around 49 to 50 hours. Other popular journeys include itineraries such as San Francisco to Seattle, a trip that generally takes approximately 23 hours, and Boston to Chicago, which will typically take travelers around 22 hours in total. You can also go from Chicago to New York, a journey that will take between 20 and 21 hours on average. If you go from Los Angeles to Chicago, expect for the voyage to be at least 43 hours in length.
Tips for traveling on a night train
There are a few things that you can do to ensure that your journey on a night train is as comfortable and enjoyable as possible. For example, make sure that you are wearing comfortable clothes, as you may be wearing them for quite a few hours. If you are a light sleeper, you may also want to bring some earplugs with you for the trip. You will also want to make sure that you have plenty of things to keep you occupied, whether this is reading a book, watching a movie on your electronic devices, or playing a game with those that you will be traveling with.
FAQ: Night trains
You can book the night train on the Omio App, where you can search different routes and get the ticket delivered directly to your account.
You can use your e-ticket on your mobile phone to travel, which is great for the environment as it saves paper. Should you want to print your ticket, you will also have the option to do so.
Night trains offer you the chance to travel between two locations without wasting the day. It also saves on hotel costs for the night as you'll get to sleep on board the train.
Night trains travel during the night, whereas regular trains travel during the day. Night trains also tend to take longer and provide comfortable areas for you to rest your head during the journey.
You can travel on night trains if you have a disability or mobility issue. However, you should contact the train company ahead of your journey so that they can arrange assistance for you to board and alight the train.
Children under certain ages get a reduced fare for sleeper trains. This reduction may vary depending on which company you travel with.
Children under the age of 16 are not normally allowed to travel alone on sleeper trains in Europe.
Luggage policies vary depending on which operator you are travelling with. A good rule of thumb is that you can take one large suitcase and one bag of personal belongings with you. It's important that you check with the luggage policy of the train company that you are travelling prior to departure.
The good news is you can take your furry friend on most night trains in Europe, but it's always a good idea to double check first before you book your tickets.
Many of the sleeper trains in Europe allow you to take your bike on board, which is great for cyclists. Some operators have different rules though, such as requiring the use of a bike bag, so it's best to check before you arrive.
Not all night trains provide Wi-Fi, although many do. If you need access to the internet while travelling, check with your train operator prior to booking, or take a Wi-Fi dongle just in case.
You will need to book either a seat, a couchette or a sleeper when you travel on a night train. These can be chosen when you book your ticket.
Night trains are often cheaper then trains that complete the same route during the day. If you book in advance you are especially likely to find a great sleeper train deal. You also have the bonus of saving on accommodation, which can help keep costs stay down.
The prices for night trains in the US can vary, but it is possible to find affordable tickets if you are flexible with dates, book in advance, and are willing to travel in Second Class rather than First Class