Trains from Munich to Vienna
If you plan on traveling to Vienna from Munich, you should consider taking the train. It is the most reliable form of transport between these two cities, considering there are about 40 trains on the schedule every day. The fastest trip is about 4h 10min when traveling on a high-speed train, but the average duration of a standard journey is about 6h 40min.
Munich to Vienna Train Time: Daily Departures
With close to 40 trains on the schedule for this route every day, you're set to be spoiled for options when it comes to departure times. This is quite ideal since you can travel at any time you like, be it early in the morning, afternoon, evening, or even at night. The earliest train is scheduled for departure at around 6:04 a.m., while the last one leaves at about 11:50 p.m.
How long is the journey by train from Munich to Vienna?
The length of your journey is dependent on a few factors, such as the train company you're using, as well as the number of transfers during the trip. When using high-speed trains, your journey will be about 4h 10min while other trains can take about 6h 40min and even over 7h when there are multiple stops during the journey.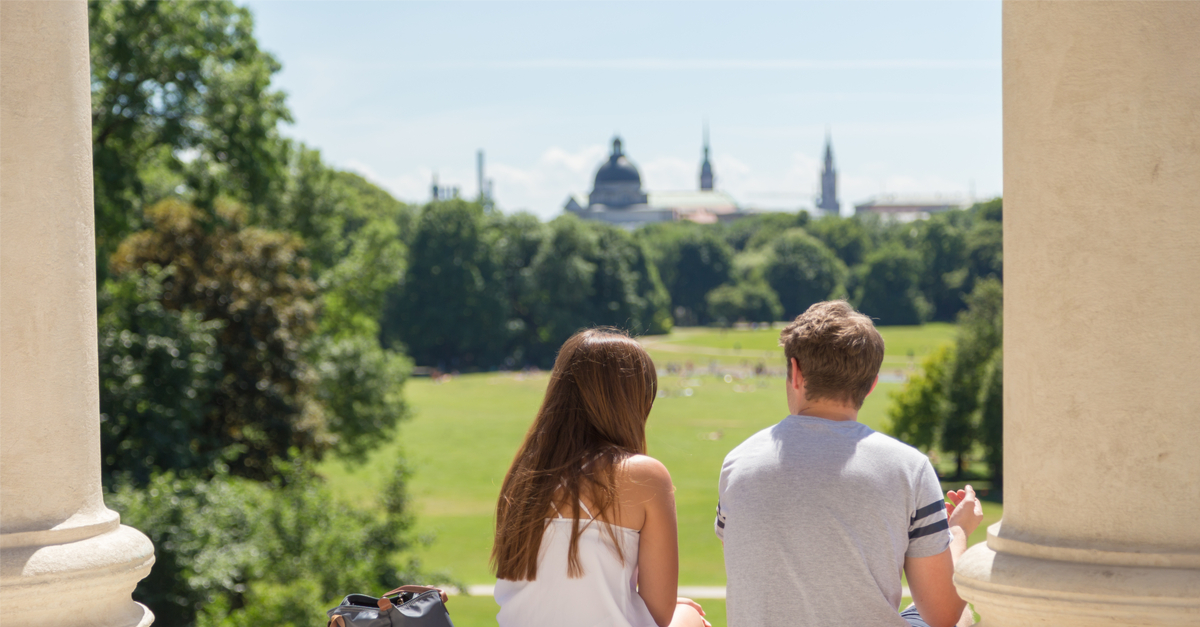 Couple in Monopteros munument in Munich. Source: Shutterstock
What is/are the departure and arrival stations for trains from Munich to Vienna?
Departure train station: You're expected to board your train at Munich Hbf, the main train station serving all trains that go through Munich. It is just over a mile (1.8 km) from the city center, and you can either walk or take the S1 towards Leuchtenbergring. The station has some amazing amenities that include a waiting lounge, a ticket office, a help desk, and ATMs.
Arrival train station: Vienna Central Station will be your arrival station. It is roughly 2.1 miles (3.4 km) from the city center, and you can easily get there via the REX 9 bus towards Wien Floridsdorf Bahnhof. Some of the amenities you'll find at this station include restaurants and cafés, a ticket office, ample parking, and a few retail outlets.
Which train companies travel from Munich to Vienna?
Currently, there are two train companies providing travel from Munich to Vienna. One of the companies is OBB, while the other is Deutsche Bahn. Both companies are well established in their respective countries, with OBB being the main railway transporter in Austria while Deutsche Bahn is the main train provider in Germany. When comparing the two companies, Deutsche Bahn has more trains serving the route every day, but the difference is quite marginal by about two or three trains. Other than that, both companies offer a mix of direct and connecting trains, and they both have similar travel durations.
Night trains Munich
If you're planning on traveling at night, you'll be happy to hear that this route has about nine night trains every day. However, most of them depart the station slightly early in the night, with the first night train scheduled for departure at around 7:04 p.m. After that one, there are about seven other trains scheduled for departure in the next hour and a half, with the final train scheduled for departure at about 11:50 p.m.
Deutsche Bahn Trains from Munich to Vienna
Deutsche Bahn is one of the train companies serving this route. It is the biggest train company in Germany, serving over a hundred train routes all over the country and beyond its borders as well. On this particular route, they have about 20 trains on schedule every day, and you can choose whichever one you like. Of the 20 trains, a good majority of them involve transfers, but you can still get a direct train if that's what you prefer.
OBB Trains from Munich to Vienna
OBB is the other company providing transport on this route, and they have about 18 trains serving the route every day. The majority of these trains are high-speed trains, but you still have the option of standard trains if that is what you prefer. The company also provides a mix of direct and connecting trips, with the popular stopover options being Plattling and Salzburg. The average duration of each journey is about 4h 10min when traveling high-speed while standard trains take about 7h 20min.
Trains from Munich to Vienna: Sustainability travel
If you're looking for a sustainable way to travel, you should consider taking the train. This is because it is arguably the most sustainable mode of transport, especially on this route. Trains have a fairly large capacity and can therefore transport a lot more people at once. This means that they require fewer trips to transport passengers and fewer trains on the road, therefore lowering carbon emissions.
Train Munich to Vienna: Services on Board
When traveling with OBB, expect a wide range of onboard services to facilitate your comfort. The trains have two different classes for you to choose from, with first-class offering more comfort and convenience. The company offers boarding and deboarding assistance to passengers with disabilities, and you are even allowed to travel with your pet provided they aren't a nuisance to the other passengers and that they are well restrained. The company doesn't have any restrictions when it comes to luggage, and you can travel with as much luggage as you want, provided it fits in the designated luggage compartments. This includes special luggage, such as bikes and music instruments. Deutsche Bahn also allows passengers to travel with unlimited luggage as long as they do not block corridors and doors. If you have any special luggage, such as bikes and sporting equipment, you should either disassemble them or fold them appropriately so that they can fit in the designated luggage compartments. Pets are also allowed on board, and if you have a disability, you're requested to fill out a particular form so that you can be afforded the services you need.
How to find cheap train tickets from Munich to Vienna?
To get cheap tickets from Munich to Vienna, you should consider buying your tickets in advance. You have a good chance at getting low prices since ticket prices tend to increase as the date of departure approaches. You can also go for connecting trains and standard trains instead of direct and high-speed trains. You are always likely to pay more for the added convenience. Finally, try and be flexible with your travel dates. Avoid traveling on holidays since demand is usually at its peak. For more tips and tricks on travelling with train don't forget to check our magazine The Window Seat.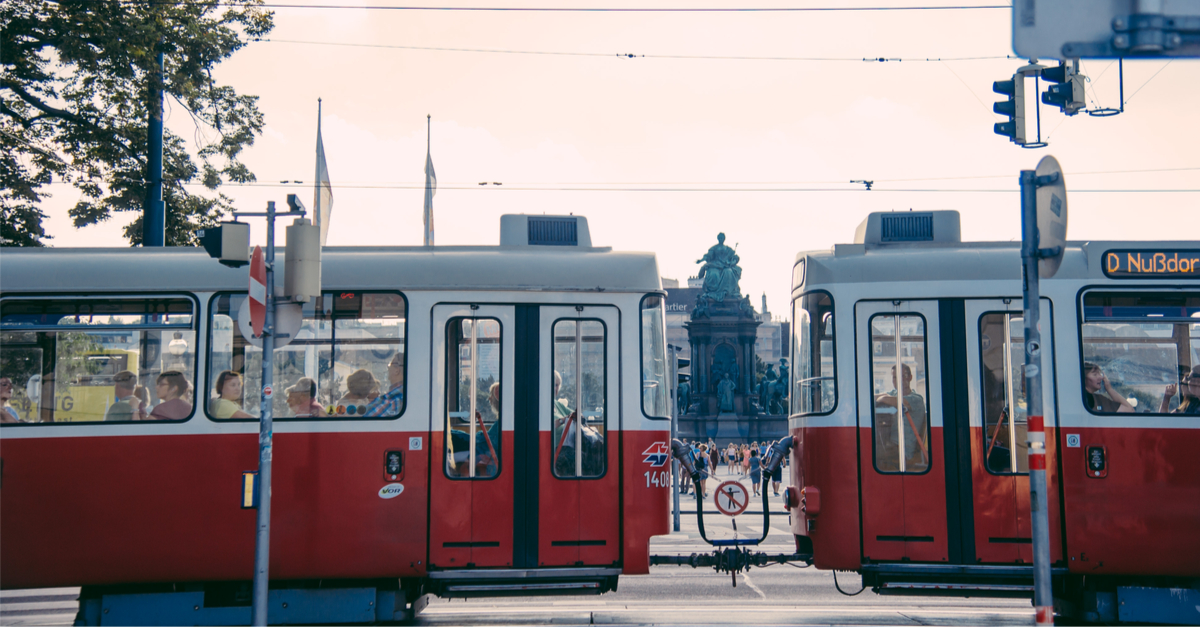 Trams in the street of Vienna. Source: Shutterstock
To Vienna by train—travel tips
As the capital city of Austria, you would expect Vienna to have loads of interesting places you can visit. Truth is, there's so much to see and even more to do that you're sure to find something you'll love. For instance, you can visit the Vienna State Opera, which is the most popular opera house in the city and is always a good place to catch some opera classics. Don't miss visiting Belvedere Palace, which is a favorite for history lovers. You can always drop by to check out ancient exhibits. Plus, Albertina is also excellent for art enthusiasts. It is an art museum that houses one of the largest print rooms in the world with approximately 65,000 drawings and one-million-year-old master prints.
Hofburg
Imperial Schönbrunn Palace and Gardens
Belvedere Palace
Vienna State Opera House
Vienna City Hall
St. Peter's Catholic Church