Trains from Porto to Lisbon
On a regular day, there will usually be between 35 and 40 trains from Porto to Lisbon that travelers can choose from. Each hour, this means that there are approximately two to four trains that are serviced for this route. You will find that this train is almost always direct, meaning that you usually will not have to worry about having a transfer during your trip, but it is possible to have up to three transfers. The length of the journey is usually between 2h 50min and 7h 15min depending on how many stops there are along the way, as well as what type of train is being used. Porto is located approximately 195 miles (315 km) from Lisbon. Once you have reached Lisbon, you will find there are many things for you to see and do, including the Castelo de S. Jorge and Belém Tower.
Porto to Lisbon Train Time: Daily Departures
Each day, you can expect for there to be between 35 to 40 trains that depart Porto for Lisbon. On an hourly basis, there are typically around two to four trains for you to choose from. The earliest daily train will normally leave at around 1:00 a.m., while the latest daily train often leaves closer to 8:30 p.m.
How long is the journey by train from Porto to Lisbon?
This trip almost always is direct and will not require travelers to transfer trains before reaching their final destination of Lisbon, but there is a possibility of having up to three transfers. You will still have additional stops along the way, which can impact the length of your voyage. In general, this trip will usually take between 2h 50min and 7h 15min depending on the number of stops.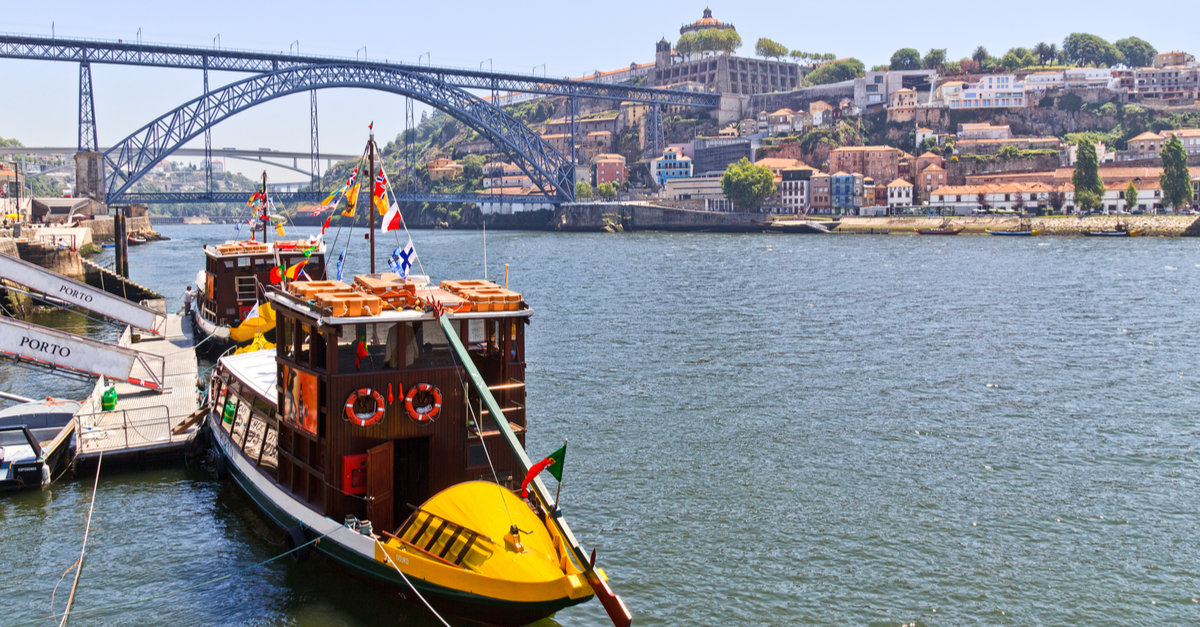 Porto Boat River. Source: Shutterstock
What is/are the departure and arrival stations for trains from Porto to Lisbon?
Departure train station: For this route, trains will typically depart from Porto-Campanha station. This station is located approximately 3.1 miles (5 km) from the city center. If you choose to drive between these two locations, the trip will normally take around 20min, while if you use public transportation, such as the Aveiro train line, the journey will take approximately 5min. The station has basic amenities for travelers, which include public restrooms, places to buy light drinks and snacks, sitting areas, and outlets. It's best to arrive approximately 30min in advance of when your train is scheduled to depart.
Arrival train station: When you reach your destination, you will arrive at either Oriente or Santa Apolonia stations. While Oriente can be found around 5 miles (8 km) from the city center, Apolonia is approximately 1.9 miles (3 km) from the city center. You can take the public train from Oriente to downtown Lisbon, and this will take around 6min. If you would like to go to the city center from Apolonia, you can take bus line 734, which will bring you to your destination in around 20min. Both stations have free Wi-Fi, public restrooms, sitting areas, and outlets.
Which train companies travel from Porto to Lisbon?
The primary company that is responsible for servicing voyages from Porto to Lisbon is Comboios De Portugal, which is oftentimes referred to as CP. Famous for being one of the largest transportation companies in the country, CP offers a large variety of trips between different cities. The company has many trips for this voyage that are direct, but you may also have up to three transfers before you arrive at your destination. Keep in mind that in addition to a transfer, your train will likely stop in other cities along the way as well.
Night trains Porto
When you travel from Porto to Lisbon, you will typically have the option of selecting a night train for your voyage. While more trains are usually offered during the daytime, there are usually a few journeys offered in the evening, with the latest leaving at approximately 8:30 p.m.
CP trains from Porto to Lisbon
On a standard day, CP services between 35 and 40 trains from Porto to Lisbon. This means that there are typically two to four trains that are offered per hour. The length of your trip will vary depending on the number of hours and stops along the route, but it will normally be between 2h 50min and 7h 15min. A majority of the trips that are offered are direct, but there are some that can require up to three transfers. Your train will normally depart from Porto-Campanha station and arrive at either Oriente or Santa Apolonia stations. CP almost always operates standard regional trains. The same number of trains are offered during the week and on the weekends.
Trains from Porto to Lisbon: Sustainability travel
Choosing to travel by train is a great way to minimize your impact on the environment while still reaching your destination in a quick and comfortable manner. Trains provide many benefits for the environment in comparison to other modes of transportation, such as flying or driving, making them quite an environmentally friendly option. When you travel by train, you do not need to sacrifice your own comfort, as you will have plenty of space and will reach your destination in no time.
Train Porto to Lisbon: Services on Board
CP is known for having many amenities for customers to benefit from during their trips. For most of the company's voyages, you will be able to choose between two ticket classes, which are First and Second class. If you sit in First Class, you normally will have additional legroom and a larger seat. Every customer is allowed to bring up to three pieces of luggage if these pieces can fit in the standard luggage storage inside of your train car.
You may bring pets onboard as well, but keep in mind that all animals need to be placed in an animal carrier for the entire trip. Bikes are also welcome onboard and there are typically specific storage areas for them. This company operates trains that are accessible for individuals with disabilities or limited mobility, such as those in wheelchairs.
How to find cheap train tickets from Porto to Lisbon?
If you're hoping to travel on a budget, there are a few different tricks that you can use in order to find the cheapest train tickets available. For example, booking your reservation as far in advance as possible is a great way to save money, as tickets usually become more expensive the closer it gets to your departure day. Being flexible with the dates and hours that you will be traveling is also helpful, as it makes it easier for you to select an affordable ticket. If you have the option, you can also choose a reservation that requires at least one transfer, as these trips tend to be slower and thus less expensive.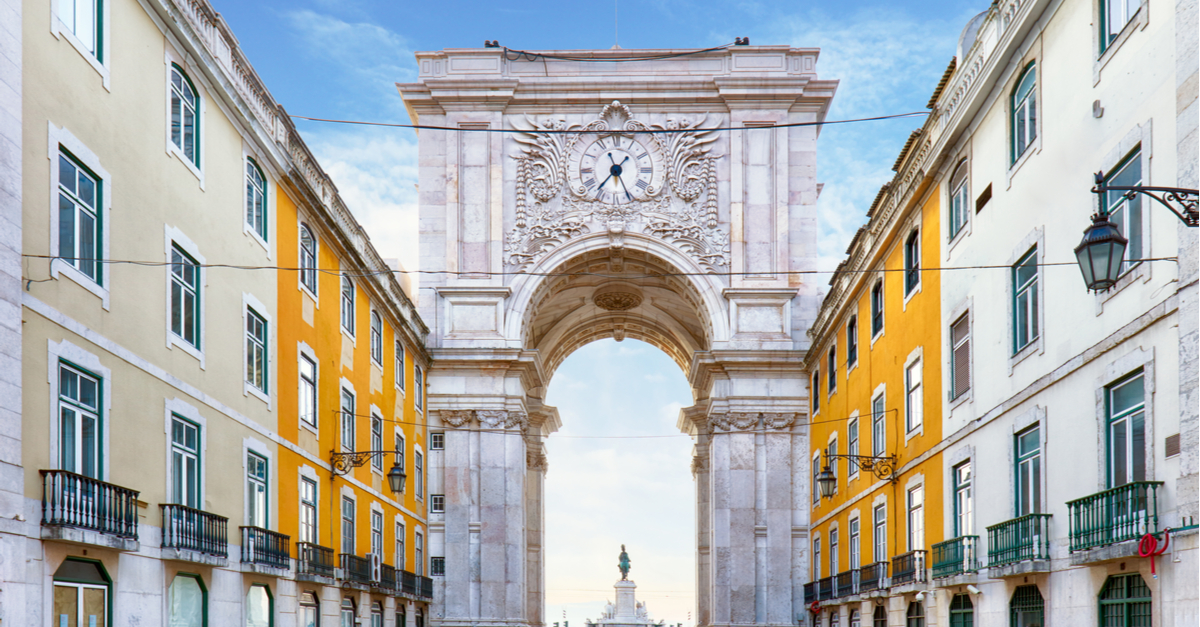 Lisboa Arch Entry. Source: Shutterstock
To Lisbon by train—travel tips
Lisbon is a popular destination amongst travelers, as it is known for being a scenic and vibrant city that is filled with interesting things to do, delicious local delicacies, impressive architecture, and a warm culture that you will fall in love with. You're sure to never run out of things to explore while spending time in this Portugese city.
Walk throughout the gothic Jerónimos Monastery
Grab a bite to eat and look at impressive artwork at the LxFactory
Discover medieval ruins at the Carmo Convent
Browse through contemporary art at the Museu Coleção Berardo
Treat yourself to some shopping on the Avenida da Liberdade