Train to Paris
The rail infrastructure in Paris will leave you in awe, not to mention the city has one of the most extensive underground networks globally. Notably, the city is a major rail destination, with passengers streaming from plenty of domestic cities and beyond. Some of the countries connected to Paris by rail include Spain, Belgium, and Germany. Locally, some of the popular cities connected to Paris by train include Lille, Lyon, and Marseille. Unsurprisingly, the Paris metro is one of the outstanding symbols of the city.
The metro has frequent trains running every few minutes, which is pretty convenient. It has 16 lines, each with a unique personality. For instance, lines 2 and 6 are famous for the scenic views, as they pop out above the ground, allowing you to see beautiful scenes like the Parisian apartments.
SNCF to Paris
SNCF is particularly popular for domestic flights from cities like Lyon and Marseille. However, SNCF also runs from international destinations like Spain and Germany. If you board an SNCF train to Paris, it will be either a TGV, TER, or Intercity. TGV trains are popular for their double-decker style carriages and high speeds. They serve several routes, including Nice, Bordeaux, and Marseille. On the other hand, Intercity trains are popular for night journeys, while TER are common for shorter trips. Some of the major train stations in Paris where an SNCF train would arrive include Gare du Nord and Gare de I'Est.
Thalys to Paris
If you are traveling from Brussels or Amsterdam to Paris, you can do so on a Thalys train. The company operates high-speed trains. For instance, a trip from Brussels to Paris would only take you approximately 1h 22min, and you would arrive at Paris Nord train station.
Eurostar to Paris
Eurostar is another popular train company that could get you to Paris, especially if you arrive from London. Notably, the company has high-speed trains as it would only take you around 2hours 16minutes from London. Your train will arrive right in the heart of Paris at the Gare du Nord station. Since all passport checks will be done before you leave the UK, you don't have to waste any time at the train station in Paris.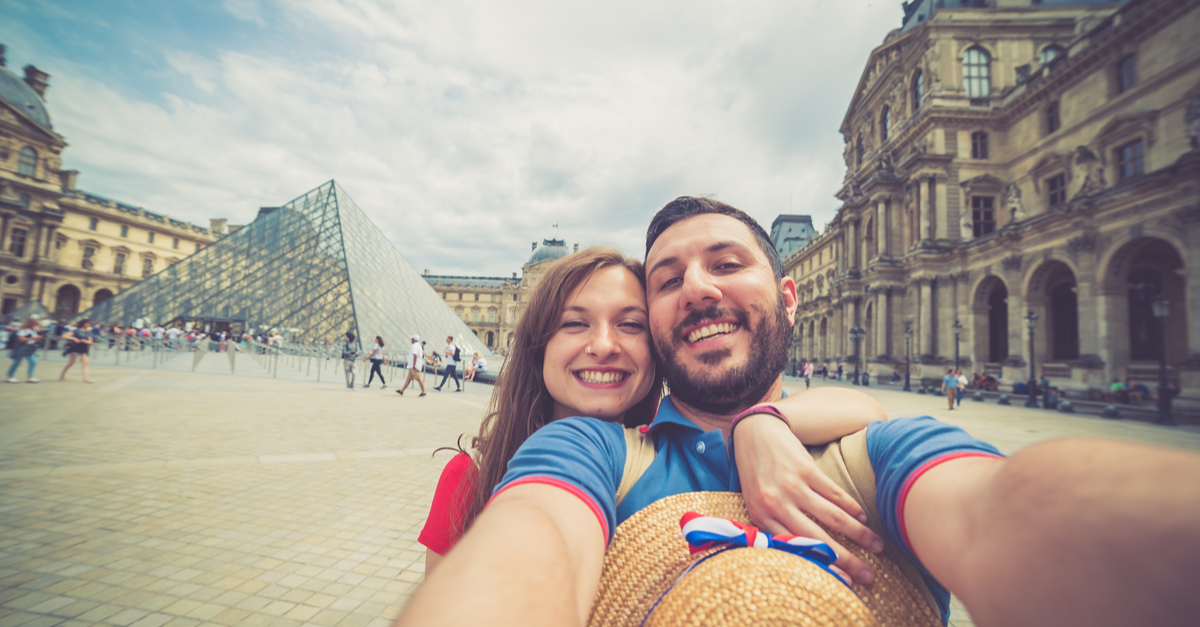 Paris Louver. Source: Shutterstock
Main Train Stations in Paris
Undoubtedly, Paris has an extensive rail network, and it makes perfect sense that it has seven major train stations, some of them very close to each other. All the seven stations serve a particular region, which you can almost always tell from the name. Gare du Nord is the busiest in Paris and Europe at large. The company, established in 1864, serves as the hub for Eurostar and is reached by Metro lines 4 and 5. Gare de I'Est is another station located around 10min away from Gare du Nord.
The station serves trains from Eastern France and Germany. If you arrive in Paris from Belgium, central France, or Talousse, you will arrive at Gare d'Austerlitz. The other stations in Paris are Gare de Bercy, Gare de Lyon, Gare Montparnasse, and Gare Saint-Lazare. Therefore, your route determines which station you will arrive at in Paris.
Onboard Facilities
When traveling to Paris by train, you are spoilt for choice on onboard facilities across all providers. For instance, if you board an SNCF train to Paris, you can enjoy the generous luggage space they provide. They also offer in-seat restaurant services on TGV and Intercity trains. Thalys trains also have quite a wide range of onboard services, such as onboard Wi-Fi, to keep you entertained throughout the journey.
Thalys also offers restaurant services to their passengers. Eurostar also comes in with thoughtful facilities, such as sockets and free Wi-Fi for all. Even better, you can enjoy their onboard bar buffet, drinks, and snacks en route. Eurostar also offers assistance to passengers with reduced mobility. They also allow you to travel to Paris with your pet.
Train Tickets to Paris: Useful to Know
SNCF has a number of different ticket types that vary in price and flexibility. These are Prem's, Second Class, First Class, and Business First. Whichever ticket type works for you, you can buy it electronically. Be sure to print out your e-ticket confirmation when boarding the train, and bring your ID, as the ticket inspector will ask for it.
You can also get a Eurostar e-ticket. However, you can choose to print it out of use a softcopy. For a Thalys ticket, you can either receive a print-at-home or print-at-home ticket. However, if you have a Thalys TheCard, you don't have to print out your e-ticket. The good news is, you no longer have to worry about misplacing your e-ticket to Paris since you can store it in your Omio account and retrieve it whenever you need it.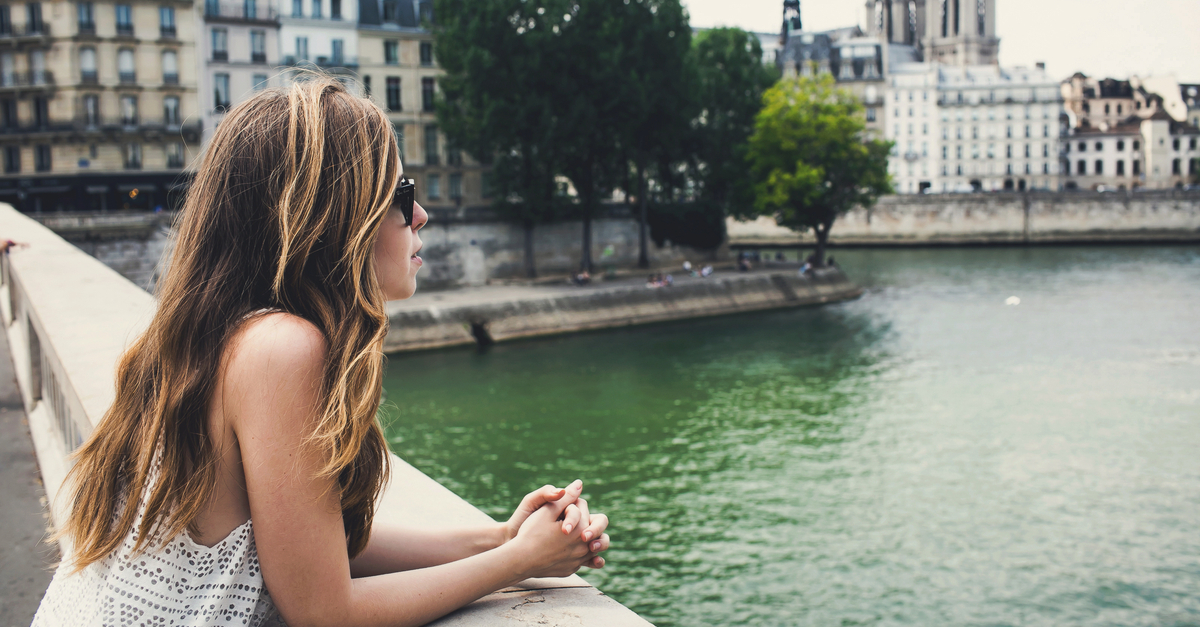 Paris Girl. Source: Shutterstock
To Paris by Train – Travel Tips
Almost every apt traveler has Paris on their bucket list, and rightfully so. It is particularly known as the most romantic city in the world, not to mention famous sights in the city. Undoubtedly, Paris is a sophisticated city, and most would say that it appeals to the wealthy. However, you can still enjoy a trip to Paris on a budget. Among other things, the Eiffel tower has got to the most famous attraction, given that it ranks among the most famous monuments in the world. The tower, which is around 324 meters tall and made of wrought iron, has nice gardens around it that are perfect for a once in lifetime picnic.
It is especially a sight to behold at night, as it lights up in shimmering gold. While in Paris, you can easily get around the city on public transport. Some of the options you can choose from include metro, bus, tram, and even a bike share. Notably, the metro is by far the most reliable means with frequent trains and scenic views. However, it would be best to avoid the lines during rush hour. The bus is also a good option but can be a disaster during rush hours. You can also take a cab, especially if you have lots of luggage or have reduced mobility.
Besides the famous Eiffel tower, there are tons of other places to visit and things to see in Paris. For instance, you can take a trip to The Louvre, the largest art museum globally. Even if you don't consider yourself an ardent art lover, you will enjoy the incredible designs in the museum. Other sights worth visiting in Paris include Arc De Triomphe, The Palais Garnier, and Notre Dame Cathedral.
Another good reason to visit Paris is the amazing food, considering French cuisine has bagged a top spot in the world's best cuisines. When in Paris, be sure to try out some classics, such as Bouillabaisse and Soupe a l'oignon. You can easily find these delicacies in restaurants all over the city. You also get a chance to enjoy French desserts, such as eclairs, Crème Brulee, and Chocolate Souffle.
It wouldn't hurt to go on a shopping spree during your trip and get a few souvenirs. Some famous shopping spots in Paris include Boulevard Haussmann and Avenue des Champs – Elysees. While the city is full of life, you might consider breaking from the buzz and go to a park. Luckily, Paris has many parks and gardens, such as Bois de Vincennes and the Luxembourg Gardens.