Trains from Venice to Rome
Trains from Venice to Rome run very frequently. There are generally a couple options per hour. The journey between the two Italian cities can take about 3h 30min without any changes, and can take up to 11h 00min with up to two stopovers before arriving in Rome. You'll find trains from Venice to Rome running every day of the week. There is a wide variety of options to choose from, ranging from high-speed trains to overnight trains.
Venice to Rome Train Time: Daily Departures
There are daily train departures from Venice to Rome. You'll find about 35 different options per day, every day of the week. From long-distance routes, journeys with one or two stopovers, as well as high-speed options. The first train of the day leaves Venice at approximately 5:26 a.m. As for the last train of the day, it departs out of Venice at around 11:17 p.m. and is an overnight route, arriving in Rome the next morning.
How long is the journey by train from Venice to Rome?
The shortest trip by train from Venice to Rome takes around 3h 26min and is a direct ride. Other direct rides can take up to 8h 16min to get to Rome. There are also other train options with one or two layovers between the cities. With stopovers, the journey can last from 4h 05min up to 11h 00min.
What are the departure and arrival stations for trains from Venice to Rome?
Departure train station: There are two train stations in Venice that have departures to Rome. Venice Santa Lucia Station is the city's central station located on the northern edge of Venice's historic city. It's accessible from the central San Marco area in under a half an hour by public boat transit. At the station there are restrooms, waiting rooms, ATM's a well as some bars and restaurants. The other station in Venice with trips to Rome is the Venice Mestre station located on the Venetian mainland. It's accessible from the historic center of Venice by public transportation that takes less than an hour. This station has a few restaurants and stores available.
Arrival train station: The main arrival station is Rome Termini. This train station is located just east of the historic center. You can get to the city center either walking or by public transport. The public Metro line can get you to the historic center area in under 10min. Rome Termini train station has various cafeterias and restaurants along with shops and other services. The other arrival station in Rome is the Rome Tiburtina Station located north-east of the city center. To get to the historic center you can take public transport that takes about a half an hour. This train station also has a few restaurants and shops for passengers to enjoy.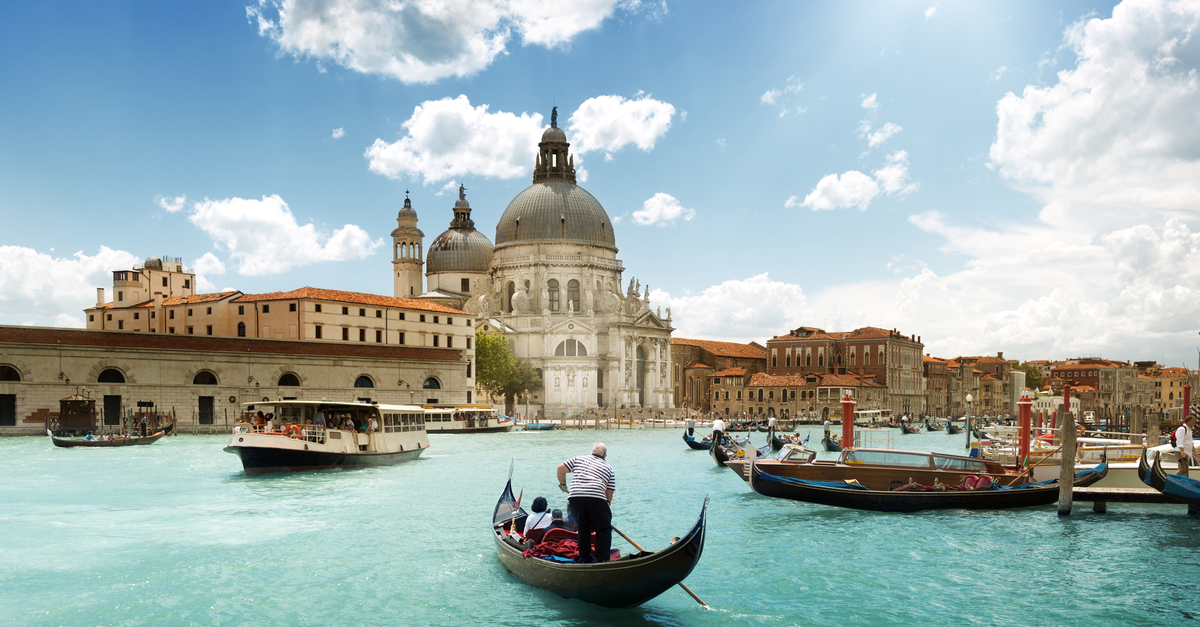 Venice. Source: Shutterstock
Which train companies travel from Venice to Rome?
Trenitalia is the main train company in Italy. For this route, Trenitalia operates the standard Regionale and InterCity long-distance and transit lines as well as the high-speed Frecciarossa and Frecciargento lines. The other train company offering journeys from Venice to Rome is Italo. Italo is another provider with high-speed trains that travel throughout Italy. All of the companies and their routes offer options with nonstop trips from Venice to Rome, except the Trenitalia Regionale trains. The fastest route would be with Trenitalia's Frecciarossa line and the one that takes the longest is one of Trenitalia's Regionale routes.
Trenitalia trains from Venice to Rome
There are Trenitalia trains every day of the week, about 30 departures a day. Trenitalia offers a variety of standard long-distance and transit routes with the Regionale and InterCity lines that can take up to 11h 00min, as well as high-speed journeys with the Frecciarossa and Frecciargento lines that take as little as 3h 26min to get to Rome. The standard long-distance routes have up to two stopovers on some journeys. As for the high-speed Frecciarossa and Frecciargento trains, there are about 20 trains a day and have one stopover or none.
Italo trains from Venice to Rome
The Italo trains depart from Venice about five times a day, on both weekdays and weekends. They leave every one to 1-3h. The Italo trains are high-speed and all of the options are direct trips from Venice to Rome. Since all the Italo trains follow the same route, they all take about 4h 00min departing from Venice Santa Lucia and arriving in Rome Termini. The first Italo train departs from Venice at 7:05 a.m. and the last one leaves at about 4:05 p.m.
Train Venice to Rome: Services on Board
Italo trains offer different classes to travel with. There is a standard Smart Class, a Prime Class as well as an Executive Class. As for Trenitalia, Regionale lines only offer Second Class seating. Traveling with InterCity you can choose between Second and First Class. With the Frecce high-speed lines, there is Standard, Premium, Business and Executive Classes. Trenitalia only allows carry-on bags but doesn't limit the number of items.
However, there is restricted space on the actual trains, so the standard limit is two bags per passenger with one hand luggage item. As for Italo trains, the limit is the same and for Smart Class the luggage sizes cannot exceed a certain size. If you're traveling with Trenitalia routes, all dissembled or folded bikes are allowed. Small pets that fit in carriers are allowed on both Trenitalia and Italo trips as a carry-on item. Larger pets are allowed on Trenitalia trains as well by purchasing a pet ticket. For passengers with reduced mobility, both Italo an Trenitalia offer assistance you can request before your trip.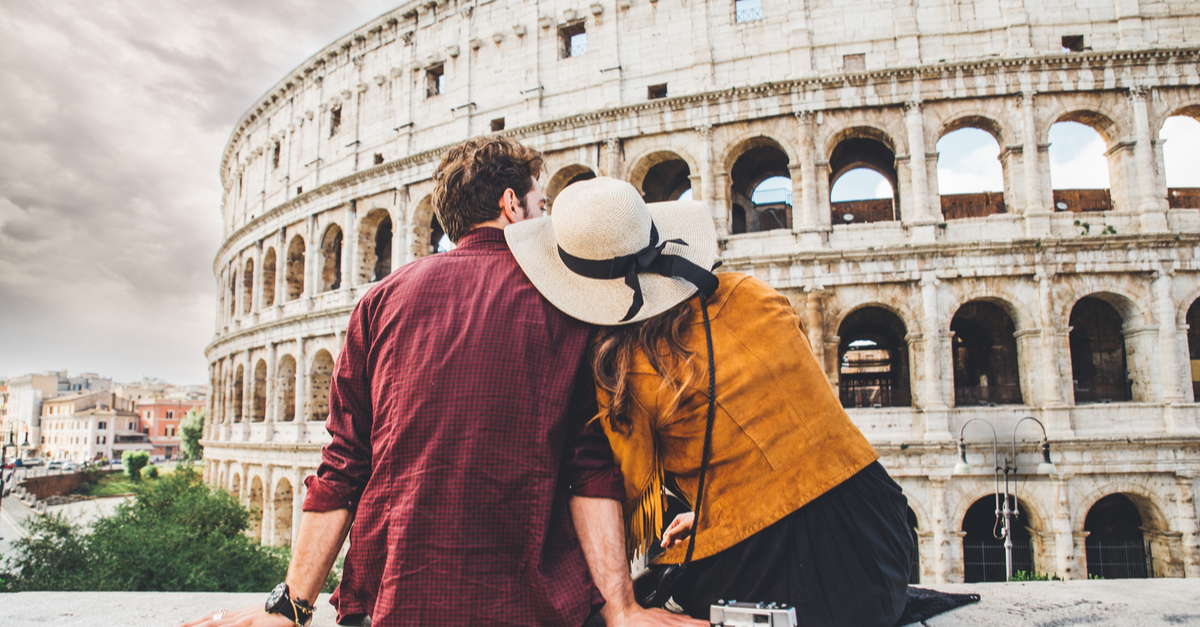 Rome Colosseum Couple. Source: Shutterstock
How to find cheap train tickets from Venice to Rome?
The best way to find cheap tickets from Venice to Rome is by being flexible with your dates and times. Make sure to purchase your ticket in advance as well, since last minute purchases tend to have elevated prices. The standard long-distance trains tend to be more affordable than high-speed trains as well. In this case, the InterCity routes can be cheaper than the Frecciarossa, Frecciargento and Italo trains. It's also possible that direct routes are more expensive than ones with one or two changes between the departure and destination cities.
To Rome by train—travel tips
Take a train to the Italian capital, home to world-class art and ancient roman ruins. Some of the top attractions and sites to see while visiting Rome are the Colosseum, the Trevi Fountain and the Pantheon. Just by walking around the historic city center, you'll come across many iconic buildings, museums and piazzas. Grab a bite to eat at the Piazza Navona, enjoying the view of the square, its fountain and its people.
Near the Colosseum you'll find the Roman Forum, an essential part of Roman history. This area is a forum full of ancient architecture and what is known as an ancient marketplace. A great day trip from Rome would be visiting the Vatican City. Within its walls you'll find the Papal Palace as well as the Sistine Chapel and the famous St. Peter's Basilica. During your trip to Rome, something you won't want to miss out on would be tasting some authentic Italian pizza and pasta.