If you want to travel from London to Paris in a relaxing way, the train could be your best option, whether it's for business or leisure. You get to explore the scenic countryside along the way, which goes a long way in quenching your thirst for adventure.To travel from London to Paris, you would board a Eurostar train.
The construction of the Channel Tunnel at the end of the last century allowed direct rail links between two of Europe's great capitals. Trains depart from central London and arrive in the centre of Paris, making the train an plausible alternative to a flight. Direct trains from London to Paris make chic city breaks or business meetings easy to plan, with travel times on Eurostar services lasting just a little over two hours. Departure times from London range from early morning to mid-evening, the last train arriving in time for a nightcap in Montmartre. Santé!
These high-speed trains can travel up to speeds of 186 mph (299 km/h). Ideally, the first train leaves London for Paris very early in the morning. A train will leave the station about every hour, until around 8:00 p.m. However, on Sunday, the first train doesn't leave until after 8:00 a.m. To complete the trip, which is approximately 308 miles (495 km) long, you would spend around 2h 16min.
The fastest Eurostar option on the 308-mile route south through the Channel Tunnel to Paris takes two hours and 16 minutes. Other trains take from five to 20 minutes longer to complete the journey from London, depending on the departure time. For timetable purposes, travellers should remember that the clocks in France are one hour ahead of the UK.
Omio is dedicated to helping you find cheap train tickets for your London to Paris trip. The benefits of booking through Omio are twofold- great prices and the convenience of booking from the comfort of your home. However, to find cheap train tickets, we recommend that you start your search early.
Usually, you can find advance tickets on Omio as early as three months ahead of your trip. On the day of the trip, you can enjoy a hassle-free experience at the train station since you will have your ticket ready on your phone. Even better, you don't have to worry about forgetting about your upcoming trip since you can get a reminder on your phone.
Departure train station:
The Eurostar terminus at London St Pancras is situated on the northern side of central London, with Underground connections available on six lines and city bus routes stopping on Euston Road. The passenger concourse offers international restaurants, gift stores, coffee shops, news vendors, a pharmacy and taxi stands.
Arrival train station: Paris Gare Du Nord is located on the north-eastern side of Paris city centre, with public transport connections on numerous bus routes, Metro lines 4 and 5 and RER lines B, D and E. Facilities at the terminus include restaurants, Eurostar lounges, food stores, coffee shops, car rental desks and taxi stands.
Eurostar offers all the direct train services from London St Pancras to Paris Gare Du Nord. It is a direct route and there are no stops along the way.
The weekday Eurostar schedule begins with a very early morning departure from London St Pancras, continuing with trains roughly every hour throughout the day. The final train to Paris Gare Du Nord leaves London around 8:00 p.m. and Sunday schedules begin after 8:00 a.m. but offer some additional afternoon and evening connections.
| | |
| --- | --- |
| From London to Paris | |
| From London to Brussels | |
| From London to Paris | |
| From London to Paris | |
| From London to Brussels | |
The standard ticket type is cheapest. Standard ticket type holders can take up to two bags of luggage for free. Passengers can also enjoy free wifi at St Pancras, as well as seat selection. Its best advised to book in advance, as Standard tickets tend to sell out fast.
One of the best things about travelling from London to Paris on the Eurostar is how straightforward it is to check in. Get to the Eurostar check in gates at least 30 minutes before your scheduled leaving time and you'll have time to grab a coffee in the waiting room, too.
Business premier ticket holders can take advantage of all the benefits above. Plus, a free meal onboard and complimentary magazines. This type of Eurostar ticket allows flexible travel. As well as a dedicated ticket office, 10-minute check-in and a taxi booking service.
Train Companies in London
Given the popularity of rail travel in the United Kingdom, it comes as no surprise there are 28 different train companies. However, the train company that serves London to Paris is Eurostar. The trains depart from London St. Pancras and arrive at Paris Gare Du Nord. In the Omio app, you can find cheap trains between the two cities.
When traveling from London to Paris on a Eurostar train, you can choose from the three types of tickets available. These are standard, standard premiere, and Business Premiere. While all the classes have a wide range of services on board, Business Premiere has additional services, such as a complimentary 3-course meal.
Popular International Routes from London
Besides getting around the UK by train, you can also visit mainland Europe. That presents you with an opportunity to enjoy the calm of the countryside, and in some cases, it might be the fastest option. Ideally, all trains leaving London for mainland Europe start from London St Pancras International station.
For instance, you can visit popular cities in France, such as Paris, Lille, and Marseille from London. Another popular route is from London to Cologne, Germany. Other routes include London to Amsterdam, London to Rotterdam, and London to Brussels. Some routes, such as London to Cologne, may involve a change, while you can catch a direct train on some international routes. You can always book your train ticket to an international destination via Omio.
Arriving by Train in Paris
If you are a first-time traveler from London to Paris, you might need to familiarize yourself with a few things. To begin with, we recommend having some cash to hand. The UK's currency is the Pound Sterling, while Paris used the euro. The good news is, you can find several ATMs around Paris. Therefore, as long as you make arrangements with your bank, you are not likely to have any problems. You can board a Eurostar train, which offers a direct trip from London to Paris.
Train Provider in London
You can choose in London from several train providers. However, the difference between them is slight. For instance, smaller trains like Thameslink serve short-distance routes, such as London to St Albans. On the other hand, modern trains, such as GWR, usually operate longer routes, such as London to Bath and London to Bristol.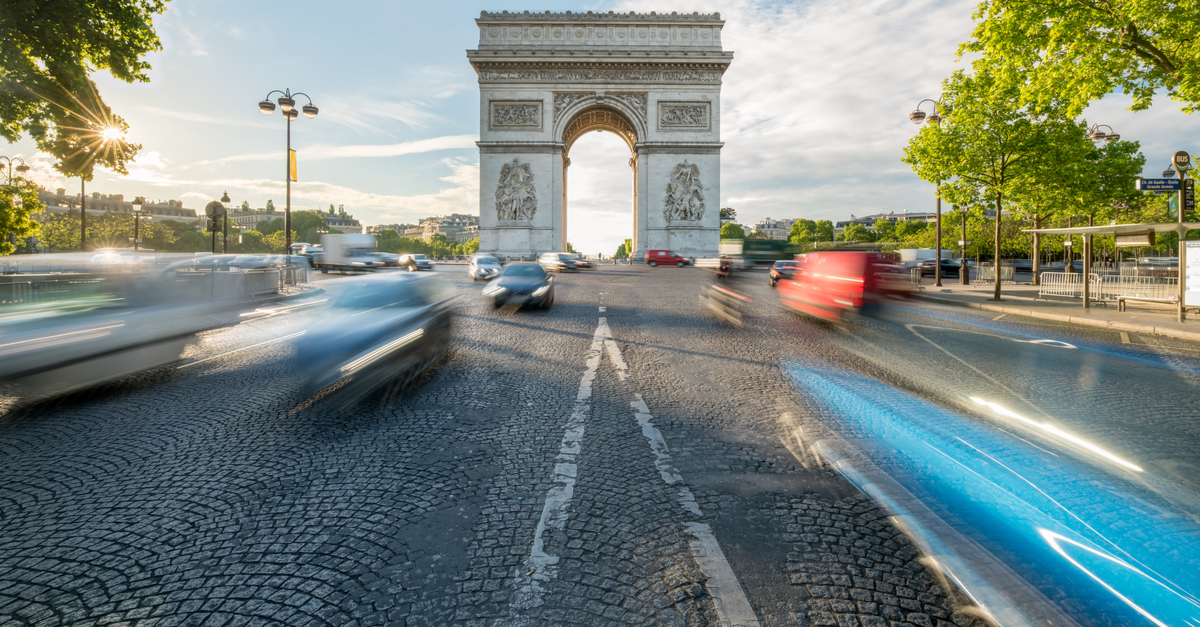 Paris Arc de Tiromphe. Source: Shutterstock
Main Train Stations in London
When you are leaving London for Paris by train, your journey will start from London St. Pancras station. The station is on the northern side of central London and is well connected to other parts of London. The station boasts a wide range of amenities, such as toilet and baby changing facilities. Besides, the station has unlimited free Wi-Fi, charging spots, and cash machines. However, London has other popular train stations beside St. Pancras. Other popular stations include Paddington Station in central London, London Bridge, and Victoria.
Popular Journeys from London
When planning to take a rail journey from London, you are spoilt for choice. If you have limited experience in rail travel, you might consider starting with a popular journey, such as London Euston, to Glasgow Central. The fastest train, which has no changes, would take you around 4h 53min. London to Manchester is another popular journey, which takes around 2h 15min, and costs around $56 on average. To traverse between the two cities, expect to cover around 162 miles (261 km).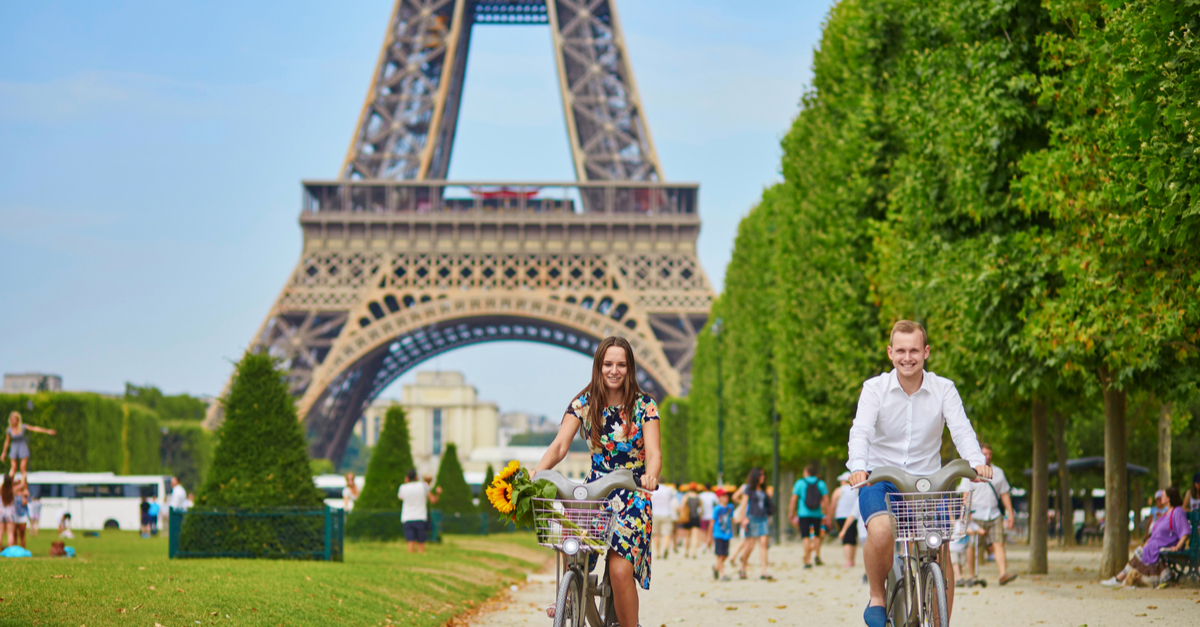 Paris Biking Couple. Source: Shutterstock
Popular Train Routes from London to Paris
Apart from visiting various cities in the UK by rail, you can also advance the adventure to mainland Europe despite being surrounded by water. Whether you are traveling to or from mainland Europe, you will use the London St. Pancras International station. Eurostar services several routes, such as London to Brussels directly. The trip would take you around 2h 1min and would cost you about $215. Other popular routes you can explore include London to Southampton, London to Batch, and London to Bristol.
Good to Know
When you are traveling to Paris from London, your train will arrive at Gare du Nord. The station is around one mile away from the city center. Therefore, it would take you approximately 5-10min to get to the city center on foot. Should you want to access other parts of the city, you can do so by public transport.
If you will stay in Paris for a couple of days, you might consider splitting your luggage. You can leave the heavy bags at the train station, in the left luggage office. Traveling light makes it easier for you to explore, especially if you will be using the Paris Metro. Additionally, to blend better in Paris, be sure to observe the phone etiquette in the city.
Paris natives hold electronic etiquette with high regard, which means they may be dismayed if you use your phone during meals. Most importantly, you will need to purchase a Paris Visite Travel Pass. The pass will give you unlimited access to the city's public transport network. Most importantly, you can explore several Parisian locations with the pass, such as Palais Royal and Disneyland Paris.
To Paris by Train- Travel Tips
If you are contemplating traveling to Paris from London by train, you will be impressed. Above everything else, a ride on the train allows you to sit back and take in the beauty of the countryside. When you finally get to Paris, you can immerse yourself in the delights of Paris's charms.
The city has gleaming boutiques, state-of-the-art museums, and so much more. While you might be tempted to use all your money on shopping, you might want to save some for other experiences. For instance, a trip to Paris might be incomplete without setting foot in Le Louvre. However, while Le Louvre s absolutely stunning, you might want to save some time to visit smaller museums, such as Palais Galliera and Musee Rodin.