Train London Paris
Whether you're going from London to Paris for business or pleasure, using the train can be your most relaxed alternative. Your hunger for adventure is greatly sated by the opportunity to explore the beautiful landscape along the way. A Eurostar London to Paris train is what you would take to get there. There are usually six different trains running from London to Paris on any given day. The London to Paris train schedule includes trains every one to two hours. Eurostar London to Paris typically takes 2 h 17 min. The two cities are roughly 475 km (295 miles) apart. Explore the London to Paris time on the Eurostar itinerary to make reservations for one that suits you.
London to Paris train time: daily departures
On this route, high-speed trains are employed, enabling you to get to London swiftly. Around 9:12 a.m., the first train of the day often departs from London to Paris. The last train from London to Paris departs the station in London at approximately 3:13 p.m. There are no transfers required on any of the trains that are available for this route, and they are all direct. Each week, there are about 30 trains from which to choose. Browse through the Omio website or install the Omio app to find the perfect Eurostar train from London to Paris.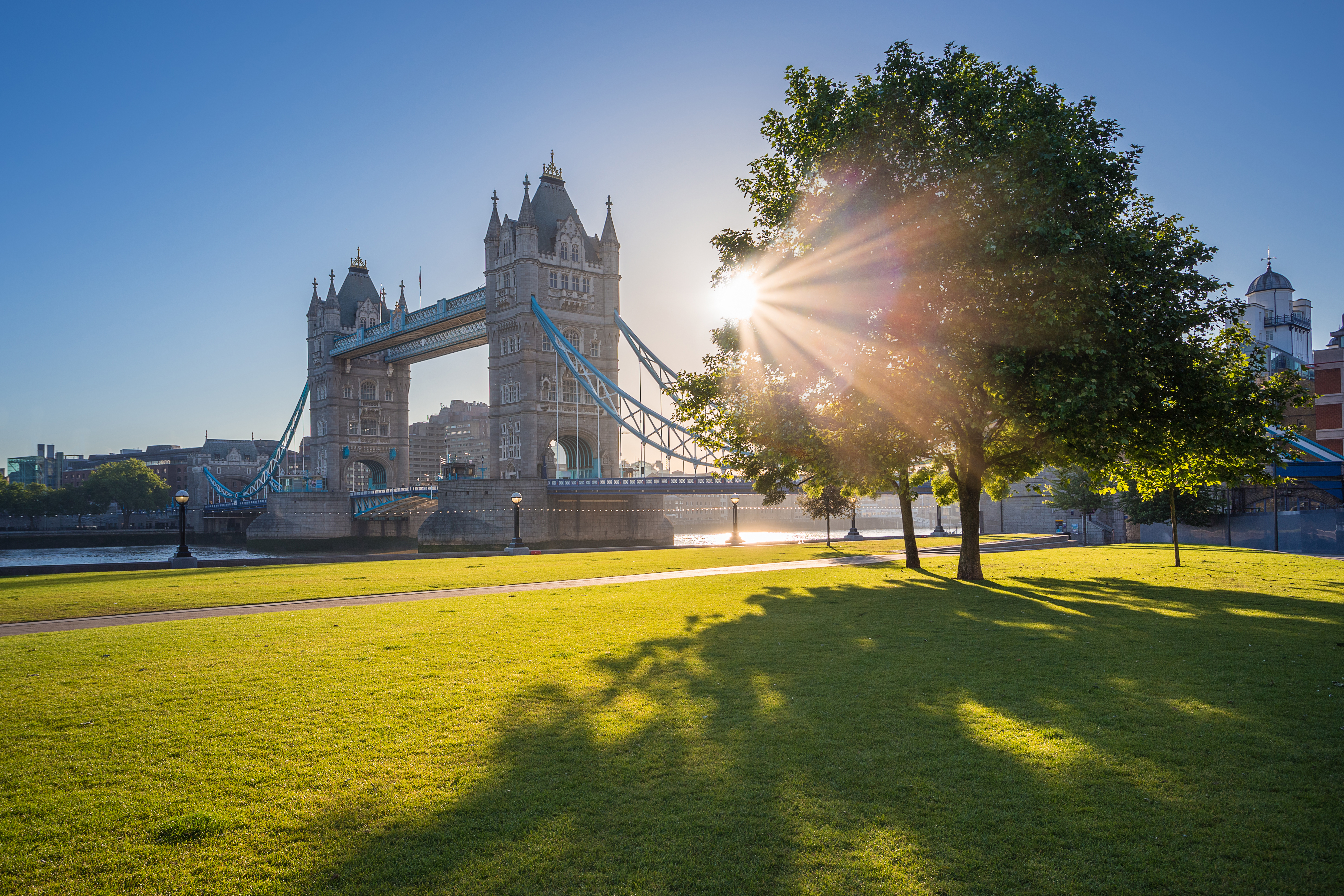 Tower Bridge London. Source: Shutterstock
Boarding your train London Paris
When traveling on the Eurostar to Paris train, consider arriving in London at least 1 hour before your train is due to depart the station. To guarantee you have enough time to check in and complete other duties like banking or eating, you must arrive at the station early. When arranging travel arrangements, remember to account for London's morning or evening traffic depending on what time of the day your London to Paris train departs. You will depart from platforms 5-10.
Where does the train depart in London and arrive in Paris
When departing London, your London to Paris train will leave fromLondon St Pancras. It is the city's primary train station, located about 3.7 km (2.3 miles) north of the city's center. The Victoria metro line provides direct access to public transportation. In addition, London St. Pancras contains a number of floors that are accessible by escalators, stairs, and ramps. Travelers can find a variety of facilities in the station, including eateries, shops, seating places, public restrooms, drinking fountains and electrical power outlets. Additionally, there is complimentary Wi-Fi and paid luggage storage available.
Passengers using Eurostar London to Paris will alight at the Paris Gare du Nord. Located around 7 km (4.4 miles) to the north of the city center, this train station is one of the busiest transportation hubs in the area. Metro lines 4 and 5 provide direct access to public transportation. There are escalators, staircases, and elevators available to traverse between the station's various floors. The Paris Gare du Nord offers a variety of facilities for travelers, including public restrooms, electrical outlets for charging electronic devices, shops where you can buy souvenirs, travel necessities, refreshments, and seating places where you can unwind while you wait for your train to arrive.
When to book your train tickets from London to Paris
When booking a London Paris train, it is advisable that passengers be flexible with their travel schedules as it will be simpler to get affordable train tickets to Paris. Additionally, slower trains with multiple layovers are recommended whenever possible because they are frequently less expensive. You may easily get an inexpensive train London to Paris if you take this action. Make your reservation as far in advance as you can to ensure that you can find a low-cost train to Paris. This is due to the fact that London to Paris train cost will often rise as the departure date approaches.
What to see between London and Paris
You can view a range of scenic views from your train window as you travel from London to Paris. For instance, you will travel right through Amiens, a picturesque city famed for its riverside location along the Somme and numerous intriguing examples of Gothic architecture. You will also view the Caps et Marais d'Opale Regional Natural Park, which is renowned for its picturesque beachfront, luxuriant flora, and cliffsides. Additionally, you will get a glimpse of the Canadian National Vimy Memorial, With a visitor center and exhibit, the memorial is a sizable one for Canadians who died fighting in World War One.
Information on Paris Gare du Nord
When taking a London Paris train, you can expect to disembark at Paris Gare Du Nord, which among the main train stations in France. The train station services multiple destinations, including the Netherlands, Belgium, the United Kingdom and Germany. It is situated approximately 4.1 km (2.5 miles) away from the city center. Taking the underground subway is probably the best option for getting from the train station and ensuring that you arrive at your destination on time. You can bypass the traffic on the roadways with this method. The station is equipped with shopping centers, ATMs, and taxi services. Additionally, it offers accessibility services to passengers with limited mobility.
Night trains London Paris
There are no night trains operating between London and Paris. However, there are some trains providing late-night services along this route. The last evening train that a passenger can opt for from the London station departs at approximately 8:00 p.m. and takes approximately 2h 37 minutes to get to Paris. If you need more information about the London to Paris train time, browse through London Paris night trains, and schedule one that suits your needs.
Eurostar London to Paris
Eurostar London to Paris is the only train company operating along this route. It is an international high-speed train offering services between the United Kingdom, the Netherlands, Germany, Belgium and London. However, the most popular Eurostar route connects London and Paris via the Channel Tunnel, which connects France and the United Kingdom and France. The train from London to Paris is direct; hence, there are no transfers or connections along the way. There are approximately 12 trains operating daily along this route, taking about 2 hours and 16 minutes to cover this distance.
Trains London to Paris: Sustainability travel
It is commonly recognized that trains are a very environmentally friendly mode of transportation, as they emit 50% fewer emissions, especially when compared to options like buses, private vehicles, or airplanes. You may be confident that you are choosing the most environmentally friendly way to travel while still getting to your destination comfortably when you opt for the Eurostar train London to Paris. With trains, you can still be convenient without sacrificing sustainability. In order to increase the sustainability of its operations, Eurostar has taken action. For instance, Eurostar has pledged to run its whole fleet entirely on renewable energy by 2030. The business has also made efforts to use less single-use plastic and paper for tickets. The train management also encourages their passengers to offset their carbon emissions and pack light to help reduce carbon footprints during this trip.
Train London to Paris: Services onboard
When traveling on London to Paris train, you will have access to multiple onboard amenities and services:
If you are traveling onboard a train from London to Paris with a companion with limited mobility, you can have access to special assistance at no extra charge. The staff has undergone excessive training to help those with physical disabilities during boarding or alighting the train. However, ensure that you contact the train management at least 48h prior to your travel date, informing them of how best they can help you.
Eurostar London to Paris offers first and second-class seats for its passengers along this route. A seat in a roomier coach with extra legroom and dinner service will be offered to you if you choose to book a first-class ticket for your London to Paris train. You can get the basic conveniences, such as a decent seat, accessibility to an outlet, and the chance to buy small beverages and snacks from the food car, with a second-class ticket for a London Paris train.
First- and second-class passengers on the London to Paris train are permitted to bring two bags, each measuring no more than 85 cm at their widest point. For your London to Paris train, you may also bring one hand luggage, such as a handbag, laptop bag or backpack. There is no restriction on the weight of your luggage. You are also allowed to carry foldable bikes and strollers onboard. Pets are, however, not allowed onboard the Eurostar London Paris train except service animals.
When making train reservations through the Omio website or app, passengers are not permitted to choose their own seats. The seats will be allocated depending on your time of booking.
Eurostar is equipped with a food car where passengers can purchase food and drinks during this journey. Additionally, you are allowed to carry drinks onboard.
To Paris by train- travel tips
Paris is the capital of France and is distinguished by its numerous arts, fashion, history, museums, diverse culture and architecture. The city has everything for all tourists. For instance, the Orsay museum features the largest collection of paintings by impressionists and post-impressionists. Your trip to this city won't be complete without visiting the Eiffel, which is one of the most iconic attractions in the city. The tower is famous for its history, views of the city and beauty. If you want to learn more about stunning attraction sites that you can explore while in Paris, check out Things to do in Paris in The Window Seat.
Explore the Pont des Arts, which spans the Seine River in a magnificent pedestrian bridge and features multiple love padlocks.
Spend time at the Cathédrale Notre-Dame de Paris, an ancient Gothic church with a Romanesque style.
Take a walk along Jardin du Luxembourg, which spans approximately 23 hectares. It is famous for its charming Medici Fountain, which was constructed in 1620, lawns, flower beds, tennis courts, model sailboats on its octagonal Grand Bassin and tree-lined promenades.
Spend a few hours at Louvre Museum, which houses various historical artifacts.
Eat at the Café de L'Industrie, a historic brasserie with checkered floors and a vibrant decor that serves traditional French food.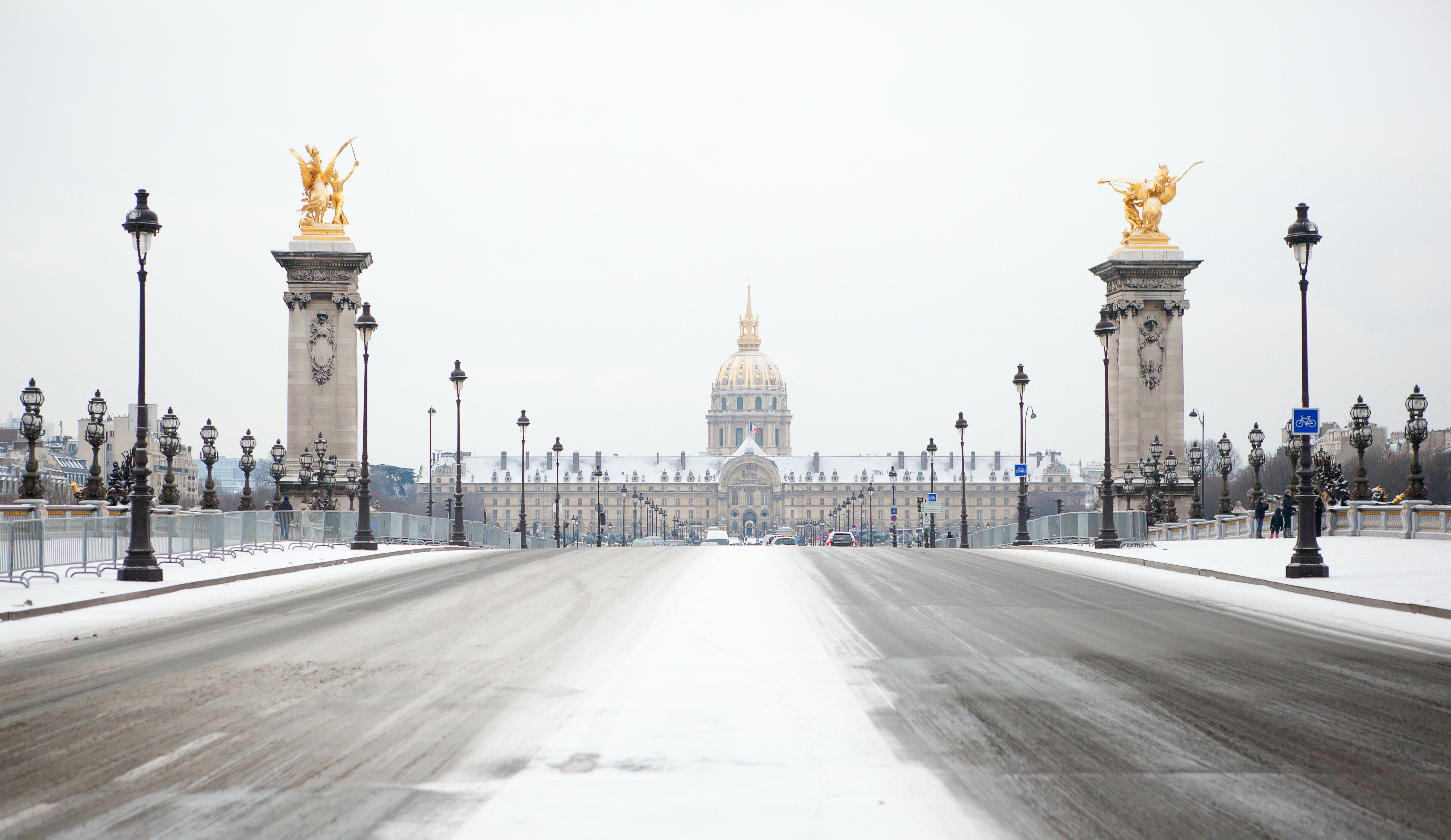 Pont Alexandre III in Paris. Source: Shutterstock
What are the other cities you can go to from Paris
After arriving in Paris, it is not necessary that you should end your trip here. You can keep traveling and see one or two more new cities. From Paris, you can take a train to Train to Frankfurt, which is famous for its history, architecture, quality of life, food, art and science. Or you can travel to Amsterdam trains, which is renowned for its historical landmarks, outstanding art collections, and the unique color and flavor of its historic parts.
Train from London to Paris
If you want to travel from London to Paris in a relaxing way, the train could be your best option, whether it's for business or leisure. You get to explore the scenic countryside along the way, which goes a long way in quenching your thirst for adventure.To travel from London to Paris, you would board a Eurostar train.
The construction of the Channel Tunnel at the end of the last century allowed direct rail links between two of Europe's great capitals. Trains depart from central London and arrive in the centre of Paris, making the train an plausible alternative to a flight. Direct trains from London to Paris make chic city breaks or business meetings easy to plan, with travel times on Eurostar services lasting just a little over two hours. Departure times from London range from early morning to mid-evening, the last train arriving in time for a nightcap in Montmartre. Santé!
These high-speed trains can travel up to speeds of 186 mph (299 km/h). Ideally, the first train leaves London for Paris very early in the morning. A train will leave the station about every hour, until around 8:00 p.m. However, on Sunday, the first train doesn't leave until after 8:00 a.m. To complete the trip, which is approximately 308 miles (495 km) long, you would spend around 2h 16min.
How long is the train from London to Paris?
The fastest Eurostar option on the 308-mile route south through the Channel Tunnel to Paris takes two hours and 16 minutes. Other trains take from five to 20 minutes longer to complete the journey from London, depending on the departure time. For timetable purposes, travellers should remember that the clocks in France are one hour ahead of the UK.
Booking the train from London to Paris
Omio is dedicated to helping you find cheap train tickets for your London to Paris trip. The benefits of booking through Omio are twofold- great prices and the convenience of booking from the comfort of your home. However, to find cheap train tickets, we recommend that you start your search early.
Usually, you can find advance tickets on Omio as early as three months ahead of your trip. On the day of the trip, you can enjoy a hassle-free experience at the train station since you will have your ticket ready on your phone. Even better, you don't have to worry about forgetting about your upcoming trip since you can get a reminder on your phone.
Plan your trip from London to Paris
Departure train station:
The Eurostar terminus at London St Pancras is situated on the northern side of central London, with Underground connections available on six lines and city bus routes stopping on Euston Road. The passenger concourse offers international restaurants, gift stores, coffee shops, news vendors, a pharmacy and taxi stands.
Arrival train station: Paris Gare Du Nord is located on the north-eastern side of Paris city centre, with public transport connections on numerous bus routes, Metro lines 4 and 5 and RER lines B, D and E. Facilities at the terminus include restaurants, Eurostar lounges, food stores, coffee shops, car rental desks and taxi stands.
Eurostar offers all the direct train services from London St Pancras to Paris Gare Du Nord. It is a direct route and there are no stops along the way.
The weekday Eurostar schedule begins with a very early morning departure from London St Pancras, continuing with trains roughly every hour throughout the day. The final train to Paris Gare Du Nord leaves London around 8:00 p.m. and Sunday schedules begin after 8:00 a.m. but offer some additional afternoon and evening connections.
| | |
| --- | --- |
| From London to Paris | |
| From London to Brussels | |
| From London to Paris | |
| From London to Paris | |
| From London to Brussels | |
The standard ticket type is cheapest. Standard ticket type holders can take up to two bags of luggage for free. Passengers can also enjoy free wifi at St Pancras, as well as seat selection. Its best advised to book in advance, as Standard tickets tend to sell out fast.
One of the best things about travelling from London to Paris on the Eurostar is how straightforward it is to check in. Get to the Eurostar check in gates at least 30 minutes before your scheduled leaving time and you'll have time to grab a coffee in the waiting room, too.
Business premier ticket holders can take advantage of all the benefits above. Plus, a free meal onboard and complimentary magazines. This type of Eurostar ticket allows flexible travel. As well as a dedicated ticket office, 10-minute check-in and a taxi booking service.
Train Companies in London
Given the popularity of rail travel in the United Kingdom, it comes as no surprise there are 28 different train companies. However, the train company that serves London to Paris is Eurostar. The trains depart from London St. Pancras and arrive at Paris Gare Du Nord. In the Omio app, you can find cheap trains between the two cities.
When traveling from London to Paris on a Eurostar train, you can choose from the three types of tickets available. These are standard, standard premiere, and Business Premiere. While all the classes have a wide range of services on board, Business Premiere has additional services, such as a complimentary 3-course meal.
Popular International Routes from London
Besides getting around the UK by train, you can also visit mainland Europe. That presents you with an opportunity to enjoy the calm of the countryside, and in some cases, it might be the fastest option. Ideally, all trains leaving London for mainland Europe start from London St Pancras International station.
For instance, you can visit popular cities in France, such as Paris, Lille, and Marseille from London. Another popular route is from London to Cologne, Germany. Other routes include London to Amsterdam, London to Rotterdam, and London to Brussels. Some routes, such as London to Cologne, may involve a change, while you can catch a direct train on some international routes. You can always book your train ticket to an international destination via Omio.
Arriving by Train in Paris
If you are a first-time traveler from London to Paris, you might need to familiarize yourself with a few things. To begin with, we recommend having some cash to hand. The UK's currency is the Pound Sterling, while Paris used the euro. The good news is, you can find several ATMs around Paris. Therefore, as long as you make arrangements with your bank, you are not likely to have any problems. You can board a Eurostar train, which offers a direct trip from London to Paris.
Train Provider in London
You can choose in London from several train providers. However, the difference between them is slight. For instance, smaller trains like Thameslink serve short-distance routes, such as London to St Albans. On the other hand, modern trains, such as GWR, usually operate longer routes, such as London to Bath and London to Bristol.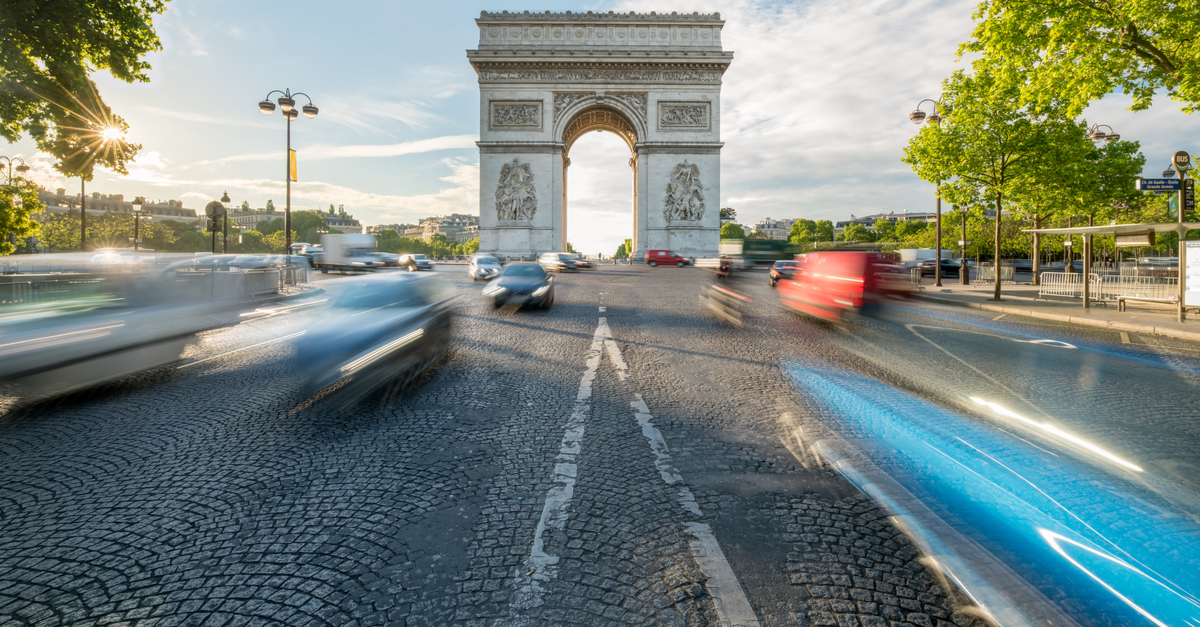 Paris Arc de Triomphe. Source: Shutterstock
Main Train Stations in London
When you are leaving London for Paris by train, your journey will start from London St. Pancras station. The station is on the northern side of central London and is well connected to other parts of London. The station boasts a wide range of amenities, such as toilet and baby changing facilities. Besides, the station has unlimited free Wi-Fi, charging spots, and cash machines. However, London has other popular train stations beside St. Pancras. Other popular stations include Paddington Station in central London, London Bridge, and Victoria.
Popular Journeys from London
When planning to take a rail journey from London, you are spoilt for choice. If you have limited experience in rail travel, you might consider starting with a popular journey, such as London Euston, to Glasgow Central. The fastest train, which has no changes, would take you around 4h 53min. London to Manchester is another popular journey, which takes around 2h 15min, and costs around $56 on average. To traverse between the two cities, expect to cover around 162 miles (261 km).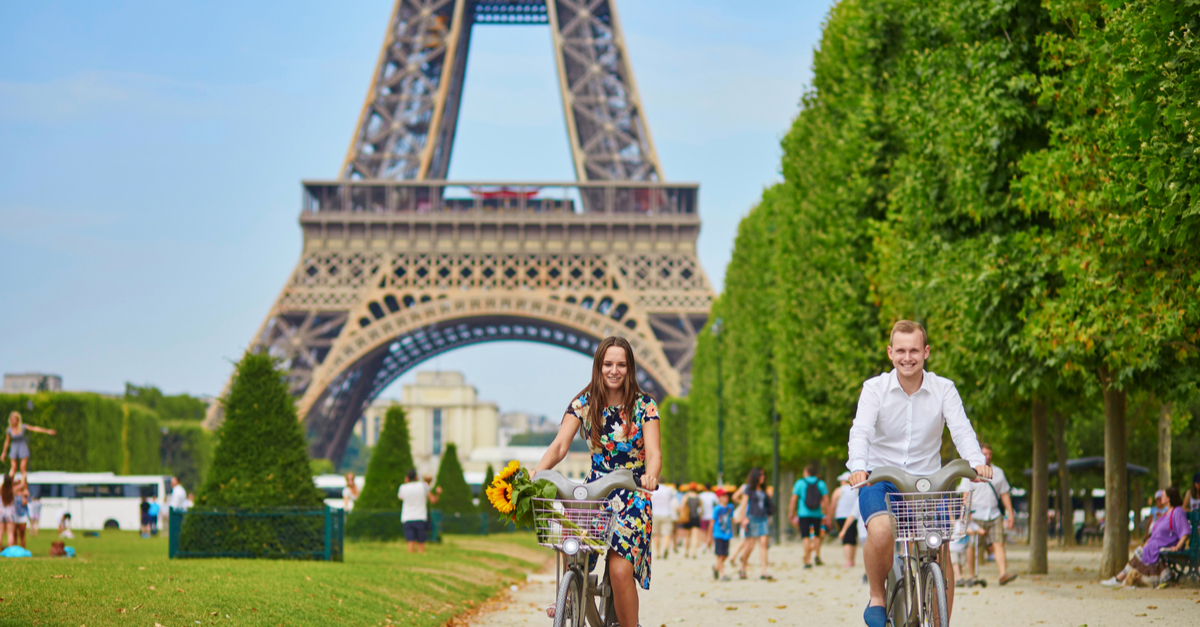 Paris Biking Couple. Source: Shutterstock
Popular Train Routes from London to Paris
Apart from visiting various cities in the UK by rail, you can also advance the adventure to mainland Europe despite being surrounded by water. Whether you are traveling to or from mainland Europe, you will use the London St. Pancras International station. Eurostar services several routes, such as London to Brussels directly. The trip would take you around 2h 1min and would cost you about $215. Other popular routes you can explore include London to Southampton, London to Batch, and London to Bristol.
Good to Know
When you are traveling to Paris from London, your train will arrive at Gare du Nord. The station is around one mile away from the city center. Therefore, it would take you approximately 5-10min to get to the city center on foot. Should you want to access other parts of the city, you can do so by public transport.
If you will stay in Paris for a couple of days, you might consider splitting your luggage. You can leave the heavy bags at the train station, in the left luggage office. Traveling light makes it easier for you to explore, especially if you will be using the Paris Metro. Additionally, to blend better in Paris, be sure to observe the phone etiquette in the city.
Paris natives hold electronic etiquette with high regard, which means they may be dismayed if you use your phone during meals. Most importantly, you will need to purchase a Paris Visite Travel Pass. The pass will give you unlimited access to the city's public transport network. Most importantly, you can explore several Parisian locations with the pass, such as Palais Royal and Disneyland Paris.
To Paris by Train- Travel Tips
If you are contemplating traveling to Paris from London by train, you will be impressed. Above everything else, a ride on the train allows you to sit back and take in the beauty of the countryside. When you finally get to Paris, you can immerse yourself in the delights of Paris's charms.
The city has gleaming boutiques, state-of-the-art museums, and so much more. While you might be tempted to use all your money on shopping, you might want to save some for other experiences. For instance, a trip to Paris might be incomplete without setting foot in Le Louvre. However, while Le Louvre s absolutely stunning, you might want to save some time to visit smaller museums, such as Palais Galliera and Musee Rodin.